15 people charged with criminal contempt over pipeline protest, 10 others await fate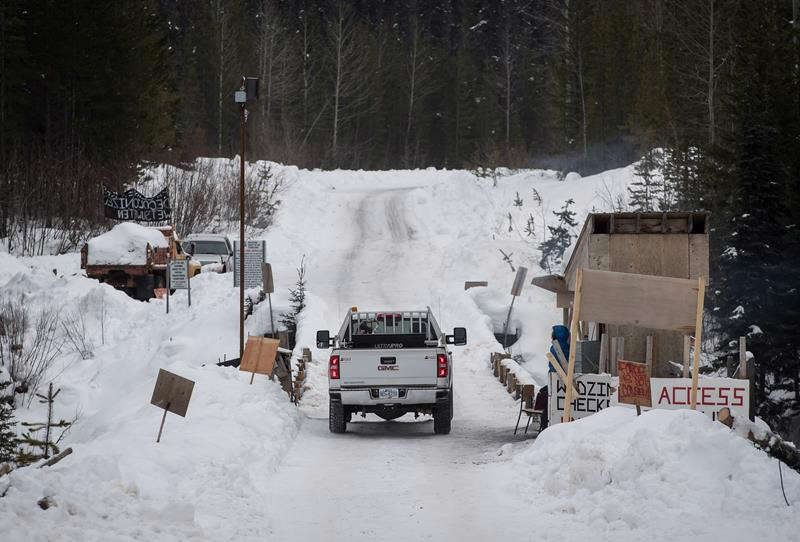 PRINCE GEORGE, B.C. — The British Columbia Prosecution Service says 15 people are being charged with criminal contempt of court following protests last fall over a natural gas pipeline being built near Houston in northern B.C.
The prosecution service says it will take four more weeks to decide if there's enough evidence to charge an additional 10 people, while two others who were arrested won't be prosecuted.
Court documents say all 27 people were arrested over six days between September and November along a forest service road leading to a work site for the Coastal GasLink pipeline.
Those charged are alleged to have breached a B.C. Supreme Court injunction granted to Coastal GasLink in 2019 that prohibited blockades or interference with the company's construction activities.
The 670-kilometre pipeline is expected to carry natural gas across northern B.C. to the LNG Canada terminal in Kitimat.
The project has sparked protests across the country in recent years by those in support of Wet'suwet'en hereditary chiefs who say it violates their traditional laws, while the elected council of the Wet'suwet'en First Nation and others nearby have agreed to the project.
In a statement read in B.C. Supreme Court on Wednesday, the prosecution service says it worked closely with RCMP to obtain investigative materials and considered correspondence from both a lawyer for some of the defendants and the Union of B.C. Indian Chiefs.
The review concerning the 10 defendants whose fate has yet to be determined will focus on their knowledge of the terms of the injunction, it says.
There wasn't enough evidence to show the two people who won't be prosecuted were aware of the terms of the injunction, it says, even if their conduct had potential to infringe upon it.
"Because of the way matters arose, police did not have a copy of the injunction at the time of the arrests and were only able to paraphrase it orally after the protesters had been arrested," the prosecution service says in the court documents.
The guidelines the Crown uses to determine charges in cases of civil disobedience say it's not always in the public interest to pursue criminal contempt charges.
Factors favouring prosecution may include, but aren't limited to, violent conflict resulting in physical harm, serious property damage, an assault on an officer, or less serious but persistent offences that significantly obstruct public access.
The Crown must prove beyond a reasonable doubt that the accused defied or disobeyed a court order in a public way.
A statement from the Gidimt'en checkpoint, a logging road camp that's led by members of one of five clans within the broader Wet'suwet'en Nation, alleges they are experiencing an escalation of harassment and intimidation on the territory.
The camp issued a call to supporters last week saying it needs help to prevent Coastal GasLink from drilling under the Wedzin Kwa river, also known as the Morice River, which it says violates Wet'suwet'en rights and title.
Coastal GasLink says in a statement that it has dealt with numerous violations of B.C. Supreme Court injunctions since 2018 that are meant to allow safe access and construction of the project.
It says its work is fully authorized and permitted by the federal and provincial governments, with local Indigenous support, and the company agrees with the charges.
This report by The Canadian Press was first published June 1, 2022.
The Canadian Press
ConocoPhillips to exercise pre-emptive right; will buy rest of Surmont project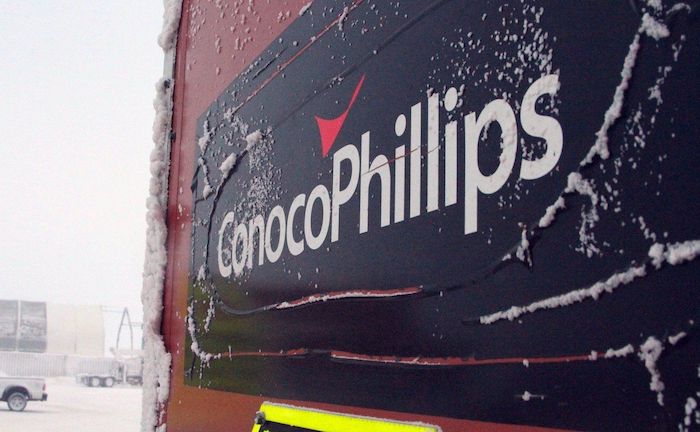 An ice-covered ConocoPhillips sign at the Colville-Delta 5, or as it's more commonly known, CD5, drilling site on Alaska's North Slope is shown on February 9, 2016. THE CANADIAN PRESS/AP, Mark Thiessen
Calgary
ConocoPhillips says it will exercise its right of first refusal and purchase TotalEnergies' 50 per cent stake in the Surmont oilsands project for $4 billion.
The Houston-based oil company is currently the operator and the 50 per cent owner of the in situ oilsands asset near Fort McMurray, Alta.
In April, Suncor Energy Inc. said it would acquire the other half of Surmont, part of a larger $6.1-billion deal that would also see Suncor acquire French company Total's stake in the Fort Hills oilsands project.
But ConocoPhillips says it will pre-empt Suncor and purchase the remainder of Surmont for itself.
The company says it expects the deal will add approximately US$600 million of annual free cash flow in 2024, based on a West Texas Intermediate oil price of US$60.
The deal is expected to close in the second half of 2023, with an effective date of April 1, 2023.
This report by The Canadian Press was first published May 26, 2023.
Companies in this story: (TSX:SU)
Tempers rise as German government's clean heating plans go up in smoke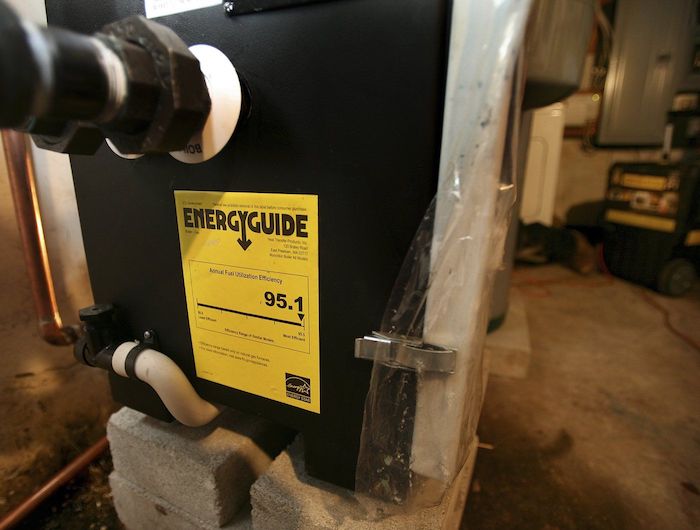 The energy guide of a Munchkin natural gas boiler, part of a super-efficient gas boiler, hot water and air conditioning unit, can be seen at a home in Ossining, N.Y. Friday, Aug. 8, 2008. Germany's government is facing a major test after two junior partners in Chancellor Olaf Scholz's three-party coalition sparred publicly over a key element in the country's ambitious climate policy. (AP Photo/Craig Ruttle, File)
BERLIN (AP) — Germany's government is facing a major test after two junior partners in Chancellor Olaf Scholz's three-party coalition sparred publicly over a key element in the country's ambitious climate policy.
Economy and Energy Minister Robert Habeck of the environmentalist Greens accused the libertarian Free Democratic Party of backtracking on agreements by refusing to let lawmakers debate a bill for replacing home heating systems with greener alternatives.
The bill was approved by Cabinet in March after months of intense haggling between the parties. A major stumbling block was the Green party's demand that the installation of new oil or gas furnaces should be banned from next year to ensure Germany can meet its target of reducing greenhouse gas emissions to net zero by 2045.
A compromise saw numerous exceptions and subsidies included in the bill, but the Free Democrats later said they still had misgivings, meaning it is unlikely to be taken up by parliament before the summer recess.
"In my view this is a breach of promise," Habeck told reporters in Berlin.
"If you enter into government and give your word, then you stand by your word," he added.
Populist newspapers have claimed that installing climate-friendly heat pumps will be hugely expensive and may not be feasible in older buildings, though such systems are widely used in neighboring countries. Experts counter that a failure to replace fossil fuel heatings will end up costing homeowners more as the price of oil and gas rise sharply in the coming decades because of emissions surcharges agreed at the European level.
Scholz has largely tried to sit out the spat between his two junior partners, but told members of his own center-left Social Democratic Party on Tuesday that Germany's transformation to a carbon-neutral economy can only succeed if politicians can convince voters that their fears are taken seriously and the changes will benefit them.