Buffalo suspect: Lonely, isolated — and a sign of trouble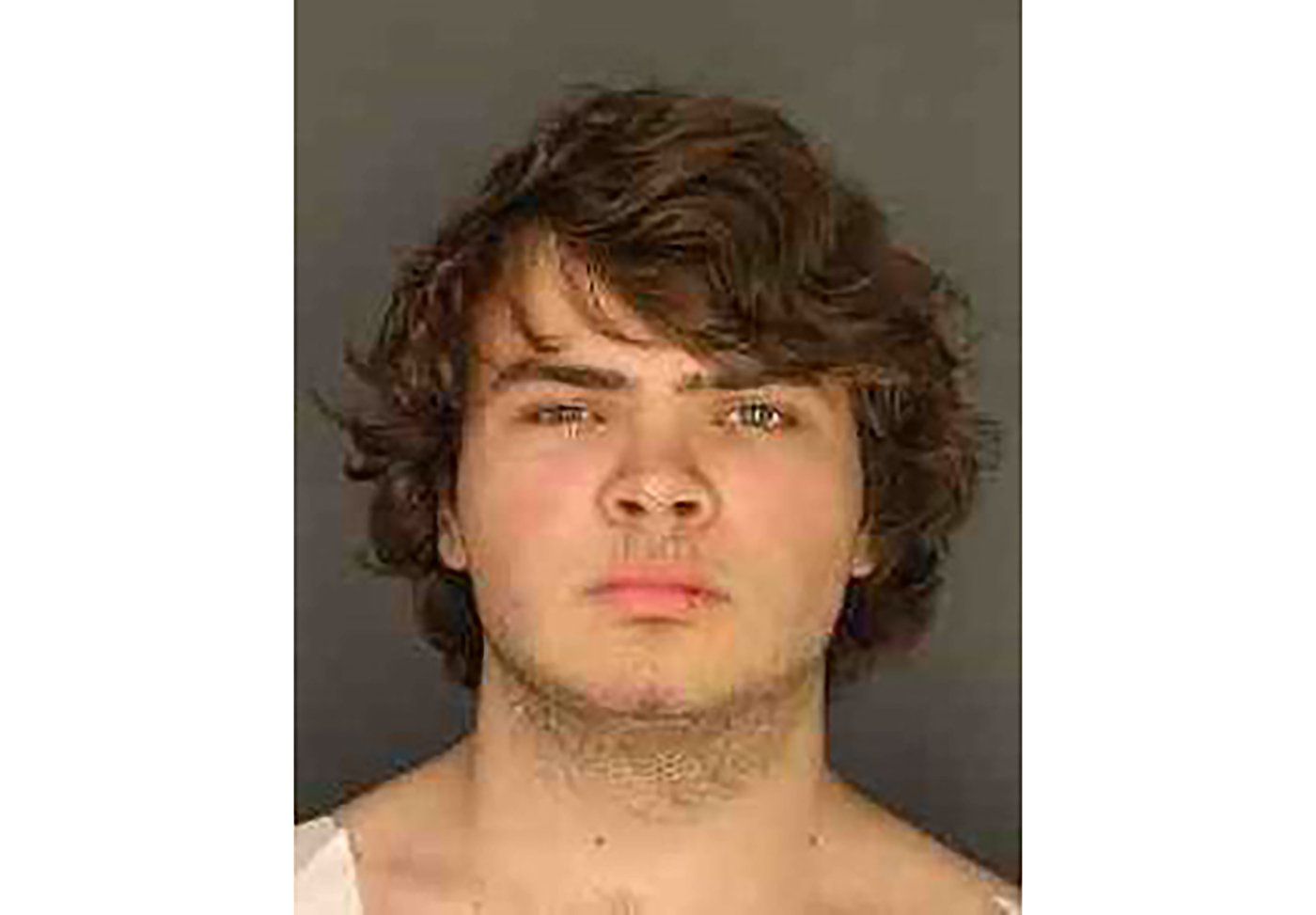 By Bernard Condon And Michael Hill in Conklin
CONKLIN, N.Y. (AP) — In the waning days of Payton Gendron's COVID-19-altered senior year at Susquehanna Valley High School, he logged on to a virtual learning program in economics class that asked: "What do you plan to do when you retire?"
"Murder-suicide," Gendron typed.
Despite his protests that it was all a joke, the bespectacled 17-year-old who had long been viewed by classmates as a smart loner was questioned by state police over the possible threat and then taken into custody and to a hospital for a psychiatric evaluation under a state mental health law.
But a day and a half later, he was released. And two weeks after that, he was allowed to participate in graduation festivities, including riding in the senior parade, where he was photographed atop a convertible driven by his father and festooned with yellow-and-blue balloons and signs reading, "Congratulations" and "Payton Gendron."
That account of Gendron's brush with the law last spring, according to authorities and other people familiar with what happened, emphasized the same point school officials made in a message to parents at the time: An investigation found no specific, credible threat against the school or any individual from that sign of trouble.
That same young white man bought a Bushmaster XM-15 rifle, traveled three hours to Buffalo and went on what authorities say was a racist, livestreamed shooting rampage Saturday in a crowded supermarket that left 10 Black people dead.
Gendron, now 18, was arraigned on a state murder charge over the weekend and a court-appointed public defender entered a not guilty plea on his behalf. He remained jailed under suicide watch as federal prosecutors contemplate hate-crime charges.
Even as the FBI swarmed the comfortable home where Gendron lived with his parents and two younger brothers, neighbors and classmates in this community of 5,000 near the New York-Pennsylvania line say they saw no inkling of the young man now being described on television.
And they say they saw nothing of the kind of racist rhetoric seen in a 180-page online diatribe, purportedly written by Gendron, in which he describes in minute detail how he researched ZIP codes with the highest concentrations of Black people, surveilled the Tops supermarket in Buffalo, and carried out the assault to terrorize all nonwhite, non-Christian people into leaving the country.
Classmates described Gendron as a quiet, studious boy who got high marks but seemed out of place in recent years, turning to online streaming games, a fascination with guns and ways to grab attention from his peers.
When school partially opened again early last year after COVID-19-related shutdowns, Gendron showed up covered head to toe in a hazmat suit. Classmate Matthew Casado said he didn't think the stunt -– he called it "a harmless joke" — went down well with other students.
"Most people didn't associate with him," he said. "They didn't want to be known as friends with a kid who was socially awkward and nerdy."
Gendron excelled in sciences, once earning top marks in a state chemistry competition. But he was known for keeping to himself and not talking much. And when he did talk, it was about isolation, rejection and desperation.
"He talked about how he didn't like school because he didn't have friends. He would say he was lonely," said Casado, who graduated with Gendron last year.
At one point last winter, Gendron's mother called Casado's mother with a request: Please have Matthew call Payton because he had no friends and needed to talk.
The two boys ended up going to flea markets together, watching YouTube videos and shooting guns on nearby state land over the next few months. Casado said that he had never heard his friend talk of anything violent.
"I didn't think he would hurt a fly," he said.
Some neighbors had a similar view, seeing the family as happy and prosperous, with both Paul Gendron and his wife, Pamela, holding stable jobs as civil engineers with the New York state Department of Transportation, earning nearly $200,000 combined, according to online records.
Dozens of their Facebook posts over the years show the parents and their three boys — often dressed in matching outfits — enjoying amusement park vacations, going on boat trips, shooting laser tag guns and opening presents on Christmas morning.
Carl Lobdell, a family friend who first met Gendron on a camping vacation a dozen years ago, said he was shocked that Payton was identified as the suspect in the mass shooting.
"He was very friendly, very respectable," said Lobdell, adding that his family had grown so close to the Gendrons that they even attended Payton's graduation party last year. "When I heard about the shooting … I just cried."
The family did not respond to a request for comment over the weekend, nor did Gendron's attorney. No one answered the door Monday at the family home, surrounded by a neat, spacious lawn. Near the front door was a tiny right hand pressed in concrete with a heart symbol and the words, "PAYTON 2008."
One parent of a Susquehanna Valley High student said she was furious that the student who was investigated for making the threat last year — whom she later discovered was Gendron — was still allowed to participate in all graduation activities. The woman asked not to be identified because she feared harassment.
According to a recording of a conference call of federal and local law enforcement officials Monday that was obtained by The Associated Press, Buffalo Police Commissioner Joseph Gramaglia said Gendron's comments he made in school in June 2021 were "generalized statements" and not targeted at anyone in particular or at a specific location, which is why no criminal charges were filed. He said the state police "did everything within the confines of the law."
Gendron enrolled at Broome County Community College and later dropped out. The school wouldn't say why. And according to online writings attributed to him, he began planning his assault on the Buffalo supermarket beginning at least in November, saying he was inculcated into his racist views online.
"I was never diagnosed with a mental disability or disorder, and I believe to be perfectly sane," according to one passage.
A new, 589-page document of online diary postings emerged Monday that authorities have attributed to Gendron, and some of its passages tracked with the account AP's sources gave of his high school threat investigation.
"Another bad experience was when I had to go to a hospitals ER because I said the word's 'murder/suicide' to an online paper in economics class," said one entry. "I got out of it because I stuck with the story that I was getting out of class and I just stupidly wrote that down. That is the reason I believe I am still able to purchase guns."
"It was not a joke, I wrote that down because that's what I was planning to do."
___
Condon reported from New York. Eric Tucker in Washington, Michael R. Sisak in New York and news researcher Rhonda Shafner in New York contributed.
___
Contact AP's global investigative team at [email protected]
New report details missed chances to stop Uvalde shooting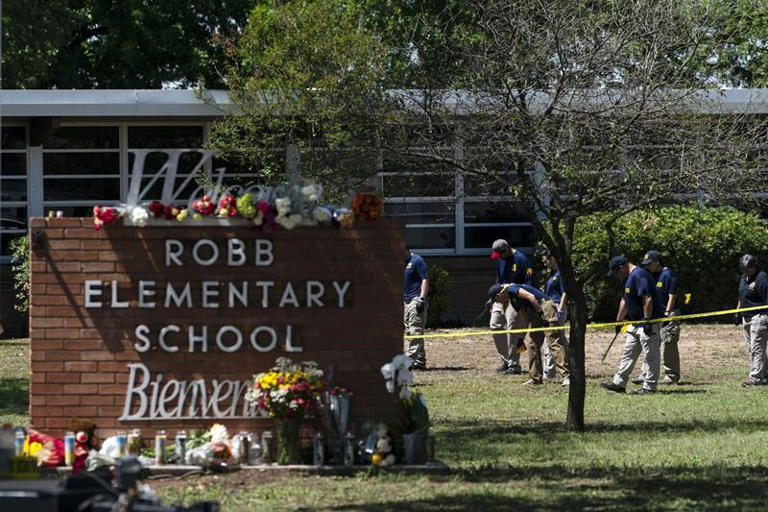 AUSTIN, Texas (AP) — A police officer armed with a rifle watched the gunman in the Uvalde elementary school massacre walk toward the campus but did not fire while waiting for permission from a supervisor to shoot, according to a sweeping critique released Wednesday on the tactical response to the May tragedy.
Some of the 21 victims at Robb Elementary School, including 19 children, possibly "could have been saved" on May 24 had they received medical attention sooner while police waited more than an hour before breaching the fourth-grade classroom, a review by a training center at Texas State University for active shooter situations found.
The report is yet another damning assessment of how police failed to act on opportunities that might have saved lives in what became the deadliest school shooting in the U.S. since the slaughter at Sandy Hook Elementary School in 2012.
"A reasonable officer would have considered this an active situation and devised a plan to address the suspect," read the report published by the university's Advanced Law Enforcement Rapid Response Training program.
Authors of the 26-page report said their findings were based off video taken from the school, police body cameras, testimony from officers on the scene and statements from investigators. Among their findings:
— It appeared that no officer waiting in the hallway during the shooting ever tested to see if the door to the classroom was locked. The head of Texas' state police agency has also faulted officers on the scene for not checking the doors.
— The officers had "weapons (including rifles), body armor (which may or may not have been rated to stop rifle rounds), training, and backup. The victims in the classrooms had none of these things."
— When officers finally entered the classroom at 12:50 p.m. — more than an hour after the shooting began — they were no better equipped to confront the gunman than they had been up to that point.
—"Effective incident command" never appears to have been established among the multiple law enforcement agencies that responded to the shooting.
The gunman, an 18-year-old with an AR-15-style semi-automatic rifle, entered the building at 11:33 a.m. Before that a Uvalde police officer, who the report did not identify, saw the gunman carrying a rife toward the west hall entrance. The officer asked a supervisor for permission to open fire, but the supervisor "either did not hear or responded too late," the report said.
When the officer turned back toward the gunman, he already gone inside "unabated," according to the report.
The report is one of multiple fact-finding reviews launched in the aftermath of the worst school shooting in Texas history. A committee formed by Texas legislators has also interviewed more than 20 people, including officers who were on the scene, behind closed doors for several weeks. It is unclear when they will release their findings.
It follows testimony last month in which Col. Steven McCraw, director of the Texas Department of Public Safety, told the state Senate that the police response was an "abject failure." He pinned particular blame on Chief Pete Arredondo, saying that as on-scene commander the Uvalde schools police chief made "terrible decisions" and stopped officers from confronting the gunman earlier.
Arredondo has tried to defend his actions, telling the Texas Tribune that he didn't consider himself the commander in charge of operations and that he assumed someone else had taken control of the law enforcement response. He said he didn't have his police and campus radios but that he used his cellphone to call for tactical gear, a sniper and the classroom keys.
According to he report released Wednesday, Arredondo and another Uvalde police officer spent 13 minutes in the school hallway during the shooting discussing tactical options, whether to use snipers and how to get into the classroom windows.
"They also discussed who has the keys, testing keys, the probability of the door being locked, and if kids and teachers are dying or dead," the report read.
McCraw said police had enough officers and firepower on the scene of the Uvalde school massacre to have stopped the gunman three minutes after he entered the building, and they would have found the door to the classroom where he was holed up unlocked if they had bothered to check it.
A lawyer for Arredondo and a spokeswoman for the Uvalde city police department did not immediately respond to requests for comment. Arredondo is on leave from his job with the Uvalde Consolidated Independent School District and resigned from his position as a city councilor last week.
Public leaders, including Texas Gov. Greg Abbott, initially praised the police response in Uvalde. Abbott said officers reacted quickly and ran toward the gunfire with "amazing courage" to take out the killer, thereby saving lives. He later said he was misled. In the days and weeks after the shooting, authorities gave conflicting and incorrect accounts of what happened. The fallout has driven recriminations and rifts between local at state authorities. On Tuesday, Uvalde Mayor Don McLaughlin and state Sen. Roland Gutierrez released a letter asking Abbott to move administration of a victims relief fund from the local prosecutor's office to the Texas Department of Emergency Management. They wrote that they've received numerous complaints about District Attorney Christina Mitchell Busbee, "including the failure to timely deliver victim's compensation resources to those in need.″
Busbee's office declined to comment Wednesday.
___
Bleiberg reported from Dallas.
___
Find more AP coverage of the Uvalde school shooting: https://apnews.com/hub/uvalde-school-shooting
Paul J. Weber And Jake Bleiberg, The Associated Press
In the midst of chaotic shooting, strangers save a young boy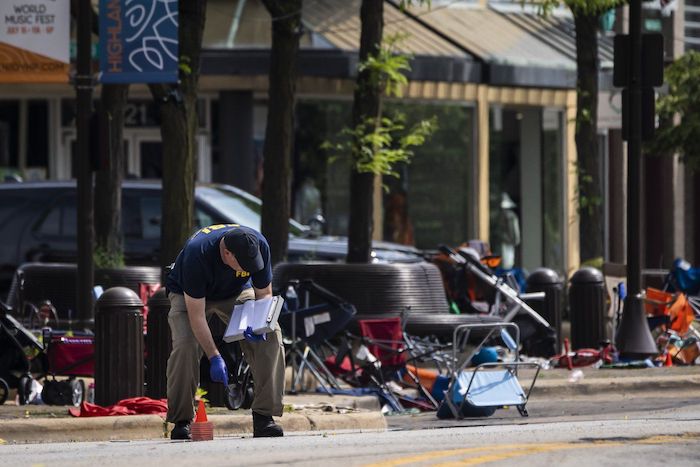 By Martha Irvine in Chicago
CHICAGO (AP) — A woman — stunned and speechless in the chaos of a July 4 parade massacre — walked up to Greg Ring and handed him a 2-year-old boy, covered in blood.
Ring had fled the scene in the Chicago suburb of Highland Park with his wife and three children to an area behind a popular pancake house.
"We kind of met eyes and didn't say anything…. I put my arms out, and she gave him to me," Ring said Thursday, when describing the exchange with the unidentified woman, who then laid down in front of their car in shock.
The boy pointed in the direction of the parade route, saying "Mommy, Daddy, Mommy, Daddy."
Ring's wish to help the boy carried him back to the scene. He tucked the boy's face in his chest, so he couldn't see the carnage. But Ring quickly realized it was too dangerous.
"Active shooter! Get back down!" a police officer shouted. Ring fled again.
He and his family got to their car and took the boy to a Highland Park fire station. "I have a boy. He's not ours," he told the department staff, who asked him to keep the boy as authorities searched for the shooter and helped the wounded.
"They were getting ready for war," Ring said.
The family drove to Ring's in-laws, where they hunkered down. There, the boy sat with Ring's 4-year-old, watching a Mickey Mouse show.
"He asked my wife to wipe him off because he had blood on him that wasn't his," said Ring, an insurance broker from Highland Park.
They were later able to identify the boy and reunite him with his grandparents.
Aiden McCarthy's parents, Kevin and Irina, both died in the shooting, which left five others dead and more than two dozen wounded.
Friends of the McCarthys said Irina's parents would care for the boy going forward.
"Aiden … will have a long road ahead to heal, find stability, and ultimately navigate life as an orphan. He is surrounded by a community of friends and extended family that will embrace him with love, and any means available to ensure he has everything he needs as he grows," Irina Colon, a family friend, wrote on a GoFundMe account she created for the family and Aiden. The account has raised more than $2 million.
On Thursday, Ring was still trying to process what happened at the July 4 parade. He said he's not a hero and just did what anyone would have done in the situation.
"I'm just filled with immense gratitude. I'm really sad. I don't know, I don't know how I feel. I have not slept for a minute the last two nights," he said.
"What could've happened — it is nothing short of a miracle that the five of us — me, my wife and my three kids — one of us or all of us isn't dead. I do not understand. Everybody around us was hit or got shot."
Four of others who were killed were identified Tuesday as Katherine Goldstein, 64; Jacquelyn Sundheim, 63; Stephen Straus, 88; and Nicolas Toledo-Zaragoza, 78, and Eduardo Uvaldo, 69.