Budget measures unlikely enough to spur major carbon capture investments: Experts
Deputy Prime Minister and Minister of Finance Chrystia Freeland delivers the federal budget in the House of Commons on Parliament Hill in Ottawa, Tuesday, March 28, 2023. Industry watchers say Tuesday's federal budget likely won't be enough to convince Canadian oil and gas companies to pull the trigger on expensive, emissions-reducing carbon capture and storage projects. THE CANADIAN PRESS/Sean Kilpatrick
By Amanda Stephenson in Calgary
A question mark continues to hang over the future of carbon capture and storage projects in Canada, in spite of a pledge in Tuesday's federal budget to deliver more investment certainty for major emissions-reducing projects.
"Look, we have set some very aggressive climate targets in Canada. You can't kick the can down the road," said carbon capture advocate James Millar, arguing that's exactly what the federal government did Tuesday when it provided no additional details around its previously stated intention to reduce the risk of investing in pricey emissions-reduction projects by essentially guaranteeing the future price of carbon.
"The difference comes down to investment certainty in the U.S., versus the promise of investment certainty in Canada."
As president and CEO of the International CCS (carbon capture and storage) Knowledge Centre, a non-profit organization based in Regina, Millar had been closely watching Tuesday's budget in hopes of obtaining more federal support for the expensive technology that can be used to trap harmful greenhouse gas emissions from industrial processes and store them safely underground.
Heavy emitters — in particular, the oil and gas sector — have identified carbon capture and storage technology as key to helping the sector meet its emissions reduction targets and have been looking for government incentives akin to what is being offered south of the border, where the U.S. Inflation Reduction Act promises to pay companies a guaranteed US$85 price for each tonne of injected carbon.
While Canada has already announced an investment tax credit that will help to offset some of the up-front capital costs of carbon capture projects, companies have so far been hesitant to pull the trigger and go ahead with proposed large-scale projects.
The Pathways Alliance, for example, a consortium of oilsands companies, has proposed building a $16.5-billion carbon capture and storage transportation line to combat emissions from existing oilsands infrastructure in northern Alberta.
But the group has not yet made a final investment decision, saying it needs to know its project will be competitive with those in the U.S. before proceeding.
One thing the oil and gas sector has said will help with that is some kind of mechanism that would reduce the risk to companies that the federal price on carbon could be lowered or eliminated. If a new government were to be elected and remove or change Canada's carbon pricing system, investing in expensive carbon-reducing technology could suddenly become uneconomical.
On Tuesday, the federal government reiterated that it intends to create such a mechanism through a so-called carbon contracts for difference system — but disappointed many who were hoping for details. Instead, the government announced it plans to begin consultations around the development of such a program.
Millar said while he doesn't doubt the government's good intentions, companies that have proposed large-scale projects need to get moving now if they have any hope of meeting Canada's goal to reduce this country's overall emissions by 40 per cent below 2005 levels by 2030 looms.
"We're already in 2023, we're seven years out. The consultations that were announced yesterday will take months," he said. "I think it will take at least a year because it's going to take time to set up the process."
The Pathways Alliance itself took a diplomatic tone Tuesday, issuing a statement after the tabling of the budget saying it was "encouraged" by the signal that more policy certainty is coming, and adding it looks forward to a "better understanding" of the government's intentions.
But Greg Pardy of RBC Capital said in a research note that in spite of some enhancements to the previously announced investment tax credit, budgetary support for carbon capture and storage was "somewhat limited — perhaps even disappointing."
"In our view, Canada's federal government needs to shift into much higher gear when it comes to incentivizing decarbonization investment if it is to achieve its bold climate change ambitions," Pardy said.
A report from BMO Capital Markets published just before the release of Tuesday's budget said Canada's policy framework for large-scale deployment of carbon capture and storage disadvantages producers here compared to the U.S., "despite claims to the contrary from some proponents of the environmental lobby."
Environmentalists have been critical of any additional federal support for carbon capture, calling it akin to a subsidy for oil and gas companies that enables them to increase production when the world should be scaling down fossil fuel usage.
But the BMO report said carbon capture is an essential part of the energy transition, and without offering improved incentives to keep up with the U.S., Canada risks not meeting its 2030 emissions reduction targets.
"Canada's market-based carbon price systems are much too uncertain to act as 'incentive' for industry to invest in major decarbonization projects," the BMO report stated.
"Emitters need financial supports that are tangible and recognized by financial institutions to underwrite bank financing."
This report by The Canadian Press was first published March 29, 2023.
United Conservatives jump out to early lead in tight Alberta election
By Dean Bennett
Alberta's United Conservative Party jumped out to a lead over the NDP in early returns Monday in what was forecast to be a tight race in the provincial election.
Danielle Smith's UCP was holding strong in its traditional rural strongholds while Rachel Notley's NDP was faring well in Edmonton, where it won all but one seat in 2019.
Early results were still mixed in the key battleground of Calgary.
The UCP is seeking a second mandate while the NDP is fighting to regain the majority government it lost to the UCP in 2019.
Polling have suggested a close contest between the two parties, with support for smaller parties falling off.
Advance polls set a record of 758,540 votes cast, eclipsing the previous record of more than 700,000 in 2019.
The campaign has taken place alongside a record-breaking spring for wildfires in Alberta. Ten communities were under evacuation orders Monday.
Elections Alberta set up alternate voting locations for those displaced. Evacuation was added as an eligible reason to vote by special ballot and mobile voting stations were placed in evacuation centres.
Calgary has been seen as the campaign's battleground and half of the top 10 advance polling stations were in that city. Two were in Edmonton suburbs.
To win, the NDP would have to continue its dominance in Edmonton, flip the majority in Calgary and hope for some help in smaller cities, while defeating scores of UCP incumbents including cabinet ministers.
The NDP needs to swing 20 seats in the 87-seat legislature.
The UCP won 63 seats under then-leader Jason Kenney in 2019 to 24 for Notley's NDP.
Polls suggest the UCP should continue its near total domination in rural areas and smaller centres, giving it a cushion of up to 40 or so seats to reach the 44 needed to form a majority government.
The month-long campaign has been dominated by the economy and health care.
Albertans are struggling with high costs for consumer goods, a shortage of family doctors and long waits in emergency rooms.
Smith has promised to keep Alberta the lowest-tax regime in Canada.
Her government, she says, would introduce a law to mandate a referendum before any personal or corporate income tax hikes. There would also be tax changes to benefit those making more than $60,000 a year, at a cost of $1 billion annually to the treasury.
The NDP promised to maintain Alberta's status as Canada's lowest tax regime. It pledged to end the tax on small businesses and raise the corporate income tax to 11 per cent from eight per cent, which it says would help pay for investments in health and education while keeping the books balanced and maintaining the lowest corporate rate in Canada.
The NDP also promised legislation to counteract UCP policies that hiked the cost of utilities, auto insurance, a range of fees and tuition.
Both leaders promised to preserve the publicly funded health system while creating more primary care teams — physicians accompanied by related specialists such as nurses and therapists — so more Albertans are able to access a family doctor and not clog emergency wards for care.
Polls showed trust was a key issue, with Notley viewed more favourably than her party and vice versa for Smith.
Smith was dogged during the campaign by past comments she made comparing those who took the COVID-19 vaccine to credulous followers of Adolf Hitler. A report also came out mid-campaign from the province's ethics commissioner that concluded Smith undermined the rule of law by pressuring her justice minister to end the criminal court case of a COVID-19 protester.
This report by The Canadian Press was first published May 29, 2023.
Police looking for these 3 suspects after Super 8 Motel in Innisfail robbed early Monday morning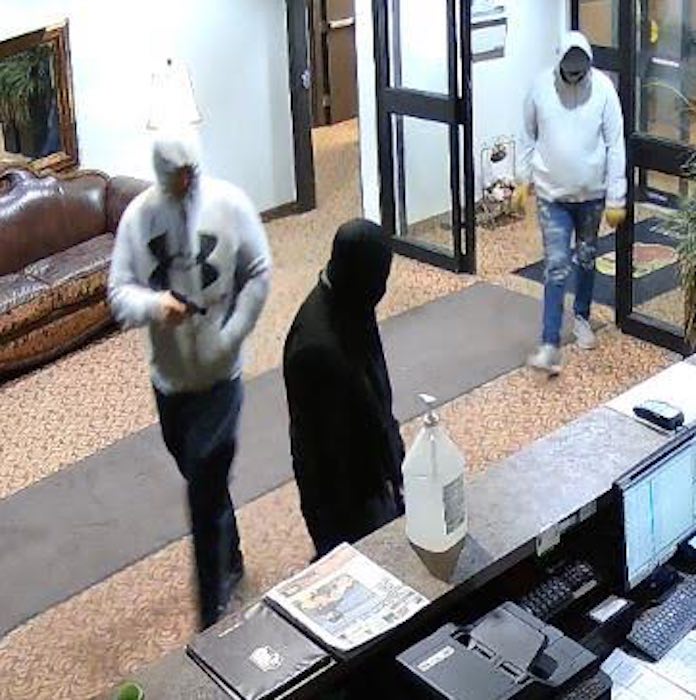 Innisfail RCMP investigate robbery
Innisfail Ala. – On May 29, 2023, at approximately 4:10 a.m., the Super 8 motel in Innisfail was the victim of an armed robbery. Three male suspects entered the hotel, two of which had firearms. Money was demanded from the manager. All three left the motel in a vehicle which is described as:
Chevrolet Dura Max truck
Sliver
Lifted
The suspects are described as:
Suspect #1: Caucasian male, tall and muscular. Wearing jeans and a grey Under Armour hoody. He was carrying a pistol.
Suspect #2: Caucasian male, short. Wearing all black. He was carrying a sawed off shotgun
Suspect #3: Caucasian male tall with a chubby belly. He was wearing a grey hoody, jeans and a black ball hat.
If you have information about this incident, please call the Innisfail RCMP at 403-227-3341 or call your local police. If you want to remain anonymous, you can contact Crime Stoppers by phone at 1-800-222-8477 (TIPS), by internet atwww.tipsubmit.com, or by SMS (check your local Crime Stoppers www.crimestoppers.ab.ca for instructions).