Bonjour! France welcoming back (vaccinated) tourists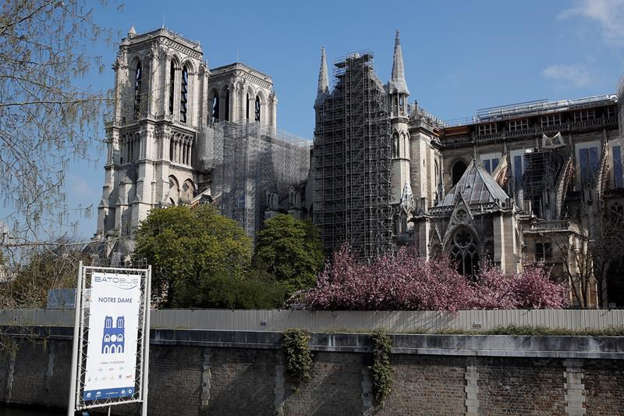 A stroll in Pablo Picasso's footsteps in Montmartre; breathing in the scents of Provence; a walk along D-Day beaches: These and all of France's other attractions will again become easily accessible from next week to most foreign tourists — if they are vaccinated.
France is putting itself back on the menu as a destination for international visitors who have had COVID-19 jabs. The government announced Friday that it is removing the need for coronavirus tests for vaccinated Europeans. It also is allowing vaccinated tourists from most of the rest of the world, including the United States, much of Asia, Africa, the Middle East and North and central America to come back, if they have a negative test.
The relaxed rules will kick in from Wednesday, offering a boost for France's valuable tourism sector that generated tens of billions of euros (dollars) and sustained more than 1 million jobs before the pandemic froze mass tourism.
For French tour guide Linda Zenou, the return of foreign visitors cannot come soon enough: unemployment payments that she's been surviving on during the pandemic stopped last month, leaving her with "no more resources, nothing." The 61-year-old has had no foreign tourists to guide since she led a busload of English and Spanish speakers around the Palace of Versailles in February 2020.
"Every day there are announcements that the Americans — 'Whoopee!' — et cetera are coming back," she said. "It's going to take time to put in place and since I'm desperate, it's hard to be positive."
The co-owner of the magnificent Vaux-le-Vicomte château southeast of Paris also said he expects a "timid" return of foreign tourists, who used to make up about one-quarter of visitors to the 17th century estate.
"Hooray," Alexandre de Vogüé said of the reopening borders. "But we're staying cautious."
Tourism to France will still not be possible from countries wrestling with virus surges and worrisome variants. This "red list" for the moment has 16 countries, including India, South Africa and Brazil. Even vaccinated, travelers from red countries would still need to justify the trip and quarantine for a week.
Outside of Europe, most of the rest of the world is classed as "orange" in the new travel rulebook released Friday by the French government.
Vaccinated visitors from "orange" countries — including the U.S. and Britain — will no longer need to quarantine on arrival, or have to justify the reasons for their trip to France. They will, however, still be asked for a negative PCR test no older than 72 hours, or a negative antigenic test of no more than 48 hours.
Unvaccinated children will be allowed in with vaccinated adults, but will have to show a negative test from age 11.
European visitors and those from seven countries classed as "green" — Australia, South Korea, Israel, Japan, Lebanon, New Zealand and Singapore — will no longer need to undergo testing if they're vaccinated.
___
Follow all of AP's pandemic coverage at https://apnews.com/hub/coronavirus-pandemic, https://apnews.com/hub/coronavirus-vaccine and https://apnews.com/UnderstandingtheOutbreak
John Leicester, The Associated Press
Canada's Jessica Klimkait wins bronze in under-57 kg judo event
TOKYO — Canada's Jessica Klimkait has won bronze in the women's under-57 kilogram category at the Tokyo Olympics.
The reigning world champion from Whitby, Ont., defeated Kaja Kajzer of Slovenia by waza-ari in a bronze-medal match.
Klimkait missed a chance to add a gold medal to her world championship title when she lost to Sarah Leonie Cysique of France in the semifinals.
Klimkait was defeated by ippon when she was assessed a shido in the golden score period for a false attack. It was Klimkait's third penalty of the bout, giving Cysique a berth on the gold-medal match.
Klimkait was in fine form before her semifinal loss. She defeated Poland's Julia Kowalczyk in their quarterfinal bout at the Nippon Budokan.
The victory, her second straight via ippon, came after she beat Bulgaria's Ivelina Ilieva in the round of 16 earlier in the day
This report by The Canadian Press was first published July 26, 2021.
The Canadian Press
Mac Neil finishes first in women's 100 butterfly to capture Canada's first gold medal
TOKYO — Swimmer Margaret Mac Neil has won Canada's first gold medal of the 2020 Tokyo Olympics.
Mac Neil was seventh at the halfway point of the women's 100-metre butterfly, but swam a strong second length to win in a time of 55.59 seconds.
Zhang Yufei of China was second and Emma McKeon of Australia finished third.
Mac Neil became Canada's first multi-medallist in Tokyo following a silver medal in the women's 4×100 freestyle relay in the first day of finals.
The 21-year-old from London, Ont., was a surprise winner of the 100-metre butterfly at the 2019 world championship in Gwangju, South Korea, where she bested reigning Olympic champion Sarah Sjoestroem of Sweden.
Mac Neil, a senior at the University of Michigan, is also a two-time NCAA champion in freestyle and butterfly. 
She'd posted the sixth-fastest semifinal time in the 100-metre butterfly an hour before swimming the second leg of the relay in Tokyo.
This report by The Canadian Press was first published July 25, 2021.
The Canadian Press