Blue Jays shortstop Bo Bichette named American League player of the week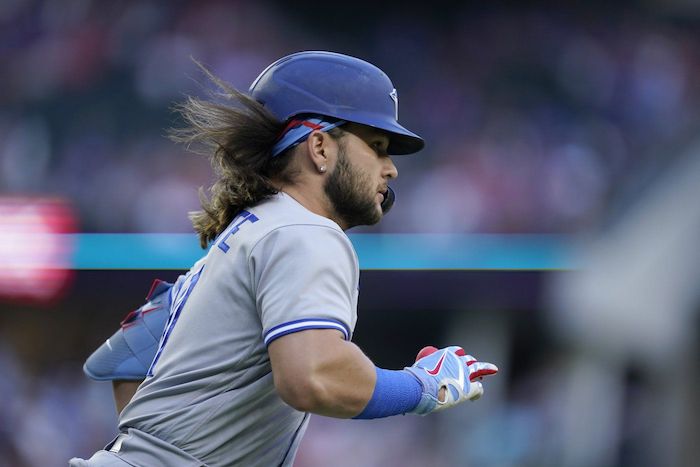 By John Chidley-Hill in Toronto
Toronto Blue Jays shortstop Bo Bichette has been named the American League's player of the week.
Bichette batted .500 (16-for-32) with 11 runs scored, four doubles, one triple, five home runs, 13 runs batted in and a 1.156 slugging percentage as the Blue Jays posted a 5-2 record last week. He said on Monday he appreciated the timing of the award as Toronto targets a post-season appearance.
"It's pretty cool to have a week like that, especially this time of the year," said Bichette in the Rogers Centre dugout. "It's cool but I'm going to keep on moving forward."
The 24-year-old from Orlando, Fla., recorded at least three hits in each of his first three games of the week, going 10-for-15 with four home runs and nine RBIs.
His breakout week was during a critical 10-game road trip, the longest of Toronto's season, with the playoffs hanging in the balance. The Blue Jays won eight games in that stretch and began a seven-game homestand on Monday against the Tampa Bay Rays and Baltimore Orioles.
"Every game from here on out is a really big one," said Bichette. "We need every win we can get.
"We just have to continue to come to the field, competing as best as we can, and leaving it all out there and whatever happens happens."
Bichette won his first player of the week award and is the first Blue Jay to receive the honour since pitcher Kevin Gausman on Aug. 8.
The last Toronto position player to be named player of the week was first baseman Vladimir Guerrero Jr. on June 21.
"It's kind of hitter that (Bichette) is, that he can be," said Blue Jays interim manager John Schneider. "I think that he is locked in right now and not missing pitches, taking pitches competently.
"His plan is great, but his execution is better."
Los Angeles Dodgers first baseman Freddie Freeman was named the National League's player of the week after batting .545 (12-for-22) with seven runs scored, two doubles, three home runs, eight RBIs and a 1.045 slugging percentage across six games.
This report by The Canadian Press was first published Sept. 12, 2022.
India suspends visa services in Canada and rift widens between countries
India's visa processing centre in Canada suspended services Thursday as a rift widened between the countries after Canada's leader said India may have been involved in the killing of a Canadian citizen. The High Commission of India is seen in Ottawa, Wednesday, Sept. 20, 2023. THE CANADIAN PRESS/Patrick Doyle
New Delhi
India's visa processing centre in Canada suspended services Thursday as a rift widened between the countries after Prime Minister Justin Trudeau said India may have been involved in the killing of a Canadian citizen.
Trudeau told Parliament on Monday that there were "credible allegations" of Indian involvement in the assassination of Sikh independence activist Hardeep Singh Nijjar, who had been wanted by India for years and was gunned down in June outside the temple he led.
Canada also expelled an Indian diplomat, and India followed by expelling a Canadian diplomat on Tuesday. It called the allegations being investigated in Canada absurd and an attempt to shift attention from the presence of Nijjar and other wanted suspects in Canada.
"Important notice from Indian Mission: Due to operational reasons, with effect from 21 Sept. Indian visa services have been suspended till further notice," the BLS Indian Visa Application Center in Canada said. It gave no further details. BLS is the agency that processes visa requests for India.
India's External Affairs Ministry did not immediately comment.
The Canadian High Commission in New Delhi said all its consulates in India are open and are continuing to provide services, but staff safety is being assessed.
"In light of the current environment where tensions have heightened, we are taking action to ensure the safety of our diplomats. With some diplomats having received threats on various social media platforms, Global Affairs Canada is assessing its staff complement in India," it said in a statement.
It said Canada expects India to provide for the security of its diplomats and consular officers under the Vienna conventions.
In 2021, 80,000 Canadian tourists visited India, making them the fourth largest group, according to India's Bureau of Immigration.
On Wednesday, India's External Affairs Ministry issued an updated travel advisory urging its citizens travelling in Canada and especially those studying in the North American country to be cautious because of "growing anti-India activities and politically condoned hate-crimes."
Indians should also avoid going to venues in Canada where "threats have particularly targeted Indian diplomats and sections of the Indian community who oppose anti-India agenda," the ministry said.
Nijjar was working to organize an unofficial referendum among the Sikh diaspora on independence from India at the time of his killing. He had denied India's accusation that he was a terrorist.
The second stage of B.C. voting on whether a Sikh homeland should be established in India's Punjab province is scheduled to be held on Oct. 29.
The Vancouver Police Department beefed up security outside India's Consulate after Trudeau's announcement this week.
Const. Tania Visintin, Vancouver police media relations officer, said in a statement Wednesday that police are "closely monitoring the situation."
"We're doing significant work behind the scenes, which includes continuous risk assessments, with a goal of maintaining public safety and preventing violence," Visintin said in an emailed statement.
Visintin said Vancouver police were not aware of any specific threats to Indian consular officials, but have increased their presence at the downtown Vancouver consulate.
Demands for an independent Sikh homeland, known as Khalistan, started as an insurgency in India's Punjab state in the 1970s that was crushed in an Indian government crackdown that killed thousands. The movement has since lost much of its political power but still has supporters in Punjab, where Sikhs form a majority, as well as among the sizable overseas Sikh diaspora.
India's National Investigation Agency said Wednesday it has intensified its crackdown on Sikh insurgents operating in India.
It announced rewards of up to 1 million rupees (CAD$16,240) for information leading to the arrest of five insurgents, one of whom is believed to be based in neighboring Pakistan.
The agency accused them of extorting money from businesses for a banned Sikh organization, the Babbar Khalsa International, and of targeted killings in India. "They also have established a network of operatives in various countries to further their terrorist activities in India," it said in a statement, without naming any country.
India accuses Pakistan of supporting insurgencies in Kashmir and Punjab, a charge Islamabad denies.
— with files from The Associated Press
Cross-country rallies against 'gender ideology' in schools met with counter-protests
People hold signs during a demonstration on Parliament Hill in Ottawa on Wednesday, Sept. 20, 2023. Protests and counter-protests for and against Canada's trans and LGBTQ community are being planned across Canada on Wednesday. THE CANADIAN PRESS/Sean Kilpatrick
Heated exchanges between protesters and counter-protesters are taking place across the country today over school policies on gender identity.
Posters created by a group called "1MillionMarch4Children" say rally participants are standing together against what they call "gender ideology" in the nation's schools.
The protests are linked to policies across the country, including in New Brunswick and Saskatchewan, that require young people to get parental consent before teachers can use their preferred first names and pronouns.
But the rallies are being met with counter-protesters who say those policies are a violation of children's rights and that transgender youth should not be outed to their parents by teachers.
Protests are occurring across the country, including in Montreal, Fredericton and Ottawa — where thousands of people are facing off in front of Parliament Hill and NDP Leader Jagmeet Singh led a group of counter-protesters down Wellington Street.
In Fredericton, New Brunswick Premier Blaine Higgs — whose government helped spark the national debate about gender policies in schools — told reporters today that parents must be informed if their children are questioning their gender identity.
This report by The Canadian Press was first published Sept. 20, 2023.