Blue Jays rout Orioles but get no help, miss playoffs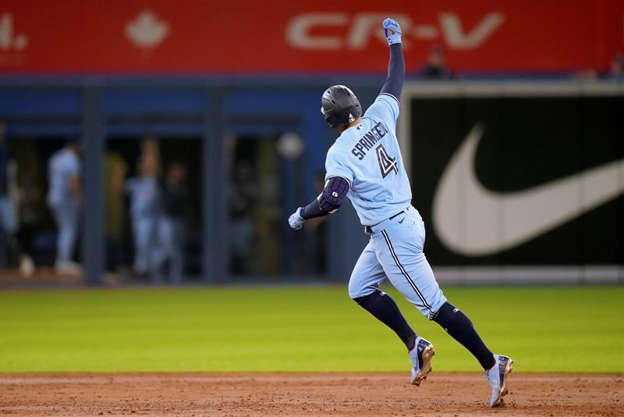 TORONTO (AP) — George Springer hit two home runs, including a grand slam, and Vladimir Guerrero Jr. launched his 48th homer as the Toronto Blue Jays romped to a 12-4 blowout of the Baltimore Orioles that wasn't enough to avoid playoff elimination Sunday.
Toronto needed to win, and a loss by the Yankees or Red Sox on the final day of the regular season to force at least a tiebreaker game Monday for an AL wild-card spot. But the Blue Jays' hopes were dashed when Boston rallied from a four-run deficit to beat Washington 7-5 on a two-run homer by Rafael Devers in the top of the ninth inning that silenced stunned Toronto fans at Rogers Centre who stuck around to watch on the big video board.
A little earlier, New York edged Tampa Bay 1-0 with a run in the bottom of the ninth to clinch a postseason berth.
Hyun Jin Ryu (14-10) pitched five innings to win for the first time since Sept. 6, Marcus Semien hit a solo home run and Tesocar Hernández had three hits and three RBIs as the Blue Jays scored in each of the first five innings.
Tyler Nevin hit his first career home run for Baltimore, a 442-foot drive into the fourth deck off Ryu, but the Orioles finished a distant last in the AL East at 52-110.
The Blue Jays (91-71) hit four home runs in Game 162 to finish with 262, the highest total in the majors this season and the most in Toronto history.
Springer's home runs were his 21st and 22nd, his 18th career multihomer game and fourth of 2021.
Springer gave the Blue Jays an early advantage with a leadoff homer against right-hander Bruce Zimmermann in the first. It was the 43rd leadoff home run of his career and fourth this season.
Springer made it 9-1 with his grand slam off Eric Hanhold in the third, the sixth slam of his career.
Guerrero drove in Springer when he homered off Marcos Diplán in the second, matching Kansas City's Saldavor Perez for the major league lead. Guerrero also broke a tie with Eddie Matthews (1953) for the most home runs in one season by a player 22 or younger.
Making his second start after a stint on the injured list because of a sore neck, Ryu allowed six hits and two runs. He walked one and struck out seven.
Nate Pearson, Julian Merryweather, Jacob Barnes and Adam Cimber all worked one inning for Toronto.
Zimmermann (4-5) faced seven batters before being replaced. He allowed five hits and three runs.
SCREEN TIME
Former Blue Jays left-hander Ricky Romero posted a photo on social media showing all four games in the AL wild-card race airing on different television screens in a room of his home. "Added a 4th tv for the madness today," Romero wrote. "I'm not moving all day."
UP NEXT
Blue Jays: Toronto had not announced reporting dates for spring training 2022. The Blue Jays begin exhibition play Feb. 26 against Minnesota.
Orioles: Pitchers and catchers report to spring training on Feb. 15, position players on Feb. 20 and the first full workout is Feb. 21. Baltimore begins its 2022 spring training schedule Feb. 26 against the Yankees.
___
More AP MLB: https://apnews.com/hub/MLB and https://twitter.com/AP_Sports
Ian Harrison, The Associated Press
'Freedom Convoy' organizer Tamara Lich expected to have bail hearing today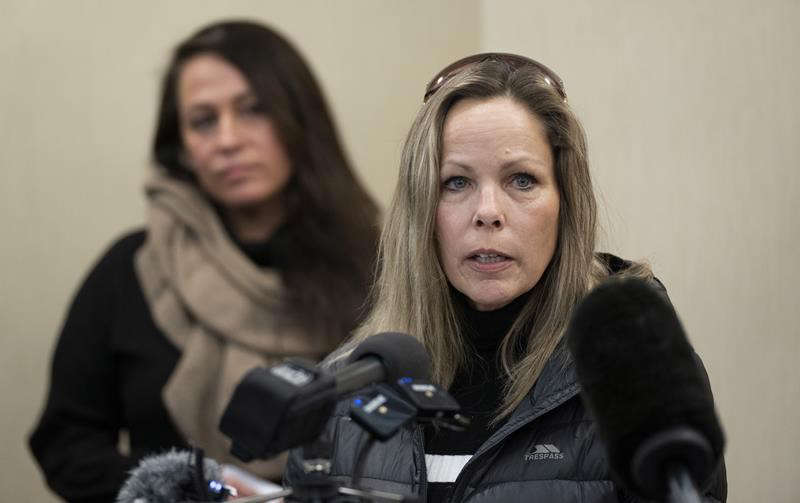 OTTAWA — Tamara Lich, an organizer of the "Freedom Convoy," is set to appear in an Ottawa court today for a bail hearing after being arrested last week for allegedly breaching one of her bail conditions.
She was arrested in Medicine Hat, Alta., where she lives, on a Canada-wide arrest warrant sought by the Ottawa police.
Police transported her to the capital and she briefly appeared before an Ottawa judge on Thursday before remaining in custody over the weekend.
Lich was a key figurehead of the massive protest that overtook the capital's downtown streets for more than three weeks in February.
She and fellow protest organizer Chris Barber are jointly accused of mischief, obstructing police, counselling others to commit mischief and intimidation.
She was released with a long list of conditions, including a ban from all social media and an order not to support anything related to the "Freedom Convoy."
Police have not said which condition she's accused of breaching.
This report by The Canadian Press was first published July 5, 2022.
—
This story was produced with the financial assistance of the Meta and Canadian Press News Fellowship.
The Canadian Press
NASA satellite breaks from orbit around Earth, heads to moon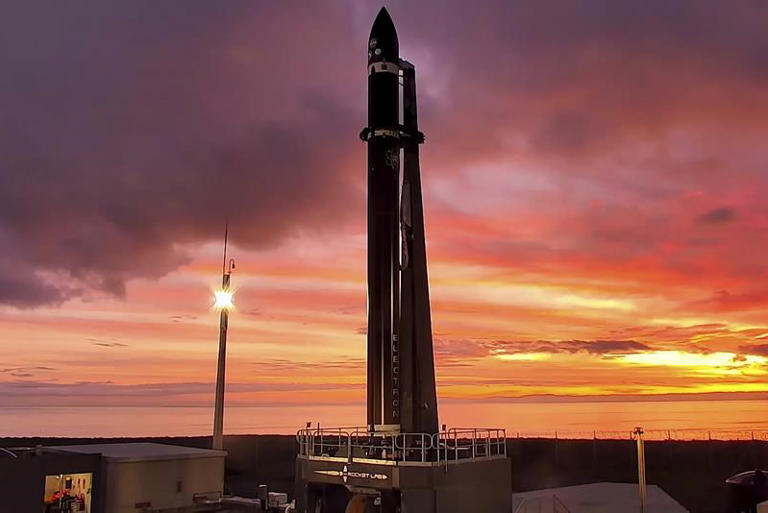 WELLINGTON, New Zealand (AP) — A satellite the size of a microwave oven successfully broke free from its orbit around Earth on Monday and is headed toward the moon, the latest step in NASA's plan to land astronauts on the lunar surface again.
It's been an unusual journey already for the Capstone satellite. It was launched six days ago from New Zealand's Mahia Peninsula by the company Rocket Lab in one of their small Electron rockets. It will take another four months for the satellite to reach the moon, as it cruises along using minimal energy.
Rocket Lab founder Peter Beck told The Associated Press it was hard to put his excitement into words.
"It's probably going to take a while to sink in. It's been a project that has taken us two, two-and-a-half years and is just incredibly, incredibly difficult to execute," he said. "So to see it all come together tonight and see that spacecraft on its way to the moon, it's just absolutely epic."
Beck said the relatively low cost of the mission — NASA put it at $32.7 million — marked the beginning of a new era for space exploration.
"For some tens of millions of dollars, there is now a rocket and a spacecraft that can take you to the moon, to asteroids, to Venus, to Mars," Beck said. "It's an insane capability that's never existed before."
If the rest of the mission is successful, the Capstone satellite will send back vital information for months as the first to take a new orbit around the moon called a near-rectilinear halo orbit: a stretched-out egg shape with one end of the orbit passing close to the moon and the other far from it.
Eventually, NASA plans to put a space station called Gateway into the orbital path, from which astronauts can descend to the moon's surface as part of its Artemis program.
Beck said the advantage of the new orbit is that it minimizes fuel use and allows the satellite — or a space station — to stay in constant contact with Earth.
The Electron rocket that launched June 28 from New Zealand was carrying a second spacecraft called Photon, which separated after nine minutes. The satellite was carried for six days in Photon, with the spacecraft's engines firing periodically to raise its orbit farther and farther from Earth.
A final engine burst Monday allowed Photon to break from Earth's gravitational pull and send the satellite on its way. The plan now is for the 25-kilogram (55-pound) satellite to far overshoot the moon before falling back into the new lunar orbit Nov. 13. The satellite will use tiny amounts of fuel to make a few planned trajectory course corrections along the way.
Beck said they would decide over the coming days what to do with Photon, which had completed its tasks and still had a bit of fuel left in the tank.
"There's a number of really cool missions that we can actually do with it," Beck said.
For the mission, NASA teamed up with two commercial companies: California-based Rocket Lab and Colorado-based Advanced Space, which owns and operates the Capstone satellite.
___
Find more AP Science coverage at https://apnews.com/hub/science
Nick Perry, The Associated Press