Biden: US would intervene with military to defend Taiwan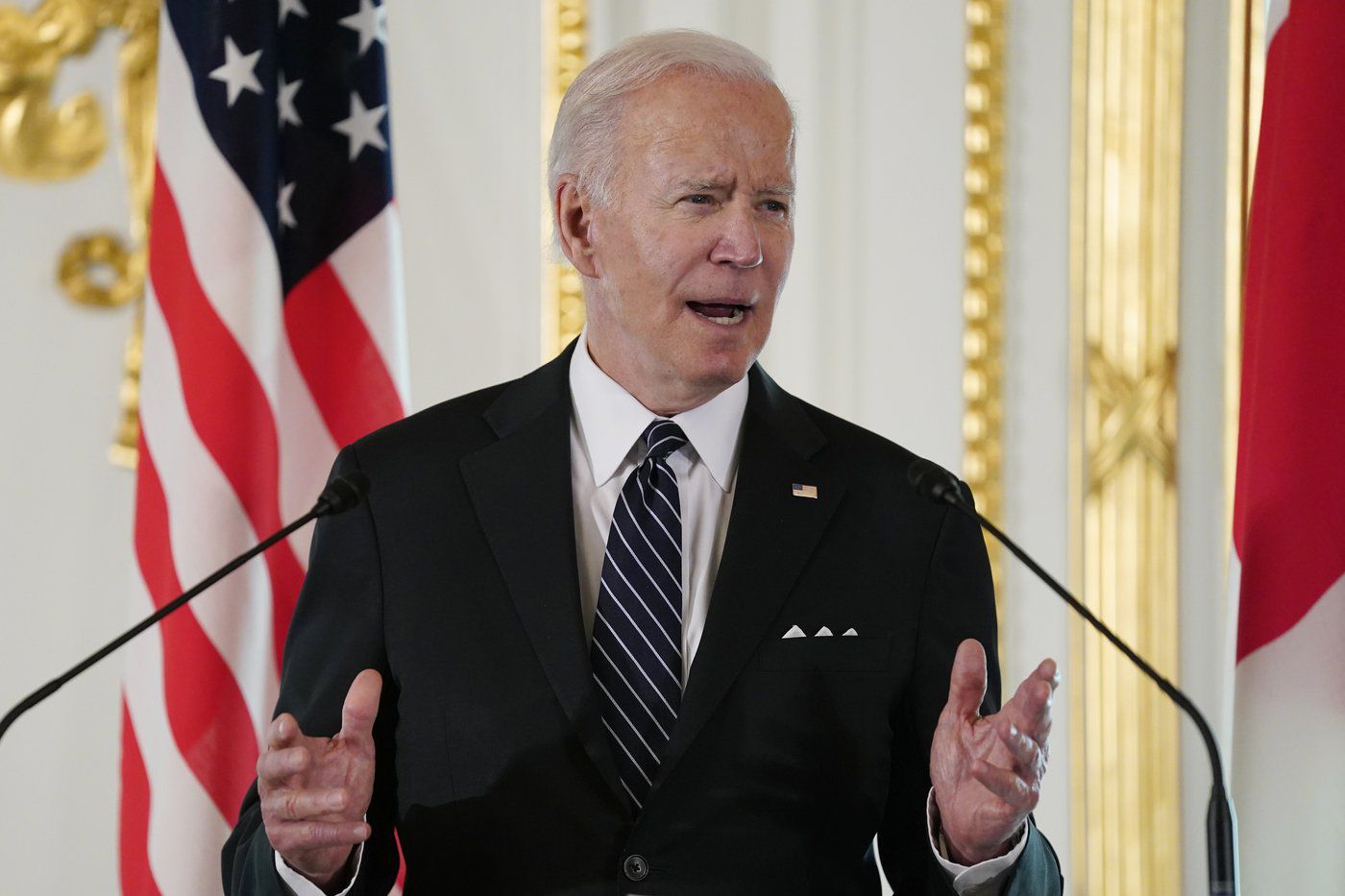 TOKYO (AP) — President Joe Biden said Monday that the U.S. would intervene militarily if China were to invade Taiwan, saying the burden to protect Taiwan is "even stronger' after Russia's invasion of Ukraine. It was one of the most forceful presidential statements in support of self-governing in decades.
Biden, at a news conference in Tokyo, said "yes" when asked if he was willing to get involved militarily to defend Taiwan if China invaded. "That's the commitment we made," he added.
The U.S. traditionally has avoided making such an explicit security guarantee to Taiwan, with which it no longer has a mutual defense treaty, instead maintaining a policy of "strategic ambiguity" about how far it would be willing to go if China invaded. The 1979 Taiwan Relations Act, which has governed U.S. relations with the island, does not require the U.S. to step in militarily to defend Taiwan if China invades, but makes it American policy to ensure Taiwan has the resources to defend itself and to prevent any unilateral change of status in Taiwan by Beijing.
Biden's comments drew a sharp response from the mainland, which has claimed Taiwan to be a rogue province.
Chinese Foreign Ministry spokesperson Wang Wenbin expressed "strong dissatisfaction and resolute opposition" to Biden's comments. "China has no room for compromise or concessions on issues involving China's core interests such as sovereignty and territorial integrity."
He added, "China will take firm action to safeguard its sovereignty and security interests, and we will do what we say."
A White House official said Biden's comments did not reflect a policy shift.
Speaking alongside Japanese Prime Minister Fumio Kishida, Biden said any effort by China to use force against Taiwan would "just not be appropriate," adding that it "will dislocate the entire region and be another action similar to what happened in Ukraine."
China has stepped up its military provocations against democratic Taiwan in recent years aimed at intimidating it into accepting Beijing's demands to unify with the communist mainland.
"They're already flirting with danger right now by flying so close and all the maneuvers that are undertaken," Biden said of China.
Under the "one China" policy, the U.S. recognizes Beijing as the government of China and doesn't have diplomatic relations with Taiwan. However, the U.S. maintains unofficial contacts including a de facto embassy in Taipei, the capital, and supplies military equipment for the island's defense.
Biden said it is his "expectation" that China would not try to seize Taiwan by force, but he said that assessment "depends upon just how strong the world makes clear that that kind of action is going to result in long-term disapprobation by the rest of the community."
He added that deterring China from attacking Taiwan was one reason why it's important that Russian President Vladimir Putin "pay a dear price for his barbarism in Ukraine," lest China and other nations get the idea that such action is acceptable.
Fearing escalation with nuclear-armed Russia, Biden quickly ruled out putting U.S. forces into direct conflict with Russia, but he has shipped billions of dollars in U.S. military assistance that has helped Ukraine put up a stiffer-than-expected resistance to Russia's onslaught.
Taipei cheered Biden's remarks, with Ministry of Foreign Affairs spokesperson Joanne Ou expressing "sincere welcome and gratitude" for the comments.
"The challenge posed by China to the security of the Taiwan Strait has drawn great concern in the international community," said Ou. "Taiwan will continue to improve its self-defense capabilities, and deepen cooperation with the United States and Japan and other like-minded countries to jointly defend the security of the Taiwan Strait and the rules-based international order, while promoting peace, stability and prosperity in the Indo-Pacific region."
It's not the first time Biden has pledged to defend Taiwan against a Chinese attack, only for administration officials to later claim there had been no change to American policy. In a CNN town hall in October, Biden was asked about using the U.S. military to defend Taiwan and replied, "Yes, we have a commitment to do that."
Biden's comments came just before he formally launched a long-anticipated Indo-Pacific trade pact that excludes Taiwan.
White House national security adviser Jake Sullivan confirmed Sunday that Taiwan isn't among the governments signed up for the Indo-Pacific Economic Framework, which is meant to allow the U.S. to work more closely with key Asian economies on issues like supply chains, digital trade, clean energy and anticorruption.
Inclusion of Taiwan would have irked China.
Sullivan said the U.S. wants to deepen its economic partnership with Taiwan on a one-to-one basis.
___
Miller reported from Washington. Associated Press writer Darlene Superville in Washington contributed to this report.
Putin declares victory in embattled Donbas region of Luhansk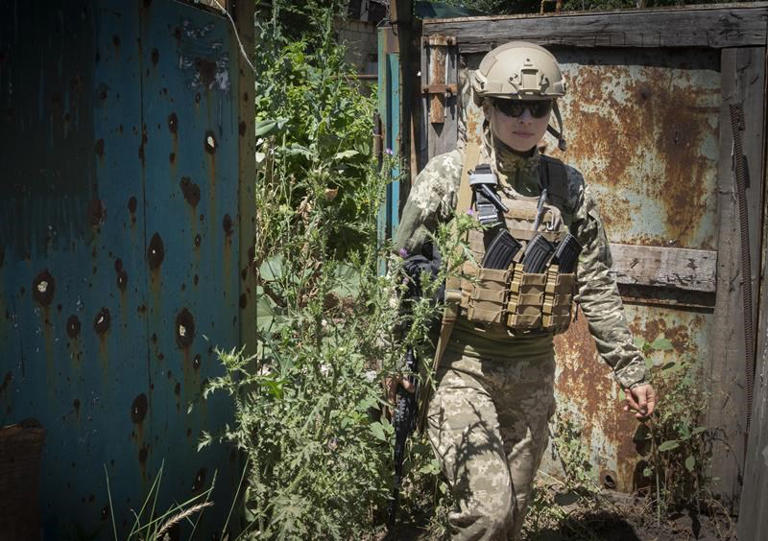 POKROVSK, Ukraine (AP) — Russian President Vladimir Putin on Monday declared victory in the eastern Ukrainian region of Luhansk, one day after Ukrainian forces withdrew from their last remaining bulwark of resistance in the province.
Russia's Defense Minister Sergei Shoigu reported to Putin in a televised meeting Monday that Russian forces had taken control of Luhansk, which together with the neighboring Donetsk province makes up Ukraine's industrial heartland of Donbas.
Shoigu told Putin that "the operation" was completed on Sunday after Russian troops overran the city of Lysychansk, the last stronghold of Ukrainian forces in Luhansk.
Putin, in turn, said that the military units "that took part in active hostilities and achieved success, victory" in Luhansk, "should rest, increase their combat capabilities."
Putin's declaration came as Russian forces tried to press their offensive deeper into eastern Ukraine after the Ukrainian military confirmed that its forces had withdrawn from Lysychansk on Sunday. Luhansk governor Serhii Haidai said on Monday that Ukrainian forces had retreated from the city to avoid being surrounded.
"There was a risk of Lysychansk encirclement," Haidai told the Associated Press, adding that Ukrainian troops could have held on for a few more weeks but would have potentially paid too high a price.
"We managed to do centralized withdrawal and evacuate all injured," Haidai said. "We took back all the equipment, so from this point withdrawal was organized well."
The Ukrainian General Staff said Russian forces were now focusing their efforts on pushing toward the line of Siversk, Fedorivka and Bakhmut in the Donetsk region, about half of which is controlled by Russia. The Russian army has also intensified its shelling of the key Ukrainian strongholds of Sloviansk and Kramatorsk, deeper in Donetsk.
On Sunday, six people, including a 9-year-old girl, were killed in the Russian shelling of Sloviansk and another 19 people were wounded, according to local authorities. Kramatorsk also came under fire on Sunday.
An intelligence briefing Monday from the British Defense Ministry supported the Ukrainian military's assessment, noting that Russian forces will "now almost certainly" switch to capturing Donetsk. The briefing said the conflict in Donbas has been "grinding and attritional," and is unlikely to change in the coming weeks.
While the Russian army has a massive advantage in firepower, military analysts say that it doesn't have any significant superiority in the number of troops. That means Moscow lacks resources for quick land gains and can only advance slowly, relying on heavy artillery and rocket barrages to soften Ukrainian defenses.
Russian President Vladimir Putin has made capturing the entire Donbas a key goal in his war in Ukraine, now in its fifth month. Moscow-backed separatists in Donbas have battled Ukrainian forces since 2014 when they declared independence from Kyiv after the Russian annexation of Ukraine's Crimea. Russia formally recognized the self-proclaimed republics days before its Feb. 24 invasion of Ukraine.
In his nightly video address, Ukrainian President Volodymyr Zelenskyy acknowledged the withdrawal, but vowed that Ukrainian forces will fight their way back.
"If the command of our army withdraws people from certain points of the front where the enemy has the greatest fire superiority, in particular this applies to Lysychansk, it means only one thing: We will return thanks to our tactics, thanks to the increase in the supply of modern weapons," Zelenskyy said.
Since failing to take Kyiv and other areas in Ukraine's northeast early in the war, Russia has focused on Donbas, unleashing fierce shelling and engaging in house-to-house combat that devastated cities in the region.
Russia's invasion has also devastated Ukraine's agricultural sector, disrupting supply chains of seed and fertilizer needed by Ukrainian farmers and blocking the export of grain, a key source of revenue for the country.
In its Monday intelligence report, Britain's defense ministry pointed to the Russian blockade of the key Ukrainian port of Odesa, which has severely restricted grain exports. They predicted that Ukraine's agricultural exports would reach only 35% of the 2021 total this year as a result.
As Moscow pushed its offensive across Ukraine's east, areas in western Russia came under attack Sunday in a revival of sporadic apparent Ukrainian strikes across the border. The governor of the Belgorod region in Western Russia said fragments of an intercepted Ukrainian missile killed four people Sunday. In the Russian city of Kursk, two Ukrainian drones were shot down, according to the Russian Defense Ministry.
In other developments:
— Ukrainian soldiers returning from the front lines in eastern Ukraine's Donbas region — where Russia is waging a fierce offensive — describe life during what has turned into a grueling war of attrition as apocalyptic.
— Two Russian airplanes departed Bulgaria on Sunday with scores of Russian diplomatic staff and their families amid a mass expulsion that has sent tensions soaring between the historically close nations, a Russian diplomat said.
___
Associated Press journalists Maria Grazia Murru and Oleksandr Stashevskyi contributed from Kyiv, Ukraine.
___
Follow AP's coverage of the Russia-Ukraine war at https://apnews.com/hub/russia-ukraine
Francesca Ebel, The Associated Press
What Happens When The West Runs Out Of Ukrainians?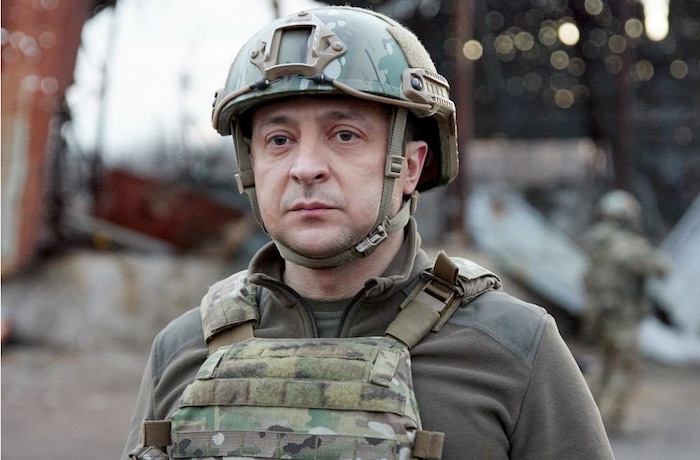 Having Joe Biden play the Jimmy Kimmel card may not be great politics— whose vote will it change?— but it was certainly great comedy. And as the West lurches toward a very uncertain fate in Ukraine, comedy (and a teleprompter) may be all Biden has got.
You remember Ukraine? Very hot story for a while till Johnny Depp and Amber Heard slimed it from the headlines. The Snowflakes embraced the gutsy-nation-with-a-heart that was being ravaged by Russia. Kind hearts and coronets. Put its flag in their window, on their Facebook avatar, on their car bumper.
Imagine Justin Trudeau's infamous teddy-bear hug in the graveyard. Then multiply it by infinity on the empathy curve. That's how the guilty liberal left saw Ukraine's torment. They weren't too fussy about the blood-soaked history of the region. Which is just as well. It's not something to put on your fridge door.
In case you forgot, Russia dared the West to stop Putin going into Ukraine. Biden double-dog-dared him to try. Putin said, "Hold my vodka" and threw his army at its neighbour. Depending on whom you read this assault has either been a disaster for Russia or a disaster for Ukraine. We only know it's continuing to chew up men and materiel at a prodigious rate.
One person it has been a boon for, however, is Ukrainian president Volodmyr Zelenskyy. While his countrymen die, the former comic actor has used the attack on his nation to become— in Western eyes— equal measures of George Patton/ Winston Churchill/ Tony Soprano. Sporting his fatigues and guilting Western governments into helping repulse the Russians, he's become famous and very rich. So have his pals.
That's because, while the war has been hell for everyday Ukrainians, anyone in on the money-laundering aspect of this conflict is doing swell. America— which refuses to spend on sealing its own border– has promised north of $50 B in aid/ weapons/ technical assistance to repel the Russian invasion of Zelenskyy's border.
The rest of the West has ponied up sizeable chunks, too. During his various photo-op fly-ins, Canada's PM Justin Trudeau promised $98 M. in ammo plus an extra $1 million to "help investigate sex crimes by Russian troops in Ukraine".
Anyone believe this money will ever benefit an ordinary Ukrainian huddled in his collapsed apartment building? The money will pass through Ukraine's corrupt oligarchy like consommé through a strainer, leaving only a faint whiff of its presence behind. The cash will make its way back to the U.S. in contracts while the weapons the U.S. supplies will likely wind up with Ukraine's notorious Azov Brigade or being sold (along with U.S, military surplus from Afghanistan) in the black market to bad actors with evil intentions.
If this is news to you then you weren't paying attention when the DC Swamp impeached Donald Trump for asking Zelenskyy how much money the Biden crime family was making in his country. "Calling Col. Vindman! Clean-up in aisle three!" It was panic.y
When the war didn't end as soon as Putin or shell-shocked Ukrainians wanted, it morphed into something else. Biden's "crippling" economic sanctions against Russia having failed as the the price of oil skyrocketed, a new strategy was called for. Because the Ukrainians said they were determined to fight to the last man, the U.S. decided to take them at their word: as a proxy force to unseat Putin at home.
Voilá. The New Biden Plan. Keep Putin's army in the field, keep the payola pipeline flowing and pray that someone assassinates or deposes Putin before the U.S. mid-term elections. The entire fiasco is now as open-ended as the Stones Farewell Tour.
Which is fine if the Ukrainians are, as advertised, willing to fight till the last man. America and the West can keep their hands clean. The media can play Plucky Little Belgium stories for their gullible viewers/ readers. "Experts" can war-game till the cows come home.
The fly in this ointment is that, with American prestige and profit invested so deeply now, what happens if they run out of Ukrainian patriots to throw into the fire against a seemingly unrepentant Putin? If the proxies are pushing up daisies what is Plan B? No one in the Western elites is sending their boys to die in Kiev or the Donbas region.
Further, Putin has nuclear weapons, and he's convinced everyone that he's just crazy enough to use them. Having impertinent Ukrainians shoot Russians is one thing, Having American or NATO soldiers on the move near the border of the Russian Motherland is another. A desperate Putin could do what generations of Soviet leaders would not. Go full Doctor Strangelove.
To say nothing of what a mentally declining Joe Biden might try if it looked like Donald Trump could take back the White House in 2024. His cognitive decline is alarming. His sudden policy shifts are unsettling. No one knows what he'll say next. Least of all Biden.
The best outcome has always been a negotiated settlement. But Biden's escalation— trading Ukrainian lives for destabilizing Putin— has made that a non-starter. Worse, the same public that bought government lockdown propaganda on Covid has't figured out they're being gamed again. They're still sentimentalizing Ukrainians' distress rather than demanding an endgame in Biden's reckless foreign policy.
If all this eventually reminds them of Afghanistan they might be on to something. But at least they'll always have Jimmy Kimmel.
Bruce Dowbiggin @dowbboy is the editor of Not The Public Broadcaster (http://www.notthepublicbroadcaster.com). The best-selling author was nominated for the BBN Business Book award of 2020 for Personal Account with Tony Comper. A two-time winner of the Gemini Award as Canada's top television sports broadcaster, he's also a regular contributor to Sirius XM Canada Talks Ch. 167. His new book with his son Evan Inexact Science: The Six Most Compelling Draft Years In NHL History is now available on http://brucedowbigginbooks.ca/book-personalaccount.aspx