Biden orders emergency steps to boost U.S. solar production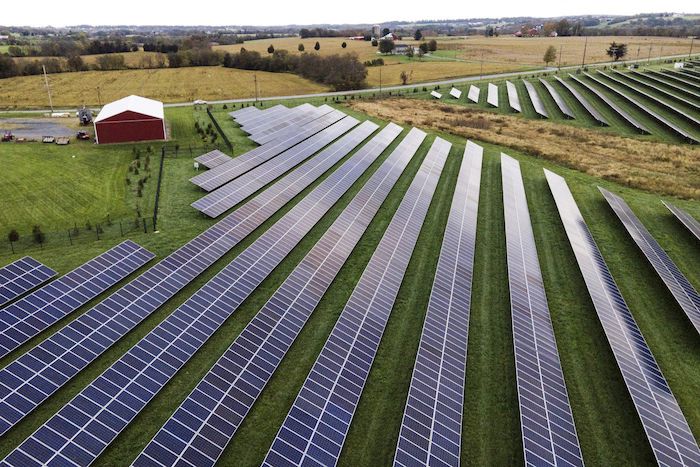 By Will Weissert in Washington
WASHINGTON (AP) — President Joe Biden ordered emergency measures Monday to boost crucial supplies to U.S. solar manufacturers and declared a two-year tariff exemption on solar panels from Southeast Asia as he attempted to jumpstart progress toward his climate change-fighting goals.
His invoking of the Defense Production Act and his other executive actions come amid complaints by industry groups that the solar sector is being slowed by supply chain problems due to a Commerce Department inquiry into possible trade violations involving Chinese products. Word of the White House's actions caused solar energy companies to gain ground on Wall Street.
The Commerce Department announced in March that it was scrutinizing imports of solar panels from Thailand, Vietnam, Malaysia and Cambodia, concerned that products from those countries are skirting U.S. anti-dumping rules that limit imports from China.
Asked at the White House if Biden's pause in tariffs was not a gift to China, press secretary Karine Jean-Pierre said he was invoking the Defense Production Act, "to make sure that he's delivering for the American people."
"He is putting the full force of the federal government behind supporting American clean energy producers," Jean-Pierre said.
White House officials said Biden's actions aim to increase domestic production of solar panel parts, building installation materials, high-efficiency heat pumps and other components including cells used for clean-energy generated fuels. They called the tariff suspension affecting imports from Thailand, Vietnam, Malaysia and Cambodia a bridge measure while other efforts increase domestic solar power production — even as the administration remains supportive of U.S. trade laws and the Commerce Department investigation.
Commerce Department Secretary Gina Raimondo told a Senate panel in May that the solar inquiry is following a process set by law that doesn't allow consideration of climate change, supply chains or other factors. She said Monday that she remains "committed to upholding our trade laws and ensuring American workers have a chance to compete on a level playing field."
"The president's emergency declaration ensures America's families have access to reliable and clean electricity while also ensuring we have the ability to hold our trading partners accountable to their commitments," Raimondo said in a statement.
Clean energy leaders have long warned that the investigation — which could result in retroactive tariffs of up to 240% — would severely hinder the U.S. solar industry, leading to thousands of layoffs and imperiling up to 80% of planned solar projects around the country.
The department counters that rates exceeding 200% for solar products would not apply to the vast majority of imports. They instead typically apply to uncooperative companies that cannot differentiate themselves from China's government or Communist Party.
Still, any possible punishment might have jeopardized one of Biden's top clean energy goals and run counter to his administration's push for renewable energy such as wind and solar power, advocates argue.
"The president's announcement will rejuvenate the construction and domestic manufacturing of solar power by restoring predictability and business certainty that the Department of Commerce's flawed inquiry has disrupted," Heather Zichal, CEO of the American Clean Power Association and a former Obama administration official, said in a statement Monday.
Abigail Ross Hopper, president and CEO of the Solar Energy Industries Association, cheered Biden's "thoughtful approach to addressing the current crisis of the paralyzed solar supply chain."
"Today's actions protect existing solar jobs, will lead to increased employment in the solar industry and foster a robust solar manufacturing base here at home," Ross Hopper said in a statement.
But not everyone in the industry was supportive.
First Solar Inc., a major solar panel manufacturer, said that freezing tariffs would grant "unfettered access to China's state-subsidized solar companies for the next two years" and that using the Defense Production Act is "an ineffective use of taxpayer dollars and falls well short of a durable solar industrial policy."
"The administration cannot stick a Band-Aid on the issue and hope that it goes away," Samantha Sloan, the company's vice president of policy, said in a statement.
The use of executive action comes as the Biden administration's clean energy tax cuts, and other major proposals meant to encourage domestic green energy production, have stalled in Congress.
The Defense Production Act lets the federal government direct manufacturing production for national defense and has become a tool used more commonly by presidents in recent years. The Trump administration used it to produce medical equipment and supplies during the early stages of the coronavirus pandemic.
Biden invoked its authority in April to boost production of lithium and other minerals used to power electric vehicles. Last month, he used it again to prioritize boosting the nation's supplies of baby formula amid a domestic shortage caused by the safety-related closure of the country's largest formula factory.
Jean Su, director of the Center for Biological Diversity's energy justice program, said in a statement that Biden's announcement can "give critical momentum to the needed transition to solar energy."
"We hope this use of the Defense Production Act is a turning point for the president, who must use all his executive powers to confront the climate emergency head on," Su said.
Alberta extends electricity rebate program until December at a cost of about $600M
Edmonton – The Alberta government says it will extend its electricity rebates until the end of the year as the cost of living continues to rise.
Dale Nally, who's the associate minister of natural gas and electricity, says the United Conservative government is doubling the rebate to help reduce the financial burden on Albertans.
The government says the electricity rebate program will now offer about $600 million in relief through 2022.
It says the program will provide nearly two million homes, farms and small businesses with a monthly $50 bill credit each month from July until December.
The government says it will also provide a natural gas rebate to millions of Albertans starting in October, which will continue until March 2023 if prices remain high.
Last week, Finance Minister Jason Nixon announced a $3.9-billion surplus for the 2021-22 fiscal year ending March 31.
This report by The Canadian Press was first published July 6, 2022.
Canadian Energy Companies Benefiting From Global Turbulence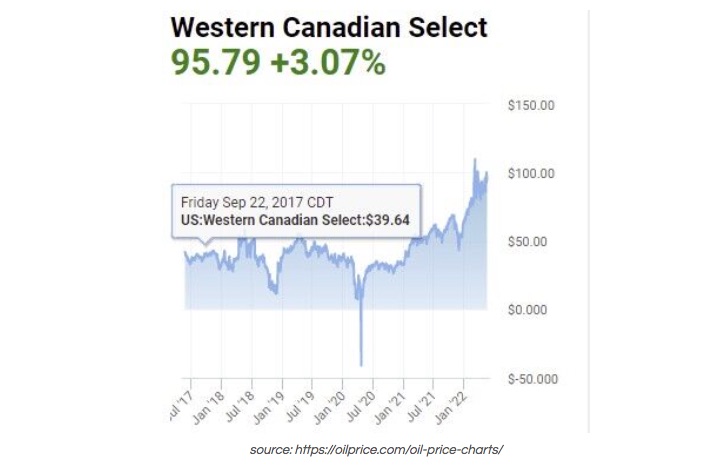 The world is going through a lot of chaos right now. From a war in Ukraine to a looming recession back home, people are struggling to live as normal. But through this all, the biggest Canadian energy stocks are getting stronger. Why is this and should you invest?
Before getting into the specifics of the stock market and why commodities are benefiting, it is important to go through every global event that is having a major impact.
The glut of global turbulence
Russia's Invasion of Ukraine
To start with, Russia's invasion of Ukraine is the most obvious factor in global turbulence at the moment. The world was not ready to deal with such an invasion. Negotiations were expected to keep Russia from choosing this approach, considering what they would have to lose. Massive sanctions would cripple Russia's economy, and a war would not seem worth it.
However, they went ahead and global sanctions went into place. Unfortunately, these sanctions do not only affect Russia. Rather, they impact just about every other country as well. Russia bears the biggest brunt, but without the resources they provide to other
countries, the world is struggling to cope.
This is hurting developing countries more than any other, as they do not have the resources to spend on low supplies of energy in high demand. Locals are paying the price, with costs rising dramatically. However, developed nations are struggling as well, including the US and Canada. We're seeing record high inflation that is making life difficult for everyone. We may face shortages if this war continues for much longer.
China's COVID Lockdowns
While it has started to feel like COVID is finally over, China has been implementing new lockdowns to control another wave. This has led to a low supply of goods coming from China, impacting trade around the world at a time in which supply of almost every
commodity is low.
It's not just the lack of production on Chinese shores that is impacting the rest of the world. The reality they are going through is causing a lot of unease. The pandemic started there, after all, and their inability to contain it led to the events of the past two and a half years. Fears that they will trigger a new wave with disastrous consequences are not unfounded.
Supply-chain issues caused by the pandemic around the world have still not returned to normal. If lockdowns go into place globally, these issues will get worse once again and it will be even more difficult to recover.
Global Recession
The threat of a global recession that rivals the Great Recession is looming over us. In the US, out-of-control inflation in spite of high interest rates, along with highly overvalued properties, are driving fears.
Whether a recession will occur and how bad it will be is impossible to determine at this point. But the potential is causing people to make decisions with huge financial consequences. This leaves us all the more at risk of chaos.
In this context, why are the biggest Canadian energy companies benefiting? What does this mean for stock traders?
Energy is in high demand
The above events have all impacted the supply of many commodities. Whether it is due to sanctions or lockdowns in China, it is becoming extremely difficult to get hold of just about any consumables. However, there is nothing in higher demand than energy.
Energy is by far Russia's biggest export. Russia is also one of the biggest exporters of energy in the world, especially when it comes to crude oil. For this reason, sanctions are not all-encompassing. Many European countries simply cannot function without importing Russian energy.
The same is not true for the US, who have been able to cut off all energy imports from Russia. But it is still not comfortable, and all kinds of energy are in high demand.
This is particularly good for the biggest Canadian energy companies. One of the reasons the US can survive without importing Russian energy is due to the supply of energy from Canada. With such high demand, and supply that is limited to an extent, the price of
Canadian energy has risen rapidly.
The strength of the US dollar
With all of that being said, you may be wondering why Canadian energy companies are benefiting so much while US companies are not having as much luck. This has a lot to do with the strength of the US dollar.
The US dollar is considered a safe haven currency. It tends to stay strong regardless of what is happening in the world. This becomes a self-fulfilling property, as currency traders flock to buy US dollars in times of trouble, causing it to strengthen in spite of economic downturns.
China's difficulties also boost the US currency, as traders turn to the US to import goods unavailable during China's lockdowns.
The strength of the US dollar is, at least in the short term, great for Canadian energy companies. With demand for their energy in the US higher than ever, they are receiving US dollars that are particularly strong and have more buying power in Canada. The biggest Canadian energy companies are therefore flying higher than their US counterparts, who are earning the same dollars which, due to high inflation, have lower buying power than before.
Of course, this is a double-edged sword. Right now, the strength of the US dollar is great for Canadian energy companies. But over time it will start to impact the cost of all imports from the US, increasing the expenses these companies face and cancelling out any benefits.
Should you invest in Canadian energy stocks?
Bringing this back to the buying and selling of commodities on the stock market, is this the perfect time to invest in the biggest Canadian energy stocks? While it may seem so, the answer is a little more complicated than you might think.
The problem with the current strength of Canadian energy companies is that it is caused by factors that are supposed to be temporary. Sanctions on Russia are not meant as a punishment for their crimes. Rather, they are in place to put pressure on Russia to end the war before their economy collapses and they are bereft of necessary resources.
It is either that or the rest of the world capitulates due to an inability to cope with the rebound effects of the sanctions. Either way, Russian energy exports go back to normal and the price of Canadian energy stocks drops significantly.
The same is true when it comes to China and its COVID lockdowns. They may be driving up the price of the US dollar right now, but things will soon get back to normal. China's approach of implementing harsh lockdowns ensures that they last the minimum amount of time. This is already happening, with China's economy just experiencing its best month since February.
This is not to say that Canadian energy stocks are a bad investment. But, if you are to invest in these stocks, you need to be prepared to watch the market carefully. Things can change in an instant, and you can see your investment lose its value.