Biden OKs Alaska oil project, draws ire of environmentalists
This 2019 aerial photo provided by ConocoPhillips shows an exploratory drilling camp at the proposed site of the Willow oil project on Alaska's North Slope. President Joe Biden will prevent or limit oil drilling in 16 million acres of Alaska and the Arctic Ocean, an administration official said on Sunday, March 12, 2023. The expected announcement comes as regulators prepare to announce a final decision on the controversial Willow project. (ConocoPhillips via AP, File)
By Matthew Daly And Chris Megerian in Washington
WASHINGTON (AP) — The Biden administration said Monday it is approving the huge Willow oil-drilling project on Alaska's petroleum-rich North Slope, a major environmental decision by President Joe Biden that drew quick condemnation that it flies in the face of the Democratic president's pledges to slow climate change.
The announcement came a day after the administration, in a move in the other direction toward conservation, said it would bar or limit drilling in some other areas of Alaska and the Arctic Ocean.
The Willow approval by the Bureau of Land Management would allow three drill sites, which would include up to 199 total wells. Two other drill sites proposed for the project would be denied. Project developer ConocoPhillips has said it considers the three-site option workable, and company chairman and CEO Ryan Lance called the order "the right decision for Alaska and our nation."
Houston-based ConocoPhillips will relinquish rights to about 68,000 acres of existing leases in the National Petroleum Reserve-Alaska.
The order, one of the most significant of Interior Secretary Deb Haaland's tenure, was not signed by her but rather by her deputy, Tommy Beaudreau, who grew up in Alaska and has a close relationship with state lawmakers. She was notably silent on the project, which she had opposed as a New Mexico congresswoman before becoming Interior secretary two years ago.
Climate activists were outraged that Biden approved the project, which they say put his climate legacy at risk. Allowing the drilling plan to go forward would be a major breach of Biden's campaign promise to stop new oil drilling on federal lands, they say.
However, administration officials were concerned that ConocoPhillips' decades-old leases limited the government's legal ability to block the project and that courts might have ruled in the company's favor.
Monday's announcement is not likely to be the last word, with litigation expected from environmental groups.
The Willow project could produce up to 180,000 barrels of oil a day, create up to 2,500 jobs during construction and 300 long-term jobs, and generate billions of dollars in royalties and tax revenues for the federal, state and local governments, the company said.
The project, located in the federally designated National Petroleum Reserve-Alaska, enjoys widespread political supportin the state. Alaska Native state lawmakers recently met with Interior Secretary Deb Haaland to urge support for Willow.
Sen. Lisa Murkowski, R-Alaska, said Monday the decision was "very good news for the country."
"Not only will this mean jobs and revenue for Alaska, it will be resources that are needed for the country and for our friends and allies," Murkowski said. "The administration listened to Alaska voices. They listed to the delegation as we pressed the case for energy security and national security."
Fellow Republican Sen. Dan Sullivan said conditions attached to the project should not reduce Willow's ability to produce up to 180,000 barrels of crude a day. But he said it was "infuriating" that Biden also moved to prevent or limit oil drilling elsewhere in Alaska.
Environmental activists who have promoted a #StopWillow campaign on social media were fuming at the approval, which they called a betrayal.
"This decision greenlights 92% of proposed oil drilling (by ConocoPhllips) and hands over one the most fragile, intact ecosystems in the world to" the oil giant, said Earthjustice President Abigail Dillen. "This is not climate leadership."
Biden understands the existential threat of climate change, "but he is approving a project that derails his own climate goals," said Dillen, whose group vowed legal action to block the project.
Christy Goldfuss, a former Obama White House official who now is a policy chief at the Natural Resources Defense Council, said she was "deeply disappointed" at Biden's decision to approve Willow, which would produce more than 239 million metric tons of greenhouse gases over the project's 30-year life, roughly equal to the combined emissions from 1.7 million passenger cars.
"This decision is bad for the climate, bad for the environment and bad for the Native Alaska communities who oppose this and feel their voices were not heard," Goldfuss said.
Anticipating that reaction among environmental groups, the White House announced on Sunday that Biden will prevent or limit oil drilling in 16 million acres in Alaska and the Arctic Ocean. The plan would bar drilling in nearly 3 million acres of the Beaufort Sea — closing it off from oil exploration — and limit drilling in more than 13 million acres in the National Petroleum Reserve.
The withdrawal of the offshore area ensures that important habitat for whales, seals, polar bears and other wildlife "will be protected in perpetuity from extractive development,″ the White House said in a statement.
The conservation announcement did little to mollify activists.
"It's a performative action to make the Willow project not look as bad," said Elise Joshi, the acting executive director of Gen-Z for Change, an advocacy organization.
Alaska's bipartisan congressional delegation met with Biden and his advisers in early March to plead their case for the project, while environmental groups rallied opposition and urged project opponents to place pressure on the administration.
City of Nuiqsut Mayor Rosemary Ahtuangaruak, whose community of about 525 people is closest to the proposed development, has been outspoken in her opposition, worried about impacts to caribou and her residents' subsistence lifestyles. The Naqsragmiut Tribal Council, in another North Slope community, also raised concerns with the project.
But there is "majority consensus" in the North Slope region supporting the project, said Nagruk Harcharek, president of the group Voice of the Arctic Iñupiat, whose members include leaders from across much of that region.
The conservation actions announced Sunday complete protections for the entire Beaufort Sea Planning Area, building upon President Barack Obama's 2016 action on the Chukchi Sea Planning Area and the majority of the Beaufort Sea, the White House said.
Separately, the administration moved to protect more than 13 million acres within the petroleum reserve, a 23-million acre chunk of land on Alaska's North Slope set aside a century ago for future oil production.
The Willow project is within the reserve, and ConocoPhillips has long held leases for the site. About half the reserve is off limits to oil and gas leasing under an Obama-era rule reinstated by the Biden administration last year.
Areas to be protected include the Teshekpuk Lake, Utukok Uplands, Colville River, Kasegaluk Lagoon and Peard Bay Special Areas, collectively known for their globally significant habitat for grizzly and polar bears, caribou and hundreds of thousands of migratory birds.
___
Associated Press writers Becky Bohrer in Juneau, Alaska and Matthew Brown in Billings, Montana contributed to this story.
Saudi Aramco to invest billions in Chinese petrochemicals
Saudi Aramco engineers escort reporters on a tour of the Hawiyah Natural Gas Liquids Recovery Plant, which is designed to process 4.0 billion standard cubic feet per day of sweet gas, a natural gas that does not contain significant amounts of hydrogen sulfide, in Hawiyah, in the Eastern Province of Saudi Arabia, on June 28, 2021. Saudi Arabia's state-owned oil giant Aramco will invest billions of dollars in China's downstream petrochemicals industry, including the construction of a new refinery, the company said in deals announced Sunday and Monday.(AP Photo/Amr Nabil, File)
RIYADH, Saudi Arabia (AP) — Saudi Arabia's state-owned oil giant Aramco will invest billions of dollars in China's downstream petrochemicals industry, including the construction of a new refinery, the company said in deals announced Sunday and Monday.
The announcements came as the company posted a record profitof more than $160 billion in 2022 and as Saudi Arabia, a longtime U.S. ally, has developed closer ties with Beijing in recent years.
Aramco will acquire a 10% interest in China's Rongsheng Petrochemical Co. Ltd,, a purchase valued at $3.6 billion. Under a long-term sales agreement, Aramco will supply 480,000 barrels per day to Rongsheng affiliate Zhejiang Pettroleum and Chemical Co. Ltd., which owns and operates China's largest refining and chemicals complex.
"This announcement demonstrates Aramco's long-term commitment to China and belief in the fundamentals of the Chinese petrochemicals sector," Aramco executive vice president Mohammed Al Qahtani said in a statement. "It also promises to secure a reliable supply of essential crude to one of China's most important refiners."
On Sunday, Aramco announced plans to construct a new refinery and petrochemical complex in northeastern China through a joint venture. Aramco, which holds a 30% stake in the Huajin Aramco Petrochemical Company, would supply 210,000 barrels per day of crude to the complex.
Saudi Arabia has cultivated closer ties with both Russia and China in recent years. Earlier this month, Saudi Arabia and Iran agreed to restore diplomatic ties for the first time since 2016 in a deal brokered by Beijing even as Riyadh announced a massive contract to buy commercial planes from U.S. manufacturer Boeing.
Premier Smith urges PM Trudeau to talk Ethical Energy Security in meeting with US President Biden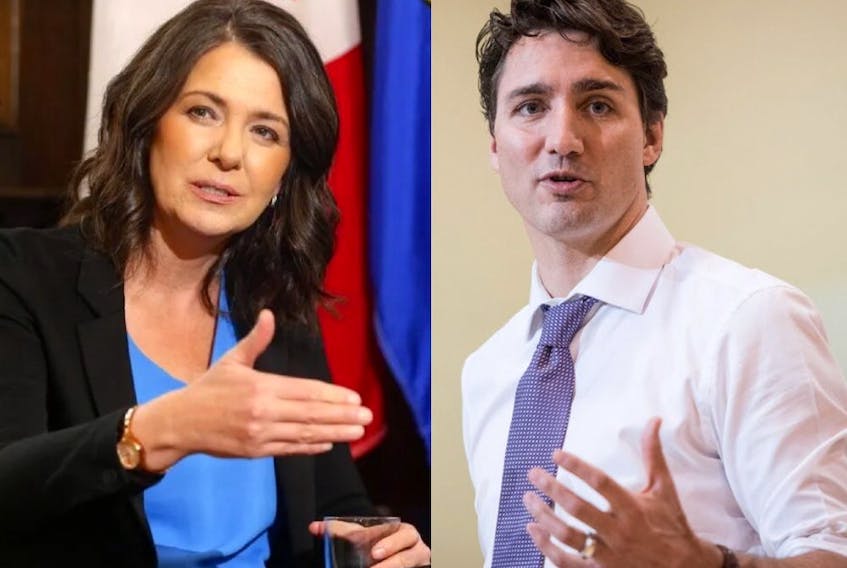 Dear Prime Minister Trudeau:
The arrival of President Joe Biden presents our nation with an opportunity of great significance. It is my request that the federal government uses its platform to focus on collaboration between the U.S. and Canada, highlighting the critical need for North American energy security.
We have a deep, long-standing relationship with the U.S. at both the federal and state levels, which is only growing in importance. In 2022, Alberta surpassed Ontario and Quebec as the largest provincial exporter of goods to the U.S. at $182.5 billion, with energy making up 85 per cent of exports to the United States. Alberta, by far, remains the single largest source of U.S. energy imports.
This economic reality, along with Russia's invasion of Ukraine, has highlighted that North American energy security must be a top priority for the Government of Canada. I urge you to raise the need for better collaboration between Canada and the U.S. to ensure the continued and enhanced supply of sustainable, affordable, and reliable energy to the U.S.
I recommend that the two governments work to fast-track energy projects in the name of economic security for our democratic partners, as committed to by Deputy Prime Minister Chrystia Freeland. A similar effort is needed in critical minerals as the world shifts to lower emitting sources of energy.
Alberta, through both government policy and industry action, is leading the way on reducing emissions and driving the transition to new sources of energy. New investments in the province are global flagships in clean energy and emissions reductions technology. For example, Pennsylvania's Air Products will create a world-scale net-zero hydrogen energy complex in Alberta, and Dow is advancing the world's first net-zero carbon emission integrated polyethylene complex at its existing site near Edmonton. It is also worth noting that Canada's oil sands operators have announced plans to spend $24 billion on emission-reduction projects by 2030 as part of their commitment to reach net zero by 2050. All of this amounts to a herculean effort undertaken by industry partners, and Alberta's government, to position ourselves as the foremost leader in emissions reduction and responsible energy production.
As you know, management of oil and gas methane emissions is one of this country's greatest climate success stories. Collaboration with the U.S. on methane emissions would both advance climate action, and address regulatory inconsistencies between the two countries. As of 2020, methane emissions from the upstream oil and gas sector in Western Canada have decreased by around 44 per cent from the 2014 baseline – ahead of our schedule of 45 percent by 2025. More evidence of Canada, and Alberta, leading the way.
Alberta is home to vast geological potential, an experienced, skilled, workforce, and has the necessary processing and transportation infrastructure in place to support a growing critical minerals sector. For example, technological advances to extract minerals from underground brine solutions are found throughout Alberta. These extraction technologies could result in a low emission, sustainable source of lithium to meet the demand of our emerging battery value-chain. We would encourage your government to work with the provinces, especially Alberta, on critical minerals and seize the opportunity to collaborate with the U.S. on enhancing North American supply chains.
As the owners and stewards of our world-class natural resources, any discussions involving energy security, natural resources, and trade must fully involve the provinces. I would be pleased to help assist you, and the federal government in advancing the work on North American energy security as well as developing the business cases to increase exports of clean Alberta energy, critical minerals and technologies to the U.S. As is only appropriate when discussing natural resources, and areas of exclusive provincial jurisdiction, I would also request that Premiers be invited to participate in a meeting with the President and his delegation.
I look forward to your response and welcome an opportunity to collaborate. We both agree that the world needs more Canada. It's imperative that in a time of such uncertainty, and unaffordability, that Alberta, and Canada profile ourselves as the preferred supplier of responsibly produced, ethical energy to the U.S., North America, and the world.