Bedard shines, host Canada downs Latvia 5-2 at world junior hockey championship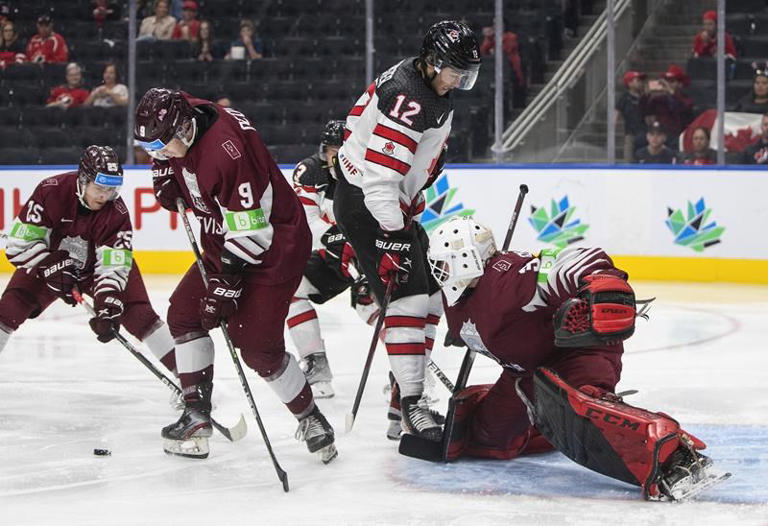 EDMONTON — Team Canada needed some time to shake off the rust as they embarked on a late-summer campaign for gold.
Coming into their first game of the world junior hockey championship in Edmonton, many on the squad hadn't laced up their skates for a competitive bout in several months.
The time away showed at moments, but Canada held on for a 5-2 victory over Latvia to open the tournament on Wednesday.
"I know a coach is never happy with the game, but considering the time of year and where we're at in this tournament, I think it was good." said head coach Dave Cameron.
The 2022 tournament is being held in August after the original iteration was called off on Dec. 29 after just four days as rising COVID-19 cases among players and officials forced games to be forfeited.
Teen phenom Connor Bedard hasn't played a "real game" in three months, and said getting back to competition felt good.
The 17-year-old was quick to show his offensive prowess, opening the scoring in the first period and adding an assist on a second-period power-play goal.
"It always feels good to score, especially that first one of the tournament," said Bedard, an early favourite to go first overall in the 2023 NHL entry draft.
"I think it's always exciting no matter who gets it. So definitely felt good. And it was cool to kind of be going to the corner and seeing some fans."
Ridly Greig and William Dufour each had a goal and a helper for Canada (1-0-0), while Lukas Cormier and Olen Zellweger also scored. Captain Mason McTavish notched two assists.
Rainers Darzins and Bogdans Hodass put away goals for the Latvians, who were coming off a 6-1 drubbing by Finland on Tuesday.
Canada's Sebastian Cossa made 22 saves and Patriks Berzins stopped 39 of 44 shots for Latvia (0-2-0).
The Canadians broke out with a three-goal performance in the second but found themselves in trouble in the final frame due to a series of undisciplined penalties.
Latvia got nine seconds of five-on-three play midway through the third when Greig was called for hooking after Kent Johnson had already been sent to the box for delay of game.
The Canadians weathered being down two men and Cossa preserved the advantage with a collection of timely stops.
Earlier in the period, Latvia cut the deficit to 4-2 on a power play after Greig was called for tripping.
Just four seconds into the man advantage, Hodas — a Medicine Hat Tigers defenceman — ripped a shot off from the top of the faceoff circle, sailing the puck over Cossa's pad.
Dufour gave the Canadians some breathing room with 5:16 to go in the third period. The New York Islanders prospect collected a slick pass from Greig and sent a quick shot in past Berzins to give his side a 5-2 lead.
Greig capped a big middle frame by collecting a pass from Dufour along the boards for an odd-man rush and streaking up the ice, using one arm to hold back Latvia's Peteris Purmalis. With his free hand, the Ottawa Senators prospect poked the puck in past Berzins at the 17:16 mark to give Canada a 4-1 lead.
"It was a pretty lucky bounce," Greig said. "And the tracker was right on me so I just tried to get it on net with one (hand)."
A power-play goal gave the Canadians a three-goal lead after Latvia captain Ralfs Bergmanis was called for slashing.
Bedard set up the play with a no-look backwards pass to Zellweger at the blue line. The defenceman wound up and fired a rocket through traffic, finding the back of the net 16:17 into the second.
Minutes earlier, Cormier scored with the man advantage after Dans Locmelis was called for roughing.
Joshua Roy calmed a bouncing puck and dished it to Cormier, who sent it sailing past Berzins from the top of the faceoff circle.
Canada's power play looked to be in trouble on its first attempt of the tournament earlier in the period.
The man advantage saw Cossa nearly send a puck into his own net while trying to clear and Johnson come within inches of scoring an own goal. The host nation turned the puck over multiple times and Latvia registered a pair of short-handed shots.
"That was just to give the fans their money's worth," Cameron said.
"That was at the time where we were in their zone for a period of time five on five and we thought that was going to carry over into the power play and we got too comfortable and we thought it was going to be easy.
"We stalled in our execution and hats off to Latvia, they didn't give up."
The Canadians went 2 for 4 on the power play Wednesday and Latvia was 1 for 5.
Canada kept Berzins busy across the first period, outshooting Latvia 18-4.
The host nation dominated play but Latvia scored the equalizer with less than two minutes to play in the opening frame. Darzins chipped a shot up and over Cossa stick side to make it 1-1.
Bedard opened the scoring 7:31 into the game, blasting a shot through a pair of Latvian defenders and over Berzins' glove from the top of the slot.
With a different roster than the December tournament and a short training camp, Canada is still trying to build chemistry as the world juniors get underway, Cossa said.
"We've been practising but nothing's really game speed," he said. "So it was nice getting into the game now and just kind of fix things coming up here, practice and get ready for the rest of the games."
Earlier Wednesday, Winnipeg Jets prospect Daniel Torgersson scored twice as Sweden (1-0-0) took a 3-2 victory over Switzerland (0-1-0) in Group B play.
In the final game of the day, Germany (1-0-1) defeated Austria (0-0-1) 4-2 for its first win of the tournament.
The Canadians will continue round-robin action Thursday when they take on Slovakia (0-0-1).
NOTES: Greig turned 20 on Monday. The world juniors are a showcase of the best under-20 players across the globe, but the International Ice Hockey Federation has allowed athletes born in 2002 who have already turned 20 to play in this summer's championship. … Cossa was playing on familiar ice, having helped the Edmonton Oil Kings to a WHL championship in June. … Canada's goal song is "Can't Stop" by the Red Hot Chili Peppers.
This report by The Canadian Press was first published Aug. 10, 2022.
Gemma Karstens-Smith, The Canadian Press
U.S. senators call for trade crackdown on Canada over dairy quotas, digital policies
WASHINGTON — A pair of senior U.S. senators is urging the Biden administration to get tough with Canada for "flouting" obligations to its North American trade partners.
Democrat Sen. Ron Wyden of Oregon and Republican Sen. Mike Crapo lay out their concerns in a letter to U.S. Trade Representative Katherine Tai.
The letter says American dairy producers still aren't getting the access to the Canadian market they're entitled to under the U.S.-Mexico-Canada Agreement.
It also describes Canada's planned digital services tax as discriminatory and raises similar concerns about new legislation to regulate online streaming and news.
All three, the senators say, would give preferential treatment to Canadian content and deny U.S. tech companies fair access to the market north of the border.
The letter comes after meetings this week in San Diego between U.S., Canadian and Mexican trade emissaries, as well as the North American Leaders' Summit in Mexico City earlier this month.
The USMCA, referred to in Canada as CUSMA, has been at the centre of a number of bilateral and trilateral disputes since it went into effect in the summer of 2020.
"Three years later, it is disappointing that Canada and Mexico have failed to come into full compliance with the agreement — and, in some cases, have flouted their obligations," the senators write.
"USTR must take decisive action to ensure full compliance with the agreement and with dispute settlement panel findings. It is critical to ensure that every chapter of USMCA is fully and timely enforced."
Canada and Mexico have their own issues with how the U.S. is interpreting the deal, which was signed in 2018 after protracted trilateral efforts to replace NAFTA.
As the Mexico City summit wrapped up, a dispute panel ruled against the U.S. over how it interprets the rules that determine the origin of core automotive components.
It remains unclear whether the U.S. plans to comply with that decision.
This report by The Canadian Press was first published Jan. 27, 2023.
The Canadian Press
TotalEnergies EP Canada ups stake in Fort Hills oilsands project
Calgary – TotalEnergies EP Canada Ltd. says it is increasing its ownership in the Fort Hills oilsands project by acquiring part of Teck Resources Ltd.'s stake in the mine.
Teck announced last year that it would sell its 21.3 per cent stake in Fort Hills to Suncor Energy Inc., the third partner in the project, for about $1 billion.
However, TotalEnergies EP Canada says it has exercised its pre-emption right to acquire an additional 6.65 per cent in the project from Teck for $312 million.
The deal brings the company's stake in Fort Hills to 31.23 per cent. Suncor will own the rest.
French company TotalEnergies announced in September 2022 its plan to exit the Canadian oilsands by spinning off TotalEnergies EP Canada in 2023.
It says the acquisition of an additional interest in Fort Hills helps build TotalEnergies EP Canada for the future.
This report by The Canadian Press was first published Jan. 27, 2023.
Companies in this story: (TSX:TECK.B, TSX:SU)