Battle of Alberta hockey allegiances split in Red Deer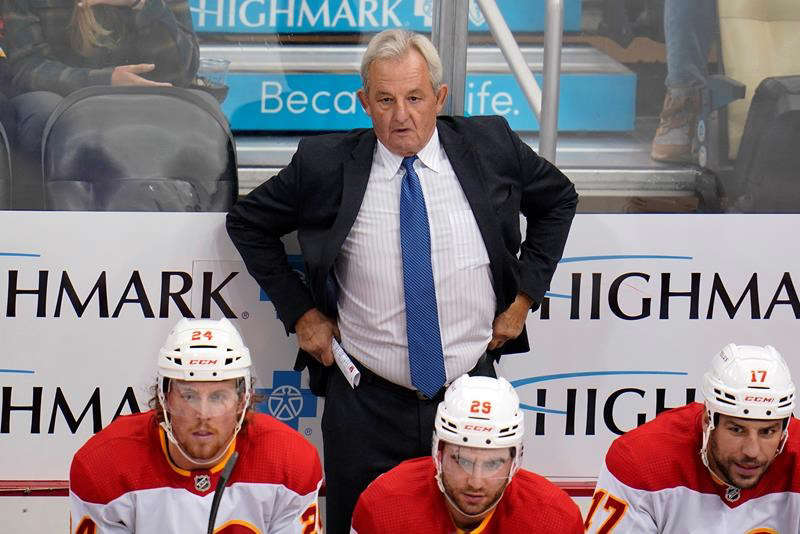 The old Crown and Anchor bar in Red Deer, Alta., was famous for its line drawn down the middle when hosting hockey fans during the fierce Battle of Alberta playoff games of the late-1980s.
Calgary Flames fans sat on one side. Edmonton Oilers fans were relegated to the other.
NHL allegiances are split in the city of just over 100,000 people that sits within a kilometre of the exact halfway point of the 300-kilometre drive along Hwy. 2 between Calgary and Edmonton.
The Flames host the Oilers in Game 1 to kick off the second round of the NHL playoffs on Wednesday, in a Battle of Alberta of proportions not seen in decades.
"To see both fan bases totally engaged in playoffs is something that has just never happened in a lot of people's life times who are under the age of 40," said Merrick Sutter, senior vice-president of the Red Deer Rebels, and nephew of Flames coach Darryl Sutter. "We see it every day in Red Deer, just the sheer nature of being exactly in the middle."
While it marks the sixth time the two teams have battled in the NHL post-season, it's the first time in 31 years. The Oilers own a 4-1 series record.
The Rebels tweeted, tongue in cheek, on Monday: "Pray for Red Deer."
Red Deer actually wins, no matter which team emerges victorious, said Mayor Ken Johnston.
"Really, every city from Fort McMurray in the north to Lethbridge in the south is going to benefit from the series, the bars, the restaurants, the hospitality industry, the ability for people to come together and socialize … and it couldn't come at a better time from that perspective. People are just so eager to get out and be in person.
"But certainly Red Deer will benefit. Every other town and city (in Alberta) is going to have a piece of this series."
The Mayor's allegiances, he wasn't afraid to admit, are with the Flames. He worked in Calgary during the team's heyday of the late '80s, when they made the Stanley Cup final in '86 and won it all in '89.
He has a Calgary jersey and a hat signed by Flames legend Lanny McDonald.
"Being a good mayor, I also have a little Oilers fanfare to wear from time to time," he added with a laugh.
Sutter said allegiances in the Battle of Alberta have generational roots. His, of course, were forged in his family's long history with the Flames. His dad Brent, now owner, president and GM of the Rebels, coached the Flames for three seasons, and uncle Darryl's first coaching stint in Calgary was in 2003.
"Not many can understand, but there's not very many circumstances where you have two franchises with such a longstanding rivalry," he said. "This goes back to grandparents and parents, back in the '80s and whatnot. It's embedded. Now, to be able to reignite it is special, but to me it's really about the younger people who have never seen that rivalry."
Troy Gillard, who does play-by-play of Rebels games, said Red Deer has unique connections to both teams — although he noted he wore a Flames polo to the office on Monday. There's the Rebels' ties to the Sutter family. But he believes the Oilers saw a surge of new fans when the club drafted Rebels centre Ryan Nugent-Hopkins first overall in 2011. He was the first Rebel to go No. 1 in the draft.
The Oilers also have defenceman Kris Russell, who's from nearby Caroline, Alta., and had Red Deer native Colton Sceviour before waiving him in late-January.
"Even here at the Rebels, we're split pretty much 50/50. It's gonna be a lot of fun around here the next couple weeks," Gillard said.
These playoffs are the first held in full arenas in Canada since the COVID-19 began. Red Deer was slammed by the Omicron variant this past winter that saw the world junior championships there cancelled four days after it started.
"That Game 7 in overtime was as close to a return to normalcy as you're going to find," said Sutter, who was in Calgary on Sunday night for the Flames' 3-2 OT thriller over Dallas.
"To see the crowd at Rogers Arena (in Edmonton) in Game 7 two nights ago, that game ended with a late goal and a burst of energy, and then to match that and then probably even beat it (Sunday) night in Game 7, overtime (in Calgary) — game sevens with premium endings in their own arenas … you couldn't script it any better than that."
Red Deer bars are buzzing with anticipation after a couple of years of hard times amid the pandemic.
"We're all very very excited, it's been a long time to have this kind of thing happen," said Brennen Wowk, owner of 400-seat Bo's Bar & Stage. "Staff will be in jerseys of their choice, (he'll be in his No. 99 Wayne Gretzky Oilers jersey), we'll be pouring lots of beer, and have the volume on as loud as it can go. As much excitement we can put into this room, we're going to put into this room."
Dallas Gaume hopes Alberta's teams in the post-season will see hockey registration numbers in Red Deer return to pre-pandemic numbers.
"A lot of eyes are going to be on the province in the next two weeks, and I really think we're going to get some growth out of this," said Gaume, the GM of the Red Deer Minor Hockey Association.
There was no season in 2020-21 due to COVID-19, and then number of returning players dropped by 7.5 per cent this past winter. Gaume believes it's a combination of issues, such as players needing to be vaccinated to enter arenas and players finding other winter activities during the lockdown.
Like the city of Red Deer, Gaume's allegiances are split. He coached Nugent-Hopkins with the Rebels, "so I'm a big fan of his. And I'm a big fan of the Sutters, I think Darryl is a terrific coach. So I like both teams."
There's no love lost between the two squads, he said, and said Canada vs. the U.S. in women's hockey would be an adequate comparison.
"I know that's an extremely strong rivalry, with lots of dislike for one another," Gaume said. "I think the same could be said with these two teams. I know with a lot of people, if you like the Oilers, you generally hate the Flames and the same the other way. You can't like both."
If he had to pick a winner?
"I think the Flames are the better team. Doesn't necessarily mean they win the series. How's that for my sitting-on-the-fence prediction?" he said with a laugh.
Game 2 is Friday in Calgary before the series heads north to Edmonton for Games 3 and 4. The series winner meets either St. Louis or Colorado in the Western Conference Final.
"One of the Alberta teams is going to be playing for a spot in the Stanley Cup Final," Gillard marvelled. "It's going to be heartbreaking for whichever team loses in Round 2, but for whichever team moves on, how exciting is that?"
This report by The Canadian Press was first published May 16, 2022.
Lori Ewing, The Canadian Press
Alberta's province wide state of emergency ends as wildfire situation improves
Wildfires and smoke are shown in British Columbia and Alberta in this satellite image taken Thursday, May 18, 2023. Alberta's public safety and emergency services minister says a province wide state of emergency that was declared nearly a month ago to deal with unprecedented wildfires will end Saturday night at midnight. THE CANADIAN PRESS/HO – Co-operative Institute for Research on the Atmosphere (CIRA) at the University of Colorado and the National Oceanic and Atmospheric Administration
Alberta's public safety and emergency services minister says a provincewide state of emergency that was declared nearly a month ago to deal with unprecedented wildfires ended Saturday at midnight.
Mike Ellis told a news conference the wildfire situation in Alberta remains serious but, overall, things have improved significantly and it's anticipated they will continue to improve.
He says support will not stop for communities affected by active wildfires, including Fort Chipewyan, which remains evacuated due to a large fire burning about seven kilometres away.
The state of emergency was implemented May 6 to expedite co-ordination of firefighting resources and support for evacuees.
Christie Tucker with Alberta Wildfire says the Rocky Mountain wildfire which threatens Fort Chipewyan remains a top priority and 85 Canadian troops were on the way to the area on Saturday afternoon
Tucker told the news conference the blaze was quiet on Friday until the evening, but crews are working to prevent flames spreading to the community and rain is expected in the area in the next day or so.
This report by The Canadian Press was first published June 3, 2023.
Saskatchewan landowners fight against illegal drainage washing out land, roads
WAWOTA, Sask. — Lane Mountney spreads a map over his kitchen table at his farmhouse in southeast Saskatchewan, pointing to yellow and orange arrows slithering across the document.
Many of the arrows represent existing channels and ditches, moving across fields and out of wetlands to drain water. The arrows eventually make their way to a creek, causing what he describes as a deluge of problems downstream.
"All these years, guys have gotten away with draining water and the next guy figures he can get away withit," Mountney said in an interview at his farm near Wawota, Sask., about 200 kilometres southeast of Regina.
"If this keeps going like it has, I don't know what Saskatchewan's going to look like in 10 years."
Mountney's map depicts what's called the Wawken Drainage Project, a plan developed by the local watershed group that has since been taken over by the Water Security Agency, which is responsible for overseeing drainage in Saskatchewan.
The project is nearly 14 square kilometres and contains 880 wetlands of various sizes representing a total of 2.4 square kilometres of water.
A project document indicates that 88 per cent of these wetlands have been drained, partially drained or farmed. About 12 per cent remain intact.
Most of this water is supposed to flow into a creek that runs through a parcel of Mountney's land.
The plan developers believe the creek can handle the flows, but Mountney is not convinced.
Last year, he and his wife, Sandra Mountney, dealt with flooding ontheir horses' pasture. They decided not to use their well water at the time because it was yellow.
"They were very excited to tell us that nobody inside the project area is going to lose acres, but they haven't even looked at who's going to lose acres miles down the line." Sandra Mountney said.
Brent Fry, who farms grain and livestock, said it's common for his land to flood for three days when people upstream get 50 millimetres of rain.
He said it has caused roads and access points to erode.
"There are about four farms out there and all they're doing is draining whether they've got permission or not," Fry said. "I don't even know what to do because the government's not doing anything — they're siding with the big guys."
Farmers have drained water in Saskatchewan for generations and many have done so illegally by digging ditches without permits.
Most producers drain because it allows them to grow more crops, helping them pay for land that has become increasingly expensive. However, it has caused yearly flooding for people downstream. Roads also wash out and habitat gets lost.
At the Saskatchewan Association of Rural Municipalities convention in February, reeves passed a resolution asking the Water Security Agency to require those who are illegally draining to remediate their unapproved works.
Saskatchewan legislation requires upstream landowners to receive permission from those downstream when they want to drain, but many say that's not happening.
Sandra Mountney said the Water Security Agency hasn't been taking concerns seriously.
"It's hard to know who's really protecting our waterways," she said.
The Wawken project began about three years ago but hasn't been completed. It's among many drainage projects underway.
Daniel Phalen, a watershed planner, worked on the project as technician before he left for another job.
He said landowners had been draining water with no permits before the plan. His job was to determine how many wetlands were drained and what works had already been done.
Phalen said the plan was to put in structures that would slow down the drainage to reduce problems downstream.
It's unclear what work had been done on the Wawken project to mitigate flows since Phalen left. The Water Security Agency did not respond to a request for comment.
Phalen said projects can get held up if affected landowners don't come to an agreement. Expropriation is allowed but it's rare, he said.
Another nearby drainage plan, known as the Martin project, has stalled because of landowner concerns.
Researchers have estimated Saskatchewan has lost half of its total wetlands over time for crop production.
Phalen, who also worked on the Martin plan, said it was concerning to see the number of wetlands sucked out.
"The Water Security Agency doesn't have the manpower to do much about it," Phalen said. "There's such low enforcement already that if they had any policies in place, people would just drain anyways. It's kind of a scary problem to be in."
Sandra Mountney said she's worried about losing wetlands because they help recharge groundwater supplies and filter contaminants — particularly important when it's dry.
The Water Security Agency has released a drainage management framework that aims to prevent flooding and ensure Saskatchewan retains a "sufficient" number of wetlands.
Leah Clark, the Interim Executive Director of Agriculture Water Management, told attendees at a Saskatchewan Farm Stewardship Association meeting earlier this year that 43 per cent of wetlands are retained within approved projects. She added the province has "thriving" wildlife populations.
However, she said under the policy, landowners would be able to select which wetlands to retain.
"It will achieve a working landscape for landowners to continue to use their land for farming and ranching. This approach will allow for new development while retaining current drainage," she said.
Phalen said Saskatchewan could look to Manitoba for solutions to retain wetlands.
Manitoba has historically drained most of its wetlands in the agricultural regions, he said, but the province has since developed a policy where landowners are paid for retaining them.
"You know, $100 an acre is not a ton of money, but it's another incentive to help producers," he said. "It's such a complex problem where you got this huge financial incentive to drain."
Lane Mountney said regulations just need to be enforced.
"It's almost too late," he said. "They should have been out there checking stuff before we got this point."
This report by The Canadian Press was first published June 4, 2023.
Jeremy Simes, The Canadian Press