Battle for the base: What Conservatives think of Lewis – in a race against Poilievre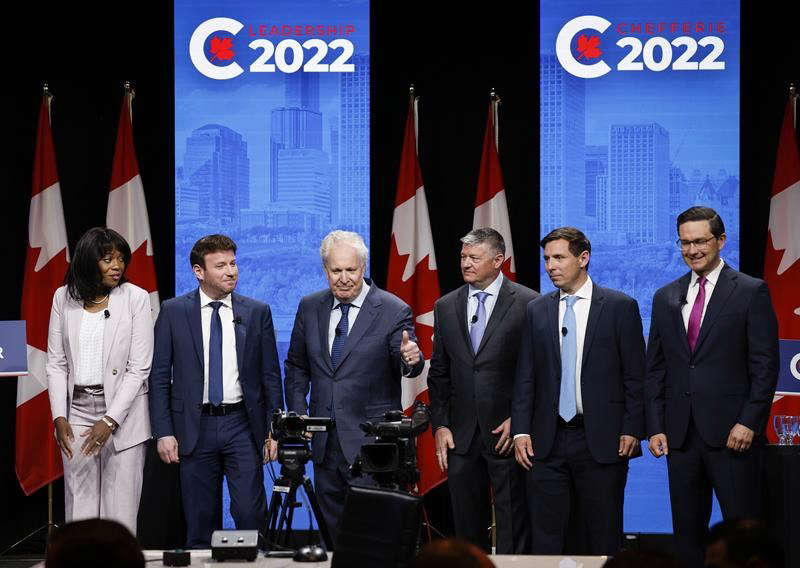 Many Conservatives watched as Lewis stuck mostly to prepared notes in that race's French debate. The event for the current race will take place in two weeks.
"I'm curious to see whether she's able to connect and articulate in the French language this time around," Schultz said.
Lewis's campaign said she's been taking lessons consistently since the last race.
Steve Outhouse, who is once again managing her campaign, acknowledged both she and Poilievre are in many ways fishing from the same pool of Conservative supporters.
"We see just as many people telling us they signed up at Pierre's rally, but are now voting for (Lewis)," he said in a statement.
"With multiple strong candidates, it is not a surprise that at this point the leadership race is still up for grabs."
A major difference for Lewis supporters, when comparing her to Poilievre and other candidates, is her social conservative outlook and the fact that she's upfront about it.
Lewis opposes abortion and in the last race told supporters about a decision she made not to terminate her pregnancy while in law school. She is also reviving what she calls her "no hidden agenda" platform, which includes promises to ban so-called sex-selective abortions and protect women from being coerced into the procedure — policies she believes even those who support abortion rights are more likely to accept.
In this race, she has questioned Poilievre about his own views on abortion and during Wednesday's English debate pressed him on whether he would allow caucus members to vote with their conscience.
Poilievre has said that a government led by him would not introduce or pass legislation restricting abortion, but would also allow Tory MPs to vote freely on the topic.
Saskatchewan MP Cathay Wagantall, a Lewis backer, recently sent an email to supporters arguing that while other leadership candidates "scrambled" to respond to a leaked U.S. Supreme Court draft decision that would overturn abortion rights in that country, Lewis's position was already clear.
"Let's elect a leader who already has a plan that will beat the Liberals when it comes to the issue they always used to divide," Wagantall wrote.
Other party members are more skeptical.
"As much as I disagree with it, we're not going to get away from it, " Carol Anderson said.
"I'd far rather see some other ideas debated and I don't think she will get elected just over that one policy."
In another email to supporters, New Brunswick MP Richard Bragdon talked up how Lewis was not a career politician.
Although most of the more than a dozen people who spoke to The Canadian Press said they were either fully supporting or likely backing Poilievre, some were still searching for more from him.
"He's got a bit of a combative style, which is entertaining. Is it prime ministerial?" asked Arlene Reid, from the nearby town of Drayden Valley.
Members Bob Silversides and Teresa Larsen, like many, were drawn to the popular Conservative through his commanding House of Commons performances and razor-sharp, slickly delivered messages on inflation and the economy. But they want to hear what he has to say on other topics.
"How are we going to handle these prescription programs and daycare programs, all of these things that are rolling out?" asked Silversides.
Larsen added: "Right now, he's saying the same message over and over again."
This report by The Canadian Press was first published May 13, 2022.
Stephanie Taylor, The Canadian Press
CFL, CFL Players' Association reach another tentative agreement
By Dan Ralph
The CFL and CFL Players' Association have reached another tentative agreement.
According to a league source, the two sides hammered out a second agreement in principle Thursday, two days after CFL commissioner Randy Ambrosie unveiled the league's final offer to its players.
The source spoke on the condition of anonymity as neither the CFL nor the CFLPA have confirmed the deal.
The new agreement is pending ratification by both the CFL Players' Association membership and league's board of governors. According to two sources, the players will vote on the deal Thursday night.
Time is of the essence as the CFL exhibition schedule is slated to kick off Friday night with two games.
On Monday, the players voted against a tentative deal that the union had recommend they accept. The CFLPA is also recommending acceptance of Thursday's tentative agreement.
The Canadian ratio will remain at 21 on the roster and seven starters for this season. Teams will be able to rotate two nationalized Canadians — Americans who've spent either four years in the CFL or at least three with the same team — in 2023 for up to 49 per cent of snaps on either side of the ball.
Teams can move to three nationalized Canadians in 2024 but the two franchises that play the most Canadians at the end of the season will receive additional draft picks.
The CFL will also provide $1.25 million in a ratification pool for players.
The two sides had been at odds regarding the Canadian ratio.
Last Wednesday, the CFL and CFLPA reached a tentative seven-year agreement, ending a four-day strike by seven of the league's nine teams. At first glance, there seemed to be many positives for the players, including a revenue-sharing model the ability to reopen the pact in five years once the CFL signed a new broadcast deal and veteran players having the ability to negotiate partially guaranteed contracts.
But the agreement also called for CFL teams to increase the number of Canadian starters from seven to eight. The extra would be a nationalized Canadian.
In addition, three other nationalized Canadians could play up to 49 per cent of all snaps on either side of the ball. And the deal also didn't include a ratification bonus.
And despite a recommendation to accept from the union, the players voted against ratifying the deal.
On Tuesday, Ambrosie unveiled an amended proposal that included a $1-million ratification pool and the abolition of the three nationalized Canadians playing 49 per cent of snaps. However, it also reduced the number of Canadian starters to seven, including one nationalized Canadian.
Not only did Ambrosie say it was the CFL's final offer, but it was good until midnight ET on Thursday, given the league's exhibition schedule was slated to begin Friday night with two games. Ambrosie added if the players rejected the offer and opted to go back on strike, they'd be served notice to vacate their respective training-camp facilities.
It marked the second time Ambrosie had gone public with a final contract offer to the CFLPA. On May 14, he posted a letter to fans on the league's website detailing the league's proposal to players hours before the former CBA was set to expire.
The next day, players on seven CFL teams opted against reporting to training camp and went on strike. The Edmonton Elks and Calgary Stampeders both opened camp as schedule because they weren't in a legal strike position, as per provincial labour laws, at the time.
It marked just the second work stoppage in league history and first since 1974.
This report by The Canadian Press was first published May 24.
Quebec to start monkeypox vaccination of contacts as officials confirm 25 cases
MONTREAL — Quebec's interim public health director says the province could start vaccinating people against monkeypox as soon as Friday.
Dr. Luc Boileau says there are now 25 confirmed cases of the disease in the province and about 30 suspected cases are under investigation.
He says the province has received supplies of smallpox vaccine from the federal government, and it will be administered to people who have been in close contact with confirmed cases of the disease.
Dr. Caroline Quach, the chair of Quebec's immunization committee, says the vaccine has been shown to prevent monkeypox in animal studies if it is administered within four days of an exposure and can reduce severity if it is administered up to 14 days after an exposure.
She says the disease is transmitted only through prolonged close contact.
Boileau says the majority of cases are in adult men who have been in sexual contact with people who have the disease, and there has been one case in a person under 18.
This report by The Canadian Press was first published May 26, 2022.
The Canadian Press