B.C. overdose prevention sites should be template for others: report
VANCOUVER — It was a day Heather Hobbs recalls vividly: the staff at AIDS Vancouver Island had pulled another overdose victim from the washroom, his body was blue from a lack of oxygen.
The man was revived and they closed the office in Victoria to allow staff to regroup. At the same time, in an alley just a half a block away, another of their clients was dying from an overdose.
Hobbs said she remembers seeing the man leave the facility as they began cleaning up from the overdose. His death was the tipping point for the implementation of an overdose prevention site at their facility, even though they weren't yet legal, she said.
"I feel like it's possible, had we not had to have closed, that he would still be alive. So it's those moments that stick with me and really drive it home that these spaces are essential in terms of keeping people alive," said Hobbs, who is the manager of harm reduction services for AIDS Vancouver Island.
In April 2016, the B.C. government declared a public health emergency in the overdose crisis, allowing for the unprecedented implementation of the prevention facilities. Within weeks, 20 sites had mushroomed around the province.
A new study by researchers at the Canadian Institute for Substance Use Research concludes the rapid implementation of the sites should be used as a template for other governments to save lives.
The study says the quick response of the provincial government and community groups is an "international example of an alternative to the lengthy and cumbersome sanctioning processes for (supervised consumption sites.)"
The report, published this month in the International Journal of Drug Policy, says other government demands for public consultations and an intensive application process "are highly questionable in the context of legal drug poisonings and evidence-based alternatives such as (overdose prevention sites.)"
Health Canada approves the supervised consumption sites, which require an exemption from federal drug laws, while the overdose prevention sites in B.C. are sanctioned under the provincial health minister's declaration of a public health emergency.
Bruce Wallace, co-author of the report, a scientist at the institute and an associate professor at the University of Victoria, said the study demonstrates how unnecessary the approval process is elsewhere.
"Our research is showing that the benefits of being able to have overdose prevention sites at so many different locations and really integrated with housing, health and social support is a model to go for, rather than going back to the federal processes, which are more onerous to set up and more limited in scope."
The BC Coroners Service said 991 people died of illicit drug overdoses in 2016, 1,486 died the next year and 1,510 were killed by illicit drugs in 2018. The dramatic rise in deaths coincides with emergence of the powerful opioid fentanyl, which the coroner says is responsible for the majority of illicit drug deaths.
Canada's Public Health Agency said last week that 3,286 people died of apparent opioid-related deaths between January and September last year.
The report draws on interviews from staff at three of the prevention sites in Victoria to determine their impact.
Wallace said he's frustrated that other jurisdictions in Canada aren't adopting the same innovate practices to save lives, especially because they've been warned that dangerous opioids are moving into their provinces.
"So to have that level of warning of the potential harm and not act, it's really tragic that people would not take these lessons and adopt them as fast as they can in other jurisdictions."
The Ontario government announced in late March that while 15 overdose prevention sites had been approved, six others would close, including three in Toronto.
Judy Darcy, B.C.'s mental health and addictions minister, said there are about 40 overdose prevention sites across B.C. with over one million visits. Thousands of overdoses have been reversed and there have been no deaths at the sites, she added.
Darcy said it's estimated the government's actions, including the prevention sites, take-home naloxone kits and other prevention measures, have saved about 4,700 lives.
She said the prevention sites are a critical tool that also connect visitors to other supports, such as housing or treatment. But the stigma remains, Darcy said, and that is the next barrier to knock down.
"For too long we have treated mental health, mental illness as a sign of weakness and addiction as a character failure and as a sign of moral failure," she said. "These centres don't judge people. They're there to save lives, they're there to connect people to the social supports they need."
Terri Theodore, The Canadian Press
Cole's story: Consistency is the key!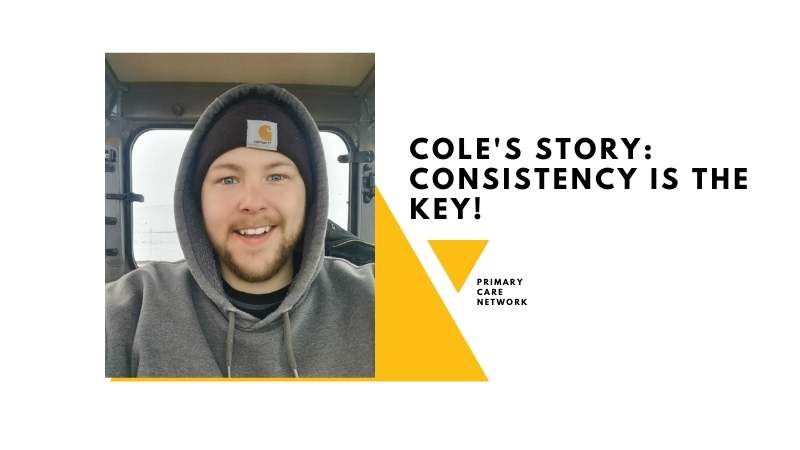 When Cole came to the Health Basics program he was at the lowest place of his life. He broke his foot, was then unable to work and was waiting for a long time for a WCB claim.  His foot did not heal, and he required surgery. In the meantime, his frustration led him to eat more and more. His weight got up to 363 pounds and he was considering bariatric surgery. He just wanted a way out of being so big, being stuck in this rut. He was at a fork in the road. He knew that a size and lifestyle was leading him to diabetes and a shorter life.
While on the bariatric surgery waiting list, his doctor sent him to Health Basics. The program got his gears going again. He started tracking his diet and one instructor helped him to tailor his exercise to using a punching bag, an activity that inspired him. Soon he was going outside the house more, riding his bike and even fishing. In September Cole was connected to the RDPCN Recreation Therapist who helped him set out workouts at the gym 4 times per week with good results. When Covid shut down the gym, Cole borrowed a bench press and has faithfully used the treadclimber in his basement. Cole has lost 36 pounds so far and has good momentum behind him to continue his loss. He has made a decision to be healthier and he has kept it. He is enjoying more energy, a better mood, a healthier diet and has positive plans for the future. Nothing will slow him down now and he sincerely doubts that he will ever need bariatric surgery as he knows he can get to a healthy weight through lifestyle.
To learn more about the RDPCN programs, visit www.reddeerpcn.com.
Read more success stories on Todayville.
Former NY Times science writer says all the evidence available on the origin of Covid leads in the same direction
In the millions of articles, opinion pieces, and news stories written about Covid there is one topic that is more important than all the others.  It's more important than masks, vaccines, or lockdown measures.  The origin of the virus is critical because no matter how many people die from covid, or how many businesses are wiped out, it's critical that IF the next virus can be stopped, it mu st be.  
A science writer named Nicholas Wade has written the most thorough study on the origins of Covid to be released to the public.  Wade has worked with Nature, Science, and the New York Times, but this article was released on the public platform Medium.   In this article Wade goes through three possible scenarios and then draws the most likely conclusion.  This is a long read, but it might be the most important article yet written during this pandemic.
Here is the article from Medium. Click  here to read it on Medium.
Origin of Covid — Following the Clues
Did people or nature open Pandora's box at Wuhan?
Nicholas Wade
I'm a science writer and have worked on the staff of Nature, Science and, for many years, on the New York Times. [email protected]
The Covid-19 pandemic has disrupted lives the world over for more than a year. Its death toll will soon reach three million people. Yet the origin of pandemic remains uncertain: the political agendas of governments and scientists have generated thick clouds of obfuscation, which the mainstream press seems helpless to dispel.
In what follows I will sort through the available scientific facts, which hold many clues as to what happened, and provide readers with the evidence to make their own judgments. I will then try to assess the complex issue of blame, which starts with, but extends far beyond, the government of China.
By the end of this article, you may have learned a lot about the molecular biology of viruses. I will try to keep this process as painless as possible. But the science cannot be avoided because for now, and probably for a long time hence, it offers the only sure thread through the maze.
The virus that caused the pandemic is known officially as SARS-CoV-2, but can be called SARS2 for short. As many people know, there are two main theories about its origin. One is that it jumped naturally from wildlife to people. The other is that the virus was under study in a lab, from which it escaped. It matters a great deal which is the case if we hope to prevent a second such occurrence.
I'll describe the two theories, explain why each is plausible, and then ask which provides the better explanation of the available facts. It's important to note that so far there is no direct evidence for either theory. Each depends on a set of reasonable conjectures but so far lacks proof. So I have only clues, not conclusions, to offer. But those clues point in a specific direction. And having inferred that direction, I'm going to delineate some of the strands in this tangled skein of disaster.
A Tale of Two Theories
After the pandemic first broke out in December 2019, Chinese authorities reported that many cases had occurred in the wet market — a place selling wild animals for meat — in Wuhan. This reminded experts of the SARS1 epidemic of 2002 in which a bat virus had spread first to civets, an animal sold in wet markets, and from civets to people. A similar bat virus caused a second epidemic, known as MERS, in 2012. This time the intermediary host animal was camels.
The decoding of the virus's genome showed it belonged to a viral family known as beta-coronaviruses, to which the SARS1 and MERS viruses also belong. The relationship supported the idea that, like them, it was a natural virus that had managed to jump from bats, via another animal host, to people. The wet market connection, the only other point of similarity with the SARS1 and MERS epidemics, was soon broken: Chinese researchers found earlier cases in Wuhan with no link to the wet market. But that seemed not to matter when so much further evidence in support of natural emergence was expected shortly.
Wuhan, however, is home of the Wuhan Institute of Virology, a leading world center for research on coronaviruses. So the possibility that the SARS2 virus had escaped from the lab could not be ruled out. Two reasonable scenarios of origin were on the table.
From early on, public and media perceptions were shaped in favor of the natural emergence scenario by strong statements from two scientific groups. These statements were not at first examined as critically as they should have been.
"We stand together to strongly condemn conspiracy theories suggesting that COVID-19 does not have a natural origin," a group of virologists and others wrote in the Lancet on February 19, 2020, when it was really far too soon for anyone to be sure what had happened. Scientists "overwhelmingly conclude that this coronavirus originated in wildlife," they said, with a stirring rallying call for readers to stand with Chinese colleagues on the frontline of fighting the disease.
Contrary to the letter writers' assertion, the idea that the virus might have escaped from a lab invoked accident, not conspiracy. It surely needed to be explored, not rejected out of hand. A defining mark of good scientists is that they go to great pains to distinguish between what they know and what they don't know. By this criterion, the signatories of the Lancet letter were behaving as poor scientists: they were assuring the public of facts they could not know for sure were true.
It later turned out that the Lancet letter had been organized and drafted by Peter Daszak, president of the EcoHealth Alliance of New York. Dr. Daszak's organization funded coronavirus research at the Wuhan Institute of Virology. If the SARS2 virus had indeed escaped from research he funded, Dr. Daszak would be potentially culpable. This acute conflict of interest was not declared to the Lancet's readers. To the contrary, the letter concluded, "We declare no competing interests."
Virologists like Dr. Daszak had much at stake in the assigning of blame for the pandemic. For 20 years, mostly beneath the public's attention, they had been playing a dangerous game. In their laboratories they routinely created viruses more dangerous than those that exist in nature. They argued they could do so safely, and that by getting ahead of nature they could predict and prevent natural "spillovers," the cross-over of viruses from an animal host to people. If SARS2 had indeed escaped from such a laboratory experiment, a savage blowback could be expected, and the storm of public indignation would affect virologists everywhere, not just in China. "It would shatter the scientific edifice top to bottom," an MIT Technology Review editor, Antonio Regalado, said in March 2020.
A second statement which had enormous influence in shaping public attitudes was a letter (in other words an opinion piece, not a scientific article) published on 17 March 2020 in the journal Nature Medicine. Its authors were a group of virologists led by Kristian G. Andersen of the Scripps Research Institute. "Our analyses clearly show that SARS-CoV-2 is not a laboratory construct or a purposefully manipulated virus," the five virologists declared in the second paragraph of their letter.
Unfortunately this was another case of poor science, in the sense defined above. True, some older methods of cutting and pasting viral genomes retain tell-tale signs of manipulation. But newer methods, called "no-see-um" or "seamless" approaches, leave no defining marks. Nor do other methods for manipulating viruses such as serial passage, the repeated transfer of viruses from one culture of cells to another. If a virus has been manipulated, whether with a seamless method or by serial passage, there is no way of knowing that this is the case. Dr. Andersen and his colleagues were assuring their readers of something they could not know.
The discussion part their letter begins, "It is improbable that SARS-CoV-2 emerged through laboratory manipulation of a related SARS-CoV-like coronavirus". But wait, didn't the lead say the virus had clearly not been manipulated? The authors' degree of certainty seemed to slip several notches when it came to laying out their reasoning.
The reason for the slippage is clear once the technical language has been penetrated. The two reasons the authors give for supposing manipulation to be improbable are decidedly inconclusive.
First, they say that the spike protein of SARS2 binds very well to its target, the human ACE2 receptor, but does so in a different way from that which physical calculations suggest would be the best fit. Therefore the virus must have arisen by natural selection, not manipulation.
If this argument seems hard to grasp, it's because it's so strained. The authors' basic assumption, not spelt out, is that anyone trying to make a bat virus bind to human cells could do so in only one way. First they would calculate the strongest possible fit between the human ACE2 receptor and the spike protein with which the virus latches onto it. They would then design the spike protein accordingly (by selecting the right string of amino acid units that compose it). But since the SARS2 spike protein is not of this calculated best design, the Andersen paper says, therefore it can't have been manipulated.
But this ignores the way that virologists do in fact get spike proteins to bind to chosen targets, which is not by calculation but by splicing in spike protein genes from other viruses or by serial passage. With serial passage, each time the virus's progeny are transferred to new cell cultures or animals, the more successful are selected until one emerges that makes a really tight bind to human cells. Natural selection has done all the heavy lifting. The Andersen paper's speculation about designing a viral spike protein through calculation has no bearing on whether or not the virus was manipulated by one of the other two methods.
The authors' second argument against manipulation is even more contrived. Although most living things use DNA as their hereditary material, a number of viruses use RNA, DNA's close chemical cousin. But RNA is difficult to manipulate, so researchers working on coronaviruses, which are RNA-based, will first convert the RNA genome to DNA. They manipulate the DNA version, whether by adding or altering genes, and then arrange for the manipulated DNA genome to be converted back into infectious RNA.
Only a certain number of these DNA backbones have been described in the scientific literature. Anyone manipulating the SARS2 virus "would probably" have used one of these known backbones, the Andersen group writes, and since SARS2 is not derived from any of them, therefore it was not manipulated. But the argument is conspicuously inconclusive. DNA backbones are quite easy to make, so it's obviously possible that SARS2 was manipulated using an unpublished DNA backbone.
And that's it. These are the two arguments made by the Andersen group in support of their declaration that the SARS2 virus was clearly not manipulated. And this conclusion, grounded in nothing but two inconclusive speculations, convinced the world's press that SARS2 could not have escaped from a lab. A technical critique of the Andersen letter takes it down in harsher words.
Science is supposedly a self-correcting community of experts who constantly check each other's work. So why didn't other virologists point out that the Andersen group's argument was full of absurdly large holes? Perhaps because in today's universities speech can be very costly. Careers can be destroyed for stepping out of line. Any virologist who challenges the community's declared view risks having his next grant application turned down by the panel of fellow virologists that advises the government grant distribution agency.
The Daszak and Andersen letters were really political, not scientific statements, yet were amazingly effective. Articles in the mainstream press repeatedly stated that a consensus of experts had ruled lab escape out of the question or extremely unlikely. Their authors relied for the most part on the Daszak and Andersen letters, failing to understand the yawning gaps in their arguments. Mainstream newspapers all have science journalists on their staff, as do the major networks, and these specialist reporters are supposed to be able to question scientists and check their assertions. But the Daszak and Andersen assertions went largely unchallenged.
Doubts about natural emergence
Natural emergence was the media's preferred theory until around February 2021 and the visit by a World Health Organization commission to China. The commission's composition and access were heavily controlled by the Chinese authorities. Its members, who included the ubiquitous Dr. Daszak, kept asserting before, during and after their visit that lab escape was extremely unlikely. But this was not quite the propaganda victory the Chinese authorities may have been hoping for. What became clear was that the Chinese had no evidence to offer the commission in support of the natural emergence theory.
This was surprising because both the SARS1 and MERS viruses had left copious traces in the environment. The intermediary host species of SARS1 was identified within four months of the epidemic's outbreak, and the host of MERS within nine months. Yet some 15 months after the SARS2 pandemic began, and a presumably intensive search, Chinese researchers had failed to find either the original bat population, or the intermediate species to which SARS2 might have jumped, or any serological evidence that any Chinese population, including that of Wuhan, had ever been exposed to the virus prior to December 2019. Natural emergence remained a conjecture which, however plausible to begin with, had gained not a shred of supporting evidence in over a year.
And as long as that remains the case, it's logical to pay serious attention to the alternative conjecture, that SARS2 escaped from a lab.
Why would anyone want to create a novel virus capable of causing a pandemic? Ever since virologists gained the tools for manipulating a virus's genes, they have argued they could get ahead of a potential pandemic by exploring how close a given animal virus might be to making the jump to humans. And that justified lab experiments in enhancing the ability of dangerous animal viruses to infect people, virologists asserted.
With this rationale, they have recreated the 1918 flu virus, shown how the almost extinct polio virus can be synthesized from its published DNA sequence, and introduced a smallpox gene into a related virus.
These enhancements of viral capabilities are known blandly as gain-of-function experiments. With coronaviruses, there was particular interest in the spike proteins, which jut out all around the spherical surface of the virus and pretty much determine which species of animal it will target. In 2000 Dutch researchers, for instance, earned the gratitude of rodents everywhere by genetically engineering the spike protein of a mouse coronavirus so that it would attack only cats.
Virologists started studying bat coronaviruses in earnest after these turned out to be the source of both the SARS1 and MERS epidemics. In particular, researchers wanted to understand what changes needed to occur in a bat virus's spike proteins before it could infect people.
Researchers at the Wuhan Institute of Virology, led by China's leading expert on bat viruses, Dr. Shi Zheng-li or "Bat Lady", mounted frequent expeditions to the bat-infested caves of Yunnan in southern China and collected around a hundred different bat coronaviruses.
Dr. Shi then teamed up with Ralph S. Baric, an eminent coronavirus researcher at the University of North Carolina. Their work focused on enhancing the ability of bat viruses to attack humans so as to "examine the emergence potential (that is, the potential to infect humans) of circulating bat CoVs [coronaviruses]." In pursuit of this aim, in November 2015 they created a novel virus by taking the backbone of the SARS1 virus and replacing its spike protein with one from a bat virus (known as SHC014-CoV). This manufactured virus was able to infect the cells of the human airway, at least when tested against a lab culture of such cells.
The SHC014-CoV/SARS1 virus is known as a chimera because its genome contains genetic material from two strains of virus. If the SARS2 virus were to have been cooked up in Dr. Shi's lab, then its direct prototype would have been the SHC014-CoV/SARS1 chimera, the potential danger of which concerned many observers and prompted intense discussion.
"If the virus escaped, nobody could predict the trajectory," said Simon Wain-Hobson, a virologist at the Pasteur Institute in Paris.
Dr. Baric and Dr. Shi referred to the obvious risks in their paper but argued they should be weighed against the benefit of foreshadowing future spillovers. Scientific review panels, they wrote, "may deem similar studies building chimeric viruses based on circulating strains too risky to pursue." Given various restrictions being placed on gain-of function (GOF) research, matters had arrived in their view at "a crossroads of GOF research concerns; the potential to prepare for and mitigate future outbreaks must be weighed against the risk of creating more dangerous pathogens. In developing policies moving forward, it is important to consider the value of the data generated by these studies and whether these types of chimeric virus studies warrant further investigation versus the inherent risks involved."
That statement was made in 2015. From the hindsight of 2021, one can say that the value of gain-of-function studies in preventing the SARS2 epidemic was zero. The risk was catastrophic, if indeed the SARS2 virus was generated in a gain-of-function experiment.
Nicholas Wade
I'm a science writer and have worked on the staff of Nature, Science and, for many years, on the New York Times. [email protected]
By the way.. Medium is a fascinating place.  If you haven't checked it out yet here's a link to medium.com.
We're an open platform where 170 million readers come to find insightful and dynamic thinking. Here, expert and undiscovered voices alike dive into the heart of any topic and bring new ideas to the surface. Our purpose is to spread these ideas and deepen understanding of the world.