B.C. housing market shows signs of moderation: assessment agency
VANCOUVER — A drop by up to 10 per cent on the estimated value of some homes in Metro Vancouver reflects a broad softening in a once hot market that is being affected by wider economic shifts, say two experts.
"It's been a long time since we've had declining assessments," said Tsur Somerville, an associate professor at the University of British Columbia's Sauder School of Business.
Somerville said Wednesday the housing values released by BC Assessment, whose estimates are used to determine property taxes, show prices have softened more in the Lower Mainland than elsewhere in the province.
"It's softening across the board actually," he added.
BC Assessment says in other parts of the province, there have been five to 15 per cent increases in some property values.
The agency estimates a property's market value on July 1 of each year and its physical condition on Oct. 31.
Assessor Tina Ireland said property values dipped on average "in the four per cent range" in Vancouver, Burnaby, the North Shore, Richmond and White Rock areas. But Surrey, Delta, Langley, Port Moody and Coquitlam saw increases of four to five per cent on an average.
"It's a real mix in property value changes, but the market can best be summed up as showing signs of stability across most areas of the province," Ireland said in a news release. "Changes in property assessments really depend on where you live. For example, assessed values for detached single family homes in many areas of Metro Vancouver may see a softening in value, while other markets and areas of the province will see modest increases over last year's values."
The agency said condominium values increased in 11 urban municipalities it highlighted, with Whistler seeing a 23 per cent increase.
Andy Yan, the director of the City Program at Simon Fraser University, said the softening in the market reflects global changes coupled with tighter mortgage regulations and higher interest rates.
The increased value of some condos reflects their affordability compared to detached homes, he said.
"It was like, OK, fine, you can't afford a single-family home. Fine, you'll move over to condos," he said.
The average assessed value of a single-family residential property in Vancouver was about $1.83 million on July 1, 2017, which dipped one year later by about four per cent to $1.76 million. In nearby Port Moody, the average assessed value jumped from $1.28 million to $1.34 million during the same period, representing a five per cent increase.
In 2016, the B.C. government introduced a foreign buyers tax in Metro Vancouver, which was expanded in February to other areas, including Victoria, the Fraser Valley and central Okanagan.
Nationally, experts have said higher interest rates and a new mortgage stress test have also had an impact on property prices across the country.
Yan said the impact of these changes will take time to determine but it is "arguably" what's behind the latest property values from BC Assessment.
Still, housing in the Vancouver area remains unaffordable, he said.
"The summary of these declines in single-family detached values is that we're far from mission accomplished nor have we achieved affordability in our time."
Commercial and industrial properties saw an increase of between 10 and 20 per cent across most of the province, with some markets around Metro Vancouver increasing by up to 30 per cent.
Yan said the increase in commercial and industrial assessments is important because most businesses didn't see similar increases in revenue.
"Now we're touching upon the issue of jobs and economic development," he said.
"So what is the downstream implications for businesses in terms of commercial and industrial properties going up?"
Deputy assessor Keith MacLean-Talbot says increases in 2019 property assessments do not automatically translate into a corresponding increase in property taxes.
Hina Alam, The Canadian Press
Note to readers: This is a corrected story. A previous version said condominium values were forecast to increase by 20 per cent.
'Elaborate ruse': Prosecutor says Saskatoon mother in custody dispute faked deaths
Federal prosecutors in the United States have accused a Saskatoon woman of faking her own death and that of her son in what they describe as an elaborate scheme to illegally enter the country.
Kevin Sonoff, a spokesman for the U.S. Attorney's Office in Oregon, says 48-year-old # is being detained as a flight risk as she faces two charges related to identity theft.
Walker was reported missing with her seven-year-old son last month. Police discovered them "safe and well" in a rental unit in Oregon City on Friday, following two weeks of search-and-rescue efforts that included scouring the South Saskatchewan River and its banks, where her pickup truck was abandoned.
Court documents filed Monday in Oregon allege Walker "went through extreme efforts to steal identities for her and her son that allowed them to unlawfully enter the United States and hide."
The documents allege she "thoughtfully planned and engaged in an elaborate ruse in which she faked her death and that of her son."
The U.S. Department of Homeland Security has charged her with the felony offence of knowingly producing a passport of another person and a misdemeanour charge of possessing identification that was stolen or produced illegally.
The felony charge carries a mandatory minimum sentence of two years in prison if found guilty, while the misdemeanour charge carries up to six months' imprisonment, the U.S. Attorney's Office said.
Saskatoon police said they have charged Walker with public mischief and parental abduction in contravention of a custody order, and are looking to extradite her back to Canada.
The boy was returned to Canada on Sunday after a legal guardian picked him up, police said.
Saskatoon police said they began searching for Walker and her son on July 24 after friends reported them missing.
Her red Ford F-150 truck had been found at Chief Whitecap Park, just south of Saskatoon, along with some of her belongings.
The court documents allege Walker took the identities of a colleague and that colleague's child to open a bank account, and she bought an SUV and drove across the border on July 23. Saskatoon police said she crossed the border south of Lethbridge, Alta., into Montana.
An affidavit from Clinton Lindsly, a special agent with Homeland Security, says Walker and her son's biological father had been engaged in a lengthy custody dispute and she was supposed to return the boy on July 25.
Lindsly says in the document he told Walker, after her arrest, that "people presumed that she and her son died in the river, to which she spontaneously stated, 'He doesn't want to be with his father.'"
The court documents further allege Walker "put a lot of time and effort in planning her crime."
The documents say officers found a series of notebooks and handwritten notes in Walker's SUV that included a checklist: dye hair, cover tattoo, pack car, get toys, throw phone in water, ditch car by bridge, possibly buy fishing rod and find the nearest border.
The documents say Walker has no ties to the U.S. and allege she funded her scheme through hidden financial accounts and assets totalling over $100,000.
"The defendant's kidnapping of her child is extremely serious. While the child has been safely rescued there are no assurances that if the defendant were released she would not try once again to kidnap her child," say the court documents.
Walker, who remains in custody, is to next appear in court in Oregon on Sept. 7. A defence lawyer believed to be representing Walker could not be reached for comment.
"As the criminal investigation progresses, there may be further charges that Ms. Walker will face as a result," Saskatoon police Deputy Chief Randy Huisman said Monday.
"Investigators are looking at several different charges, and in relation to the false identity documents that were alluded to, and how she was able to prepare those documents."
The Federation of Sovereign Indigenous Nations, where Walker worked as its chief executive officer, had organized a vigil and walks through the park to raise awareness about the disappearance of the woman and her son.
The federation also issued its own Amber Alert for the pair, and asked police to do the same. Police said there wasn't evidence to suggest they were in imminent danger.
The boy's family said in a statement Saturday that "over the past two weeks of hell," all they had wished for was the safe return of Walker and the boy.
"When we found out they were both safe, there was sobbing, laughing, dancing, shouting, throwing of shoes and hugging."
Walker, who is from Okanese First Nation, is also a well-known author. Her recent book "The Prairie Chicken Dance Tour," published under the name Dawn Dumont, was named last week as a finalist for the Stephen Leacock Memorial Medal for Humour.
This report by The Canadian Press was first published on Aug. 8, 2022.
Mickey Djuric, The Canadian Press
Liberals planning temporary solution to dental care promise: sources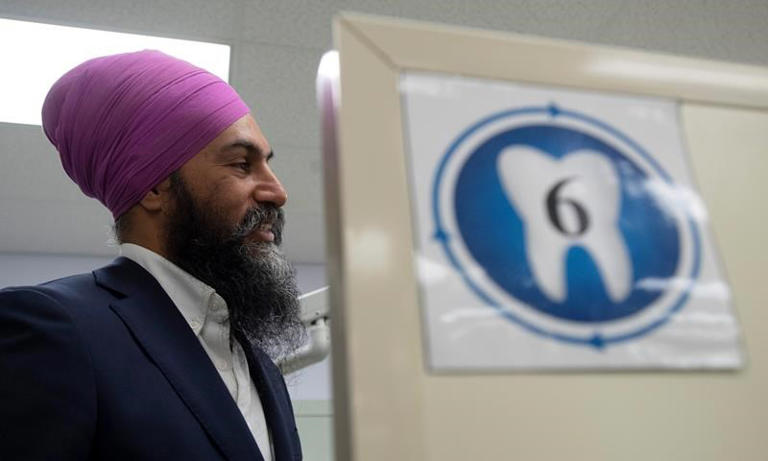 Ottawa – Sources close to the government's proposed $5.3-billion dental-care program say the Liberals are planning a temporary solution that involves giving money directly to patients in order to keep their promise to the NDP while they work on a permanent answer.
The Liberals promised the NDP a new dental-care program for low- and middle-income families in March as part of a supply and confidence agreement to prevent an election before 2025.
The government has until the end of the year to provide some kind of coverage for children under the age of 12 with an annual household income of less than $90,000.
The NDP have vowed to walk away from the deal if the deadline isn't met.
Four sources with knowledge of the government's plan, but who are not authorized to speak publicly, say the government is unlikely to meet its deadline, and is planning a stopgap solution until a permanent incarnation of the program is put in place.
Though details are scarce, the sources say the temporary solution would involve giving qualifying families the money directly to fund their dental health services while the government works on a more permanent, expanded program.
In a statement, the health minister's staff did not confirm or deny the temporary plan but say they are on track to deliver on the dental-care commitment as outlined in the agreement with the New Democrats.
NDP health critic Don Davies did not directly address the temporary plan either, but said in a statement the party has "identified several ways to ensure the target groups can access dental care on the identified timelines."
The NDP are now focused on pushing the Liberals to introduce dental-care legislation when Parliament resumes in the fall, Davies said.
"That legislation will deliver the resources needed to help children under 12 see a dentist and care for their teeth this year," he said.
NDP Leader Jagmeet Singh echoed the health minister's faith about meeting the deadline last week.
"We're very confident we can achieve that before the end of the year, as our agreement outlines," Singh said at a news conference last Thursday.
The agreement isn't prescriptive about how the coverage should be achieved, and the government hasn't committed to any particular means of administering the program yet.
Health Minister Jean-Yves Duclos's office has said repeatedly the department is looking at several options to meet its commitment and its end-of-year deadline.
The NDP originally envisioned a federal program that functions similarly to the federal health-benefits program run for uninsured First Nations and Inuit people.
The federal government could also offer money to provinces and territories to take it over, since many already offer similar programs and dental care has traditionally fallen within their jurisdiction.
Meanwhile, the Liberals put out a formal request for information (RFI) to members of the insurance industry two weeks ago to explore what role private companies could play in administering the program.
In that RFI, the government says if a contract is awarded the winning company would be given six months to get ready before processing claims. That timeline would be impossible to achieve before the end of December.
According to the statement from Duclos's staff, they're still consulting on the best way forward.
The Liberals have promised to extend the program to qualifying teens, seniors and persons living with disabilities next year and everyone else in the qualifying family-income bracket by the end of the supply and confidence agreement in 2025.
"It comes as no surprise that the Trudeau government is not living up to a commitment it made to buy the NDP's support," Conservative health critic Michael Barrett said in a statement.
Barrett said Canadians should be concerned that the government is not committed to maintaining the current health system, "much less adding a new complex and expensive program to it."
The government set aside $5.3 billion over five years for the program, but the parliamentary budget officer's estimate is nearly double that at $9 billion.
Once the program is fully implemented, the Liberals' 2022 budget predicts it will cost about $1.7 billion per year to run, which is in line with the PBO's estimate.
This report by The Canadian Press was first published Aug. 8, 2022.