B.C. groups concerned over lack of compromise in COVID-19 vaccine card plan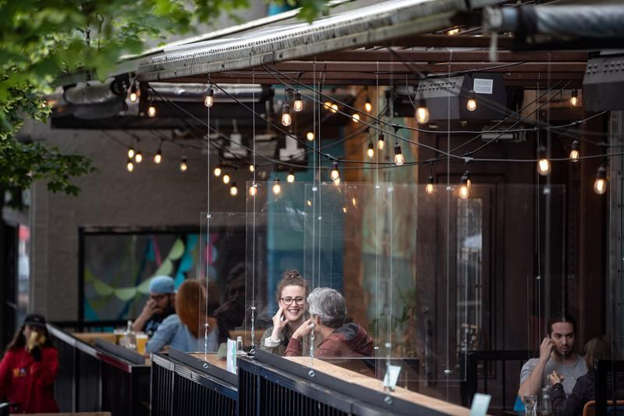 VANCOUVER — A group of British Columbia community organizations wants changes to the province's COVID-19 vaccine card, saying it fails to account for the needs of people who face legitimate barriers to getting a vaccine or proof of immunization.
A joint letter to Health Minister Adrian Dix and provincial health officer Dr. Bonnie Henry says the plan could restrict access to services for people who can't get a shot for medical reasons, as well as people without government identification.
It was released by Vancouver-based Pivot Legal Society this month and says B.C. has failed to identify a workaround for people without ID, which could include women fleeing violence, people who are homeless and undocumented migrants.
The vaccine card system requires patrons to show proof of at least one vaccine dose by Monday and two doses by Oct. 24 to access certain indoor settings, including ticketed sports events, concerts, restaurants, gyms and movie theatres.
The card will not be required at grocery and liquor stores, pharmacies, fast food restaurants, salons, barbers, hotels, banks, retail stores, food banks and shelters.
B.C. residents need a personal health number to order a paper copy of their vaccine card or to download the card online for display on a smartphone. The card will be checked alongside government identification.
"If you're homeless and living outside, carrying around a piece of paper is just not going to work out," said Rowan Burdge, director of the BC Poverty Reduction Coalition and a signatory of the letter. "We've seen encampments where people's belongings have been taken away."
The letter says the province hasn't done enough to follow the advice of organizations that understand how best to navigate public health guidelines for those living in poverty or with a disability, for example.
Disability Alliance BC, which also signed the letter, said in a separate statement that mandating so-called vaccine passports without accommodating people who cannot get vaccinated due to their medical condition is "blatant discrimination."
The Health Ministry said in a statement it appreciates the groups' feedback and it has "been doing what we can to address some of these challenges
Asked about accommodation for people who cannot get vaccinated for medical reasons, the ministry said there will be an exemption process "for extremely rare circumstances."
"Dr. Henry has said that if you are unvaccinated, for whatever reason, these kind of indoor settings with lots of people are high risk right now," it said.
Ontario, Quebec and Manitoba have also introduced vaccine passport programs.
Burdge said she doesn't want requests made in the letter to be conflated with anti-vaccination rhetoric.
"We absolutely are supporting people to get vaccinated. … But we're worried about the systemic barriers that are going to come from this particular policy."
A number of B.C. communities have seen protests against the vaccine card, including outside hospitals.
Dr. David Naylor, co-chair of Canada's COVID-19 immunity task force, said there's a widespread sense that COVID-19 has "hijacked our lives," leading some people to scapegoat the public health measures adopted to protect the health-care system and those who are too young to receive a vaccine.
But Naylor said those measures, including achieving a higher rate of vaccination, are the "only way to restore normalcy in the months ahead," particularly as the highly contagious Delta variant makes up the majority of Canada's COVID-19 cases.
Vaccine passports have a role to play in curbing the fourth wave by encouraging immunization among people who may be late getting their first shot, but who aren't staunchly opposed to vaccination, said Naylor, who led a review of Canada's public health system after the outbreak of SARS in 2003.
Those opposed to vaccination or vaccine cards are "simply inviting continuation of some of the measures that everyone would like to avoid," he said in an interview.
Naylor said even staunch libertarians, or those who believe in maximal freedom of choice and minimal government regulation, acknowledge that one person's civil liberties stop when they lead to harm or encroach on the liberties of others.
"The notion here that you have people who could do harm to other people is relevant in considering the constraints on the civil liberties claim by people who choose to remain unvaccinated in the midst of an unprecedented global pandemic."
This report by The Canadian Press was first published Sept. 12, 2021.
The Canadian Press
CP NewsAlert: City of Iqaluit declares emergency due to water shortage
IQALUIT, Nunavut — The City of Iqaluit has declared a state of emergency due to a water shortage.
More coming.
The Canadian Press
Author Salman Rushdie attacked on lecture stage in New York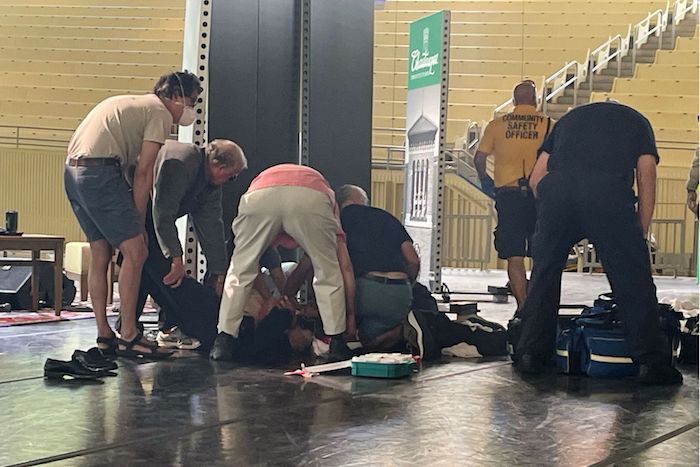 CHAUTAUQUA, N.Y. (AP) — Salman Rushdie, the author whose writing led to death threats from Iran in the 1980s, was attacked and apparently stabbed in the neck Friday by a man who rushed the stage as he was about to give a lecture in western New York.
An Associated Press reporter witnessed a man confront Rushdie on stage at the Chautauqua Institution and punch or stab him 10 to 15 times as he was being introduced. The 75-year-old author was pushed or fell to the floor, and the man was arrested.
State police said Rushdie was apparently stabbed in the neck and was flown to a hospital. His condition wasn't immediately known. The moderator at the event was also attacked and suffered a minor head injury, police said.
Rabbi Charles Savenor was among the roughly 2,500 people in the audience. Amid gasps, spectators were ushered out of the outdoor amphitheater.
The assailant ran onto the platform "and started pounding on Mr. Rushdie. At first you're like, 'What's going on?' And then it became abundantly clear in a few seconds that he was being beaten," Savenor said. He said the attack lasted about 20 seconds.
Another spectator, Kathleen Jones, said the attacker was dressed in black, with a black mask.
"We thought perhaps it was part of a stunt to show that there's still a lot of controversy around this author. But it became evident in a few seconds" that it wasn't, she said.
A bloodied Rushdie was quickly surrounded by a small group of people who held up his legs, presumably to send more blood to his chest.
Rushdie has been a prominent spokesman for free expression and liberal causes. He is a former president of PEN America, which said it was "reeling from shock and horror" at the attack.
"We can think of no comparable incident of a public violent attack on a literary writer on American soil," CEO Suzanne Nossel said in a statement.
Rushdie "has been targeted for his words for decades but has never flinched nor faltered," she added.
His 1988 book "The Satanic Verses" was viewed as blasphemous by many Muslims. Often-violent protests against Rushdie erupted around the world, including a riot that killed 12 people in Mumbai.
The novel was banned in Iran, where the late leader Grand Ayatollah Ruhollah Khomeini issued a 1989 fatwa, or edict, calling for Rushdie's death. Khomeini died that same year.
Iran's current Supreme Leader Ayatollah Ali Khamenei has never issued a fatwa of his own withdrawing the edict, though Iran in recent years hasn't focused on the writer.
Iran's mission to the United Nations did not immediately respond to a request for comment on Friday's attack.
A bounty of over $3 million has also been offered for anyone who kills Rushdie.
The death threats and bounty led Rushdie to go into hiding under a British government protection program, which included a round-the-clock armed guard. Rushdie emerged after nine years of seclusion and cautiously resumed more public appearances, maintaining his outspoken criticism of religious extremism overall.
He has said he is proud of his fight for freedom of expression, saying in a 2012 talk in New York that terrorism is really the art of fear.
"The only way you can defeat it is by deciding not to be afraid," he said.
Iran's government has long since distanced itself from Khomeini's decree, but anti-Rushdie sentiment has lingered. The Index on Censorship, an organization promoting free expression, said money was raised to boost the reward for his killing as recently as 2016, underscoring that the fatwa for his death still stands.
In 2012, Rushdie published a memoir, "Joseph Anton," about the fatwa. The title came from the pseudonym Rushdie had used while in hiding.
Rushdie rose to prominence with his Booker Prize-winning 1981 novel "Midnight's Children," but his name became known around the world after "The Satanic Verses."
The Chautauqua Institution, about 55 miles southwest of Buffalo in a rural corner of New York, has served for more than a century as a place for reflection and spiritual guidance. Visitors don't pass through metal detectors or undergo bag checks. Most people leave the doors to their century-old cottages unlocked at night.
Police said a state trooper was assigned to Rushdie's lecture.
The Chautauqua center is known for its summertime lecture series, where Rushdie has spoken before. Speakers address a different topic each week. Rushdie and moderator Henry Reese were set to discuss "the United States as asylum for writers and other artists in exile and as a home for freedom of creative expression."
___
Associated Press writers Carolyn Thompson in Buffalo, New York; Michael Hill in Albany, New York; and Jennifer Peltz in New York City contributed to this report.