Avalanche dethrone Lightning to win Stanley Cup for 3rd time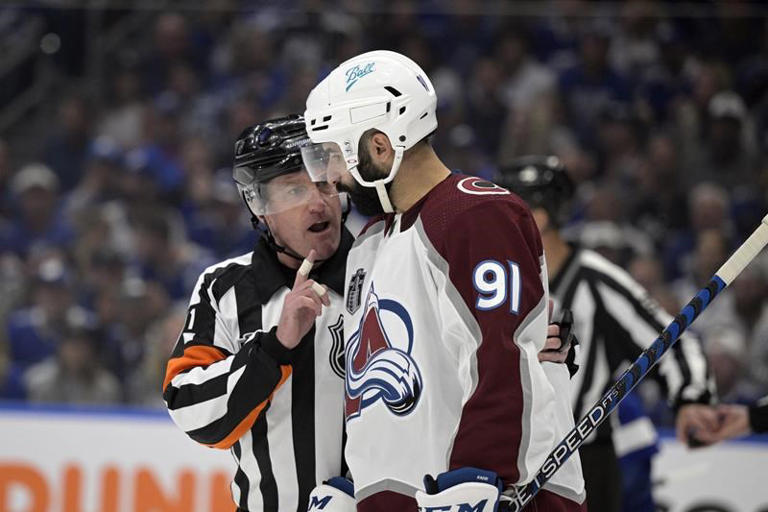 "It was all leading up to this," playoff MVP-winning defensman Cale Makar said about the Avalanche's journey.
It's the first title for this core group led by MacKinnon, captain Gabriel Landeskog, Mikko Rantanen and Makar and it follows several early postseason exits — in the second round each of the past three seasons and the first in 2018.
"It feels unbelievable," MacKinnon said. "Some tough years mixed in there, but it's all over now. We never stopped believing."
With a mix of speed, high-end talent and the experiences gained from those defeats, Colorado broke through this time — earning every bit of the championship by knocking off the team that hoisted the Cup the past two years. Like the Avalanche fully expected, it wasn't easy.
After an early turnover by Makar leading to Steven Stamkos' goal that put them in a hole and several more bumps and bruises, the Avalanche tied it when MacKinnon beat 2021 playoff MVP Andrei Vasilevskiy with a near-perfect shot and went ahead on another big goal by trade deadline acquisition Artturi Lehkonen. They locked things down by holding on to the puck and not letting Tampa Bay even shoot the puck on Darcy Kuemper in the third period.
When they did, he was there. Brought in from Arizona in a trade last summer to shore up the sport's most important position, Kuemper was solid again and made his most important save with under seven minutes left when he slid over to deny skilled winger Nikita Kucherov.
His teammates finished the job.
"That's 20-plus years of just dreaming and wanting and working for it and just finally coming to fruition after a lot of crazy years and a lot of hard work," Landeskog said. "This group is just amazing, all the way from the top to our third massage therapist to the wives to the fans to everybody working in Ball (Arena) right now. It's incredible.
Much like the Lightning went all in multiple times by trading high draft picks and prospects to load up for the best chance to win the Cup, Avalanche general manager Joe Sakic was not afraid to ante up in March to acquire Lehkonen, defenseman Josh Manson and veteran forward Andrew Cogliano. They became the perfect complement to Colorado's core that had showed plenty of playoff promise and until now hadn't produced a championship.
Sakic, who captained Colorado's first two title-winning teams in 1996 and 2001, used a familiar recipe to get his team over the hump. Much like Pierre Lacroix, the architect of those Avalanche teams that had so much success after the organization moved to Denver, Sakic prioritized skill, speed and versatility.
That speed overwhelmed every opponent along the way, from an opening sweep of Nashville through a hard-fought, six-game series against St. Louis, another sweep of Edmonton and then Tampa Bay, which staved off elimination once but ended up two victories short of becoming the NHL's first three-peat champions since the early 1980s New York Islanders dynasty.
"They're a team that's looking to become a dynasty," Makar said. "We're a team that's looking to start a legacy."
That legacy finally involves a championship, thanks in large part to steady coach Jared Bednar, who in his sixth season found a way to focus his team on the mission at hand from the start of training camp. That mentality helped the Avalanche get over the hump, and Bednar became the first coach to win the Stanley Cup, American Hockey League's Calder Cup and ECHL's Kelly Cup.
Bednar won the chess match with Jon Cooper, also a Stanley and Calder Cup champion who is considered one of the best tacticians in the NHL. But things began to stack up against the Lightning facing their stiffest competition since their run of success began in 2020.
Asked how other teams might be able to copy the Avalanche's success, Landeskog quipped, "Get a Cale Makar somewhere."
Makar won the Conn Smythe after leading Colorado in scoring with 29 points in 20 games.
Injuries that sidelined top center Brayden Point and limited other key contributors proved too much against a stacked opponent built to withstand just about anything. Depth allowed the Avalanche to overcome losing defenseman Samuel Girard to a broken sternum and finish off the Lightning without Cup Final Game 1 overtime Andre Burakovsky sidelined by injury and with standout winger Valeri Nichushkin hobbling around on an injured right foot and center Nazem playing through a broken right thumb.
The Avalanche beat the Lightning before attrition could take too much of a toll and before the scary possibility of facing elimination in Game 7. Instead, they'll return to Denver to celebrate with the Stanley Cup.
While not as emotional as the past two years when Stamkos got the trophy, Colorado's series-ending victory marks another completion of an NHL season during a pandemic — the first back to 82 games with a normal playoff format since 2019. It was not without its stumbles, including postponing dozens of games and pulling out of the Olympics — and Commissioner Gary Bettman wasn't even able to hand the Cup to Landeskog because he tested positive for the coronavirus, leaving deputy Bill Daly to do the honors.
The Avalanche and Lightning dealt with at-times rough ice conditions playing late into June, something that should not happen moving forward as the league gets back to its regular schedule. When that happens, Colorado will get the chance to defend its crown and attempt to follow Tampa Bay in sustaining a perennial Cup contender.
___
AP Sports Writer Pat Graham in Denver contributed to this report.
___
Follow AP Hockey Writer Stephen Whyno on Twitter at https://twitter.com/SWhyno
___
More AP NHL: https://apnews.com/hub/NHL and https://twitter.com/AP_Sports
Stephen Whyno, The Associated Press
Thompson's 37-save effort leads Golden Knights to 3-2 win over Flames
Vegas Golden Knights goalie Logan Thompson scrambles to block the net during third period NHL hockey action against the Calgary Flames in Calgary, Alta., Thursday, March 23, 2023. THE CANADIAN PRESS/Jeff McIntosh
By Darren Haynes in Calgary
Logan Thompson's triumphant return for Vegas after six weeks on the shelf was overshadowed by him exiting the game late in the third period with another injury.
Before he departed with just over six minutes to go, Thompson made 37 saves as the surging Golden Knights picked up a 3-2 win over the Calgary Flames on Thursday.
"Right now, obviously concerned about Logan," said Vegas coach Bruce Cassidy. " Obviously, Logan missing that much time, we'll have to look closely at that one."
It was unknown if the latest setback is related to the lower-body injury he suffered back on Feb. 9.
"I don't know what happened, to be honest. He just got up and left," Cassidy said. "He knows his body. I have no idea. At the end of the day, let's hope it's not related to the previous injury and it's something that will be short term."
Up 3-2 at the time, Jonathan Quick came in and turned aside all five shots he faced as Calgary poured on the pressure in search of the tying goal.
"It doesn't happen really often but when he got out there (Quick) made a couple really good saves to keep us in the game," said Vegas forward Ivan Barbashev.
The best chance to tie came off the stick of MacKenzie Weegar with a minute to go but he couldn't beat Quick from 30 feet out.
"I saw the net and I missed my shot," said the Flames defenceman. "If there was one chance I can get back all year, it would be that one."
Nicolas Roy scored in his return from an 18-game absence for Vegas (45-21-6). Jonathan Marchessault and Michael Amadio added the others.
Milan Lucic and Nazem Kadri replied for Calgary (32-26-15). Jacob Markstrom stopped 29-of-32 shots in his 11th start in the last 12 games.
In avenging their 7-2 home loss to the Flames on March 16, the Golden Knights earned their seventh win in eight games and are 16-3-2 in their last 21 contests.
Vegas opened up a four-point cushion on the Los Angeles Kings atop the Pacific Division.
Meanwhile, the Flames took a blow to their flickering playoff hopes, falling six points behind Winnipeg for the second wild-card spot in the Western Conference.
It's the Flames' 27th one-goal loss this year, which leads the NHL.
"We're in every game, and we have a chance to win every game we're playing, so it obviously makes it more frustrating that we lose and it feels like we're always losing by that one goal," said Flames defenceman Rasmus Andersson.
"I don't know how many games I've played back in my head thinking that 'Ah, I should have scored that' or 'How did we not score that' and we would have been in a different situation, but it's the reality."
Up 2-1 entering the third period, Vegas got some breathing room at 5:19 when pressure from Roy forced a defensive zone turnover from Rasmus Andersson. Roy then went to the net, received a pass from Phil Kessel and fired a shot over Markstrom.
The Flames crept back to within one at 12:33 when Kadri ended his 16-game goal drought with a power-play marker, but that's as close as they would get.
"When it's big games, we need guys to step up and be big players and we didn't have that tonight from everyone," said Lucic.
Calgary fell to 0-18-3 when trailing after two periods. The Flames are the only NHL team without a comeback victory this season.
Vegas, which entered the night having outscored teams 70-45 in the first period this year, jumped out to a 2-0 lead in the opening frame, with both goals coming less than four minutes apart.
Jack Eichel sprung Marchessault who whipped a shot past Markstrom on a 2-on-1 at 11:43.
Slipping behind the Flames defence and after being stopped on his first shot, Amadio rattled in his own rebound at 15:23.
Lucic cut the deficit in half with 58 seconds left in the frame off a slick cross-ice setup from rookie Walker Duehr.
SHOW OF SUPPORT
The Flames wore #SnowyStrong stickers on the back of their helmets in support of assistant general manager Chris Snow's ongoing battle with ALS. The stickers that feature a blue cornflower, the international symbol of hope for the fight against ALS, were created by a parent from the U9 hockey team in which Snow's daughter plays and were first worn by that team and its coaches.
STREAKS SNAPPED
Golden Knights forward Reilly Smith had his career-best point streak snapped at nine games (four goals, 11 assists). It equalled the franchise best, also held by Alex Tuch, Mark Stone and Max Pacioretty.
Four Flames also had their scoring streaks come to an end. Defenceman Noah Hanifin at six games, while Tyler Toffoli, Elias Lindholm and Blake Coleman each had their four-game streaks halted.
UP NEXT
Golden Knights: Wrap up their road trip in Edmonton on Saturday night.
Flames: Play host to San Jose in an afternoon game on Saturday.
This report by The Canadian Press was first published March 23, 2023.
Anholt tabbed to lead Canada's world junior squad after success with U18 team
Canada celebrates the win over Finland IIHF World Junior Hockey Championship gold medal game action in Edmonton on Saturday August 20, 2022. THE CANADIAN PRESS/Jason Franson
Calgary – Peter Anholt has been tasked with helping Canada win a third straight world junior hockey championship after two successful seasons leading the country's under-18 program.
Anholt, who heads the front office of the Western Hockey League's Lethbridge Hurricanes, is one of three Canadian Hockey League general managers tabbed by Hockey Canada to oversee its men's under-17, under-18 and under-20 programs in 2023-24.
He takes over the world junior program from Ottawa 67's GM James Boyd, who helped Canada win two titles over the span of six months.
Canada beat Finland 3-2 in overtime to win the 2022 championship in Edmonton, which was held in August after being postponed from its traditional December/January slot due to the COVID-19 pandemic.
The Canadians repeated with a 3-2 overtime win over Czechia on Jan. 5 in Halifax.
The 2024 world junior championship begins Dec. 26 in Goteborg, Sweden.
Hockey Canada also announced Wednesday that Dave Brown of the Ontario Hockey League's Erie Otters will guide the men's under-17s this season, while Cam Russell of the Quebec Major Junior Hockey League's Halifax Mooseheads will take over Anholt's former position with the U18 team.
The three will work alongside Hockey Canada's hockey operations staff as part of the organization's "Program of Excellence" management group.
Duties include assisting with player and coach selection, and providing input during camps and tournaments.
Brown will lead the U17 team through the 2023 World Under-17 Hockey Challenge. Canada lost 2-1 to the United States in the final of last year's event in Langley and Delta, B.C.
Russell, meanwhile, will look to help Canada to a second consecutive Hlinka Gretzky Cup title. Canada won its 23rd gold medal at the best-on-best U18 tournament last year in Red Deer, Alta., with Anholt at the helm.
Canada did not participate in the 2021 event due to the pandemic, but won that year's U18 worlds.
"All three individuals bring a wealth of CHL experience to our program," Scott Salmond, Hockey Canada senior vice-president of hockey operations, said in a statement. "We look forward to having them work alongside our athletes and staff while leading our men's national teams next season."
This report by The Canadian Press was first published March 22, 2023.