Authorities call fatal stabbing of UK lawmaker terrorist act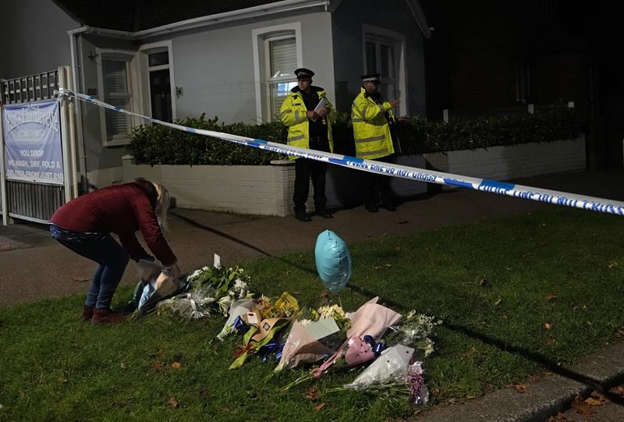 LEIGH-ON-SEA, England (AP) — A long-serving member of Parliament was stabbed to death Friday during a meeting with constituents at a church in England, in what police said was a terrorist incident. A 25-year-old man was arrested in connection with the attack, which united Britain's fractious politicians in shock and sorrow.
Counterterrorism officers were leading the investigation into the slaying of Conservative lawmaker David Amess. In a statement early Saturday, the Metropolitan Police described the attack as terrorism and said the early investigation "has revealed a potential motivation linked to Islamist extremism."
Amess, 69, was attacked around midday Friday at a Methodist church in Leigh-on-Sea, a town about 40 miles (62 kilometers) east of London. Paramedics tried without success to save him. Police arrested the suspect and recovered a knife.
They did not identify the suspect, who was held on suspicion of murder. Police said they believed the suspect acted alone, and were not seeking anyone else in connection with the killing, though investigations continue.
The slaying came five years after another MP, Jo Cox, was murdered by a far-right extremist in her small-town constituency, and it renewed concern about the risks politicians run as they go about their work representing voters. British politicians generally are not given police protection when they meet with their constituents.
Tributes poured in for Amess from across the political spectrum, as well as from the community he had served for decades. Residents paid tribute to him at a vigil at a church in Leigh-on-Sea.
"He carried that great East London spirit of having no fear and being able to talk to people and the level they're at," the Rev. Jeffrey Woolnaugh said at the vigil, attended by about 80 people. "Not all politicians, I would say, are good at that."
Conservative Prime Minister Boris Johnson said he and his Cabinet were "deeply shocked and heart-stricken."
"David was a man who believed passionately in this country and in its future, and we've lost today a fine public servant and a much-loved friend and colleague," Johnson said.
The prime minister would not say whether the attack meant politicians needed tighter security, saying, "We must really leave the police to get on with their investigation."
Amess had been a member of Parliament for Southend West, which includes Leigh-on-Sea, since 1997, and had been a lawmaker since 1983, making him one of the longest-serving politicians in the House of Commons.
A social conservative on the right of his party, he was a well-liked figure with a reputation for working hard for his constituents and campaigning ceaselessly to have Southend declared a city.
Amess, who leaves a wife and five children, was knighted by Queen Elizabeth II in 2015 for his service, becoming Sir David.
Flags at Parliament were lowered to half-staff amid a profusion of questions about lawmakers' security.
"This is an incident that will send shockwaves across the parliamentary community and the whole country," House of Commons Speaker Lindsay Hoyle said. "In the coming days we will need to discuss and examine MPs' security and any measures to be taken, but for now, our thoughts and prayers are with David's family, friends and colleagues."
Violence against British politicians is rare, but concerns have grown about the increasingly bitter polarization of the country's politics.
In 2016, a week before the country's divisive Brexit referendum, Cox, a Labour Party lawmaker, was fatally stabbed and shot in northern England. Also, several people have been jailed in recent years for threatening lawmakers.
British lawmakers are protected by armed police when they are inside Parliament, and security there was tightened after an attacker inspired by the Islamic State group fatally stabbed a police officer at the gates in 2017.
But politicians have no such protection in their constituencies. Amess published the times and locations of his open meetings with constituents on his website.
Two other British lawmakers have been attacked over the past two decades during their "surgeries," regular meetings where constituents can present concerns and complaints.
Labour legislator Stephen Timms was stabbed in the stomach in 2010 by a student radicalized by online sermons from an al-Qaida-linked preacher.
In 2000, Liberal Democrat Nigel Jones and his aide Andrew Pennington were attacked by a man wielding a sword during such a meeting. Pennington was killed and Jones wounded in the attack in Cheltenham, England.
Former Prime Minister Theresa May, a Conservative, tweeted that Amess' killing was a "tragic day for our democracy," and former Labour Prime Minister Tony Blair said he was "shocked and horrified."
Scottish First Minister Nicola Sturgeon of the Scottish National Party said on Twitter: "In a democracy, politicians must be accessible and open to scrutiny, but no one deserves to have their life taken while working for and representing their constituents."
Kim Leadbeater, Jo Cox's sister and now a member of Parliament herself, said it was "horrific" that Amess' family was experiencing what hers had gone through.
"They will think about this every single day for the rest of their lives," she said.
"I find myself now working as a politician and trying to do good things for people, and it's really important you get good people in public life, but this is the risk we are all taking, and so many MPs will be scared by this."
___
Lawless reported from London. Pan Pylas also contributed to this report.
Jo Kearney And Jill Lawless, The Associated Press
NewsAlert: CFL players turn down new collective bargaining agreement with league
TORONTO — CFL players have rejected the new collective bargaining agreement with the league.
According to the source, CFL players voted against ratifying the tentative deal reached Wednesday between the league and CFL Players' Association.

More to come
The Canadian Press
Biden: US would intervene with military to defend Taiwan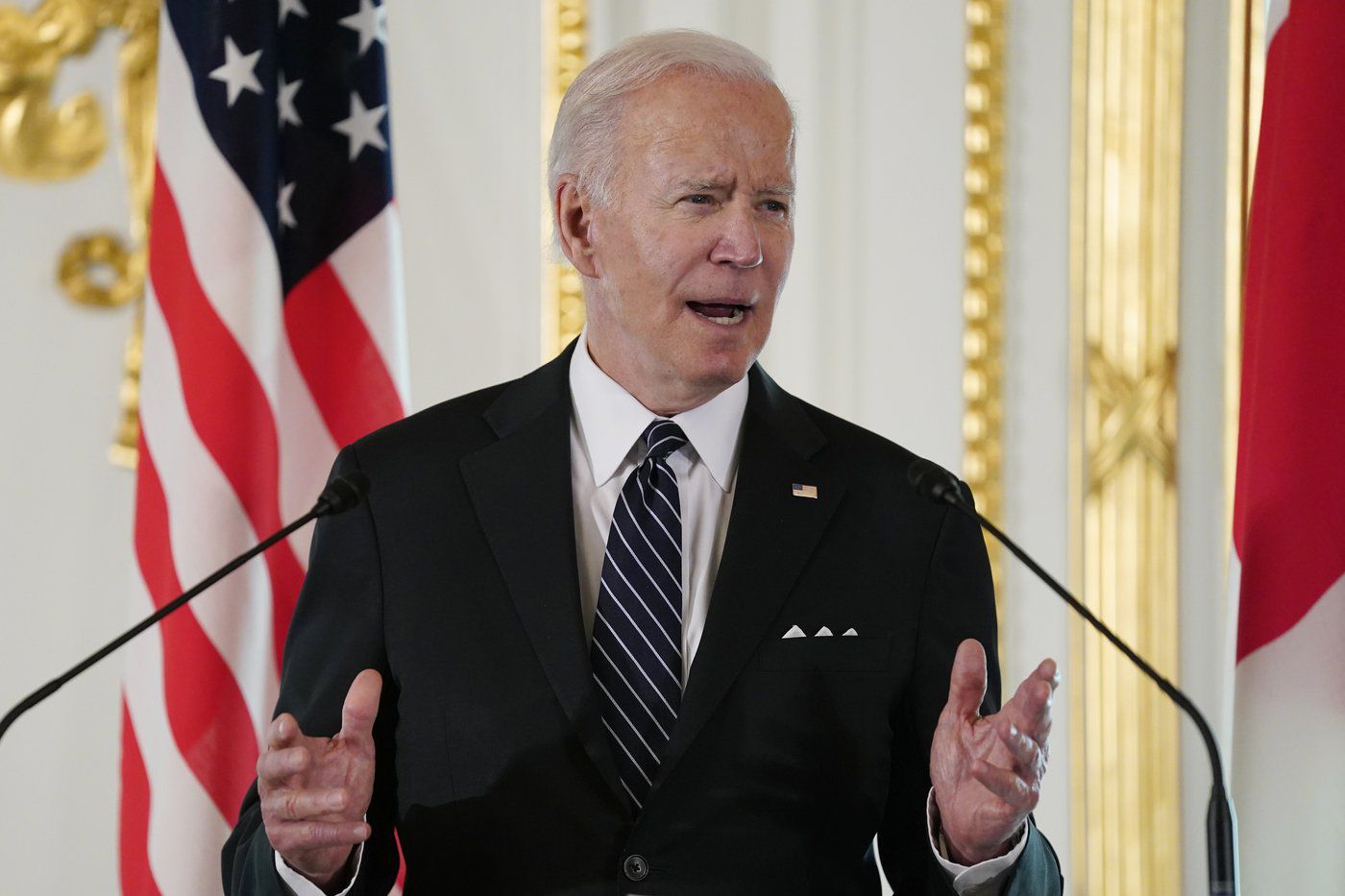 TOKYO (AP) — President Joe Biden said Monday that the U.S. would intervene militarily if China were to invade Taiwan, saying the burden to protect Taiwan is "even stronger' after Russia's invasion of Ukraine. It was one of the most forceful presidential statements in support of self-governing in decades.
Biden, at a news conference in Tokyo, said "yes" when asked if he was willing to get involved militarily to defend Taiwan if China invaded. "That's the commitment we made," he added.
The U.S. traditionally has avoided making such an explicit security guarantee to Taiwan, with which it no longer has a mutual defense treaty, instead maintaining a policy of "strategic ambiguity" about how far it would be willing to go if China invaded. The 1979 Taiwan Relations Act, which has governed U.S. relations with the island, does not require the U.S. to step in militarily to defend Taiwan if China invades, but makes it American policy to ensure Taiwan has the resources to defend itself and to prevent any unilateral change of status in Taiwan by Beijing.
Biden's comments drew a sharp response from the mainland, which has claimed Taiwan to be a rogue province.
Chinese Foreign Ministry spokesperson Wang Wenbin expressed "strong dissatisfaction and resolute opposition" to Biden's comments. "China has no room for compromise or concessions on issues involving China's core interests such as sovereignty and territorial integrity."
He added, "China will take firm action to safeguard its sovereignty and security interests, and we will do what we say."
A White House official said Biden's comments did not reflect a policy shift.
Speaking alongside Japanese Prime Minister Fumio Kishida, Biden said any effort by China to use force against Taiwan would "just not be appropriate," adding that it "will dislocate the entire region and be another action similar to what happened in Ukraine."
China has stepped up its military provocations against democratic Taiwan in recent years aimed at intimidating it into accepting Beijing's demands to unify with the communist mainland.
"They're already flirting with danger right now by flying so close and all the maneuvers that are undertaken," Biden said of China.
Under the "one China" policy, the U.S. recognizes Beijing as the government of China and doesn't have diplomatic relations with Taiwan. However, the U.S. maintains unofficial contacts including a de facto embassy in Taipei, the capital, and supplies military equipment for the island's defense.
Biden said it is his "expectation" that China would not try to seize Taiwan by force, but he said that assessment "depends upon just how strong the world makes clear that that kind of action is going to result in long-term disapprobation by the rest of the community."
He added that deterring China from attacking Taiwan was one reason why it's important that Russian President Vladimir Putin "pay a dear price for his barbarism in Ukraine," lest China and other nations get the idea that such action is acceptable.
Fearing escalation with nuclear-armed Russia, Biden quickly ruled out putting U.S. forces into direct conflict with Russia, but he has shipped billions of dollars in U.S. military assistance that has helped Ukraine put up a stiffer-than-expected resistance to Russia's onslaught.
Taipei cheered Biden's remarks, with Ministry of Foreign Affairs spokesperson Joanne Ou expressing "sincere welcome and gratitude" for the comments.
"The challenge posed by China to the security of the Taiwan Strait has drawn great concern in the international community," said Ou. "Taiwan will continue to improve its self-defense capabilities, and deepen cooperation with the United States and Japan and other like-minded countries to jointly defend the security of the Taiwan Strait and the rules-based international order, while promoting peace, stability and prosperity in the Indo-Pacific region."
It's not the first time Biden has pledged to defend Taiwan against a Chinese attack, only for administration officials to later claim there had been no change to American policy. In a CNN town hall in October, Biden was asked about using the U.S. military to defend Taiwan and replied, "Yes, we have a commitment to do that."
Biden's comments came just before he formally launched a long-anticipated Indo-Pacific trade pact that excludes Taiwan.
White House national security adviser Jake Sullivan confirmed Sunday that Taiwan isn't among the governments signed up for the Indo-Pacific Economic Framework, which is meant to allow the U.S. to work more closely with key Asian economies on issues like supply chains, digital trade, clean energy and anticorruption.
Inclusion of Taiwan would have irked China.
Sullivan said the U.S. wants to deepen its economic partnership with Taiwan on a one-to-one basis.
___
Miller reported from Washington. Associated Press writer Darlene Superville in Washington contributed to this report.