As MPs urge support, Trudeau demurs on whether government backs COVID-19 waiver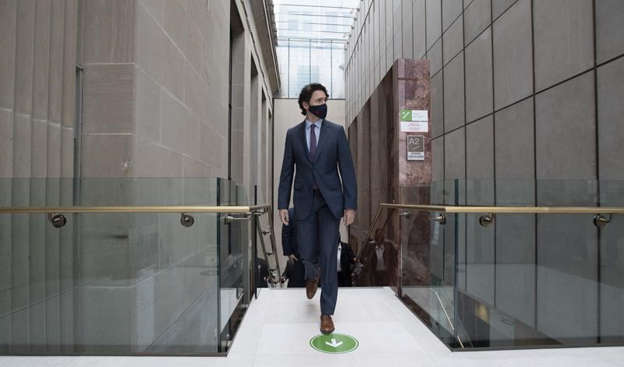 WASHINGTON — Justin Trudeau stopped well short Friday of endorsing efforts to lift the veil on the trade secrets behind COVID-19 vaccines, insisting instead that Canada is already doing plenty to improve access to doses around the world.
Those efforts include taking earnest part in negotiations at the World Trade Organization about a possible waiver to the rules that protect those secrets, the prime minister told a news conference.
But whether he believes such a step would have the desired effect of rapidly increasing the supply of vaccines in the developing world, Trudeau pointedly refused to say.
"We need to emphasize that these are multilateral discussions with a great number of countries who all have different perspectives," he said in French when asked if he supports the idea.
"Canada is at the table to help find a solution. We're not blocking any negotiations; we need to work in the right way to ensure that people around the world will be vaccinated."
In theory, a waiver to the Agreement on Trade-Related Aspects of Intellectual Property Rights, or TRIPS, would make it easier for developing countries to import the expertise, equipment and ingredients necessary to make their own vaccines.
The idea has been gaining steam in recent weeks, winning endorsements from progressive activists, lawmakers and anti-poverty groups around the world.
It got its biggest push to date Wednesday when U.S. Trade Representative Katherine Tai expressed American support for the idea and committed to text-based talks at the World Trade Organization.
Critics, however, call the idea wrong-headed, citing the glacial pace of WTO talks, the fact all 164 member countries would need to sign off, the complexities of vaccine manufacturing and the importance of the pharmaceutical business model that helped develop the vaccines in the first place.
Ottawa's position on the proposed waiver has been slow to coalesce.
International Trade Minister Mary Ng initially tweeted Canada's support for the U.S. decision and promised to work with its closest trading partner, but did not say if Canada would join the talks or advocate for a waiver.
Her promise in the House of Commons the next day committed Canada to sitting down at the negotiating table, but again left out any clues as to what position the government would take.
"We certainly are going to be actively participating in these negotiations," Ng said Friday, adding that Canada is focused on removing "all barriers" to vaccines, including production problems, supply-chain bottlenecks or export restrictions.
To make that point, Trudeau announced a $375-million cash infusion Friday for a World Health Organization "accelerator" that fosters the development and distribution of COVID-19 tests, therapeutic drugs and vaccines to low- and middle-income countries.
Ng's statement earlier Friday also made clear that the government "firmly believes in the importance of protecting (intellectual property)."
Diana Sarosi, policy and campaigns director for Oxfam Canada, called it a step in the right direction that Canada has agreed to talks, but assailed the government's "wait-and-see approach" on intellectual property.
"Canada continues to prioritize profits over public health," Sarosi said in a statement.
Others in the House of Commons, including members of Trudeau's own government, are making their position crystal clear.
A broad coalition of parliamentarians from across the political spectrum wrote to Trudeau this week to express support for a temporary waiver. More than 75 MPs and senators had signed on by Friday afternoon.
"We're not talking about running shoes or farm equipment — we are talking about a global health crisis, a planetary pandemic, that puts all of us at risk," NDP MP Don Davies told a news conference.
"I think it's a fair criticism to say that a number of countries — and I'm sorry to include Canada in this, but I must — have been stalling that process."
Even Conservative Leader Erin O'Toole joined the fray.
"Conservatives support a temporary suspension to intellectual property rules in this pandemic to help get vaccines as quickly around the world as possible," O'Toole said Friday.
A waiver is strongly opposed by the pharmaceutical industry, as well as a number of key world leaders who say it would be counterproductive to current vaccine production efforts and undermine the very business model that gave rise to the vaccines in the first place.
Others warn that consensus is notoriously difficult to come by at the world trade body — any single country can kill a proposal. Several prominent members, including Germany and the U.K., stand firmly opposed to the idea of a waiver.
This report by The Canadian Press was first published May 7, 2021.
— With files from Mia Rabson, Stephanie Taylor and Lina Dib in Ottawa
James McCarten, The Canadian Press
Note to readers: This is a corrected story. An earlier version said all signatories to the letter were MPs.
Biden nominates Cindy McCain to UN food and agriculture post
President Joe Biden is nominating Cindy McCain to be the U.S. representative to the United Nations Agencies for Food and Agriculture, one of 17 nominations announced Wednesday that included major diplomatic and arts assignments.
McCain, the widow of Arizona Sen. John McCain, broke with Republicans and endorsed Biden for president, making her a key surrogate for the Democrat after Donald Trump spent years criticizing her husband. McCain is the chair and director of the Hensley Beverage Company, a Phoenix-based distributor of beer, wine, spirits and nonalcoholic drinks.
The president is also nominating Massachusetts state Rep. Claire Cronin to be ambassador to Ireland. Biden frequently emphasizes his Irish heritage and has stressed the U.S. support of the Good Friday Agreement, which provided for peace with Northern Ireland but has come under stress after the United Kingdom's departure from the European Union.
Michael Carpenter, managing director of the Penn Biden Center for Diplomacy and Global Engagement at the University of Pennsylvania, is being nominated to represent the U.S. to the Organization for Security and Cooperation in Europe.
Jack Markell, a former Delaware governor, is being nominated to represent the U.S. to the Organization for Economic Co-operation and Development.
The president also announced nominations to the National Council on the Arts, including Fiona Whelan Prine, widow of the singer-songwriter John Prine and president of Oh Boy Records, the country's second-oldest independent record label still in operation.
Josh Boak, The Associated Press
O'Toole against cancelling Canada Day; ministers, NDP say it's time for reflection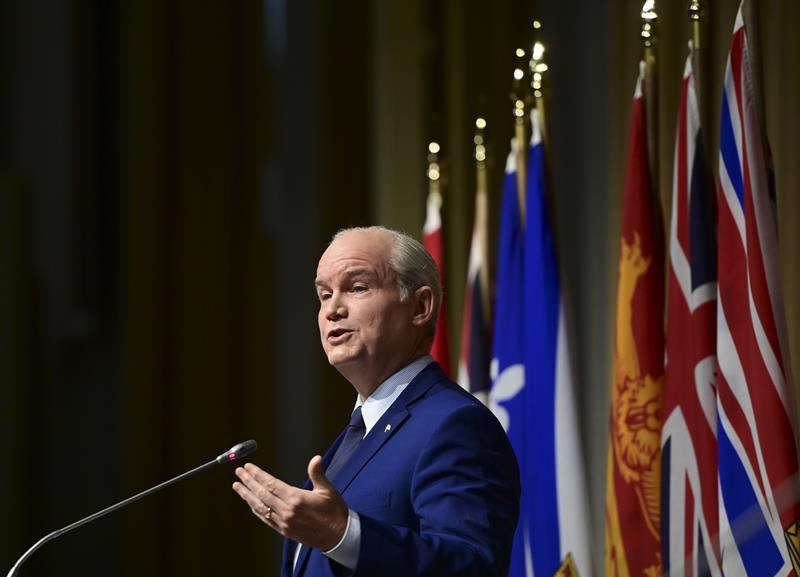 OTTAWA — Federal politicians are faced with the country's legacy of residential schools as July 1 approaches, with the Conservative leader railing against calls to cancel Canada Day, while Liberal ministers and the NDP leader say it should be a time of reflection.
Leader Erin O'Toole says Conservatives are committed to a renewed nation-to-nation relationship with Indigenous Peoples, but stands firm against so-called activist efforts to "cancel" Canada, particularly on the national holiday.
O'Toole offered his insights on the moment the country finds itself in to members of his caucus and staff gathered in Ottawa before the House of Commons breaks for summer.
He called the discovery in British Columbia of what are believed to be the remains of 215 Indigenous children from a former residential school "a necessary awakening for our country."
O'Toole pledged that a government led by him would be dedicated to a renewed relationship with Indigenous Peoples, as speculation swirls that the minority Parliament may be headed toward an election.
The Conservative leader said the road to repairing the country's relationship with Indigenous Peoples and better equality doesn't involve attempts to destroy Canada.
"I'm concerned that injustices in our past, or in our present, are too often seized upon by a small group of activist voices who use it to attack the very idea of Canada itself," he said.
Standing up to cancel culture and the "radical left" was part of the platform O'Toole ran on to win the party's leadership last summer, where he billed himself as the "true blue" candidate to the Conservative faithful.
He's also been trying to modernize some of the party's positions and broaden its support base to include more people, including those who are Indigenous.
Like other federal party leaders, O'Toole has in recent weeks had to respond to the discovery of the unmarked burial site in late May and renewed demands for the government to make better progress on calls to action from the Truth and Reconciliation Commission.
Canada Day, known for its fireworks, festivities and flapping Canadian flags, has in recent years become viewed with apprehension in some quarters, as more people reckon with the country's colonial past and the harm it caused Indigenous communities.
The focus on unmarked burial sites at residential schools has pushed those feelings further. Where before some called for Canada Day celebrations to be boycotted, some organizers decided it was best to cancel.
St. Albert, a city northwest of Edmonton, said it wouldn't have a Canada Day fireworks show because it was to be held on the site of a former residential school.
City councillors in Victoria also announced it would forgo its holiday broadcast to instead host another event later in the summer, where people could reflect on what it means to be Canadian.
At a press conference Wednesday, federal Indigenous Services Minister Marc Miller says he himself has mixed feelings about Canada Day. He drew on his own experience being from Quebec to say he knows the national holiday can be controversial, and is not universally celebrated.
For himself, he said, it's a time of reflection and a chance to look at "what we are as a country."
"The flags are still lowered to continue to commemorate the children that were stolen from their communities and taken to residential schools. Those wounds are still very much open in Indigenous communities," Miller said.
Appearing virtually alongside Miller was Crown-Indigenous Relations Minister Carolyn Bennett, who agreed the holiday should be used to think about Canada's ugly past.
She said the summer itself will be a time for people to wrestle with the country's racist wrongdoings, as Canada prepares to mark its first statutory holiday remembering the legacy of residential schools on September 30.
"On Canada Day I will be wearing an orange shirt," said Bennett.
New Democratic Party Leader Jagmeet Singh says people are looking at Canada Day differently this year.
"It does us a disservice when we ignore the injustice, we ignore the bad parts of our history and the ongoing legacy and the impact of those horrible things that have happened and continue to happen," he said.
O'Toole, for his part, spoke out against calls from some to cancel Canada Day celebrations and singled out the actions of activists and those "always seeing the bad and never the good."
"As someone who served Canada and will soon ask for the trust to lead this country, I can't stay silent when people want to cancel Canada Day."
O'Toole, who served in the military for 12 years, says he's proud to be a Canadian, as are millions of others. He suggested that collectively, people use the pain felt from where Canada has failed in the past to build a better home.
"We are not a perfect country. No country is. There is not a place on this planet whose history can withstand close scrutiny."
This report by The Canadian Press was first published June 23, 2021.
Stephanie Taylor, The Canadian Press