Apple belatedly jumps into the streaming TV business
CUPERTINO, Calif. — Jumping belatedly into a business dominated by Netflix and Amazon, Apple announced its own TV and movie streaming service Monday, enlisting such superstars as Oprah Winfrey, Jennifer Aniston and Steven Spielberg to try to overcome its rivals' head start.
Apple didn't disclose the price or the launch date except to say that Apple TV Plus will be available this fall. It will feature Apple's original shows and movies .
The company also unveiled a news subscription service that will give customers access to roughly 300 magazines and a few major newspapers for $10 a month. And it announced a new branded credit card.
The video-streaming venture is fraught with risk for a company scrambling to diversify beyond its star product, the iPhone, whose sales have started to decline . Netflix, which started its streaming service in 2007, has 139 million subscribers worldwide.
But Apple has lots of money, more than 900 million active iPhones, and a track record for innovation that has enabled it to overtake its rivals, even when it enters a business late, as it did with smartphones, tablets and smartwatches.
In the past, of course, Apple has mostly jumped into relatively small and undeveloped markets. Streaming video, by contrast, is dominated by huge services like Netflix, Amazon and Hulu, with more seeming to be bowing into the competition daily, including AT&T's WarnerMedia, Disney and Comcast.
"Great competitors make for great consumer experiences," Netflix said in a statement. Netflix stock rose $5.22 to $366.23 Monday. Apple's stock fell $2.31 to $188.74.
Among the upcoming programs on the new Apple service will be Winfrey-created documentaries; a show about TV morning talk shows, starring Aniston, Reese Witherspoon and Steve Carell; a futuristic drama starting Momoa; and a sci-fi show called "Amazing Stories" from Spielberg.
Apple TV Plus will be featured in the existing Apple TV app, which brings together different streaming services such as HBO and Showtime and traditional cable subscriptions.
Video will be delivered to iPhones and iPads, Apple's own Apple TV device, smart TVs and, soon, streaming gadgets from Roku and Amazon.
Netflix, which isn't included in the Apple TV app, has turned "binge watching" into a worldwide phenomenon become a powerhouse in both Silicon Valley and Hollywood since it shifted its emphasis on original programming in 2013..
Apple was long focused on making on gadgets: iPhones, iPads, computers. Apple co-founder Steve Jobs toyed with the idea of building a powerful TV business but couldn't pull it off before his death in 2011. It has taken his successor, CEO Tim Cook, nearly eight years to draw up the plan the company will now try to execute.
"Apple is very late to this game," eMarketer analyst Paul Verna said. "Netflix has become the gold standard in how to create and distribute content, using all the data they have about their viewers."
Industry analyst Colin Gillis of Chatham Road Partners said Apple TV Plus is "not going to be a Netflix killer." And Martin Garner of CCS Insights said the service so far lacks "the full range and diversity of content available through Netflix, Amazon and others."
Several analysts, however, warned not to count Apple out.
Apple has reportedly spent more than $1 billion on its original TV shows and movies — far less than Netflix and HBO spend every year. It has plenty of money to spend, though, with about $245 billion in cash and marketable securities.
As part of its effort to catch up, Apple hired two longtime Sony television executives in 2017. They have signed up stars such as Spielberg, Ron Howard and Sofia Coppola.
Winfrey received a standing ovation during her appearance at Apple's announcement Monday in Cupertino.
"I'm joining forces with Apple," she said. "They're in a billion pockets, y'all."
Apple News Plus, the news subscription service, will include such major papers as The Wall Street Journal and the Los Angeles Times. Other major newspaper publishers have reportedly been wary of Apple's terms.
The Journal will feature general-interest articles, not its entire slate of stories, although Apple said any article the Journal publishes could be searched for on the Apple app.
Apple said advertisers won't track readers inside the app. That will distinguish it from Facebook and Google, the other major online news hubs.
The company's new Mastercard credit card, called Apple Card, won't have any late fees or annual fees and will offer 2 per cent cash back.
___
Arbel reported from New York.
Michael Liedtke And Tali Arbel, The Associated Press
First medal: Canada swims to silver in women's 4×100 freestyle relay
TOKYO — Canada has its first medal of the 2020 Tokyo Olympics after the women's 4×100 freestyle relay team raced to silver.
Penny Oleksiak and Kayla Sanchez of Toronto, Margaret Mac Neil of London, Ont., and Rebecca Smith of Red Deer, Alta., finished in a time of three minutes 32.78 seconds as Canada picked up a medal in the event for a second straight Games.
Australia won gold in a world-record time of 3:29.69, while the United States finished third in 3:32.81.
Oleksiak swam the anchor leg and narrowly beat out American Simone Manuel at the wall.
Canada's women are looking to duplicate the success they had in the pool at the 2016 Rio Games, where they picked up six medals.
Oleksiak and Ruck were 16-year-old members of the relay team that won bronze for Canada's first medal in Rio.
Oleksiak went on to win 100-metre freestyle gold, 100-metre butterfly silver and anchor Canada to another relay bronze in the 4 x 200.
This report by The Canadian Press was first published July 24, 2021.
The Canadian Press
Russia at Tokyo Olympics with new name, more doping disputes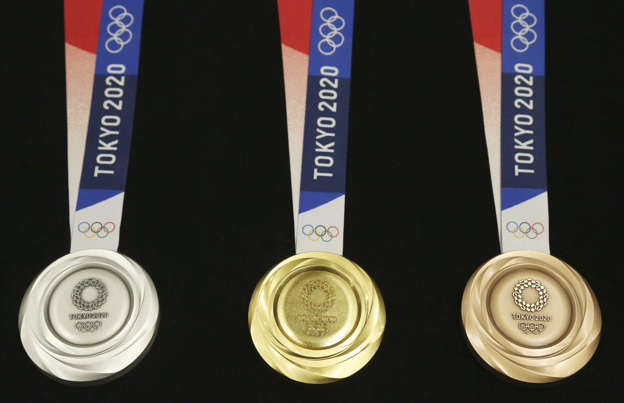 Russia is competing under another new name at the Tokyo Olympics, the latest fallout from the Games' longest-running doping saga.
You won't see the Russian flag above any podiums but the national colours are on the uniforms.
Doping cases old and new still cast a shadow over the team. Two swimmers from the Tokyo team have been suspended for cases dating back years and two rowers tested positive last month.
REBRANDING RUSSIA
This time it's not Russia, or even the Olympic Athletes from Russia. It's the Russian Olympic Committee.
Officially the athletes will represent not their country, but the ROC, and Russia's name, flag and anthem are banned. Critics point out that it will be hard to spot the difference when Russian teams are wearing full national colours.
The new rules — an evolution of the "OAR" restrictions used at the 2018 Winter Olympics — are a confusing patchwork of dos and don'ts.
Russian red, white and blue on uniforms are fine — the blocks of colour on the official tracksuits form one big flag — but not the word "Russia," the flag itself or other national symbols. The artistic swimming team said it's been blocked from wearing costumes with a drawing of a bear.
Official Olympic paperwork and TV graphics will attribute Russian results to "ROC" but won't spell out the Russian Olympic Committee's name in full. Gold medallists will get music by Russian composer Tchaikovsky instead of the country's national anthem.
NEARLY AT FULL STRENGTH
Despite the name change, Russia will have a nearly full team at the Olympics after sending depleted squads to the 2016 Rio de Janeiro Olympics and the 2018 Pyeongchang Winter Games.
This time, only track and field and weightlifting will impose limits on Russian squad size. They are the two sports with the largest numbers of doping cases — from Russia and elsewhere — in recent Olympics. Russian officials have selected a 10-person track team that includes three world champions.
Russia is sending more than 330 athletes to Tokyo, with the exact number still unclear because of uncertainty surrounding the rowing team. That's about 50 more than in 2016, when the doping-related restrictions hit harder across multiple sports, but still the second-lowest number since the Soviet Union broke up in 1991. The team ranges from 16-year-old gymnast Viktoria Listunova to 56-year-old dressage rider Inessa Merkulova.
The ROC team is targeted to finish third in the medal count and gold medals are expected in Russia's usual strongest sports like gymnastics, artistic swimming, wrestling, fencing and judo.
Only Russian athletes in track and field have had to undergo special vetting of their drug-testing histories or possible involvement in past coverups. World Athletics has its own sanctions against Russia, including an "authorized neutral athlete" certification program. Only athletes with that status were eligible for Tokyo.
Weightlifting has its own system of doping sanctions, restricting team sizes based on past misdeeds. Russia can enter one male and one female lifter for Tokyo, but avoids the outright bans from Olympic weightlifting imposed on the most persistent offenders like Thailand and Romania.
DOPING DISPUTES
The latest rules on Russia's name and image were set last year by the Court of Arbitration for Sport in a ruling that satisfied almost nobody.
As so often with Russia, the sanctions aren't as much about doping as about the coverup.
Just when Russia was patching up relations with the World Anti-Doping Agency in 2019 by allowing it access to the Moscow anti-doping lab's files, WADA investigators spotted strange anomalies in the data. Evidence had been deleted and spurious information added, including fake messages designed to tarnish the name of WADA's star witness, former lab director Grigory Rodchenkov.
WADA said the edits were made while the lab was sealed off by a Russian law enforcement body. Russia denied wrongdoing.
The CAS ruling was hailed as a partial victory in Russia, which had its initial four-year sanction cut to two. It was criticized by some anti-doping figures who wanted neutral-colour uniforms at the Olympics and stricter vetting to ensure doping suspects couldn't compete.
NEW CASES
Russia was back to court ahead of the Tokyo Olympics, but on a smaller scale than its big legal battles from 2016 and 2018.
Swimming governing body FINA had provisionally suspended swimmers Alexander Kudashev and Veronika Andrusenko because of evidence from WADA's investigation of the Moscow lab data. But CAS on Sunday cleared both swimmers to compete at the Games.
Last week, Russia cut two rowers from its Tokyo squad after revealing they both tested positive for the banned substance meldonium in June. That prompted Russia to withdraw from the men's quadruple sculls competition when it became clear a substitute boat was not competitive.
___
More AP Olympics: https://apnews.com/hub/olympic-games and https://twitter.com/AP_Sports
James Ellingworth, The Associated Press