Americans head to Canada to buy cheap insulin; some worry about supply here
TORONTO — The soaring cost of insulin in the United States prompted a group of American diabetics to head to Canada on Friday to buy the non-prescription drug at a fraction of the price.
The group of about 25 left Minneapolis, Minn., for London, Ont., where they also plan to hold a press conference to draw attention to the affordability plight.
One of the organizers, Quinn Nystrom, who is making her second such expedition, said insulin prices south of the border have skyrocketed in two decades.
"One in four Americans are rationing their insulin because they cannot afford it, so people are dying," Nystrom, 33, said in an interview as she prepared to leave. "It's a tragedy."
When she was diagnosed with Type 1 diabetes 20 years ago, Nystrom said, the price of insulin was around US$16 for a vial. Now it costs US$340 — roughly 10 times the price in Canada.
Nystrom, with the group Minnesota #insulin4all, said Americans can take home a maximum three-month personal supply, but some can only afford a vial or two. One vial of insulin, which helps regulate blood-sugar levels, generally lasts from a few days to a couple of weeks, depending on the patient.
While insulin tourism to Canada is still relatively small scale, it is sparking some concern.
"Any time you have a large population such as the U.S … coming to Canada to access medications that are earmarked for the Canadian market, there's potential for disruption of some sort," said Barry Power, a senior director with the Canadian Pharmacists Association. "We see it as a risk that we want to bring to the attention of the federal government."
Four states including Florida have passed legislation allowing for wholesale or individual imports of medications.
"That's worrying to us, because if people see it as sanctioned by the U.S. government, then there could be a lot of pressure on Canadian pharmacists and the supply chain," said Power, a pharmacist in Ottawa.
Health Canada and the U.S. Food and Drug Administration need to put their heads together to start addressing the situation, Power said. Ideally, Health Minister Ginette Petitpas Taylor would talk to her American counterpart to ensure the drug supply in Canada is safeguarded, and manufacturers could do more to limit exports, he said.
Petitpas Taylor's spokeswoman Thierry Belair said on Friday the government was monitoring the situation.
Because insulin is non-prescription in Canada, there is no tracking mechanism of how much might be heading south.
"I do not want to be a bad neighbour," Nystrom said. "I would never come to Canada if there was a drug shortage (and) I do not think going to Canada is a long-term solution. It's like putting a Band-Aid on a gunshot wound."
The Minnesota group is planning to visit Banting House in London, where Sir Frederick Banting came up with his idea that led to the discovery of insulin 99 years ago. They plan a news conference on Saturday to raise awareness.
Ironically, Nystrom said, Banting sold his patent for $1 because he believed his discovery belonged to the world and should not be for profit.
"That's crucial for us to show all Americans: Look at what it's become in the U.S. It become greed and corruption," Nystrom said. "It's gotten out of control with the price, and they increase it every year and we're held hostage."
Canada, in line with other industrialized countries, regulates drug prices through the quasi-judicial patented medicine prices review board whose mandate is to prevent gouging. Market forces — essentially whatever people will pay — operate in the U.S.
Colin Perkel, The Canadian Press
Liberals planning temporary solution to dental care promise: sources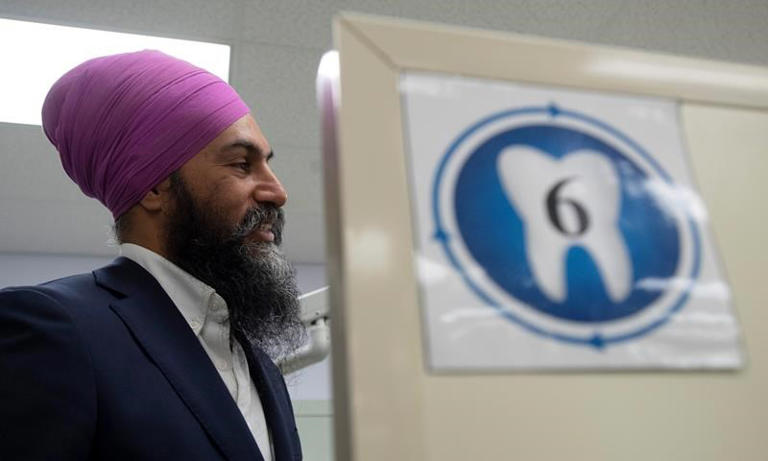 Ottawa – Sources close to the government's proposed $5.3-billion dental-care program say the Liberals are planning a temporary solution that involves giving money directly to patients in order to keep their promise to the NDP while they work on a permanent answer.
The Liberals promised the NDP a new dental-care program for low- and middle-income families in March as part of a supply and confidence agreement to prevent an election before 2025.
The government has until the end of the year to provide some kind of coverage for children under the age of 12 with an annual household income of less than $90,000.
The NDP have vowed to walk away from the deal if the deadline isn't met.
Four sources with knowledge of the government's plan, but who are not authorized to speak publicly, say the government is unlikely to meet its deadline, and is planning a stopgap solution until a permanent incarnation of the program is put in place.
Though details are scarce, the sources say the temporary solution would involve giving qualifying families the money directly to fund their dental health services while the government works on a more permanent, expanded program.
In a statement, the health minister's staff did not confirm or deny the temporary plan but say they are on track to deliver on the dental-care commitment as outlined in the agreement with the New Democrats.
NDP health critic Don Davies did not directly address the temporary plan either, but said in a statement the party has "identified several ways to ensure the target groups can access dental care on the identified timelines."
The NDP are now focused on pushing the Liberals to introduce dental-care legislation when Parliament resumes in the fall, Davies said.
"That legislation will deliver the resources needed to help children under 12 see a dentist and care for their teeth this year," he said.
NDP Leader Jagmeet Singh echoed the health minister's faith about meeting the deadline last week.
"We're very confident we can achieve that before the end of the year, as our agreement outlines," Singh said at a news conference last Thursday.
The agreement isn't prescriptive about how the coverage should be achieved, and the government hasn't committed to any particular means of administering the program yet.
Health Minister Jean-Yves Duclos's office has said repeatedly the department is looking at several options to meet its commitment and its end-of-year deadline.
The NDP originally envisioned a federal program that functions similarly to the federal health-benefits program run for uninsured First Nations and Inuit people.
The federal government could also offer money to provinces and territories to take it over, since many already offer similar programs and dental care has traditionally fallen within their jurisdiction.
Meanwhile, the Liberals put out a formal request for information (RFI) to members of the insurance industry two weeks ago to explore what role private companies could play in administering the program.
In that RFI, the government says if a contract is awarded the winning company would be given six months to get ready before processing claims. That timeline would be impossible to achieve before the end of December.
According to the statement from Duclos's staff, they're still consulting on the best way forward.
The Liberals have promised to extend the program to qualifying teens, seniors and persons living with disabilities next year and everyone else in the qualifying family-income bracket by the end of the supply and confidence agreement in 2025.
"It comes as no surprise that the Trudeau government is not living up to a commitment it made to buy the NDP's support," Conservative health critic Michael Barrett said in a statement.
Barrett said Canadians should be concerned that the government is not committed to maintaining the current health system, "much less adding a new complex and expensive program to it."
The government set aside $5.3 billion over five years for the program, but the parliamentary budget officer's estimate is nearly double that at $9 billion.
Once the program is fully implemented, the Liberals' 2022 budget predicts it will cost about $1.7 billion per year to run, which is in line with the PBO's estimate.
This report by The Canadian Press was first published Aug. 8, 2022.
Leading cause of death in Alberta (BY A LONG SHOT) is "Unknown". Why isn't our next Premier talking about this?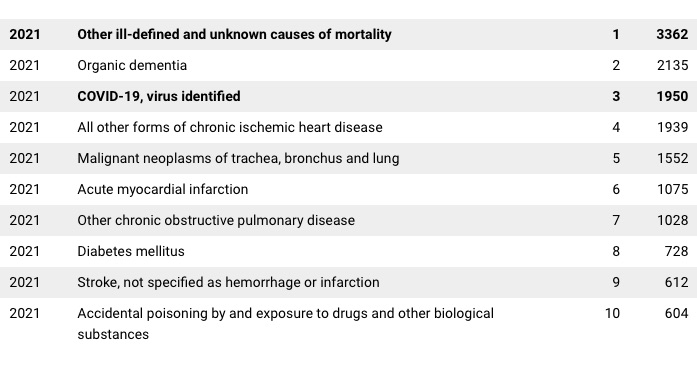 If you were to ask 10 random Albertans what the leading cause of death was in 2021, many would respond with either COVID-19, or perhaps cancer. If they really pay attention to things like this they might say heart disease or maybe dementia (old age).
Lucky for us the Province of Alberta has made the cause of death statistics public since 2001. If you'd like to see them, click here and download "Leading Causes of Death". If you do, you'll see that for 15 years in a row, from 2001 to 2015 the leading cause of death for Albertans was heart disease. Dementia makes a strong push toward the end of that time frame. By 2016 dementia became the leading cause of death for the next 5 years in a row. Here's what the list of the top 10 causes of death looked like in 2019. That was the last year 'before' COVID-19 appeared on the list.
| | | | |
| --- | --- | --- | --- |
| 2019 | Organic dementia | 1 | 1997 |
| 2019 | All other forms of chronic ischemic heart disease | 2 | 1886 |
| 2019 | Malignant neoplasms of trachea, bronchus and lung | 3 | 1523 |
| 2019 | Other chronic obstructive pulmonary disease | 4 | 1159 |
| 2019 | Acute myocardial infarction | 5 | 1061 |
| 2019 | Atherosclerotic cardiovascular disease, so described | 6 | 678 |
| 2019 | Accidental poisoning by and exposure to drugs and other biological substances | 7 | 677 |
| 2019 | Stroke, not specified as hemorrhage or infarction | 8 | 602 |
| 2019 | Diabetes mellitus | 9 | 569 |
| 2019 | Other ill-defined and unknown causes of mortality | 10 | 522 |
Then along came COVID-19. In 2020 dementia remained the leading cause of death for Albertans, but COVID-19 came charging out of nowhere to become the 6th most common cause of death. It's important to note though the stats say COVID-19 "identified". That makes it unclear whether COVID was THE cause, A cause, or A symptom. The other interesting thing to note was that in 2020, suddenly "Unknown Causes" skyrocketed up to the fourth leading cause of death, outpacing even COVID.
| | | | |
| --- | --- | --- | --- |
| 2020 | Organic dementia | 1 | 2081 |
| 2020 | All other forms of chronic ischemic heart disease | 2 | 1897 |
| 2020 | Malignant neoplasms of trachea, bronchus and lung | 3 | 1563 |
| 2020 | Other ill-defined and unknown causes of mortality | 4 | 1464 |
| 2020 | Other chronic obstructive pulmonary disease | 5 | 1178 |
| 2020 | COVID-19, virus identified | 6 | 1084 |
| 2020 | Acute myocardial infarction | 7 | 1067 |
| 2020 | Accidental poisoning by and exposure to drugs and other biological substances | 8 | 920 |
| 2020 | Diabetes mellitus | 9 | 743 |
| 2020 | Atherosclerotic cardiovascular disease, so described | 10 | 670 |
In 2021 you might expect COVID-19 would leap into top place in the list of leading causes of death for Albertans. That's not what happened. COVID did climb from the 6th most common cause of death to the 3rd most common cause, but at the same time "Unknown causes of mortality" EXPLODED into the top position.
Looking back on the last 20 years before 2021 the number 1 cause of death ranged from a low of 1,581 people dying of heart disease in 2012, to a high of 2,018 people dying of dementia in 2020. It was only 2020 when the number of people dying from any single cause topped 2,000 for the first time.
Then in 2021 a whopping 2,135 people died of dementia. That would be enough to be the number one cause of death any other year since records have been kept. Except it wasn't because in 2021 3,362 people died of unknown causes! Not only did "unknown causes" of death rise above that threshold of 2,100. It DEMOLISHED that number.
| | | | |
| --- | --- | --- | --- |
| 2021 | Other ill-defined and unknown causes of mortality | 1 | 3362 |
| 2021 | Organic dementia | 2 | 2135 |
| 2021 | COVID-19, virus identified | 3 | 1950 |
| 2021 | All other forms of chronic ischemic heart disease | 4 | 1939 |
| 2021 | Malignant neoplasms of trachea, bronchus and lung | 5 | 1552 |
| 2021 | Acute myocardial infarction | 6 | 1075 |
| 2021 | Other chronic obstructive pulmonary disease | 7 | 1028 |
| 2021 | Diabetes mellitus | 8 | 728 |
| 2021 | Stroke, not specified as hemorrhage or infarction | 9 | 612 |
| 2021 | Accidental poisoning by and exposure to drugs and other biological substances | 10 | 604 |
It's worth repeating, in 2021 "Unknown Causes" were responsible for the deaths of 3,362 Albertans! That's over 50% more deaths than any of the leading causes since records have been made public!
Considering the Government of Alberta closed businesses, schools, and recreation centres for a virus responsible for 1,950 deaths in 2021 it is astounding that our media isn't screaming and our government is not aggressively trying to figure out what caused the deaths of 3,362 Albertans!
It's not just Alberta and Canada seeing this alarming trend. In England officials are reporting an increase in excess deaths of over 15% compared to the 5 year average. " Harley Street GP Charles Levinson told The Spectator that while "every slight bump or uptick in the Covid numbers demands endless column inches", there had been "total silence from so many" on the "damning" overall death statistics. "
British health researcher John Campbell reveals the situation in England.
—
It used to be the media's job to take the data and ask questions. Somehow they've failed to recognize the significance of THE LEADING CAUSE OF DEATH sweeping much of the planet.
If you were unable to come up with your own questions when you watched John Campbell's video, you might very much appreciate this commentary from Jimmy Dore.