Alta. oilpatch recruiting in Maritimes again as drilling set to rise in 2022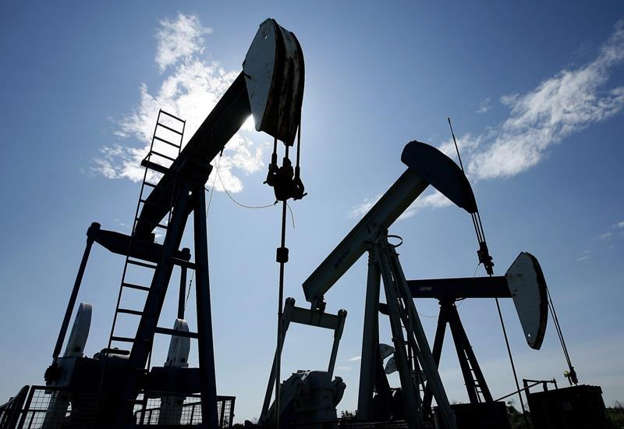 CALGARY — After seven years of layoffs and hard times, employers in Alberta's oilpatch are once again flush with cash and out to lure workers from the Maritimes and other parts of Eastern Canada.
The Canadian Association of Energy Contractors (CAOEC) said Tuesday it is expecting 6,457 oil and gas wells to be drilled in 2022, a more than 25 per cent increase from 2021.
"This is the good news story that we've been waiting for for seven years," Mark Scholz, CAOEC president and chief executive, told reporters at an industry event in Calgary. "This is the first time in a very, very long time that many of our small businesses — who really quite frankly have been on the edge of insolvency and bankruptcy — (are receiving) that message of hope that many people have been waiting for."
Global prices for natural gas and oil are higher than they've been since 2014, the last boom year for Alberta before a price collapse caused widespread bankruptcies and layoffs in the energy sector and plunged the province into recession.
While drilling activity next year isn't expected to reach 2014 heights, strong commodity prices combined with progress on export capacity projects like the Trans Mountain pipeline expansion and Coastal GasLink means the industry is feeling optimistic for the first time in many years. The CAOEC expects increased drilling activity in 2022 to create 35,000 new jobs in Western Canada, an increase of 7,200 jobs year-over-year.
With that increased activity comes a return to something Alberta has traditionally been good at — recruiting eastern Canadians with the lure of vacant jobs and large paycheques. Scholz said a significant portion of the sector's workforce historically came from Newfoundland, the Maritimes, Ontario and Quebec, but many of those workers returned home in recent years due to a shortage of jobs as well as the impact of the COVID-19 pandemic.
Now, the push is on to get those people back. The CAOEC says a potential skilled labour shortage is the "biggest risk" standing in the way of long-term industry recovery, and Scholz said companies will need to carefully manage their capacity.
"Companies are beginning to reach out to some other jurisdictions, like the Maritimes and Quebec and Ontario, where we have traditionally advertised for skilled labour to come out to Western Canada to work," Scholz said. "We're starting to see that historical outreach … But there is going to be a lag in our ability to relocate people back."
Scholz said wages in the oilpatch are already up 10 per cent year-over-year, but it will take more than money to lure eastern Canadians back to Alberta. He said many former rig workers are reluctant to return to their old industry until they know the current recovery will be a sustained one.
"It's just going to take some time to get that confidence back in the workforce," he said.
Long-term, the traditionally 24-hour-a-day, hard-charging oil and gas industry may also have to make some concessions to millennials and members of generation Z, Scholz said.
"What we're starting to see is a younger workforce that has a value system of greater time off with friends and family and a work-life balance," he said. "I think what we're starting to see is the workforce is starting to position the industry in a different type of operating fashion than it has in the past."
Scholz cautioned that while there is optimism in the industry, Alberta's oil and gas sector has undergone a sea change since 2014. After seven years of downturn, the priority for many companies is now paying down debt and fiscal discipline, he said.
"I think we need to temper the expectations of what we have traditionally seen in years past, the oil and gas booms of yesteryear. I think it is a reality that the market, although it is responding to those signals, is going to continue to be very disciplined, very focused and targeted in how that capital is allocated."
Tim McMillan, president and chief executive of the Canadian Association of Petroleum Producers, said Tuesday he views the latest forecast from the drilling and services sector as "encouraging for everybody."
"We are seeing more activity," McMillan said. "It's potentially less than we would have seen at this point in the cycle eight to 10 years ago, but it gives us a solid platform to build on."
"We might be heading into a period we haven't experienced for some time, which is a labour shortage," said Tristan Goodman, president of the Explorers and Producers Association of Canada. "We're just not sure how that's going to play out, but I see it as a potential issue we may have to address."
This report by The Canadian Press was first published Nov. 23, 2021.
Amanda Stephenson, The Canadian Press
THE HALFTIME REPORT News from the Alberta Sports Hall of Fame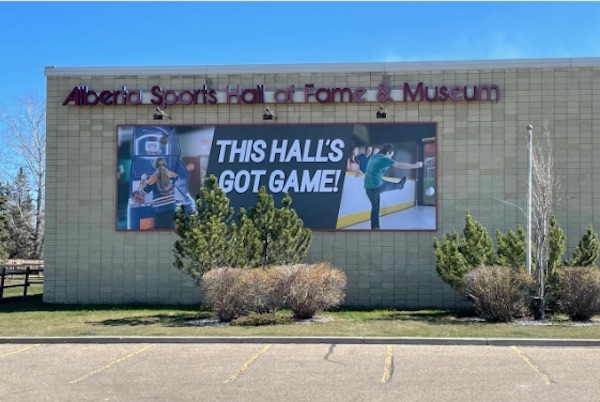 ASHFM Staff Supporting Their Favourite Alberta Teams
The Battle of Alberta was fantastic. Let's do this again soon! This is the first time the Edmonton Oilers and the Calgary Flames have met during the NHL Playoffs since 1991. The Alberta Sports Hall of Fame had a ton of fun creating a number of different ways for Albertans to learn about and participate in the rivalry.
We created a poll where visitors to the museum placed a sticker on our board to indicate which Albertan NHL team they cheer for. Those unable to stop in were encouraged to comment on our social media posts, telling us their team, so we could place the sticker for them. Both teams had over 200 votes, with the total climbing higher each day.
We also highlighted some of our honoured members who have played for, or been associated with either of these teams, such as Wayne Gretzky, Michael Vernon, Glen Sather, and Peter Maher.
Other initiatives include Jersey Day, where visitors who come in on a Battle of Alberta game day wearing a Flames or Oilers jersey get 50% off of their admission into the museum, highlighting iconic BoA moments through Youtube, and more!
This newsletter is sponsored by the RBC Foundation.
Honoured Member in Focus: Wayne Bowes and Bob Daku
Wayne Bowes and Bob Daku began playing racquetball together in 1969, after meeting at the Lethbridge YMCA. They dominated the Canadian Open Men's Doubles in racquetball from 1974 to 1982. Together, they won nine consecutive national titles.
Besides their national titles, this team won numerous Alberta crowns and competed at the 1974 World Amateur Racquetball Championships. They won two more titles, in 1984 and 1985, and then retired from competitive racquetball with eleven of thirteen national titles.
For more information about this team, please see their Honoured Member Profile, linked below.
Provincial Sport Organization: Alberta Racquetball Association
The Alberta Racquetball Association's vision is to make racquetball accessible to all Albertans and to be a national leader in programming, athlete development, and good governance.Its mission is to facilitate the participation and enjoyment of racquetball through the delivery of programs, access to resources, the development of coaches and officials, and support to clubs and affiliates.
They strive to build a strong future and legacy for racquetball by supporting competitive athletes, fostering lifelong participants and aim to increase involvement and accessibility at all levels through promotion, advocacy, and funding.
Artifact in Focus!

The artifact that we are highlighting is a racquetball racquet. The cover is made of faux, brown, leather.
Next time you're driving down the QEII you will notice the new billboard on our building! Our new billboard reads "This Hall's Got Game," and is visible from Highway 2.
Honoured Member Theo Fleury Visits ASHFM
Honoured Member Theo Fleury stopped by the Alberta Sports Hall of Fame recently to film a promotional video.
To learn more about Theo Fleury, please click on the link to his profile below.
Leave a legacy​
The Alberta Sports Hall of Fame needs your support to continue the ongoing preservation of Alberta's sports history and the development of museum exhibits. We are grateful and appreciative of the generosity of our supporters and friends. We would be happy to assist you in choosing how your personal legacy will be fulfilled and the many options available. Here is some information on donating shares to ASHFM and the benefits to you as a donor.
Copyright © 2021 The Alberta Sports Hall of Fame, All rights reserved.
Our mailing address is:
Alberta Sports Hall of Fame
#102 – 4200 Highway 2
Red Deer, AB T4N 1E3
(403) 341- 8614
[email protected]
Aurora Cannabis shares fall 40% after share sale amendment
EDMONTON — Aurora Cannabis Inc.'s share price fell by about 40 per cent, after the company announced it sold US$150 million worth of shares.
The Edmonton marijuana company's share price was $3.47 when trading ended Thursday, but by mid-morning Friday, had fallen to $2.07 and closed at $2.14.
The sale of shares was part of an amendment Aurora made to a previously announced bought deal financing.
The amendment made it possible for a syndicate of underwriters led by Canaccord Genuity and BMO Capital Markets to purchase 61.2 million Aurora units for US$2.45 each.
Each unit is comprised of one common share in Aurora and one common share purchase warrant, which can be used to acquire one common share for US$3.20 each in the next 36 months.
Aurora has yet to record a profit and in recent years has been trying to drive revenues by better aligning supply with demand, laying off staff and closing facilities.
This report by The Canadian Press was first published May 27, 2022.
The Canadian Press