Alex Jones ordered to pay $49.3M total over Sandy Hook lies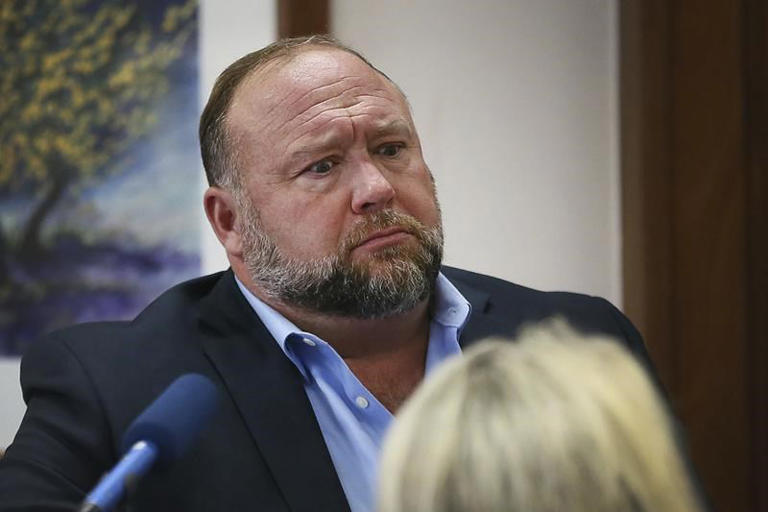 AUSTIN, Texas (AP) — A Texas jury on Friday ordered Infowars' Alex Jones to pay $49.3 million in total damages to the parents of a first-grader killed in the 2012 Sandy Hook Elementary School massacre, which the conspiracy theorist falsely called a hoax orchestrated by the government in order to tighten U.S. gun laws.
The amount is less than the $150 million sought by Neil Heslin and Scarlett Lewis, whose 6-year-old son Jesse Lewis was among the 20 children and six educators killed in the deadliest classroom shooting in U.S. history. The trial is the first time Jones has been held financially liablefor peddling lies about the 2012 attack in Newtown, Connecticut.
Jurors at first awarded Heslin and Lewis $4.1 million in compensatory damages, which Jones called a major victory. But in the final phase of the two-week trial, the same Austin jury came back and tacked on an additional $45.2 million in punitive damages.
Earlier this week, Jones testified that any award over $2 million would "sink us." His company Free Speech Systems, which is Infowars' parent company, filed for bankruptcy protection during the first week of the trial.
Punitive damages are meant to punish defendants for particularly egregious conduct, beyond monetary compensation awarded to the individuals they hurt. A high punitive award is also seen as a chance for jurors to send a wider societal message and a way to deter others from the same abhorrent conduct in the future.
Attorneys for the family had urged jurors to hand down a financial punishment that would put Infowars out of business.
"You have the ability to stop this man from ever doing it again," Wesley Ball, an attorney for the parents, told the jury. "Send the message to those who desire to do the same: Speech is free. Lies, you pay for."
An economist hired by the plaintiffs testified that Jones and the company are worth up to $270 million, suggesting that Jones was still making money.
Bernard Pettingill, who was hired by the plaintiffs to study Jones' net worth, said records show that Jones withdrew $62 million for himself in 2021, when default judgments were issued in lawsuits against him.
"That number represents, in my opinion, a value of a net worth," Pettingill said. "He's got money put in a bank account somewhere."
The money that flows into Jones' companies eventually funnels its way to him, said Pettingill, who added that he has testified in approximately 1,500 cases during his career.
But Jones' lawyers said their client has already learned his lesson, and asked for lenience. The jury's punishment should be less than $300,000, attorney Andino Reynal said.
"You've already sent a message. A message for the first time to a talk show host, to all talk show hosts, that their standard of care has to change," Reynal said.
Jones — who was in the courtroom briefly Friday but not there for the verdict — still faces two other defamation lawsuits from Sandy Hook families in Texas and Connecticut that put his personal wealth and media empire in jeopardy.
Lawyers for the Sandy Hook families suing Jones contend that he has tried to hide evidence of his true wealth and have sued him claiming he's tried to hide money in various shell companies.
During his testimony, Jones was confronted with a memo from one of his business managers outlining a single day's gross revenue of $800,000 from selling vitamin supplements and other products through his website, which would approach nearly $300 million in a year. Jones called it a record sales day.
Jones, who has portrayed the lawsuit as an attack on his First Amendment rights, conceded during the trial that the attack was "100% real" and that he was wrong to have lied about it. But Heslin and Lewis told jurors that an apology wouldn't suffice and called on them to make Jones pay for the years of suffering he has put them and other Sandy Hook families through.
The parents told jurors about how they've endured a decade of trauma, inflicted first by the murder of their son and what followed: gun shots fired at a home, online and phone threats, and harassment on the street by strangers. They said the threats and harassment were all fueled by Jones and his conspiracy theory spread to his followers via his website Infowars.
A forensic psychiatrist testified that the parents suffer from "complex post-traumatic stress disorder" inflicted by ongoing trauma, similar to what might be experienced by a soldier at war or a child abuse victim.
Throughout the trial, Jones has been his typically bombastic self, talking about conspiracies on the witness stand, during impromptu press conferences and on his show. His erratic behavior is unusual by courtroom standards, and the judge has scolded him, telling him at one point: "This is not your show."
The trial has drawn attention from outside Austin as well.
Bankston told the court Thursday that the U.S. House committee investigating the Jan. 6, 2021, insurrection at the U.S. Capitol has requested records from Jones' phone that Jones' attorneys had mistakenly turned over to the plaintiffs. Bankston later said he planned to comply with the committee's request.
Last month, the Jan. 6 committee showed graphic and violent text messages and played videos of right-wing figures, including Jones, and others vowing that Jan. 6 would be the day they would fight for Trump.
The committee first subpoenaed Jones in November, demanding a deposition and documents related to his efforts to spread misinformation about the 2020 election and a rally on the day of the attack.
___
Find AP's full coverage of the Alex Jones trial at: https://apnews.com/hub/alex-jones
Jim Vertuno, The Associated Press
Memphis braces for release of video in Tyre Nichols' arrest
By Adrian Sainz in Memphis
MEMPHIS, Tenn. (AP) — The city of Memphis and the nation on Friday awaited the release of a police video depicting five officers viciously beating Tyre Nichols, a Black man whose death prompted murder charges against the cops and outrage at the country's latest instance of police brutality.
The officers were charged Thursday with murder and other crimes in the killing of Nichols, a motorist who died three days after a confrontation with the officers during a traffic stop.
Shelby County District Attorney Steve Mulroy told a news conference that although the officers each played different rolesin the killing, "they are all responsible."
The officers, who are all Black, each face charges of second-degree murder, aggravated assault, aggravated kidnapping, official misconduct and official oppression.
Nichols' family members and their lawyers said the footage shows officers savagely beating the 29-year-old FedEx worker for three minutes in an assault that the legal team likened to the infamous 1991 police beating of Los Angeles motorist Rodney King. His family urged supporters to protest peacefully.
Memphis Police Director Cerelyn Davis said she expected protests after the release of video showing officers' actions, which she described as "heinous, reckless and inhumane," but she also urged the community to remain peaceful.
"I expect our citizens to exercise their First Amendment right to protest, to demand actions and results, but we need to ensure our community is safe in this process," she said. "None of this is a calling card for inciting violence or destruction on our community or against our citizens."
Davis said Friday that her department has been unable to substantiate the reckless driving allegation that prompted the stop.
"As far as I know today, I do believe that the stop itself was very questionable," she told Good Morning America.
Video of the Jan. 7 traffic stop will be released to the public sometime Friday evening, Mulroy said, noting that local and state investigators wanted to complete as many interviews as possible before releasing it.
Davis told GMA that the decision to release the video on Friday evening rather than earlier in the day had been made after consulting with other local leaders, who believe it's best to do it when schools are out and people are home from work.
As a precaution, Memphis area schools canceled all after-class activities and postponed a school event scheduled for Saturday morning.
Nichols' stepfather, Rodney Wells, told The Associated Press by phone that he and his wife, RowVaughn Wells, who is Nichols' mother, discussed the second-degree murder charges and are "fine with it." They had sought first-degree murder charges.
"There's other charges, so I'm all right with that," he said.
The Wellses were joined by several dozen supporters on a cold Thursday night for a candlelight vigil and prayer service at a Memphis skate park. Nichols, who had a 4-year-old son, was an avid skateboarder.
RowVaughn Wells, who said her family is "grief-stricken," warned supporters of the "horrific" nature of the video set to be released Friday, but like Davis, pleaded for peaceful protests.
"I don't want us burning up our city, tearing up the streets, because that's not what my son stood for," she said. "If you guys are here for me and Tyre, then you will protest peacefully."
Activists and clergy led the group in prayer and a drummer played a steady rhythm to lead into the spoken part of the vigil. Afterward, skaters rode their boards as the Wellses watched.
Court records showed that all five former officers — Tadarrius Bean, Demetrius Haley, Desmond Mills Jr., Emmitt Martin III and Justin Smith — were taken into custody.
Martin's lawyer, William Massey, confirmed that his client had turned himself in. He and Mills' lawyer, Blake Ballin, said their clients would plead not guilty. Lawyers for Smith, Bean and Haley could not be reached.
"No one out there that night intended for Tyre Nichols to die," Massey said.
Both lawyers said they had not seen the video.
"We are in the dark about many things, just like the general public is," Ballin said.
Second-degree murder is punishable by 15 to 60 years in prison under Tennessee law.
The attorneys for Nichols' family, Ben Crump and Antonio Romanucci, issued a statement saying that Nichols "lost his life in a particularly disgusting manner that points to the desperate need for change and reform to ensure this violence stops occurring during low-threat procedures, like in this case, a traffic stop."
At the White House, President Joe Biden said the Nichols family and the city of Memphis deserve "a swift, full and transparent investigation."
"Public trust is the foundation of public safety, and there are still too many places in America today where the bonds of trust are frayed or broken," Biden said in a statement.
Davis said other officers are still being investigated for violating department policy. In addition, she said "a complete and independent review" will be conducted of the department's specialized units, without providing further details.
Two fire department workers were also removed from duty over the Nichols' arrest.
As state and federal investigations continue, Davis promised the police department's "full and complete cooperation" to determine what contributed to Nichols' Jan. 10 death.
Crump said the video showed that Nichols was shocked, pepper-sprayed and restrained when he was pulled over near his home. He was returning home from a suburban park where he had taken photos of the sunset.
Police have said Nichols was stopped for reckless driving and at some point fled from the scene.
Relatives have accused the police of causing Nichols to have a heart attack and kidney failure. Authorities have only said Nichols experienced a medical emergency.
One of the officers, Haley, was accused previously of using excessive force. He was named as a defendant in a 2016 federal civil rights lawsuit while employed by the Shelby County Division of Corrections.
The claims were ultimately dismissed after a judge ruled that Sledge had failed to file a grievance against the officers within 30 days of the incident.
___
Associated Press reporters Aaron Morrison in New York, Travis Loller in Nashville and Rebecca Reynolds in Lexington, Kentucky, contributed to this report.
78 years on, Jewish Holocaust rescuers want their story told
By Alon Bernstein in Kibbutz Hazorea
KIBBUTZ HAZOREA, Israel (AP) — Just before Nazi Germany invaded Hungary in March 1944, Jewish youth leaders in the eastern European country jumped into action: They formed an underground network that in the coming months would save tens of thousands of fellow Jews from the gas chambers.
This chapter of the Holocaust heroism is scarcely remembered in Israel. Nor is it part of the official curriculum in schools. But the few remaining members of Hungary's Jewish underground want their story told. Dismayed at the prospect of being forgotten, they are determined to keep memories of their mission alive.
"The story of the struggle to save tens of thousands needs to be a part of the chronicles of the people of Israel," said David Gur, 97, one of a handful of members still alive. "It is a lighthouse during the period of the Holocaust, a lesson and exemplar for the generations."
As the world marks International Holocaust Remembrance Day on Friday, historians, activists, survivors and their families are all preparing for the time when there will no longer be living witnesses to share first-person accounts of the horrors of the Nazi genocide during World War II. In the Holocaust, 6 million Jews were wiped out by the Nazis and their allies.
Israel, which was established as a refuge for Jews in the wake of the Holocaust, has gone to great lengths over the years to recognize thousands of "Righteous Among the Nations" — non-Jews who risked their lives to save Jews during the Holocaust.
Accounts of Jewish resistance to the Nazis, such as the Warsaw Ghetto uprising, are mainstays in the national narrative but rescue missions by fellow Jews — such as the Hungarian resistance — are less known.
Hungary was home to around 900,000 Jews before the Nazi invasion. Its government was allied with Nazi Germany, but as the Soviet Red Army advanced toward Hungary, the Nazis invaded in March 1944, to prevent its Axis ally from making a separate peace deal with the Allies.
Over the 10 months that followed, as many as 568,000 Jews were killed by the Nazis and their allies in Hungary, according to figures from Yad Vashem, Israel's official Holocaust memorial.
Gur said he and his colleagues knew that disaster was looming when three Jewish women arrived at Budapest's main synagogue in the fall of 1943. They had fled Nazi-occupied Poland and bore disturbing news about people being shipped off to concentration camps.
"They had fairly clear information about what was happening, and saw the many trains, and it was obvious to them what was happening," said Gur.
Gur oversaw a massive forgery operation that provided false documents for Jews and non-Jewish members of the Hungarian resistance. "I was an 18-year-old adolescent when the heavy responsibility fell upon me," he said.
There was great personal risk. In December 1944, he was arrested at the forgery workshop and brutally interrogated and imprisoned, according to his memoir, "Brothers for Resistance and Rescue." The Jewish underground broke him out of the central military prison in a rescue operation later that month.
The forged papers were used by Jewish youth movements to operate a smuggling network and run Red Cross houses that saved thousands from the Nazis and their allies.
According to Gur's book, at least 7,000 Jews were smuggled out of Hungary, through Romania to ships on the Black Sea that would bring them to British-controlled Palestine. At least 10,000 forged passes offering protection, known as Shutzpasses, were distributed to Budapest's Jews, and around 6,000 Jewish children and accompanying adults were saved in houses ostensibly under the protection of the International Red Cross.
Robert Rozett, a senior historian at Yad Vashem, said that although it was "the largest rescue operation" of European Jews during the Holocaust, this episode remains off "the main route of the narrative."
"It's very significant because these activities helped tens of thousands of Jews stay alive in Budapest," he said.
In 1984, Gur founded "The Society for Research of the History of the Zionist Youth Movements in Hungary," a group that has promoted awareness about this effort.
Last month at a kibbutz in northern Israel, Sara Epstein, 97, Dezi Heffner-Reiner, 95, and Betzalel Grosz, 98, three of the remaining survivors who helped save Jews in Nazi-occupied Hungary, received the Jewish Rescuers Citation for their role in the Holocaust. The award is given by two Jewish groups — B'nai B'rith World Center-Jerusalem and the Committee to Recognize the Heroism of Jewish Rescuers During the Holocaust.
"There aren't many of us left, but this is important," said Heffner-Reiner.
More than 200 other members of the underground were given the award posthumously. Gur received the award in 2011, the year it was created.
Yuval Alpan, a son of one of the rescuers and an activist with the society, said the citations were meant to recognize those who saved lives during the Holocaust.
"This resistance underground youth movement saved tens of thousands of Jews during 1944, and their story is not known," he said. "It's the biggest rescue operation in the Holocaust and nobody knows about it."
International Holocaust day falls on the anniversary of the Red Army's liberation of the Auschwitz death camp 78 years ago. Israel is home to some 150,600 Holocaust survivors, almost all of them over the age of 80, according to government figures. That is 15,193 less than a year ago.
The United Nations will be holding a memorial ceremony at the General Assembly on Friday, and other memorial events are scheduled around the globe.
Israel marks its own Holocaust Remembrance Day in the spring.
___
Associated Press writers Eleanor Reich and Ilan Ben Zion in Jerusalem contributed to this report.