Alex Jones ordered to pay $49.3M total over Sandy Hook lies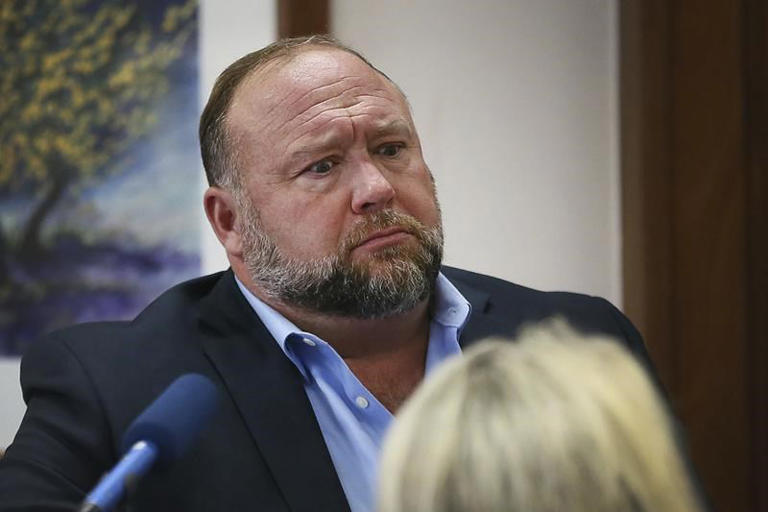 AUSTIN, Texas (AP) — A Texas jury on Friday ordered Infowars' Alex Jones to pay $49.3 million in total damages to the parents of a first-grader killed in the 2012 Sandy Hook Elementary School massacre, which the conspiracy theorist falsely called a hoax orchestrated by the government in order to tighten U.S. gun laws.
The amount is less than the $150 million sought by Neil Heslin and Scarlett Lewis, whose 6-year-old son Jesse Lewis was among the 20 children and six educators killed in the deadliest classroom shooting in U.S. history. The trial is the first time Jones has been held financially liablefor peddling lies about the 2012 attack in Newtown, Connecticut.
Jurors at first awarded Heslin and Lewis $4.1 million in compensatory damages, which Jones called a major victory. But in the final phase of the two-week trial, the same Austin jury came back and tacked on an additional $45.2 million in punitive damages.
Earlier this week, Jones testified that any award over $2 million would "sink us." His company Free Speech Systems, which is Infowars' parent company, filed for bankruptcy protection during the first week of the trial.
Punitive damages are meant to punish defendants for particularly egregious conduct, beyond monetary compensation awarded to the individuals they hurt. A high punitive award is also seen as a chance for jurors to send a wider societal message and a way to deter others from the same abhorrent conduct in the future.
Attorneys for the family had urged jurors to hand down a financial punishment that would put Infowars out of business.
"You have the ability to stop this man from ever doing it again," Wesley Ball, an attorney for the parents, told the jury. "Send the message to those who desire to do the same: Speech is free. Lies, you pay for."
An economist hired by the plaintiffs testified that Jones and the company are worth up to $270 million, suggesting that Jones was still making money.
Bernard Pettingill, who was hired by the plaintiffs to study Jones' net worth, said records show that Jones withdrew $62 million for himself in 2021, when default judgments were issued in lawsuits against him.
"That number represents, in my opinion, a value of a net worth," Pettingill said. "He's got money put in a bank account somewhere."
The money that flows into Jones' companies eventually funnels its way to him, said Pettingill, who added that he has testified in approximately 1,500 cases during his career.
But Jones' lawyers said their client has already learned his lesson, and asked for lenience. The jury's punishment should be less than $300,000, attorney Andino Reynal said.
"You've already sent a message. A message for the first time to a talk show host, to all talk show hosts, that their standard of care has to change," Reynal said.
Jones — who was in the courtroom briefly Friday but not there for the verdict — still faces two other defamation lawsuits from Sandy Hook families in Texas and Connecticut that put his personal wealth and media empire in jeopardy.
Lawyers for the Sandy Hook families suing Jones contend that he has tried to hide evidence of his true wealth and have sued him claiming he's tried to hide money in various shell companies.
During his testimony, Jones was confronted with a memo from one of his business managers outlining a single day's gross revenue of $800,000 from selling vitamin supplements and other products through his website, which would approach nearly $300 million in a year. Jones called it a record sales day.
Jones, who has portrayed the lawsuit as an attack on his First Amendment rights, conceded during the trial that the attack was "100% real" and that he was wrong to have lied about it. But Heslin and Lewis told jurors that an apology wouldn't suffice and called on them to make Jones pay for the years of suffering he has put them and other Sandy Hook families through.
The parents told jurors about how they've endured a decade of trauma, inflicted first by the murder of their son and what followed: gun shots fired at a home, online and phone threats, and harassment on the street by strangers. They said the threats and harassment were all fueled by Jones and his conspiracy theory spread to his followers via his website Infowars.
A forensic psychiatrist testified that the parents suffer from "complex post-traumatic stress disorder" inflicted by ongoing trauma, similar to what might be experienced by a soldier at war or a child abuse victim.
Throughout the trial, Jones has been his typically bombastic self, talking about conspiracies on the witness stand, during impromptu press conferences and on his show. His erratic behavior is unusual by courtroom standards, and the judge has scolded him, telling him at one point: "This is not your show."
The trial has drawn attention from outside Austin as well.
Bankston told the court Thursday that the U.S. House committee investigating the Jan. 6, 2021, insurrection at the U.S. Capitol has requested records from Jones' phone that Jones' attorneys had mistakenly turned over to the plaintiffs. Bankston later said he planned to comply with the committee's request.
Last month, the Jan. 6 committee showed graphic and violent text messages and played videos of right-wing figures, including Jones, and others vowing that Jan. 6 would be the day they would fight for Trump.
The committee first subpoenaed Jones in November, demanding a deposition and documents related to his efforts to spread misinformation about the 2020 election and a rally on the day of the attack.
___
Find AP's full coverage of the Alex Jones trial at: https://apnews.com/hub/alex-jones
Jim Vertuno, The Associated Press
Space telescopes capture asteroid slam with striking clarity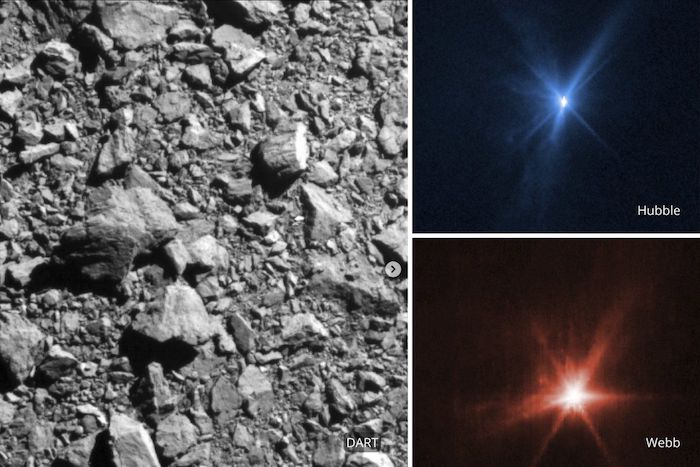 By Marcia Dunn in Cape Canaveral
CAPE CANAVERAL, Fla. (AP) — The world now has stunning new photos of this week's asteroid strike, the first planetary defense test of its kind.
NASA on Thursday released pictures of the dramatic event taken by the Hubble and Webb space telescopes.
A few hours later, SpaceX joined NASA in announcing that they're studying the feasibility of sending a private mission to Hubble, potentially led by a billionaire, to raise the aging telescope's orbit and extend its life.
Telescopes on all seven continents watched as NASA's Dart spacecraft slammed Monday into the harmless space rock, 7 million miles (11 million kilometers) from Earth, in hopes of altering its orbit.
Scientists won't know the precise change until November; the demo results are expected to instill confidence in using the technique if a killer asteroid heads our way one day.
"This is an unprecedented view of an unprecedented event," Johns Hopkins University planetary astronomer and mission leader Andy Rivkin said in a statement.
All these pictures will help scientists learn more about the little asteroid Dimorphos, which took the punch and ended up with a sizable crater. The impact sent streams of rock and dirt hurtling into space, appearing as bright emanating rays in the latest photos.
The brightness of this double asteroid system — the 525-foot (160-meter) Dimorphos is actually the moonlet around a bigger asteroid — tripled after the impact as seen in the Hubble images, according to NASA.
Hubble and Webb will keep observing Dimorphos and its large companion Didymos over the next several weeks.
The $325 million Dart mission was launched last year. The spacecraft was built and managed by Johns Hopkins' Applied Physics Laboratory in Laurel, Maryland.
As for Hubble, NASA officials stressed Thursday that the observatory launched 32 years ago is in good shape and might have another decade of life left.
Hubble's orbit constantly is decaying, but the telescope could have even more years ahead if it were boosted from its current 335 miles (540 kilometers) above Earth to 375 miles (600 kilometers) or more. The six-month technical feasibility study also will consider whether any parts could be replaced, presumably by a crew.
Jared Isaacman, a Pennsylvania tech entrepreneur who bankrolled his own SpaceX flight last year with contest winners, said a Hubble mission, if approved, would fit nicely into his planned series of spaceflights. But he stopped short of saying whether he was volunteering.
"We're working on crazy ideas all the time," NASA's science mission chief, Thomas Zurbuchen, told reporters. "Frankly, that's what we're supposed to do."
______
The Associated Press Health and Science Department receives support from the Howard Hughes Medical Institute's Department of Science Education. The AP is solely responsible for all content
Hurricane Ian sweeps away homes, memories on barrier islands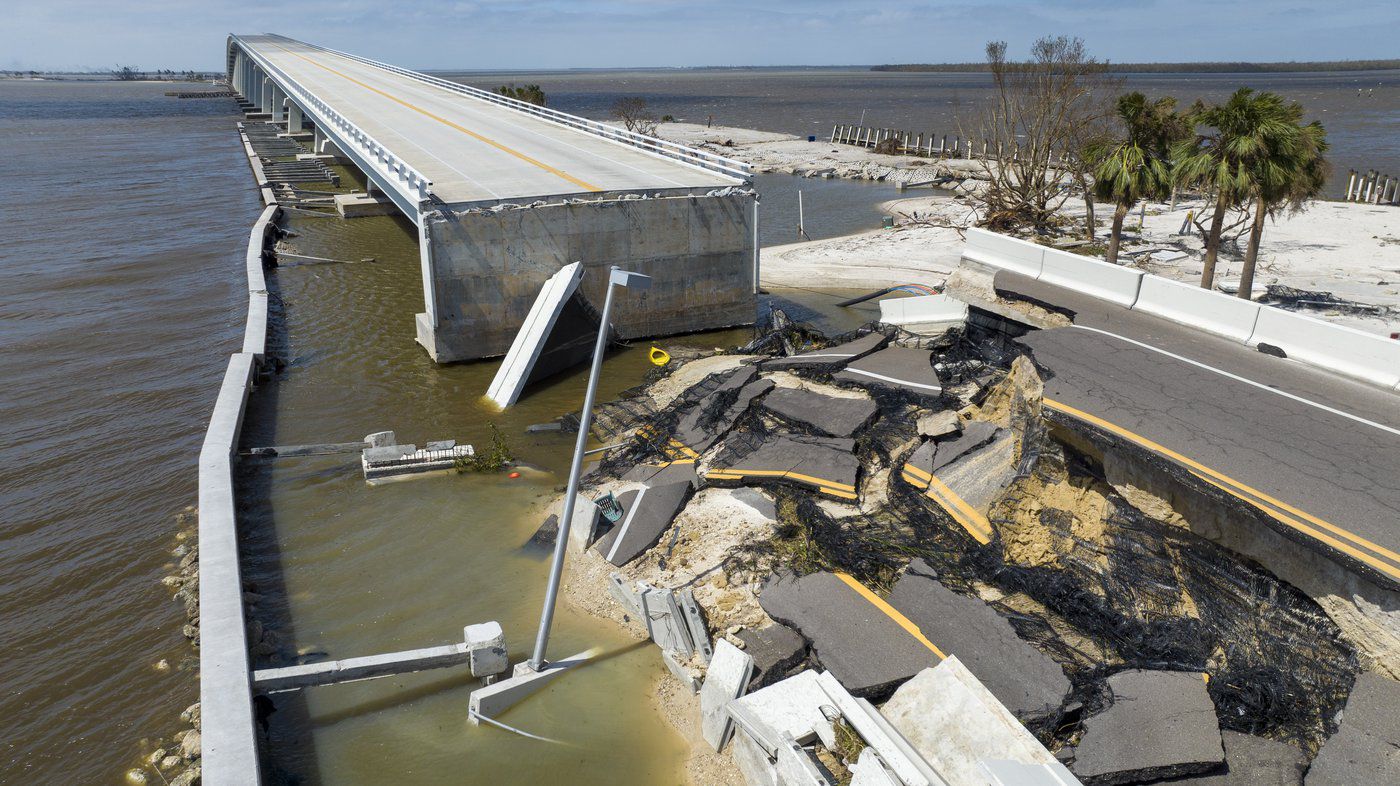 By Terry Spencer in Fort Myers Beach
FORT MYERS BEACH, Fla. (AP) — On the road into Fort Myers Beach, cars are left abandoned in the roadway, where they stalled when Hurricane Ian's storm surge flooded their engines and their drivers couldn't continue. Broken trees, boat trailers and other debris litter the road.
It's even worse in the seaside tourist town, much of which was flattened by the fierce winds and powerful storm surge generated by the Category 4 hurricane.
The barrier islands along the southwest Florida coast, famed for their seashells, fishing and laid-back lifestyle, took major hits from Ian when it came ashore Wednesday. Sanibel and Captiva are both cut off from vehicle traffic because the only bridge to the mainland partially collapsed. Nearby Pine Island was also ravaged.
At the Cottage Point mobile home park in Fort Myers Beach, William Goodison and his son, Kurtis, wheeled two garbage cans filled with what was left of his belongings through knee-high water Thursday. A portable air conditioner. Some tools. And a baseball bat.
But his furniture and family mementoes were gone, submerged when a 5-foot (1.5-meter) surge of water plowed across the 60-home community of retirees and working people. Goodison's single-wide trailer that he called home for 11 years — he had only one payment left — was destroyed. Because of the location, he couldn't get insurance.
"I own the land, but I'll have to scrap the trailer," said Goodison, a carpenter. "To rebuild now …" he said, his voice trailing off at the thought. "But you've got to have some place to live."
Goodison rode out the storm at Kurtis' house inland. Otherwise, he said, he'd probably be dead.
"I don't know how anyone could have survived in there," he said.
Goodison said he lost numerous family photos and mementoes. "We'll have to start building new ones," he said.
At a small strip mall nearby, Darbana Patel and her family were wrapping yellow caution tape around the 10-foot (3-meter) pile that had been their gas station's pumping area. The wooden awning that had covered the pumps and protected customers from rain had collapsed, smashing the pumps. Inside the store, the roof had also collapsed. She believes the business, which the family had owned for two years, is a total loss, but it is insured.
Patel said she was stunned when she arrived at the store Thursday to see it reduced to twisted metal and a pile of wood.
"I was like, 'Where's my store?'" she said. The other six stores in the strip mall also appeared to suffer extensive roof damage, and a motor home in the parking lot had been flipped on its side.
At the Get Away Marina, the storm surge lifted a dozen large boats — up to 48 feet (14 meters) long — and carried them across the parking lot and a four-lane road before depositing them in a mangrove preserve. The surge also blasted the walls off the marina's offices and flattened its second floor.
"It must have been a strong storm," said Robert Leisure, who has owned the marina for two years. He said he and his employees had put in a lot of work improving the docks, which are now mostly gone, and beautifying the property.
"We had a Tiki hut over there," he said, pointing to an empty spot. "It was really cute," he said about his business, "but no more." He thought for a moment as he considered the rebuilding job ahead, "But where do you start?"
As he spoke, charter fishing captain Larry Conley walked up and asked Leisure if he'd seen Conley's 24-foot (7.3-meter) boat.
"No, but it must be over there someplace," Leisure said, pointing to the mangroves.
Conley said he has insurance for the boat, but that's not enough — he needs to take anglers out. "That's how I pay the bills and survive," he said.
Eric Siefert, 62, a fulltime resident of Sanibel, was one of dozens of people being evacuated from the barrier island Thursday. Rescue workers were taking equipment over to the island on small boats and bringing people back, a half-dozen or so at a time.
"I thought that given that I have a concrete home with hurricane shutters and storm-grade windows, everything would hold," Siefert said. "And for the most part it did. We just didn't think we'd get an 18-foot storm surge."
Siefert's home is more than a block from the beach and about 6 feet (2 meters) above sea level, he estimated. His house is also elevated so the living space is about 10 feet (3 meters) off the ground.
The water ended up rising to about a foot above the base of Siefert's brand new storm sliding doors, with only about an inch of water leaking into the home, Siefert said. Despite the interior staying relatively free from water, Siefert said fear and uncertainty prompted him to lift his disabled wife onto a dresser.
"It was literally like being in the middle of the Gulf of Mexico," Siefert said. "The water came across multiple football fields and over a street and a half, and it was coming right at us, and it was rising, and it wouldn't stop rising."
___
Associated Press writers Curt Anderson and David Fischer contributed to this report.