Albertans exploring 2030 Commonwealth Games bid in communities across the province
The Saddledome is seen from a hillside park in Calgary on Friday, Sept. 15, 2017. A group of Albertans says they have started to explore whether communities across the province could host the 2030 Commonwealth Games. THE CANADIAN PRESS/Jeff McIntosh
By Colette Derworiz in Calgary
A group of Albertans has started to explore whether communities across the province could host the 2030 Commonwealth Games.
The group includes athletes, business and sports leaders, the chief of Tsuut'ina Nation, as well as the mayors of Calgary and Edmonton.
"We've been working for well over three years very actively to try to explore this possibility," Roger Jackson, who's serving as president and CEO of the Alberta 2030 Commonwealth Games Corp., said Wednesday. "We have been supported by private donations for all of our work up to this point in time and thousands of volunteer hours.
"Today, we are very excited to enter a new phase — a bid exploration."
Jackson, who was involved in the 1988 Winter Olympics in Calgary, said the group's Commonwealth Games bid now moves into the next phase of working with all levels of government, including Tsuut'ina Nation, as well as Commonwealth Sport Canada and the international Commonwealth Games Federation.
The Games would be held over 11 days in August 2030 in Calgary, Edmonton, Tsuut'ina Nation, the Bow Valley and other Alberta communities.
Claire Carver-Dias, president of Commonwealth Sport Canada, said the organization is endorsing Alberta as the preferred candidate to make a bid.
"We are thrilled to partner with the Tsuut'ina Nation, the province of Alberta, the cities of Edmonton and Calgary and the government of Canada to explore the possibility of hosting the Commonwealth Games in the province where big skies and big ideas meet."
Tsuut'ina Nation Chief Roy Whitney said it's an exciting and historic day for First Nations in Alberta.
"There are few things in this world that bring people together like sports — on the field, in the pool or on the court," he said. "Colour and race do not matter. It's about competition and striving to be the best.
"Sports have always been an important part of Indigenous cultures whether it for fun or in a competition."
Whitney said he's pleased the group wanted to include First Nations communities from the start.
"Through our discussions, it was very clear that this group was genuine in making First Nations a part of these Games — not just for the beads and feathers," he said, "but to be true partners, to be involved in creating a historic event and providing change for Indigenous people."
The Commonwealth Games are held every four years, with competitors representing 74 nations and territories.
Victoria was the last Canadian host city in 1994.
This report by The Canadian Press was first published March 8, 2023.
Police looking for these 3 suspects after Super 8 Motel in Innisfail robbed early Monday morning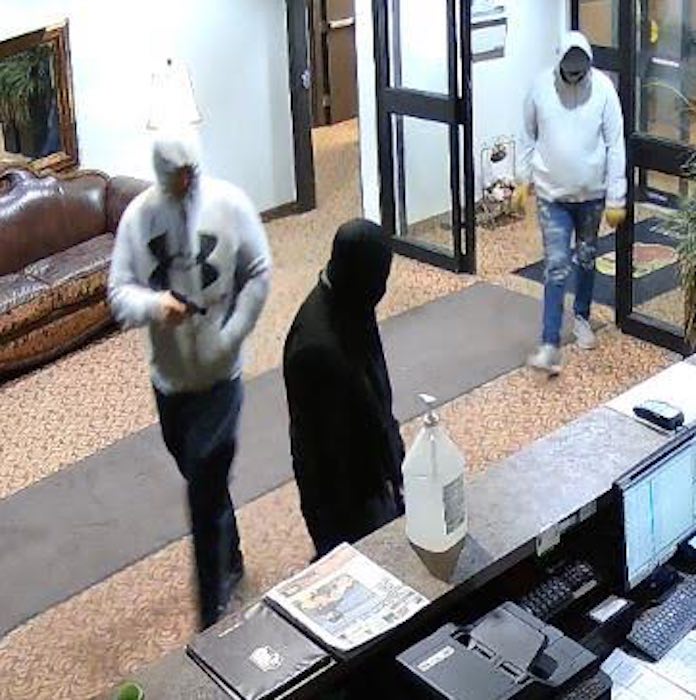 Innisfail RCMP investigate robbery
Innisfail Ala. – On May 29, 2023, at approximately 4:10 a.m., the Super 8 motel in Innisfail was the victim of an armed robbery. Three male suspects entered the hotel, two of which had firearms. Money was demanded from the manager. All three left the motel in a vehicle which is described as:
Chevrolet Dura Max truck
Sliver
Lifted
The suspects are described as:
Suspect #1: Caucasian male, tall and muscular. Wearing jeans and a grey Under Armour hoody. He was carrying a pistol.
Suspect #2: Caucasian male, short. Wearing all black. He was carrying a sawed off shotgun
Suspect #3: Caucasian male tall with a chubby belly. He was wearing a grey hoody, jeans and a black ball hat.
If you have information about this incident, please call the Innisfail RCMP at 403-227-3341 or call your local police. If you want to remain anonymous, you can contact Crime Stoppers by phone at 1-800-222-8477 (TIPS), by internet atwww.tipsubmit.com, or by SMS (check your local Crime Stoppers www.crimestoppers.ab.ca for instructions).
'Tragic accident' blamed for recent death of giraffe at Calgary Zoo
The Wilder Institute/Calgary Zoo says a "tragic accident" led to the recent death of an adult Masai giraffe. A statement from the zoo says the female giraffe named Emara died May 19 after tangling one of her horns on a cable surrounding her enclosure. THE CANADIAN PRESS/HO-Wilder Institute/Calgary Zoo-Sergei Belskey
Calgary
The Calgary Zoo says a "tragic accident" led to the recent death of one of its adult Masai giraffes.
A statement from the zoo says a female giraffe named Emara died May 19 after tangling one of her horns in a cable surrounding her enclosure.
The statement says a necropsy revealed Emara fell against the enclosure fence and died almost instantly of a broken neck.
Emara, who had just turned 12, came to Calgary from the San Diego Zoo in 2016.
The statement says she was a treasured member at the zoo and was known for her cautious yet curious personality and gentle nature.
The zoo says it is checking fencing within its African Savannah Yard enclosure to see if changes are needed to better protect the other giraffes and animals that share the space.
Doug Whiteside, interim associate director of animal care and welfare at the zoo, said Emara was in her prime and was in excellent health when she died.
"Major life changes such as this not only affect our people but can affect our animal residents as well," Whiteside said in the statement Monday.
He said the zoo's remaining giraffes, Nabo and Moshi, are doing well.
Grief counsellors are being made available to Emara's caregivers and other zoo staff.
This report by The Canadian Press was first published May 29, 2023.