Alberta real-estate agents get safety app after Calgary open house assault
CALGARY — An association representing Alberta real-estate agents is providing its members with an emergency response app a month after an alleged sexual assault during an open house.
The Alberta Real Estate Association is including a subscription to the LifeLine Response app at no additional cost to its 10,500 members. The app allows users to alert their personal support network, summon police to their location using GPS and view threat notifications in their areas.
"Quite commonly we're working alone," said association chairwoman Jennifer Gilbert. "We're in unfamiliar locations with relative strangers."
Gilbert said the app had 600 new subscriptions as of Tuesday morning.
"It demonstrates the need."
Calgary police say a real-estate agent was working at an open house last month when a man came into the home. Police say the woman tried ending the conversation, but he kept talking to her. He then grabbed and touched her sexually without her consent. The man left the house and returned two more times.
Merideth Schutter also had a scary experience working as a real-estate agent in Vancouver six years ago.
Two men came into an open house she was holding, locked the door and shoved her into the kitchen cabinets. A young couple came in and the men ran off.
Schutter had a few bumps and bruises, but she knows the situation could have been a lot worse. The experience left her feeling alone and terrified and made her question whether to stay in a career she loved.
"These are crimes of opportunity. As Realtors, we're encouraged to put our faces on things — the sides of buses, social media — and tell people where we are at any given moment," she said.
"If one of my teenagers ever did that, I'd have something to say about it. Yet, here I was doing exactly that for a long time."
Schutter has since left the real-estate business. She is now CEO of PROtect, a safety app inspired by her frightening open house encounter. PROtect syncs with calendars and contacts, so that loved ones and colleagues can be alerted if the user doesn't "check out" at a certain time. There's also an emergency help button.
PROtect has partnered with ReMax, but nurses, young restaurant workers and others have also used it.
"Even somebody who sells insurance and mortgage brokers — places where people are out meeting strangers alone or going into their homes," said Schutter.
Safety should be top of mind for everyone in the business — not just women, said Gilbert.
She advises agents to do their homework before meeting a new client and to let loved ones or colleagues know when and where a meeting is happening.
It's a good idea to note the property's exit points, she said, and to let neighbours know if an open house is going to happen, so they can keep an eye out for anything odd.
"Maybe don't meet with somebody out at that acreage at 8:30 at night by yourself, unless you've met with them in-office first."
Lauren Krugel, The Canadian Press
Premier Danielle Smith sent this letter to PM Justin Trudeau today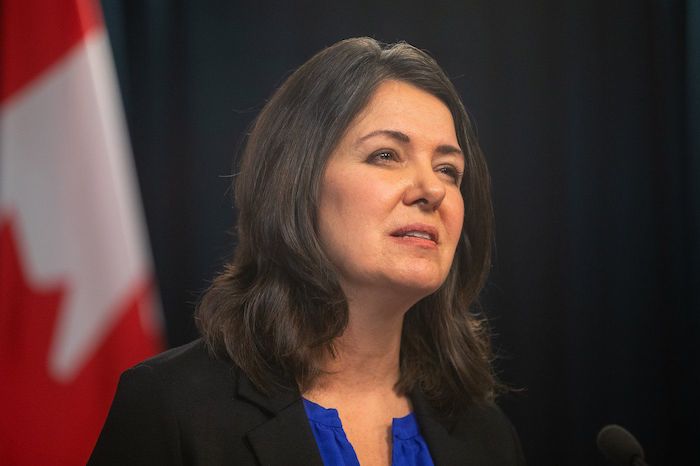 An alternative to Just Transition: Premier Smith
Alberta Premier Danielle Smith invites Prime Minister Justin Trudeau to work with her to develop "Sustainable Jobs" legislation as an alternative to the proposed "Just Transition" legislation.
Dear Prime Minister:
I am writing to once again raise Alberta's serious concerns with the proposed federal 'Just Transition' legislation. The world needs more Canadian energy, not less. It would be premature and ill-advised to signal the end of a vibrant, thriving industry that has the ability to reduce Canada's and the world's emissions through technological innovation and increased exports of LNG and other clean burning fuels the world so desperately needs. It is also critical to the security of our nation and allies to lessen dependence on fuel sources from unstable, undemocratic and dangerous countries with atrocious environmental records.
Simply put, the world needs more Canadian energy and technology, not less, and as the owner of the world's third largest oil and gas reserves and the most advanced environmental technology on the planet – we need to signal our intention to provide substantially more of both.
According to your government's own predictions, the federal Just Transition initiative alone will risk a full 25 percent of Alberta's economy and 187,000 jobs in Alberta, while also causing major disruptions and displacement to 13.5 percent of Canada's workforce. At a time when Canadians are struggling to afford basic services and goods, Canada's oil and gas sector offers some of the highest wages in Canada, which translates to strong business and community support across the country. Signalling a move away from these types of high paying jobs, threatens the national economy, and the livelihoods of hundreds of thousands of workers across the country at a time when good jobs are needed the most. It also creates a chilling effect on investors considering large scale investments in the Alberta and Canadian energy sector.
Prime Minister, we are at a crossroads in Alberta's relationship with the Federal Government. We can continue with the endless court challenges, legislation to protect jurisdictional rights and inflammatory media coverage over our disagreements, or, as is my strong preference, Alberta and Ottawa can work in partnership on a plan that will signal to all Canadians and investors from around the world that our governments have cooperatively designed a series of incentives and initiatives intended to achieve the following objectives:
Substantially decreasing Canada's and Alberta's net emissions;
Accelerating private and public investment in projects and infrastructure that utilize and develop Carbon Capture Utilization and Storage (CCUS), Bitumen Beyond Combustion, Geothermal technology, petrochemicals, hydrogen, lithium, helium, zero-emissions vehicles and nuclear technologies;
Attracting and growing a larger skilled workforce to fill positions in both the conventional energy sector as well as emerging industries using the technologies cited above; and
Significantly, and through the lens of global emissions reduction, increasing the export of LNG and other responsibly developed conventional oil and natural gas resources to Europe, Asia and the United States.
Prime Minister, all of the above objectives need to be clearly articulated and integrated into any Federal legislation or policies your government seeks to implement in the coming months, or that legislation will face irrepressible opposition from Alberta. I genuinely do not want to see that happen.
Further, this proposed legislation must be developed through cooperative discussions with affected provinces – namely Alberta. I would therefore invite you to meet with me in February on this matter, after which I would propose we have our appropriate ministers and officials meet repeatedly in the coming months with the goal of coming to a joint agreement on the key items to be included in your contemplated legislation so that it can be introduced and passed by the end of Spring.
Further, I request that you take to heart, and acknowledge publicly, the following items, in an extension of good faith to Albertans:
Immediately drop the verbiage of "Just Transition". Accordingly, rename the "Just Transition Act" to the "Sustainable Jobs Act";
Vow that all provisions of any forthcoming legislation will be designed to incentivize investment and job growth in both the conventional energy sector as well as in emerging industries utilizing Carbon Capture Utilization and Storage (CCUS), Bitumen Beyond Combustion, petrochemicals, hydrogen, lithium, helium, geothermal, zero-emissions vehicle and nuclear technologies;
Demonstrate that no provision of the Act will be designed to phase out or reduce Alberta's conventional oil and natural gas sector and workforce (as we are already experiencing a workforce shortage in this sector);
Commit your Government to actively partnering with Alberta to expand LNG exports to Asia and Europe as part of our nation's overall emissions reduction strategy; and
Promise that you and your Government will work with Alberta in partnership to set reasonable and meaningful emissions reductions targets and will not unilaterally impose such targets on Alberta's energy, agriculture and other industrial sectors on a go forward basis.
Investments by Alberta's oil and natural gas industry are driving the creation of the very clean technologies needed to bring emissions down both in Canada and around the world. Oil and natural gas companies representing the majority of production in Canada are investing $24 billion on projects to help reduce annual GHG emissions from operations by 22 million tonnes by 2030, and have committed to emission neutrality by 2050. Putting an end to or hampering this important work, and continued tepid support for increased LNG export, is the best way for your government to fail in its goal of reducing our nation's and the world's emissions. It would be the ultimate example of scoring on our own net.
The Alberta energy sector has grown and thrived through innovation, providing good paying jobs for thousands and contributing billions of dollars in tax revenue for all levels of government. They will continue to evolve and adapt to new technologies in search of new low to zero-emitting fuel sources like hydrogen and provide new, high-paying skilled jobs for decades to come. It is essential that the federal government stands shoulder to shoulder with Alberta to reduce emissions and continue to develop our oil and natural gas and future energy sources responsibly, while also positioning Canada as the optimal solution to global energy needs and security.
Prime Minister, we can and must work together. Operating in political silos, as adversaries on this issue, is getting us nowhere, and I believe all Canadians are tired of seeing it. Canada should be the world's greatest energy superpower. It can be, if we come together collaboratively in pursuit of that objective. There is no limit to our nation's potential.
Let's turn the page starting with a meeting between us next month followed by a dedicated effort to craft "Sustainable Jobs" legislation that a vast majority of Albertans and Canadians will welcome and support. The consequences of missing this opportunity will be dire for the Canadian and Alberta economies, workforce and environment.
I look forward to your prompt reply.
Home Depot gave personal data to Meta without valid customer consent: watchdog
Ottawa – Retailer Home Depot shared details from electronic receipts with Meta, which owns the social media platform Facebook, without the knowledge or consent of customers, the federal privacy watchdog has found.
In a report released Thursday, privacy commissioner Philippe Dufresne said the data included encoded email addresses and in-store purchase information.
The commissioner's investigation discovered that the information sent to Meta was used to see whether a customer had a Facebook account.
If they did have an account, Meta compared what the customer bought at Home Depot to advertisements sent over the platform to measure and report on the effectiveness of the ads.
Meta was also able to use the customer information for its own business purposes, including user profiling and targeted advertising unrelated to Home Depot, the commissioner found.
It is unlikely that Home Depot customers would have expected their personal information to be shared with a social media platform simply because they opted for an electronic receipt, Dufresne said in a statement.
He reminded companies that they must obtain valid consent at the point of sale to engage in this type of activity.
"As businesses increasingly look to deliver services electronically, they must carefully consider any consequential uses of personal information, which may require additional consent."
Details of a person's in-store purchases might not have been sensitive in the context of the home-improvement retailer, but they could be in other cases, revealing information about an individual's health or sexuality, he added.
At a news conference, Dufresne suggested the Home Depot matter was not an isolated case.
"Our investigation focused on one organization, one situation, but our sense is that these tools are widely used. And this is why the message today is that all organizations should review their practices."
Home Depot told the privacy commissioner it relied on implied consent and that its privacy statement, available through its website and in print upon request at retail outlets, adequately explained the company's use of information. The retailer also cited Facebook's privacy statement.
The commissioner rejected Home Depot's argument, saying the privacy statements were not readily available to customers at the checkout counter and shoppers would have no reason to seek them out.
"The explanations provided in its policies were ultimately insufficient to support meaningful consent," Dufresne's statement said.
He recommended that Home Depot stop disclosing the personal information of customers who request an electronic receipt to Meta until it is able to put in place measures to ensure valid consent.
Home Depot fully co-operated with the investigation, agreed to implement the recommendations and stopped sharing customer information with Meta in October, the commissioner said.
This report by The Canadian Press was first published Jan. 26, 2023.
———
Meta funds a limited number of fellowships that support emerging journalists at The Canadian Press.