Alberta promises more officers for rural municipalities with provincial police plan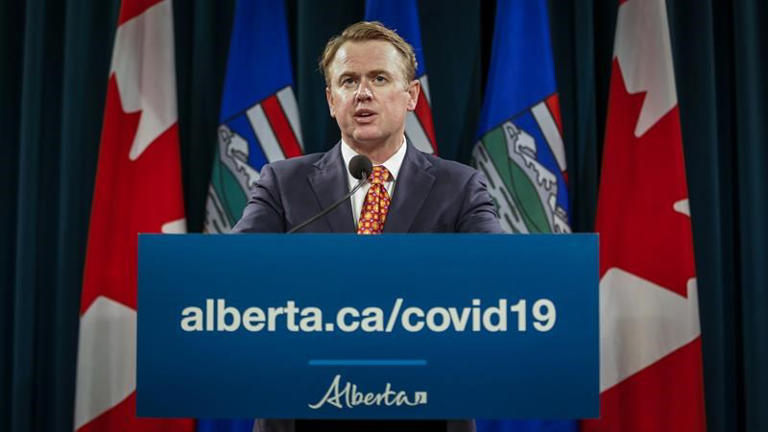 CALGARY — The Alberta government continues to make its case for a provincial police force, saying it would add hundreds of front-line officers to small detachments.
The United Conservative Party government outlined its blueprint for more police in rural Alberta on Tuesday. Under the plan, 275 front-line police officers would be added to the 42 smallest detachments.
Justice Minister Tyler Shandro said as it stands, there is no minimum number of officers at RCMP detachments. He said a made-in-Alberta police force would provide better policing for all regions including improved response times.
"I'm often asked why the government is looking at the idea of a provincial police service and the answer is simple … we have a duty as Alberta's government to consider whether new and innovative approaches to policing can make our community safer," Shandro said.
"We can also make access to mental health, addictions, family crisis services, and other specialized police services more accessible to all communities across Alberta."
Shandro said the proposed model would have 65 to 85 community detachments that would have a minimum of 10 and a maximum of 80 officers working in them.
The plan also includes service-hub detachments with between 48 and 192 officers, as well as three urban detachments to serve larger communities and function as regional headquarters.
The report also outlines how an Alberta Police Service would extend dedicated support to self-administered First Nations police services through its service-hub detachments, making it easier for them to establish and maintain their own forces.
Shandro said the idea of a provincial police force isn't something new nor should the public be concerned.
"The biggest point I would really like to drive home for all Albertans is both Quebec and Ontario have their own provincial police service and look, their provinces have not collapsed," he said.
Shandro said the RCMP, as it does in Quebec and Ontario, would continue to exist but focus on federal policing responsibilities as opposed to handing out a speeding ticket in rural Alberta.
"Cyber-terrorism, human trafficking, organized crime would be their core functions rather than concentrating on contract policing," he said.
"The RCMP, they're kind of like an FBI but they wear other hats as well but that would be a good analogy."
The government is deciding its next steps after the release of a third-party analysis last fall of the proposal for an Alberta-run provincial police force to replace RCMP in rural areas and some smaller cities.
The PricewaterhouseCoopers report said it currently costs Alberta about $500 million a year for the RCMP.
Ottawa chips in $170 million under a cost-sharing agreement.
That report said if Alberta decides to go it alone, it would cost about $735 million each year, on top of $366 million in startup costs.
But it said there is potential for more cost-effective law enforcement by using existing human resources and the government's financial services to save money, and by drafting agreements with municipal forces to share specialized police services, including canine units, air support and tactical squads.
Alberta has not made a decision on whether to proceed but wants to have a transition plan in place if Ottawa decides to end financial support for contract policing.
"I think we have to remember … the federal government has wanted out of that liability since the 1960s and the opportunity in continuing to receive that subsidy quite frankly has a shelf life," said Shandro.
Deputy Commissioner Curtis Zablocki, the commanding officer of the Alberta RCMP, said his team will be reviewing the government's policing report.
Zablocki said the RCMP is constantly adjusting its service to meet the demands of Albertans and has always worked closely with the provincial government.
"Our budget and staffing levels are determined by the Government of Alberta, the provincial policing priorities are developed with their oversight approval, and we report on strategic and budget performance measurements on a regular basis," he said in a release.
"Our employees are skilled police professionals, trained to the highest standard in Canada, based on over a century of rural policing lessons."
Provincial governments in Saskatchewan, New Brunswick and Nova Scotia are also studying the feasibility of replacing the RCMP.
Earlier this year, the Rural Municipalities of Alberta said it supports keeping the RCMP and opposes the idea of a provincial police force because the government has failed to demonstrate how it would increase service levels in rural areas.
Alberta Municipalities, formerly known as the Alberta Urban Municipalities Association, was briefed on the plan but said it needed more time to digest the information.
But it outlined some concerns about the costs, whether there has been enough consultations, and that a provincial force should be driven by real public safety needs rather than by politics.
Alberta NDP Justice Critic Irfan Sabir has concerns as well.
"This is not a blueprint. It's a boondoggle," he said.
"The UCP will spend hundreds of millions of dollars just to set up a new police force when what Albertans want is better policing focused on addressing crime and its root causes."
This report by The Canadian Press was first published Aug. 16, 2022.
Bill Graveland, The Canadian Press
'Short-term pain': Group of Alberta lawyers escalate job action over legal aid cases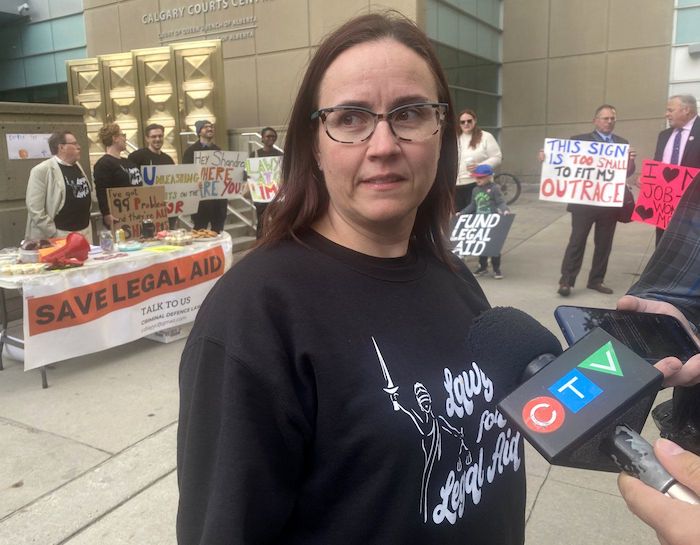 By Bill Graveland in Calgary
Alberta criminal defence lawyers are taking another step in their dispute with the provincial government over the amount of compensation paid by Legal Aid Alberta.
Organizations representing lawyers in Edmonton, Calgary, Red Deer and southern Alberta began job action Aug. 8 by refusing to accept certain bail and duty counsel files from legal aid.
The lawyers also began refusing certificates for new cases for the most serious criminal charges, including sexual offences, firearms-related crimes and homicides.
Beginning Monday, they say all services will be withdrawn.
"We're going to stop taking all certificates. That will include some our prior job actions still allowed us to take certificates for people who are already existing clients and there will be a very, very limited set of circumstances now where our members will do that," said Kelsey Sitar, vice-president of the Criminal Defence Lawyers Association in Calgary.
"The default will be: 'We are just not taking any new work from legal aid until the problem is fixed.'"
Sitar made her comments at a rally in front of the Calgary Courts Centre on Friday that drew about 50 criminal defence lawyers.
A table with a sign reading "Save Legal Aid" offered bake goods for sale. Lawyers carried signs reading "Access 2 Justice Must be Equal." Another read: "This sign is too small to fit my outrage."
"This is drastic. I mean, what we were doing up until now is something I know has happened in Ontario before, it did not last long, frankly," Sitar said.
"I can tell you that none of us want to be out here. We all want to be in there doing our jobs."
Justice Minister Tyler Shandro has said nothing is going to be done until a review of the Legal Aid Alberta administrative system is complete, which is scheduled for next month.
He said any budget changes for legal aid wouldn't happen until next year.
Sitar said the ministry chose to undertake "an incomplete and, frankly, useless review" at a time when the governing United Conservative Party is about to go through a leadership change.
"So we have to act now and they need to respond now," she said.
Sitar said she understands the people being affected the most by the job action will be people with lower incomes who need the services to afford legal representation.
"It's short-term pain right now," she said. "It's really unfortunate, but I can tell you that most of the people I've talked to on the street who are finding themselves caught up in this understand and are grateful that we're doing it."
Alberta Opposition NDP Leader Rachel Notley said the problem has been growing over the last three years. She said when her party was in power, it committed to additional funding for Legal Aid, but the UCP government backtracked.
"We simply cannot be asking the Legal Aid bar to be doing what we are asking them to do at the rate that we are asking them to do it," she told reporters.
"We have the lowest funding for Legal Aid in the country. What that means is that we don't have equal access to justice. It undermines the integrity of our justice system and, overall, it undermines our ability to build a sense of community safety, community security and an overall respect for the rule of law — all of which are important to community health and economic growth.
"It sounds like a niche issue, but it's not. It actually has knock-off effects to very, very important issues that affect all of us. So, the government needs to come to the table and negotiate decently with these lawyers."
This report by The Canadian Press was first published Sept. 23, 2022.
— With files from Colette Derworiz in Calgary.
'Kind of like carnies': International balloon festival returns to High River, Alta.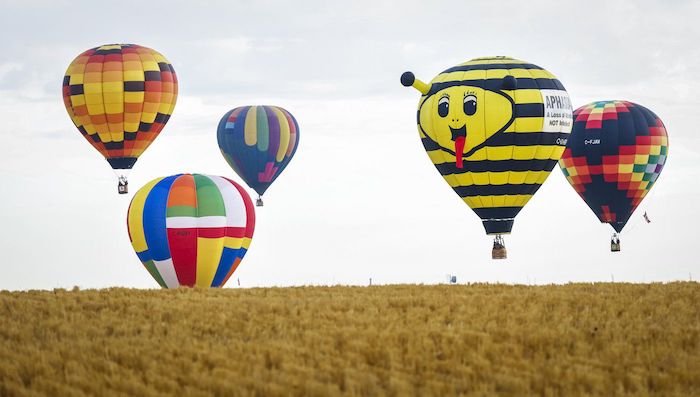 By Bill Graveland in High River, Alberta
The windswept prairie east of the Rocky Mountains seems an unlikely spot for a hot-air balloon festival, but the town of High River, Alta., is celebrating the event's 10th year.
More than 20 brightly coloured balloons — including a pink elephant, a black and yellow bee and the purple and yellow Eye of Ra, named after the Egyptian sun god — took advantage of a lull in the prevailing wind this week to get some up-in-the-air time to mark the opening of the Heritage Inn International Balloon Festival.
"We get about 50 per cent of our flights off. Weather impacts us everywhere," said event director Jamie Kinghorn, who is also a town councillor.
"This is our 10th. We started in 2013 partly because of the flood that happened. I'd been to a number of balloon events and thought this might lift the spirits of the folks in town."
The town of 12,000 just south of Calgary gained an international profile in 2013 when flooding in parts of southern Alberta caused billions of dollars in damage.
High River was one of the hardest-hit communities. Entire neighbourhoods were under water for weeks.
"I called in a bunch of friends from the balloon community and they knew what happened, so 20 of them came into High River and we put on a balloon festival that was actually amazing for the community," Kinghorn said.
"That was sort of the first major thing toward recovery after the flood and we've been doing it every year since at the end of September."
Kinghorn said the festival is a boon to local tourism and there's not a hotel room to be had in town.
He had his first hot air balloon over the city of Calgary in 1988. A year later he was a balloon pilot.
There are 23 balloons participating this year, including some from the United States, Belgium and the United Kingdom.
Kinghorn said it's a pretty small community.
"We tend to meet at various events. We tend to travel. We're kind of like carnies to some extent," he said with a laugh.
"We travel around to different cities to different balloon events."
Alan Davidson, who has been involved in the sport since 1977, is one of the volunteers.
He said those who get involved tend to stick with it.
"The amazing thing is that there are still seven or eight of the people I was ballooning with in the '70s and early '80s who are still here at this event," said Davidson. "They've been working with balloons for over 40 years."
Kinghorn, who is the owner and pilot of the Eye of Ra, was the first balloon in the air Thursday morning after a Wednesday evening flight was cancelled due to the wind.
"My God am I glad we got this off," he said as the flight came to an end.
The festival runs through Sunday.
This report by The Canadian Press was first published Sept. 23, 2022.