Alberta landowners fear repeat of orphan well crisis as renewable energy booms
By Amanda Stephenson in Calgary
Once bitten, twice shy.
It's an old adage that explains why Jason Schneider, the elected reeve of Vulcan County, Alta., is jittery about the renewable energy boom under way in his province.
Like many in rural Alberta, Schneider is still smarting over the way municipalities were left holding the bag when an oil price crash nearly a decade ago resulted in billions of dollars of unfunded liabilities left behind by bankrupt fossil fuel companies.
In Vulcan County alone, the landscape is littered with hundreds of wells with no owners that need to be cleaned up, and the municipality itself is owed more than $9 million in back taxes left unpaid by insolvent oil and gas firms.
So Schneider has a hard time looking at acre upon acre of massive wind turbines or solar panels without fearing a repeat of Alberta's orphan well crisis, or wondering who's going to fix everything if something goes wrong.
"These are large industrial developments, and the reclamation costs are going to be substantial," he said.
"We can see the warning signs, and we are being ignored."
Across rural Alberta, concerns are growing about the long-term implications of the province's renewable energy boom — the speed and scale of which has been nothing short of stunning.
A province that not that long ago was largely reliant on coal for electricity, Alberta is now home to more than 3,800 MW of wind and solar capacity, 1,350 of which came online in just the last 12 months. An additional 1,800 MW of capacity is currently under construction, putting the province on track to meet or exceed the target it set in 2016 to generate 30 per cent of its total electricity from renewable sources by 2030.
In Schneider's Vulcan County, which is home to both the country's largest solar farm and one of Western Canada's largest wind farms, renewable energy developments now account for more than 40 per cent of the local tax base, displacing oil and gas as the number one source of revenue for the local municipal government.
But while many in rural Alberta welcome the economic activity, and farmers and ranchers enjoy the extra income that playing host to solar panels or wind turbines can bring, others are sounding the alarm.
For example, the Rural Municipalities of Alberta recently passed a resolution calling on the provincial government to protect taxpayers from incurring costs associated with the potential decommissioning of renewable energy infrastructure.
Specifically, the association wants to see the government mandate the collection of securities for reclamation from developers before a project goes ahead. That way, municipalities won't be footing the bill if a developer becomes insolvent and walks away.
"What we've learned, and what Albertans have learned, is that the cheapest way to get out of reclamation is going bankrupt," said Paul McLauchlin, president of the Rural Municipalities of Alberta.
"Some of these solar installations are being installed by one company, sold to another company … I talked to a gentleman who's on his fifth owner, and his solar installation has been there maybe two years. So we're seeing small companies owning these, and whether they have the wherewithal for reclamation, that's really what's driving this conversation."
In Alberta, the Orphan Well Association is an industry-funded organization tasked with decommissioning old oil and gas infrastructure and returning the land to its prior state. (It's currently backlogged, in spite of a $200 million loan from the federal government. In 2020, the feds also provided $1 billion for well clean-up to active companies under Alberta's Site Rehabilitation Program.)
But there's no equivalent for the renewable energy industry, though renewable energy companies are required to provide an overview of how they plan to cover decommissioning and reclamation costs before they can receive the go-ahead for their project.
However, for a landowner, entering into a wind or solar lease is entirely voluntary. That's very different from oil and gas, where under Alberta law, property owners are not allowed to refuse companies seeking to develop the fossil fuels that lie under the surface of their land.
Evan Wilson, director of policy and government affairs for the Canadian Renewable Energy Association, said that because solar and wind leases remain private civil contracts between the developer and the landowner, the onus is on the landowner to ensure the inclusion of some kind of provision to mitigate risks associated with the project's end-of-life.
But he added many companies do offer landowners some form of reclamation commitment, either in the form of a letter of credit or bond.
"Landowners do have the ability to veto these projects being built on their land," Wilson said.
"So that puts a lot of pressure on our members to ensure that landowners do feel comfortable with the terms."
Sara Hastings-Simon, an expert in energy, innovation and climate policy at the University of Calgary's School of Public Policy, said it's understandable that municipalities have concerns.
However, she said it's odd that there's a push to enforce new regulations for the renewable sector, when the scope of the orphan well problem shows the oil and gas regulatory system could also use an overhaul.
According to the Alberta Energy Regulator, there are more than 83,000 inactive oil and gas wells in the province currently, and close to 90,000 more that have been sealed and taken out of service, but not yet fully remediated.
A report released last year by the Parliamentary Budget Officer estimated that the cost of orphan well clean-up in Canada will reach $1.1 billion by 2025.
"Obviously we need to make sure that all of our industrial development is done in a way that doesn't offload costs to the public," Hastings-Simon said.
"But it would make a lot of sense for the province to look at energy development holistically, rather than just picking the one that right now perhaps has more growth."
This report by The Canadian Press was first published Jan. 29, 2023.
Police investigating how shooter got firearm after autopsy and balistic analysis
News release from the Edmonton Police Service
Autopsy on shooter, ballistic analysis complete in line of duty deaths
An autopsy on the shooter and ballistic analysis of the firearm have been completed in the Mar. 16, 2023 EPS line of duty deaths.
The Edmonton Medical Examiner conducted an autopsy on Mar. 22, 2023, and confirmed that the 16-year-old male shooter's cause of death was a single gunshot wound to the head consistent with being self-inflicted.
"We recognize that there is intense public interest in this investigation," says EPS Deputy Chief Devin Laforce. "At this time, our priorities need to be the integrity of ongoing investigations, including the origin of the firearm, as well as the safety and privacy of all the families affected by this tragedy. For these reasons, we are not releasing or confirming the name of the deceased."
A bullet casing recovered from the scene of a Mar. 12, 2023 shooting at a nearby restaurant in the area of 133 Street and 114 Avenue has been forensically matched to the firearm that was recovered at the 132 Street and 114 Avenue apartment, where Constable Brett Ryan and Constable Travis Jordan were fatally shot on Mar. 16, 2023.
Investigators believe the suspect in the Mar. 12 shooting to be the same 16-year-old male responsible for the deaths of the two EPS members, although this has yet to be confirmed. Detectives are also working to trace the origins of the firearm and how it came to be in the youth's possession.
At this time, investigators continue to believe that the youth's parents, police dispatch and Constables Ryan and Jordan had no information to suggest there was a firearm in the home when the family dispute call for service was made on Mar. 16.
"Both events have been served by robust investigations that have followed all lines of inquiry," says Deputy Chief Devin Laforce. "All tips and other investigative avenues were pursued exhaustively by the investigating teams."
The male shot on Mar. 12 in the restaurant remains in hospital in critical but stable condition, and the youth's mother who was shot on Mar. 16 remains in hospital in serious but stable condition.
Search of four Edmonton homes results in Cocaine and Meth bust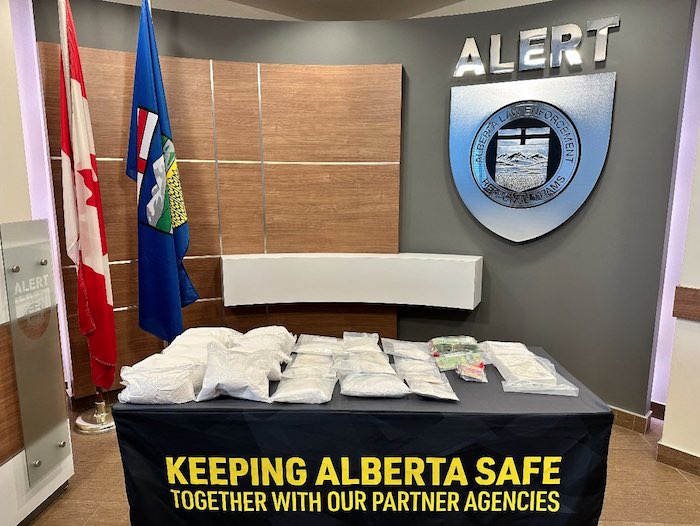 News release from the Alberta Law Enforcement Response Team (ALERT)
Cocaine seized after four Edmonton homes searched
More than two kilograms of cocaine, cash, and four vehicles have been seized following an ALERT Edmonton investigation into cocaine trafficking.
The investigation began in October 2022. Police were able to identify four homes and four vehicles linked to the drug trafficking operation.
"Through the course of this five-month investigation, officers were able to identify several suspects, and seized several pieces of equipment which were being used to produce large, commercial-sized quantities of product. This tells us that this was a much bigger, sophisticated operation," said Sgt. Jeff Woodliffe, ALERT Edmonton.
On February 23, 2023, police searched four homes and seized the following items as evidence:
2.6 kgs of cocaine;
28 grams of methamphetamine;
10 kgs of a cocaine buffing agent; and
$11,000 in cash.
The investigation remains ongoing as investigators prepare reports and disclosure for Crown Counsel.
The Edmonton Police Service assisted throughout the investigation.
Members of the public who suspect drug or gang activity in their community can call local police, or contact Crime Stoppers at 1-800-222-TIPS (8477). Crime Stoppers is always anonymous.
ALERT was established and is funded by the Alberta Government and is a compilation of the province's most sophisticated law enforcement resources committed to tackling serious and organized crime.