Alberta information commissioner to investigate Kearl tailings leak notifications
By Bob Weber in Edmonton
Alberta's information commissioner has started an investigation into how the province's energy regulator notified the public about tailings pond releases at Imperial Oil's Kearl mine.
"Information and Privacy Commissioner Diane McLeod has launched an investigation into the Alberta Energy Regulator concerning AER's consideration of the public interest override," said a news release Wednesday from the commissioner.
In the release, McLeod said the probe is to examine whether the regulator had a duty to release information about risks to the environment, public health or a group of people.
"Did AER have a duty … to disclose information that is clearly in the public interest?" the release asks.
The investigation could also be expanded to include "any other implicated public body," it says.
The probe stems from two releases of toxic oilsands tailings water from the Kearl mine north of Fort McMurray, Alta.
The first release was spotted and reported in May as discoloured water near a tailings pond. It was found to be tailings seepage, but no further updates were provided to area First Nations until February, when it was disclosed to the public and federal and provincial environment ministers, along with a second release of 5.3 million litres of tailings.
Area First Nations were furious about the fact their members harvested in the area for nine months without being told of possible contamination. The government of the Northwest Territories said the silence violated a bilateral agreement it has with Alberta.
On Monday, Indigenous leaders from communities downstream of the mine up to the Beaufort Sea condemned what they called "failures on the management of tailings ponds, including the recent tailings leak from the Imperial Oil Kearl project."
On Wednesday, Prime Minister Justin Trudeau also criticized the delayed response.
"We need to understand why the company and the regulator were so slow to notify," he said in response to a question from N.W.T. MP Michael McLeod in the House of Commons.
Alberta Premier Danielle Smith has said the onus was on Imperial Oil to disclose the releases. She called for "radical transparency" from oilsands operators.
Federal Environment Steven Guilbeault has said reform is necessary to ensure it never happens again. The federal and provincial governments have said they are assembling a working group to improve environmental communications in the oilsands.
The investigation was requested by Drew Yewchuk, a law student at the University of British Columbia and staff lawyer at the University of Calgary's Public Interest Law Clinic.
"I'm happy to see this going ahead," he said.
In a post on a blog that concerns Alberta legal issues, Yewchuk wrote the Freedom of Information and Protection of Privacy Act contains a section that obliges public bodies to disclose information about risks of significant harms to the environment or human health and safety.
"All of those requirements appear to have been met in this case," Yewchuk wrote. "So why did the AER not warn the affected communities and the public until the problem literally overflowed, and even then chose to provide very little information?"
Yewchuk also noted the legislation contains protection for whistleblowers.
He said this is the first time the commissioner has investigated whether a public body should have released public-interest information on its own, without having been asked for it.
Information commissioner investigations can take months, if not years.
"I'm hoping this will get some prioritization," Yewchuk said.
McLeod said no further details will be available on the investigation, including a timeline for its completion.
"A public investigation report may be issued upon conclusion of the investigation," the release from her office said.
This report by The Canadian Press was first published March 22, 2023.
United Conservatives jump out to early lead in tight Alberta election
By Dean Bennett
Alberta's United Conservative Party jumped out to a lead over the NDP in early returns Monday in what was forecast to be a tight race in the provincial election.
Danielle Smith's UCP was holding strong in its traditional rural strongholds while Rachel Notley's NDP was faring well in Edmonton, where it won all but one seat in 2019.
Early results were still mixed in the key battleground of Calgary.
The UCP is seeking a second mandate while the NDP is fighting to regain the majority government it lost to the UCP in 2019.
Polling have suggested a close contest between the two parties, with support for smaller parties falling off.
Advance polls set a record of 758,540 votes cast, eclipsing the previous record of more than 700,000 in 2019.
The campaign has taken place alongside a record-breaking spring for wildfires in Alberta. Ten communities were under evacuation orders Monday.
Elections Alberta set up alternate voting locations for those displaced. Evacuation was added as an eligible reason to vote by special ballot and mobile voting stations were placed in evacuation centres.
Calgary has been seen as the campaign's battleground and half of the top 10 advance polling stations were in that city. Two were in Edmonton suburbs.
To win, the NDP would have to continue its dominance in Edmonton, flip the majority in Calgary and hope for some help in smaller cities, while defeating scores of UCP incumbents including cabinet ministers.
The NDP needs to swing 20 seats in the 87-seat legislature.
The UCP won 63 seats under then-leader Jason Kenney in 2019 to 24 for Notley's NDP.
Polls suggest the UCP should continue its near total domination in rural areas and smaller centres, giving it a cushion of up to 40 or so seats to reach the 44 needed to form a majority government.
The month-long campaign has been dominated by the economy and health care.
Albertans are struggling with high costs for consumer goods, a shortage of family doctors and long waits in emergency rooms.
Smith has promised to keep Alberta the lowest-tax regime in Canada.
Her government, she says, would introduce a law to mandate a referendum before any personal or corporate income tax hikes. There would also be tax changes to benefit those making more than $60,000 a year, at a cost of $1 billion annually to the treasury.
The NDP promised to maintain Alberta's status as Canada's lowest tax regime. It pledged to end the tax on small businesses and raise the corporate income tax to 11 per cent from eight per cent, which it says would help pay for investments in health and education while keeping the books balanced and maintaining the lowest corporate rate in Canada.
The NDP also promised legislation to counteract UCP policies that hiked the cost of utilities, auto insurance, a range of fees and tuition.
Both leaders promised to preserve the publicly funded health system while creating more primary care teams — physicians accompanied by related specialists such as nurses and therapists — so more Albertans are able to access a family doctor and not clog emergency wards for care.
Polls showed trust was a key issue, with Notley viewed more favourably than her party and vice versa for Smith.
Smith was dogged during the campaign by past comments she made comparing those who took the COVID-19 vaccine to credulous followers of Adolf Hitler. A report also came out mid-campaign from the province's ethics commissioner that concluded Smith undermined the rule of law by pressuring her justice minister to end the criminal court case of a COVID-19 protester.
This report by The Canadian Press was first published May 29, 2023.
Police looking for these 3 suspects after Super 8 Motel in Innisfail robbed early Monday morning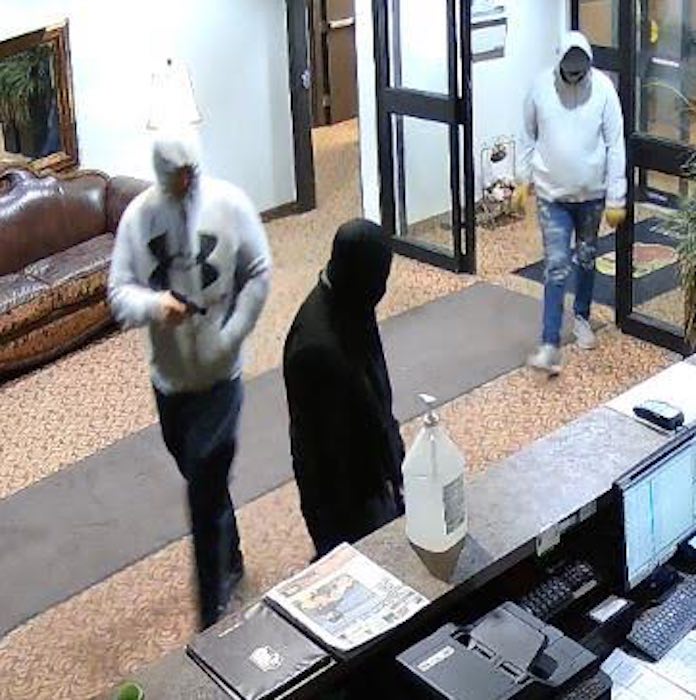 Innisfail RCMP investigate robbery
Innisfail Ala. – On May 29, 2023, at approximately 4:10 a.m., the Super 8 motel in Innisfail was the victim of an armed robbery. Three male suspects entered the hotel, two of which had firearms. Money was demanded from the manager. All three left the motel in a vehicle which is described as:
Chevrolet Dura Max truck
Sliver
Lifted
The suspects are described as:
Suspect #1: Caucasian male, tall and muscular. Wearing jeans and a grey Under Armour hoody. He was carrying a pistol.
Suspect #2: Caucasian male, short. Wearing all black. He was carrying a sawed off shotgun
Suspect #3: Caucasian male tall with a chubby belly. He was wearing a grey hoody, jeans and a black ball hat.
If you have information about this incident, please call the Innisfail RCMP at 403-227-3341 or call your local police. If you want to remain anonymous, you can contact Crime Stoppers by phone at 1-800-222-8477 (TIPS), by internet atwww.tipsubmit.com, or by SMS (check your local Crime Stoppers www.crimestoppers.ab.ca for instructions).