Alberta in talks to open overdose prevention sites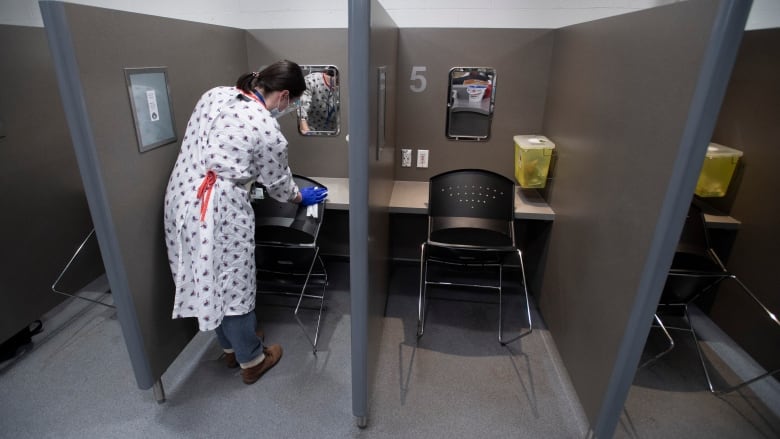 By Alanna Smith
CALGARY, March 2 The Canadian Press
Alberta says it is in talks with social agencies in the province's two major cities to open new drug overdose prevention sites.
Two are expected to take the place of Calgary's only supervised consumption site, which has had an average of 10,000 visits each month since the COVID-19 pandemic began.
The province said it is waiting for proposals from the Drop-In Centre and Alpha House in Calgary and from Boyle Street Community Services in Edmonton.
"Work is being done by these agencies and others to create proposals and we look forward to reviewing those rapidly once final proposals are received," Eric Engler, a spokesman in the associate ministry of mental health and addictions, said in a statement.
Overdose prevention sites tend to be more bare-boned than supervised drug-use sites and can operate on a temporary basis.
Engler said the proposals are for "smaller" overdose prevention sites, but did not respond to inquiries about specifics. The province's recently tabled budget includes a funding increase for overdose prevention services, he added.
Last May, it became known that the province planned to close Calgary's downtown supervised consumption site and replace it with two smaller sites at undisclosed locations. Critics said the plan to shutter the Safeworks facility would cause harm to existing clients by severing connections between vulnerable Calgarians and trusted health-care providers.
In a statement from the Drop-In Centre, spokesman Nathan Ross said no commitments are in place with the province.
"The (Drop-In) continually reviews our programming and services, and one of our strategic priorities is to enhance access to health services, including mental-health and addiction supports," Ross said earlier this week.
"We are … exploring a recovery-oriented system of care at the (Drop-In) with the collaboration of other partner agencies such as Alpha House and The Alex."
Elliot Tanti, a spokesman for Boyle Street Community Services in Edmonton, confirmed the group is working with the government.
"What I can say is we have identified the south side as an area of need in the city and we feel heard loud and clear from the provincial government on that," Tanti said.
"It wouldn't be right for me to comment any further on it until we were in a place where we knew that was going to happen."
The United Conservative government has been criticized for its handling of an overdose crisis that has led Alberta to recording its deadliest years on record during the pandemic. About four people are dying daily from drug poisonings.
Some harm reduction advocates and public health experts have said the government needs to do more, especially as it relates to harm reduction services, to limit needless deaths.
Tanti said the situation remains critical.
"We need more services across the continuum from recovery straight through to (overdose prevention sites) if we're going to make meaningful impact on this crisis.".
This report by The Canadian Press was first published March 2, 2022.
'Short-term pain': Group of Alberta lawyers escalate job action over legal aid cases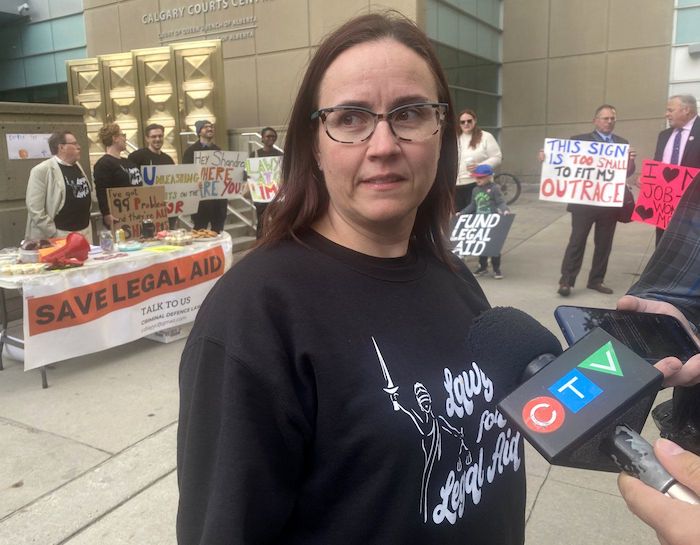 By Bill Graveland in Calgary
Alberta criminal defence lawyers are taking another step in their dispute with the provincial government over the amount of compensation paid by Legal Aid Alberta.
Organizations representing lawyers in Edmonton, Calgary, Red Deer and southern Alberta began job action Aug. 8 by refusing to accept certain bail and duty counsel files from legal aid.
The lawyers also began refusing certificates for new cases for the most serious criminal charges, including sexual offences, firearms-related crimes and homicides.
Beginning Monday, they say all services will be withdrawn.
"We're going to stop taking all certificates. That will include some our prior job actions still allowed us to take certificates for people who are already existing clients and there will be a very, very limited set of circumstances now where our members will do that," said Kelsey Sitar, vice-president of the Criminal Defence Lawyers Association in Calgary.
"The default will be: 'We are just not taking any new work from legal aid until the problem is fixed.'"
Sitar made her comments at a rally in front of the Calgary Courts Centre on Friday that drew about 50 criminal defence lawyers.
A table with a sign reading "Save Legal Aid" offered bake goods for sale. Lawyers carried signs reading "Access 2 Justice Must be Equal." Another read: "This sign is too small to fit my outrage."
"This is drastic. I mean, what we were doing up until now is something I know has happened in Ontario before, it did not last long, frankly," Sitar said.
"I can tell you that none of us want to be out here. We all want to be in there doing our jobs."
Justice Minister Tyler Shandro has said nothing is going to be done until a review of the Legal Aid Alberta administrative system is complete, which is scheduled for next month.
He said any budget changes for legal aid wouldn't happen until next year.
Sitar said the ministry chose to undertake "an incomplete and, frankly, useless review" at a time when the governing United Conservative Party is about to go through a leadership change.
"So we have to act now and they need to respond now," she said.
Sitar said she understands the people being affected the most by the job action will be people with lower incomes who need the services to afford legal representation.
"It's short-term pain right now," she said. "It's really unfortunate, but I can tell you that most of the people I've talked to on the street who are finding themselves caught up in this understand and are grateful that we're doing it."
Alberta Opposition NDP Leader Rachel Notley said the problem has been growing over the last three years. She said when her party was in power, it committed to additional funding for Legal Aid, but the UCP government backtracked.
"We simply cannot be asking the Legal Aid bar to be doing what we are asking them to do at the rate that we are asking them to do it," she told reporters.
"We have the lowest funding for Legal Aid in the country. What that means is that we don't have equal access to justice. It undermines the integrity of our justice system and, overall, it undermines our ability to build a sense of community safety, community security and an overall respect for the rule of law — all of which are important to community health and economic growth.
"It sounds like a niche issue, but it's not. It actually has knock-off effects to very, very important issues that affect all of us. So, the government needs to come to the table and negotiate decently with these lawyers."
This report by The Canadian Press was first published Sept. 23, 2022.
— With files from Colette Derworiz in Calgary.
'Kind of like carnies': International balloon festival returns to High River, Alta.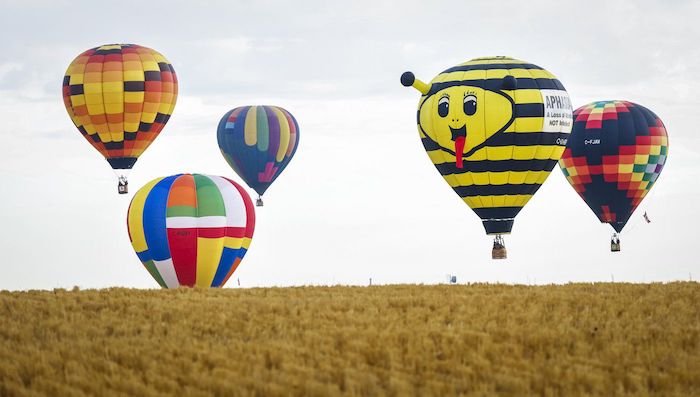 By Bill Graveland in High River, Alberta
The windswept prairie east of the Rocky Mountains seems an unlikely spot for a hot-air balloon festival, but the town of High River, Alta., is celebrating the event's 10th year.
More than 20 brightly coloured balloons — including a pink elephant, a black and yellow bee and the purple and yellow Eye of Ra, named after the Egyptian sun god — took advantage of a lull in the prevailing wind this week to get some up-in-the-air time to mark the opening of the Heritage Inn International Balloon Festival.
"We get about 50 per cent of our flights off. Weather impacts us everywhere," said event director Jamie Kinghorn, who is also a town councillor.
"This is our 10th. We started in 2013 partly because of the flood that happened. I'd been to a number of balloon events and thought this might lift the spirits of the folks in town."
The town of 12,000 just south of Calgary gained an international profile in 2013 when flooding in parts of southern Alberta caused billions of dollars in damage.
High River was one of the hardest-hit communities. Entire neighbourhoods were under water for weeks.
"I called in a bunch of friends from the balloon community and they knew what happened, so 20 of them came into High River and we put on a balloon festival that was actually amazing for the community," Kinghorn said.
"That was sort of the first major thing toward recovery after the flood and we've been doing it every year since at the end of September."
Kinghorn said the festival is a boon to local tourism and there's not a hotel room to be had in town.
He had his first hot air balloon over the city of Calgary in 1988. A year later he was a balloon pilot.
There are 23 balloons participating this year, including some from the United States, Belgium and the United Kingdom.
Kinghorn said it's a pretty small community.
"We tend to meet at various events. We tend to travel. We're kind of like carnies to some extent," he said with a laugh.
"We travel around to different cities to different balloon events."
Alan Davidson, who has been involved in the sport since 1977, is one of the volunteers.
He said those who get involved tend to stick with it.
"The amazing thing is that there are still seven or eight of the people I was ballooning with in the '70s and early '80s who are still here at this event," said Davidson. "They've been working with balloons for over 40 years."
Kinghorn, who is the owner and pilot of the Eye of Ra, was the first balloon in the air Thursday morning after a Wednesday evening flight was cancelled due to the wind.
"My God am I glad we got this off," he said as the flight came to an end.
The festival runs through Sunday.
This report by The Canadian Press was first published Sept. 23, 2022.