Alberta in showdown with human rights chief in Islamophobia controversy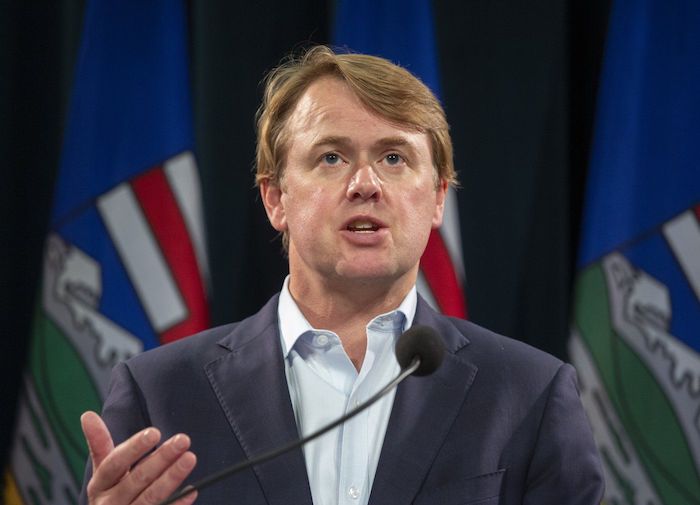 By Dean Bennett in Edmonton
A day after Justice Minister Tyler Shandro publicly directed the head of Alberta's human rights commission to quit, the commissioner's office lobbed the issue back at him, saying it's Shandro who does the hiring and firing.
"The commission does not have any information to share regarding the status of Collin May's resignation," the Alberta Human Rights Commission said Tuesday in an emailed statement.
"The minister of justice and solicitor general is responsible for managing who is appointed as chief of the commission and tribunals.
"Please get in touch with (his office)."
Shandro's office declined to comment.
It's the latest turn in an issue that beset Collin May even before he was officially appointed chief of the commission in July.
At that time, critics pointed to a book review he wrote in 2009 and said the article raised concerns that May was Islamophobic and therefore unfit to serve as head of the commission dedicated to ensuring Albertans don't face discrimination.
May responded in a statement, categorically rejecting the Islamophobic allegations and promising to "commit to continuing my personal education about Islam and all faiths."
"I will be meeting with leaders in Alberta's Muslim community to learn more about their lived experiences in Alberta and to work towards overcoming discrimination against the Islamic community," he added.
Matters came to a head Monday when the National Council of Canadian Muslims published an open letter accusing May of failing to meet despite repeated attempts to reach out to him.
The council said May's intransigence cast doubt on his commitment to learn and reflect, and its letter was signed by 28 community Muslim groups.
Hours later, Shandro's office issued a statement reiterating that May had promised more than two months ago to meet with the Muslim community.
"Minister Shandro requested an explanation from Mr. May," wrote Shandro's office. "After reviewing the explanation, Minister Shandro has asked for Mr. May's resignation."
The statement did not elaborate on the conversation or on what specifically triggered the call to quit.
Said Omar, spokesman for the Muslims council, said he was pleased Shandro called for the resignation.
He said May has not reached out to the group since it sent the letter, and it may be too late for him to mend fences anyway.
"We are always open to meeting with individuals and to try to reconciliate, but I think at this point the community has spoken," said Omar in an interview.
May, a Calgary-based lawyer, was appointed to the commission in 2019. In years past, he has contributed articles to C2C Journal, an online and print publication focusing on political, cultural and economic issues.
In June 2009, he reviewed Efraim Karsh's book "Islamic Imperialism: A History," which examines the forces and cultural attitudes that have shaped the religion.
In one line in the review, May notes that the book states "Islam is not a peaceful religion misused by radicals. Rather, it is one of the most militaristic religions known to man, and it is precisely this militaristic heritage that informs the actions of radicals throughout the Muslim world."
The Muslims council has focused on that paragraph in its criticism, characterizing it as a "shocking" and stigmatizing stereotype.
Opposition NDP Justice critic Irfan Sabir echoed the call for May's dismissal, stating Monday: "Muslims in Canada are targeted for harassment, assault and murder purely because of their faith."
However, May and the editors of his article disagree.
May in his July statement said, "I wish to state clearly that I do not believe or accept the characterization of Islam as a militant religion or movement."
C2C Journal editors George Koch and Peter Shawn Taylor, in a rebuttal published on its site in July, said May made it clear that it was the book author's viewpoint — not his own — in the controversial paragraph.
"Whether a reviewer agrees or disagrees with an author's position, he or she has a duty to convey the book's thesis in good faith," wrote the editors.
"The critics and complainers simply defaulted to the worst possible interpretation as a matter of course," they added.
"This sort of behaviour has become outrageously common and is doing great damage to public discourse in Canada."
This report by The Canadian Press was first published Sept. 13, 2022.
The Alberta Sovereignty "Within A United Canada" Act has been introduced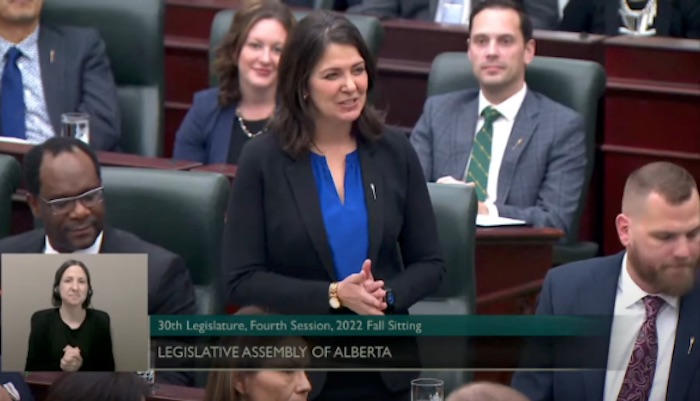 Defending Albertans from Ottawa overreach
Alberta's government has introduced proposed legislation to fight federal laws or policies that negatively affect Alberta's interests.
If passed, the government will use the Alberta Sovereignty within a United Canada Act to stand up to federal government overreach and interference in areas of provincial jurisdiction, including in the areas of private property, natural resources, agriculture, firearms, regulation of the economy and delivery of heath, education and other social programs.
"Albertans are proud Canadians, and we love our nation dearly. The Canadian Constitution is clear that the federal and provincial governments are equals, each with our own areas of exclusive jurisdiction. The Alberta Sovereignty Within a United Canada Act will be used as a constitutional shield to protect Albertans from federal overreach that is costing Alberta's economy billions of dollars each year in lost investment and is costing Alberta families untold jobs and opportunities."
"Alberta's government will use the Alberta Sovereignty within a United Canada Act to push back on federal legislation and policy that is unconstitutional or harmful to our province, our people and our economic prosperity. It is time to draw a line in the sand, as Albertans rightfully expect the federal government to respect the federal-provincial division of powers."
If passed, the act will give Alberta a legislative framework to formally defend its provincial jurisdiction while fully respecting Indigenous and treaty rights, Canada's Constitution and the courts.
Importantly, the act will not compel any private citizen or business to violate federal law, nor does this legislation involve anything related to separation from Canada.
In addition, Premier Danielle Smith has tasked her ministers with preparing a number of special resolutions under this proposed act for the spring legislative session to push back on several federal laws and policies that seek to:
Regulate and control Alberta's natural resources and economic development (i.e., Bill C-69).
Penalize the province's energy and agricultural sectors, including implementation of mandatory fertilizer cuts and arbitrary emissions reductions that would devastate Alberta's economy.
Control the delivery of health care, education and other social programs with strings-attached funding.
Confiscate legally owned firearms.
Interfere with the private property or charter rights of Albertans.
Violate other sovereign areas of exclusive provincial jurisdiction.
Additional information regarding the act is online at alberta.ca/StandUp, as well as in this question and answer document.
'Ottawa is not our ruler': Alberta government introduces sovereignty bill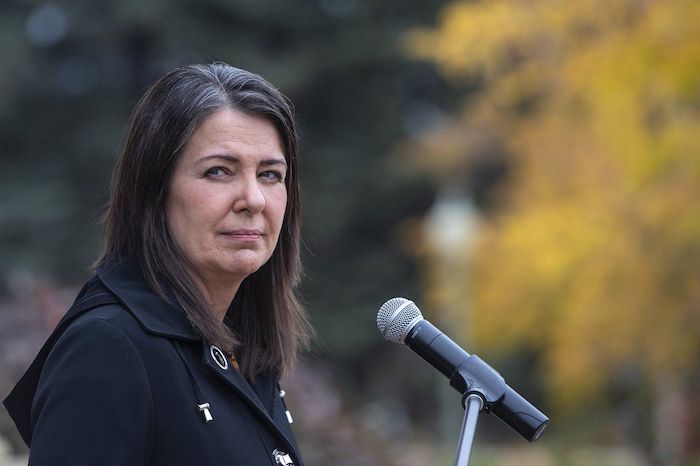 By Dean Bennett in Edmonton
The Alberta government has introduced a bill that would grant Premier Danielle Smith and her cabinet broad powers to rewrite provincial laws behind closed doors in an effort to push back against Ottawa.
The proposed legislation would also allow cabinet to direct "provincial entities" — Crown-controlled organizations, municipalities, school boards, post-secondary schools, municipal police forces, regional health authorities and any social agency receiving provincial money — to not use provincial resources to enforce federal rules deemed harmful to Alberta's interests.
"The Canadian Constitution is clear that the federal and provincial governments are equals, each with our own areas of exclusive jurisdiction," Smith said in a statement Tuesday after her government introduced the Alberta sovereignty within a united Canada act.
"The (act) will be used as a constitutional shield to protect Albertans from federal overreach that is costing Alberta's economy billions of dollars each year in lost investment and is costing Alberta families untold jobs and opportunities."
In the bill, the United Conservative Party government promises to follow court rulings and the Constitution, but says it would be up to the federal government to sue the province to resolve disputes instead of the other way around.
Smith said if the bill passes, her government would use it as early as this spring to fight the federal government on a slew of issues, including energy development, agriculture, health care, education, firearms, child care, property rights and social programs.
It was the cornerstone of her successful campaign to win the leadership of the United Conservative Party last month to take over from Jason Kenney as premier.
The bill has been criticized by Kenney and even some of Smith's leadership rivals — four of whom now sit in her cabinet — as a recipe for legal uncertainty, investment flight and the first step toward separation.
The bill was tabled after Lt.-Gov. Salma Lakhani read aloud in the chamber the speech from the throne, launching a new legislative session.
In the speech outlining government plans and priorities, Lakhani said the four-week fall sitting would focus on helping Albertans with inflation, health care and battling the federal government.
"Ottawa is not our ruler. Ottawa is our partner and it needs to begin acting like it," Lakhani told the assembled legislature members and dignitaries.
The sovereignty bill sets out the framework to launch fights with the feds.
Under the bill, cabinet ministers or Smith would decide whether federal rules are harmful to Alberta. The bill does not give a legal definition of what constitutes harm.
Cabinet would then craft a resolution laying out the nature of the harm and steps that need to be taken to fight back. The 87-member legislature would vote on the resolution and if it gets a majority, the resolution passes and cabinet goes to work implementing it.
Cabinet can implement the resolution by using existing powers in legislation or it can unilaterally amend any provincial laws it deems applicable. Those laws are normally debated and passed in the legislature.
The bill says while cabinet can then direct any "provincial entity" to not enforce those federal laws or policies, it cannot do so with individuals or private businesses.
It also stresses that the bill cannot infringe on First Nations rights, a concern Alberta treaty chiefs have raised.
Any resolution passed by the assembly would expire after two years, unless the legislature votes to end it earlier. However, cabinet can extend orders and rules made under any resolution for a maximum of two extra years.
The window to fight the act in court in a judicial review is reduced from the normal six-month time frame to 30 days.
The Saskatchewan government introduced legislation with a similar aim last month, focusing on reinforcing provincial rights over natural resources.
Earlier Tuesday, Smith was sworn in as the new member for Brooks-Medicine Hat after winning a byelection for the seat earlier this month.
It was her first time back on the floor the legislature chamber since the spring of 2015.
At that time, Smith was with the Progressive Conservatives, having led a mass floor crossing of her Wildrose Party months earlier. She failed to win a nomination for the PCs in 2015 and returned to journalism as a radio talk-show host for six years.
Kenney remains a backbench UCP legislature member. He was not in the chamber for the throne speech or the introduction of the bill.
This report by The Canadian Press was first published Nov. 29, 2022.