Alberta Health Services CEO Dr. Verna Yiu leaves top job a year before contract ends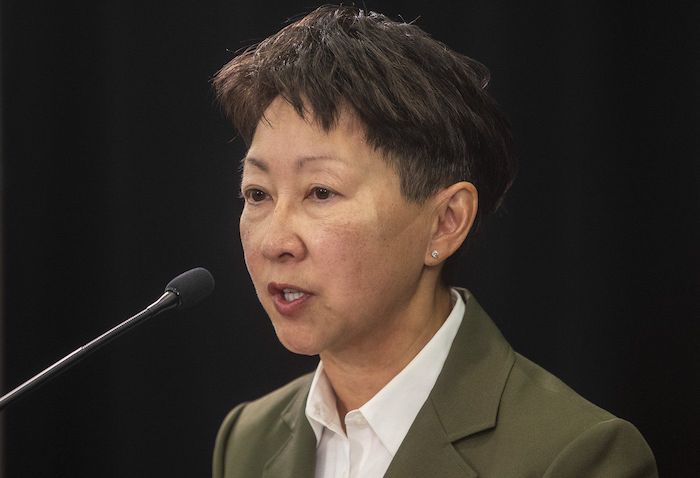 By Dean Bennett in Edmonton, Alberta, Canada
The CEO of Alberta Health Services is out of the top job more than a year before her contract was set to expire.
The departure of Dr. Verna Yiu was announced Monday, effect immediately, ending a contract that was to run until June 2023.
"I want to thank Dr. Yiu for her leadership over the past six years," Health Minister Jason Copping said in a statement.
"It's time to move forward with an ambitious agenda to improve and modernize the health system.
"Renewed leadership at Alberta Health Services will support delivering those changes."
Copping added that the plan had been to replace Yiu when her contract ended. AHS, which is the arm's length government organization in charge of delivering front-line care, said a search committee was formed months ago.
"The agreement with Dr. Yiu that the board announced today will bump up the timeline for the transition and help the system move forward," said Copping.
Copping previously announced a plan to expand the number of publicly funded surgeries contracted to private providers to increase access to care and reduce wait-lists.
The government also said it will expand hospital and lab spaces and hire more front-line workers.
"We promised Albertans better access to surgery and a stronger publicly funded health system with better access overall," said Copping.
"The pandemic has changed the timelines, but it hasn't changed the goals.
"They're multi-year commitments and we need to move forward on them."
Yiu had been in the top job for six years, at a salary of more than $574,000 a year.
In a statement, she applauded her staff for their tireless care for patients during the COVID-19 pandemic, but didn't speak to her contract ending prematurely.
"I would like to thank all staff, physicians and volunteers for their steadfast care of Albertans and their ability to put patients and families first, particularly as we have navigated through the past two pandemic years," said Yiu.
Mauro Chies, the vice-president in charge of Cancer Care Alberta, will serve as interim CEO for AHS.
Yiu became a familiar face to Albertans during the waves of COVID-19 that hit Alberta over the past two years, forcing staff to scramble to create and administer ad hoc critical care beds.
AHS was at the centre of debate when the province allowed non-vaccinated front-line health workers to continue to work, with testing, in order to meet staffing needs.
Opposition NDP health critic David Shepherd said Premier Jason Kenney's United Conservative government made life difficult for Yiu by interfering in vaccine mandates for health workers.
Shepherd also criticized Kenney and Copping for failing to come to Yiu's defence when some UCP backbenchers accused AHS of failing to respond effectively to the pandemic.
"She has capably managed Alberta's hospital system through a pandemic while the UCP did everything in their power to make the situation worse," said Shepherd.
A graduate of the University of Alberta and Harvard University, Yiu has more than two decades' experience in health administration.
She was hired as AHS interim president in 2016 after serving as a vice-president and was eventually awarded a five-year contract through to 2021. The contract was then extended to June 2023.
Prior to joining AHS, she had been interim dean of the faculty of medicine and dentistry at the University of Alberta.
Under Yiu, the province said, AHS made strides on clinical information and virtual care along with a foundational restructuring of the organization's goals and business plan.
This report by The Canadian Press was first published April 4, 2022.
'Made-in-Canada system' keeps egg supply stable. But is it also keeping prices high?
Canada's egg industry appears to be quietly sidestepping widespread shortages and wildly spiking prices affecting other countries, and some say supply management is to thank.
The system, which controls the supply, import and farm price of eggs, poultry and dairy, is often criticized as benefitting Canadian farmers at the expense of consumers. Critics blame supply management whenever prices of eggs and milk in Canada surpass those south of the border.
But as disease, climate change and geopolitical unrest threaten global food supplies, supporters say the upside of supply management is increasingly apparent.
"We have a made-in-Canada system that has never been more critical to food security in Canada," said University of Waterloo history professor Bruce Muirhead, a former research chair for Egg Farmers of Canada.
"It's keeping family farms alive and eggs on store shelves at a time when we're seeing shortages around the world."
Canada isn't immune to the conditions affecting egg prices and supply in other countries.
Avian influenza, or bird flu, labour shortages, supply chain issues and soaring feed, fuel and packaging costs have all affected egg production and processing costs in Canada over the past year.
Statistics Canada said egg prices climbed 16.5 per cent year over year in December, making a dozen eggs that cost about $3.25 last year now $3.75.
While it's a significant increase, it's a fraction of the spiralling costs recorded in other countries.
In the United States, for example, the U.S. Department of Agriculture said egg prices were up 59.9 per cent in December compared with a year earlier.
In states like Arizona, California, Nevada and Florida, the cost of a carton of eggs exceeded US$6 a dozen or about $8 Canadian in recent weeks. Stores in some regions have even rationed eggs to avoid empty shelves amid supply chain issues and possible shortages.
The situation in the U.S. has prompted accusations of alleged price collusion among the nation's top egg producers, while some news reports have suggested shoppers are travelling to border towns in Mexico or Canada to buy more affordable eggs.
In the United Kingdom, major supermarkets Tesco, Asda and Lidl have also set limits on how many eggs customers can buy, while some egg farmers say they can no longer break even. Egg prices in December were up 28.9 per cent year over year, the U.K.'s Office for National Statistics reported.
New Zealand is also experiencing a nationwide egg shortage, leaving some store shelves bare and even prompting some consumers to rush out to buy their own backyard chickens. Statistics New Zealand said in an email the country's egg prices increased 28.8 per cent in December 2022 compared with December 2021.
But critics say prices in Canada haven't soared as drastically as in other countries for the simple reason that prices were already high to begin with.
"When prices are already among the highest in the world, it's no surprise that our prices didn't spike quite as much," said Krystle Wittevrongel, a senior policy analyst with the Montreal Economic Institute.
"It's easy to maintain more price stability when we have huge, excessively high prices to begin with."
Provincial egg marketing boards have indicated that prices in Canada are starting to come down.
Egg Farmers of Ontario, for example, dropped the price farmers receive for a dozen eggs by 14 cents as of Jan. 29. It's unclear whether processors and retailers will pass along those savings to consumers, though egg prices in some stores appear to have lowered by a few cents in recent days.
While egg marketing boards set farm prices, processors set the wholesale price of eggs and grocers set the retail price consumers pay.
"We don't set the retail price at all," Egg Farmers of Canada CEO Tim Lambert said. "We get paid based on our costs of production. We're seeing grain prices ease up right now, and so our barn gate price is decreasing."
Meanwhile, egg supply in Canada has remained steady even as shortages continue to plague other countries.
"We have definitely faced challenges," Lambert said. "But our system has been really robust at keeping eggs on the shelves. If there are shortages, they're local and temporary."
One of the strengths of Canada's egg industry is the greater number of smaller farms across the country, he said.
The average egg farm in Canada has about 25,000 laying hens. In contrast, the average farm in the U.S. has about two million birds, Lambert said.
"It's a highly concentrated big business in the U.S.," Lambert said.
Cal-Maine Foods, the largest producer and distributor of shell eggs in the U.S., is traded on the Nasdaq with a total flock of about 42 million layers. Its share price has soared 45 per cent over the past year.
Experts say the challenge with a highly consolidated industry is that disease outbreak can have a larger effect on supply. For example, if the country's laying hens are concentrated into a handful of larger barns — rather than a larger number of smaller barns — the impact of having to euthanize a flock during a bird flu outbreak is also bigger.
"In Canada, production is pretty well distributed across the across the country," said Université Laval professor Maurice Doyon, an Egg Industry Economic Research Chair. "Just mathematically the risk is lower, because we don't have that huge concentration."
In the United States, about 44.5 million laying hens were affected by avian influenza, representing about 14 per cent of production, Agriculture and Agri-Food Canada spokesperson Samantha Seary said.
In Canada, about 1.6 million laying hens were affected by bird flu, or about six per cent of Canadian production, she said.
Canada's egg industry is also better positioned to withstand other issues from supply chain problems to climate change, Doyon said.
"Supply management ensures a healthy enough margin that farmers in Canada can take care of the health of the hens and the environment because they have the means to do it," he said.
Still, while supply management may create a sustainable egg industry, critics say it comes at too high a cost.
They say the advantages don't outweigh the downsides of higher prices for consumers over the long run.
"Canada's stuck on this protectionist, archaic system that benefits a small group of entrenched interests," Wittevrongel said. "It seems like we're in a better position now when in reality our prices are so much higher at any other time of year."
But lots of items are more expensive in Canada than in the United States — and the overwhelming majority are not supply managed, Doyon said.
"Let's look at bread or a can of soup or even a new car. These are more expensive in Canada than in the United States, but they're not under supply management," he said.
Even among supply managed goods within Canada, items like eggs, milk and butter are generally much cheaper in bigger cities like Toronto than in other regions such as the Maritimes, Doyon said.
For example, a dozen Sobeys Compliments white large eggs cost $3.75 in Toronto, according to the chain's Voilà online grocery website. The exact same container of eggs in Halifax costs $4.85.
The price difference between Toronto and Halifax underscores the regional differences that exist even within the same country under the same system.
"I'm not saying that supply management has no impact. But you just cannot attribute the entire difference in price between say Canada and the United States to supply management."
This report by The Canadian Press was first published Feb. 3, 2023.
Brett Bundale, The Canadian Press
'Risky gamble:' NDP urges Alberta government to end fixation with pulling out of CPP
By Dean Bennett in Edmonton
Alberta's Opposition leader says Premier Danielle Smith's government needs to end its fixation with pulling the province out of the Canada Pension Plan.
NDP Leader Rachel Notley says her party would not pursue an Alberta Pension Plan, which the United Conservative government has been studying for almost three years without resolution.
Notley says the idea does not make economic sense and is opposed by a majority of Albertans, adding the government needs to release its long-promised report into the pros and cons of Alberta going it alone on pensions.
"We are very concerned that this UCP government is sitting on a self-interested report that they are hiding from Albertans because they don't want this to be an election issue, but they still plan to go ahead with it should they get elected," Notley told reporters Thursday.
"If this UCP government is continuing to toy with this risky gamble to undermine the security of Albertans' pensions, then they have an obligation to come clean on that."
Alberta voters head to the polls May 29.
Smith's office said work continues on a third-party analysis of an Alberta pension plan.
"While the initial analysis looks favourable, the Office of the Chief Actuary of Canada recently tabled updated asset figures for the CPP, and the third-party expert authoring the report requires additional time to update its findings," spokeswoman Becca Polak said in a statement.
"When the expert informs us the final report is ready, it will be released publicly thereafter."
Polak stressed the report would only be the first step and Albertans would have the final say.
"The government of Alberta will not replace the CPP with an Alberta Pension Plan unless Albertans first vote to do so in a provincewide referendum," she said. "It's Albertans' pension — it must be Albertans' choice."
The report stems from a May 2020 Fair Deal panel report urging Alberta explore the idea as a way to help assert itself more within Confederation.
The panel reported that given Alberta's young population, a separate pension plan could be a multibillion-dollar net benefit. The panel recommended the idea be explored even though 42 per cent of the respondents in its survey thought it was a good idea.
In response, then-premier Jason Kenney ordered a review into the feasibility of such a plan. In March 2021, Kenney said work on the report was almost done and his government was just weeks away from announcing next steps.
Smith, taking over from Kenney in October, asked Toews to continue with the pension report. In December she said she hoped a referendum might be possible with the May election, but has since said that likely won't happen.
She has said Albertans are over-contributers to CPP and need to explore an alternative that could leave more money in the hands of Alberta seniors.
The Alberta pension plan is among a suite of measures being explored by Smith's government as a way to carve out more independence for Alberta within Confederation.
The province is also researching its own provincial police force to replace the RCMP and tax revenue collecting agency.
In December, the Alberta Chambers of Commerce conducted a survey that suggested a majority of business owners believe leaving CPP for an Alberta plan would disadvantage them over the next three to five years.
This report by The Canadian Press was first published Feb. 2, 2023