Alberta government adds $750 million to health-care system in agreement with doctors
The United Conservative Party government says it will spend another $750 million on health care as part of an agreement with the Alberta Medical Association.
It said the deal announced Thursday is to guarantee that all physicians receive an average rate increase of between four and 5.25 per cent over the next three years.
The $750 million is to be used for recruitment and retention programs, rural and remote programming and expanding capacity across the system.
Health Minister Jason Copping said urgent action is needed to stabilize the health-care system that has been under increased pressure during the COVID-19 pandemic.
"There is no quick fix, there is no easy fix," Copping said at a news conference in Red Deer, Alta.
There have been concerns over how sustainable the health-care system will be as a "bad flu season" approaches.
Copping said Alberta Health Services is working to increase its capacity to prepare for the potential of increased hospitalizations.
Dr. Vesta Michelle Warren, president of the Alberta Medical Association, said it's important to build trust and maintain relationships between doctors and the government.
"Trust is something that is easily broken and hard to rebuild," Warren said at the news conference. "It's the actions going ahead into the future that really is going to be building that trust."
Copping said the government's relationship with the association has improved over the past year.
The agreement comes as the United Conservative Party prepares to choose a new leader and premier on Oct. 6 to replace Jason Kenney. The new leader will face a provincial election in the spring.
Warren said it doesn't matter who the next premier is.
"Health care is health care and patients need that care no matter who is running the boat," said Warren. "Stability is necessary to begin rebuilding and healing and making change. Introduction of chaos is not helpful."
The association filed a lawsuit in April 2020 accusing the government of breaching collective bargaining rights and negotiating in bad faith after it unilaterally tore up a master agreement with doctors and tried to make changes to how they are compensated for their services.
The 11,000 physicians represented by the association refused to ratify a tentative deal in March of 2021, citing distrust of the government as a key factor.
Warren said the lawsuit will remain in place until legislation that allowed the province to rip up the contract is rescinded by the government.
Just over 70 per cent of the physicians who voted were in favour of the agreement, which will be in place until March 2026.
This report by The Canadian Press was first published Sept. 29, 2022.
— By Angela Amato in Edmonton with files from Dean Bennett
Two deputy chief medical officers resign from their positions with Alberta Health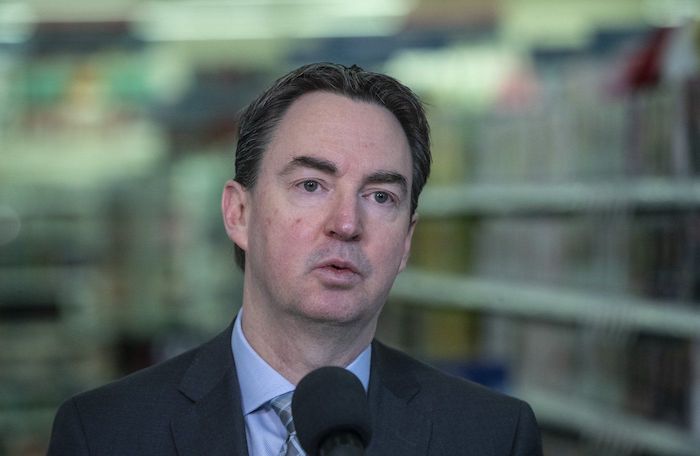 Edmonton – Alberta's two deputy chief medical officers of health are leaving their roles — less than a month after Dr. Deena Hinshaw was removed as the province's top doctor.
Health Minister Jason Copping confirmed during question period Wednesday that both of the doctors have submitted letters of resignation.
"They are still continuing to work at this point in time," he said in the legislature. "We are in the process of actually looking to fill those roles."
A statement from Alberta Health said Dr. Rosana Salvaterra and Dr. Jing Hu, who are listed as public health physicians on the department's website, have given notice.
When reached by her department email, Salvaterra responded: "Unfortunately, we are not able to comment."
She later added that she respects and admires both Dr. Hinshaw and Dr. Hu.
"They are brilliant, hard-working, and compassionate public health physicians and I consider myself fortunate to have had the opportunity to work alongside them for these past 14 months."
Salvaterra, who has extensive public health experience including as the medical officer of health for Peterborough, Ont., joined the office in October 2021.
Her career in public health includes work in "the COVID-19 response, mental health, the opioid response, women's health, poverty reduction, health equity, community food security and building stronger relationships with First Nations."
Hu's out-of-office message said her "last day at work with Alberta Health was Nov. 18, 2022," and noted she wouldn't have access to the department email after that date.
She got extensive training in China and at the University of Calgary before joining the health department in January 2020.
Their resignations came within a month of Hinshaw, who became the face of Alberta's public health response to the COVID-19 pandemic, being removed from her position.
Hinshaw was replaced by Dr. Mark Joffe, a senior executive member of Alberta Health Services, on an interim basis.
"Dr. Joffe will be supported by medical officers of health within AHS, by other staff in the Office of the Chief Medical Officer of Health, and by the Public Health Division," said the statement from Alberta Health late Wednesday.
"We expect these changes to have no impact on the department's and Dr. Joffe's ability to meet the requirements of the Public Health Act."
Hinshaw's dismissal didn't come as a surprise.
Premier Danielle Smith announced on her first day in office in October that she would be replaced.
Smith has made it clear that she blames both Hinshaw and Alberta Health Services for failing to deliver the best advice and care for Albertans as the hospital system came close to buckling in successive waves of the COVID-19 pandemic.
"A lot of the bad decisions were made by Alberta Health Services on the basis of bad advice from the chief medical officer of health," Smith told reporters on Oct. 22.
Smith has not placed the blame on front-line doctors and nurses but broadly on AHS senior management. Joffe, while serving as chief medical officer of health, retains his role in AHS senior management as a vice-president responsible for areas in cancer and clinical care.
Hinshaw, an Alberta-trained public health specialist, became a celebrity of sorts in the first wave of the pandemic in the spring of 2020, as she delivered regular, sometimes daily, updates to Albertans on the virus, its spread and methods to contain it.
This report by The Canadian Press was first published Dec. 7, 2022.
— By Colette Derworiz in Calgary.
Alberta introduces bill for $2.8 billion in inflation-fighting payouts, rollbacks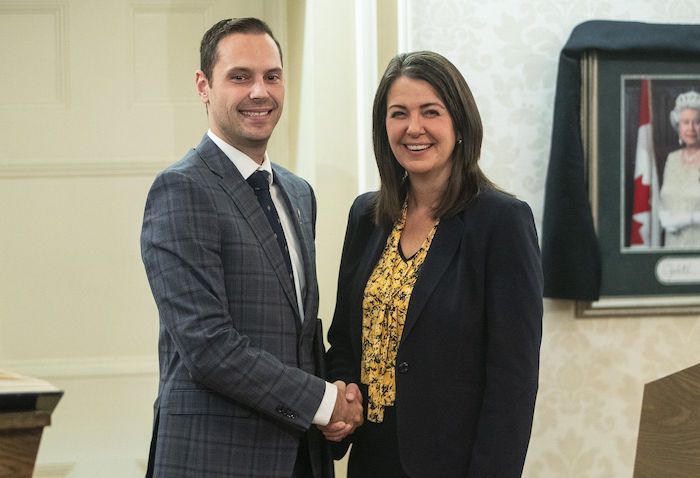 Edmonton – The Alberta government has introduced legislation to implement inflation-fighting rebates and payouts announced recently by Premier Danielle Smith.
Affordability Minister Matt Jones says the changes allow for help for families, seniors and the vulnerable soon.
Middle- to lower-income families, those with a household income of less than $180,000 a year, are to get $600 over six months for each child under 18 years of age.
The same income threshold and benefit applies to seniors, and the payout will also go to those on disability supports.
There will be electricity rebates and the 13 per cent provincial tax on gasoline is suspended from January to June.
The total cost of the package is pegged at $2.8 billion.
This report by The Canadian Press was first published Dec. 7, 2022.