Alberta bans masking mandates in schools, guarantees in-person learning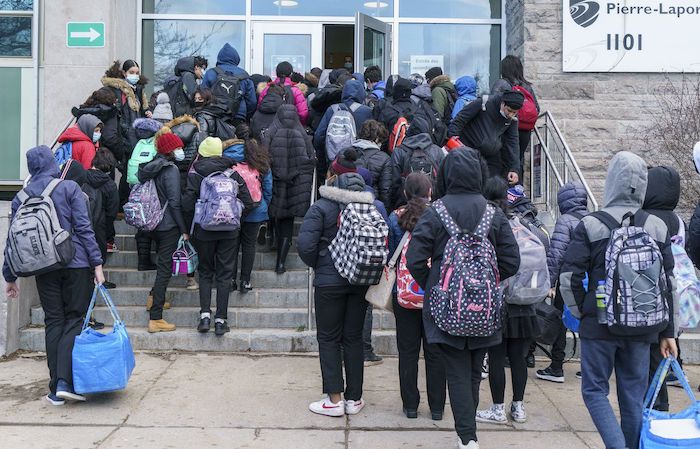 Edmonton – The Alberta government says school boards can't require students to wear masks in school or be forced to take classes online.
In a release, the government says it has made regulatory changes that guarantee students have access to in-person learning.
The changes also say that students cannot be denied in-person education by school authorities due to their personal decision to wear or not wear a mask.
Last week, the Edmonton public school board asked Alberta Health and Alberta Education whether it can require masks as schools deal with a wave of viral illnesses that is sending thousands of students home sick and straining hospitals.
Premier Danielle Smith says the changes go into effect immediately and will create an inclusive environment by ensuring personal and family choices are respected.
Smith has been critical of mask rules in schools, saying they have adversely affected the mental health, development and education of students during the COVID-19 pandemic.
"Parents and students have told me time and time again that they want a normal school environment for their kids," Smith said in a release Thursday. "We have taken steps to protect and enhance educational choice.
"Families are free to make their own personal health decisions, and, no matter what that decision is, it will be supported by Alberta's education system."
The government said the in-person learning change applies to grades 1-12 in all school settings, including public, separate, francophone, public charter and independent schools.
The masking change applies to those same grades and schools, but also to early childhood services.
NDP education critic Sarah Hoffman said the changes show the government doesn't have a clue about what's happening in Alberta schools.
"We know that respiratory illness outbreaks have been widespread this fall, causing intense stress and increased challenges for students, staff, and families," Hoffman said in a release.
"School districts are struggling to staff classrooms as illness moves through students and employees."
Hoffman said it is unrealistic to expect that school districts can staff in-person and online classes simultaneously with no additional resources.
This report by The Canadian Press was first published Nov. 24, 2022
Severe weather in Canada caused $3.1 billion in insured damages in 2022
The Insurance Bureau of Canada says severe weather caused $3.1 billion in insured damage in Canada in 2022, from flooding to storms to Hurricane Fiona.
That makes 2022 the third worst year for insured losses in Canadian history.
The bureau says no single event or particular region accounted for the majority of the insured damage in 2022, with disasters in almost every part of Canada last year.
That's in contrast to a year like 2016, the worst year on record primarily because of the Fort McMurray, Alberta wildfire, which accounted for around three-quarters of national losses.
The most expensive extreme weather event for Canada in 2022 was the Ontario and Quebec derecho in May, which caused $1 billion in damages.
The other most expensive events included Hurricane Fiona, which cost $800 million, and the summer storms in Canada which cost $300 million.
This report by The Canadian Press was first published Jan. 18, 2023.
Pierre Poilievre doesn't like anti-Trudeau flags, but understands anger behind them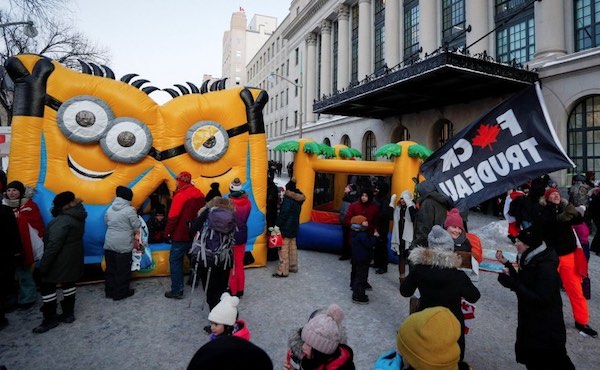 By Lee Berthiaume in Ottawa
Federal Conservative Leader Pierre Poilievre says he doesn't like the expletive-laden flags some Canadians are using to denounce Prime Minister Justin Trudeau, but that he understands the anger fuelling such displays.
"I don't like the flags, and I don't like rage," Poilievre said during an end-of-year news conference in Ottawa on Friday. "But I think we have to ask ourselves: 'Why are people so angry?' And the answer is that they're hurting."
The comments follow a blog post by former Conservative leader Erin O'Toole, who said one of his hopes for 2023 "is to see fewer profanity-laden Trudeau flags across Canada."
Describing Trudeau as his political opponent in the last federal election, not his enemy, O'Toole wrote: "These flags and the hyper-aggressive rhetoric that often accompanies them are slowly normalizing rage and damaging our democracy."
O'Toole's criticism was not limited to only those who have flown the flags targeting Trudeau, as he accused actors on both the extreme right and left of contributing to a growing polarization in Canadian politics by playing off each other.
"The proliferation of these types of political displays in recent years are a sign that we are slowly becoming desensitized to political stunts and aggressive rhetoric whether it comes from the left or right," he added.
The anti-Trudeau flags have become particularly linked to the "Freedom Convoy" protests, whose members Poilievre courted during his successful run for the Conservative leadership earlier this year. The Conservative caucus had ousted O'Toole as leader just days into the weeks-long protest in Ottawa.
Asked about O'Toole's blog post and the flags, Poilievre said it's easy for politicians to tell people to stop complaining. However, he added that many Canadians are angry because they are hurting financially and in other ways.
"I have never seen so much hurt and so much pain and suffering in our population during my nearly two decades in politics," he said.
"So sure, let's tell people to be more civil. But as political leaders, let's actually try to solve the problems that have upset and angered and hurt people so badly. It is our job to turn that hurt into hope."
Poilievre went on to suggest many Canadians are struggling because the Liberal government is out of touch, before promising to be a prime minister "that actually bring people together and gives them hope that tomorrow can be better.
"Let's make this a place where people feel their hard work pays off, where they're respected, where their leaders don't talk down to them and point fingers at them."
This report by The Canadian Press was first published Dec. 30, 2022.