Alabama ban on nearly all abortions in GOP governor's hands
MONTGOMERY, Ala. — Alabama legislators have given final approval to a ban on nearly all abortions, and if the Republican governor signs the measure, the state will have the strictest abortion law in the country.
The legislation would make performing an abortion a felony at any stage of pregnancy with almost no exceptions. The passage Tuesday by a wide margin in the GOP-led Senate shifts the spotlight to Gov. Kay Ivey, a fixture in Alabama politics who's long identified as anti-abortion.
Ivey has not said whether she'll sign the bill. Sponsor Rep. Terri Collins says she expects the governor to support the ban. And the lopsided vote suggests a veto could be easily overcome. But an Ivey spokeswoman said before Tuesday's vote that "the governor intends to withhold comment until she has had a chance to thoroughly review the final version of the bill that passed."
In Alabama and other conservative states, anti-abortion politicians and activists emboldened by the addition of conservative justices to the U.S. Supreme Court hope to ignite legal fights and eventually overturn the landmark 1973 decision Roe v. Wade, putting an end to the constitutional right to abortion.
"Roe v. Wade has ended the lives of millions of children," Alabama Republican Sen. Clyde Chambliss said in a statement. "While we cannot undo the damage that decades of legal precedence under Roe have caused, this bill has the opportunity to save the lives of millions of unborn children."
Democrats didn't shy away from blasting their GOP counterparts.
"The state of Alabama ought to be ashamed of herself. You ought to be ashamed. Go look in the mirror," Sen. Bobby Singleton said "Women in this state didn't deserve this. This is all about political grandstanding."
The bill would make performing an abortion a felony punishable by up to 99 years or life in prison for the abortion provider. The only exception would be when the woman's health is at serious risk. Under the bill, women seeking or undergoing abortions wouldn't be punished.
Kentucky, Mississippi, Ohio and Georgia have approved bans on abortion once a fetal heartbeat is detected, which can occur in about the sixth week of pregnancy. The Alabama bill goes further by seeking to outlaw abortion outright.
Alabama senators rejected an attempt to add an exception for rape and incest. The amendment was voted down 21-11, with four Republicans joining Democrats in seeking the amendment.
Supporters had argued that exceptions would weaken their hope of creating a vehicle to challenge Roe. Collins said that the law isn't meant to be a long-term measure and that lawmakers could add a rape exception if states regain control of abortion access.
"It's to address the issue that Roe. v. Wade was decided on. Is that baby in the womb a person?" Collins said.
Democrats criticized the ban as a mixture of political grandstanding, an attempt to control women and a waste of taxpayer dollars.
During debate, Singleton pointed out and named rape victims watching from the Senate viewing gallery. He said that under the ban, doctors who perform abortions could serve more prison time than the women's rapists.
In a statement, Staci Fox of Planned Parenthood Southeast said, "Today is a dark day for women in Alabama and across this country. … Alabama politicians will forever live in infamy for this vote and we will make sure that every woman knows who to hold accountable."
Outside the Statehouse, about 50 people rallied and chanted, "Whose choice? Our choice." Several women dressed as characters from the "The Handmaid's Tale," which depicts a dystopian future where fertile women are forced to breed.
If the bill becomes law, it would take effect in six months. Critics have promised a swift lawsuit. Randall Marshall, executive director of the American Civil Liberties Union of Alabama, said a complaint is being drafted.
____
Associated Press writer Blake Paterson in Montgomery, Alabama contributed to this report.
Kim Chandler, The Associated Press
Grant's story: Amazing Improvement with Hard Work & Support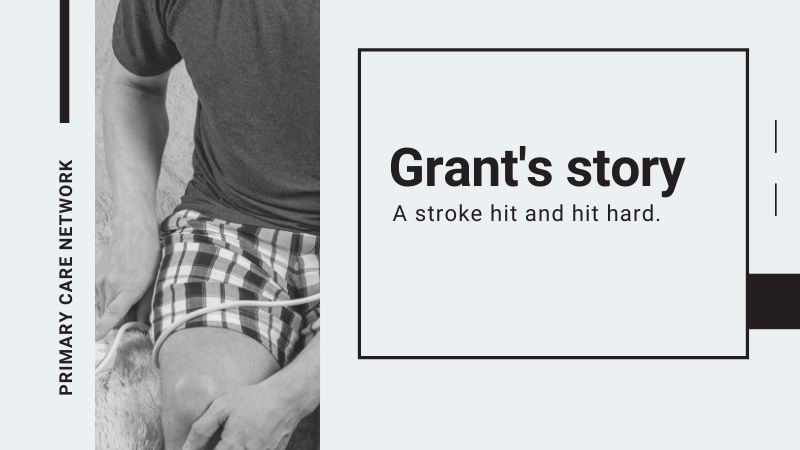 Grant was in his mid-fifties – maybe a bit overweight but with no other cardiovascular risk factors. However, a stroke hit and hit hard. His right side was very compromised, he had little use of his hands, he was unable to walk or lift his right arm. He was hospitalized in Red Deer for 4 months and then went to the Centennial Centre in Ponoka for rehab for 6 months. His doctor had told him that he would be bound to a wheelchair for the rest of his life and would never walk again or be able to recover from this stroke. This made Grant angry as he didn't want this prognosis.
Since that time, he has put a lot of work and effort into getting better. The physios and rehab team helped him make progress, but he kept asking them how he could get more training. They were able to refer him to Recreation Therapy at RDPCN. His therapist arranged to work with him at the Gary W Harris Canada Games Centre three times per week. He is doing a lot better now. He can walk with a cane and he can lift 30 pounds on the machines at the gym. He can now clap hands. He has gained strength and control, his gait has improved along with his endurance, and he has an increased range of motion and strength in his upper extremities. He can now do many more tasks of daily living such as carry groceries, cook and barbeque.
Grant states that his doctor can't believe his progress. Other people he knows have said very similar things. Working with the Rec Therapist has been very encouraging and supportive. The Rec Therapist has really helped me to stay motivated. Having a plan for myself also helps the attendants at the Gary Harris Centre to work with me to move forward. I have highly recommended this program to others I know who have had a stroke.
My work is not done but I am proud of the progress I have made and thankful for everything I can do for myself.
To learn more about the RDPCN programs, visit www.reddeerpcn.com
SPARC Kindness Rock Garden promotes love, happiness and kindness in the heart of Red Deer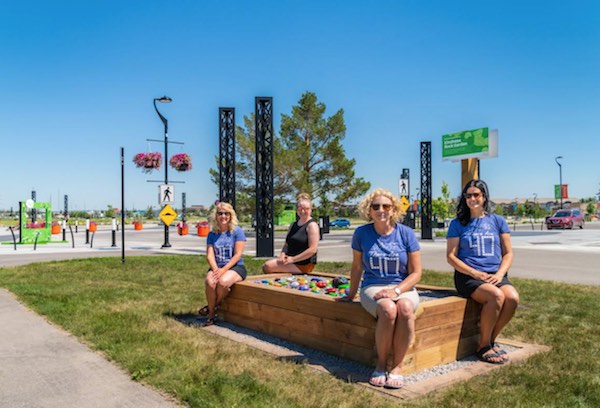 SPARC RED DEER KINDNESS ROCKS PROJECT
SPARC Red Deer, is pleased to announce a new "Paint the Town Positive" activity designed to promote positive messaging by creating a kindness rock garden.  We have partnered with Capstone to start the rock garden beside the Riverwalk in Capstone, adjacent to the fountain in Canada 150 Square, at the end of Alexander Way. We encourage Red Deerians to participate by adding their own colourful positive rocks. The purpose is to spread kindness and encourage further involvement by our community.  We'd love to see families come together to paint rocks and then, while out for a walk or bike ride, add their kindness rocks to the site.  We encourage parents to promote these positive behaviours in their children, which in turn, helps their kids grow up great!
Capstone – Red Deer's only multi-family, riverside community – is excited to partner with SPARC Red Deer on the Kindness Rocks project! Capstone is a vibrant, healthy, inclusive neighbourhood that's connected to new ideas, explores fresh ways of living, and is designed for life in Red Deer today and in the future.  The Kindness Rocks garden is just one of many elements in Capstone that favours human connection, and creates a balance between living, working, and culture & recreation.
Help us grow this rock garden to see how big and positive it can get!  Come back to visit and add more rocks throughout the summer.
What is Paint the Town Positive? It is youth-driven chapter of SPARC Red Deer. The idea is for youth to give back and spread kindness in the community through various projects and initiatives that are designed and created by them. This is to engage youth in positive activities and also to allow our community to see youth in positive ways which builds assets! Youth can also use their involvement to build up their volunteer experience for future resumes. Previous activities include youth donating and distributing warm winter wear in our City Hall Park, designing kindness rocks that were distributed within the community, and leaving bookmarks with positive messages throughout the community.
SPARC Red Deer hopes to brighten our community through this simple gesture of kindness! For more information, visit sparcreddeer.ca and follow us on Facebook, Instagram and Twitter.
SPARC Red Deer is a local non-profit coalition designed to promote and educate community members and families about the '40 Developmental Assets". The 40 Developmental Assets, developed by the Search Institute, are research-proven life experiences or building blocks which all children need to grow up healthy, caring, and responsible. Research shows that the higher number of these assets a young person has, the more likely they are to thrive and to engage in positive behaviours, and avoid risky behaviours.
To learn more about SPARC, visit sparcreddeer.ca, or contact Rania Page, SPARC co-chair at 403.896.9431 or [email protected]