Africa tries to end vaccine inequity by replicating its own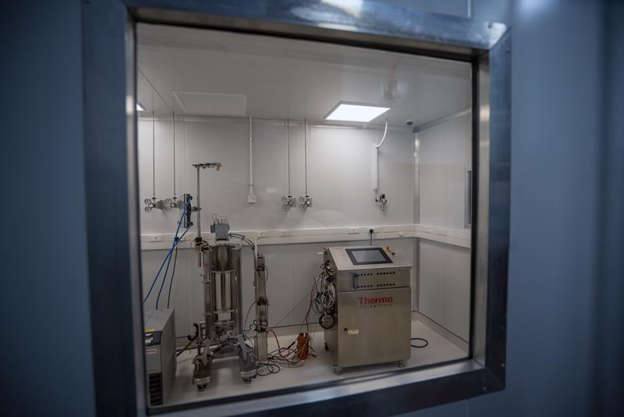 CAPE TOWN, South Africa (AP) — In a pair of Cape Town warehouses converted into a maze of airlocked sterile rooms, young scientists are assembling and calibrating the equipment needed to reverse engineer a coronavirus vaccine that has yet to reach South Africa and most of the world's poorest people.
The energy in the gleaming labs matches the urgency of their mission to narrow vaccine disparities. By working to replicate Moderna's COVID-19 shot, the scientists are effectively making an end run around an industry that has vastly prioritized rich countries over poor in both sales and manufacturing.
And they are doing it with unusual backing from the World Health Organization, which is coordinating a vaccine research, training and production hub in South Africa along with a related supply chain for critical raw materials. It's a last-resort effort to make doses for people going without, and the intellectual property implications are still murky.
"We are doing this for Africa at this moment, and that drives us," said Emile Hendricks, a 22-year-old biotechnologist for Afrigen Biologics and Vaccines, the company trying to reproduce the Moderna shot. "We can no longer rely on these big superpowers to come in and save us."
Some experts see reverse engineering — recreating vaccines from fragments of publicly available information — as one of the few remaining ways to redress the power imbalances of the pandemic. Only 0.7% of vaccines have gone to low-income countries so far, while nearly half have gone to wealthy countries, according to an analysis by the People's Vaccine Alliance.
That WHO, which relies upon the goodwill of wealthy countries and the pharmaceutical industry for its continued existence, is leading the attempt to reproduce a proprietary vaccine demonstrates the depths of the supply disparities.
The U.N.-backed effort to even out global vaccine distribution, known as COVAX, has failed to alleviate dire shortages in poor countries. Donated doses are coming in at a fraction of what is needed to fill the gap. Meanwhile, pressure for drug companies to share, including Biden administration demands on Moderna, has led nowhere.
Until now, WHO has never directly taken part in replicating a novel vaccine for current global use over the objections of the original developers. The Cape Town hub is intended to expand access to the novel messenger RNA technology that Moderna, as well as Pfizer and German partner BioNTech, used in their vaccines.
"This is the first time we're doing it to this level, because of the urgency and also because of the novelty of this technology," said Martin Friede, a WHO vaccine research coordinator who is helping direct the hub.
Dr. Tom Frieden, the former head of the U.S. Centers for Disease Control and Prevention, has described the world as "being held hostage" by Moderna and Pfizer, whose vaccines are considered the most effective against COVID-19. The novel mRNA process uses the genetic code for the spike protein of the coronavirus and is thought to trigger a better immune response than traditional vaccines.
Arguing that American taxpayers largely funded Moderna's vaccine development, the Biden administration has insisted the company must expand production to help supply developing nations. The global shortfall through 2022 is estimated at 500 million and 4 billion doses, depending on how many other vaccines come on the market.
"The United States government has played a very substantial role in making Moderna the company it is," said David Kessler, the head of Operation Warp Speed, the U.S. program to accelerate COVID-19 vaccine development.
Kessler would not say how far the administration would go in pressing the company. "They understand what we expect to happen," he said.
Moderna has pledged to build a vaccine factory in Africa at some point in the future. But after pleading with drugmakers to share their recipes, raw materials and technological know-how, some poorer countries are done waiting.
Afrigen Managing Director Petro Terblanche said the Cape Town company is aiming to have a version of the Moderna vaccine ready for testing in people within a year and scaled up for commercial production not long after.
"We have a lot of competition coming from Big Pharma. They don't want to see us succeed," Terblanche said. "They are already starting to say that we don't have the capability to do this. We are going to show them."
If the team in South Africa succeeds in making a version of Moderna's vaccine, the information will be publicly released for use by others, Terblanche said. Such sharing is closer to an approach U.S. President Joe Biden championed in the spring and the pharmaceutical industry strongly opposes.
Commercial production is the point at which intellectual property could become an issue. Moderna has said it would not pursue legal action against a company for infringing on its vaccine rights, but neither has it offered to help companies that have volunteered to make its mRNA shot.
Chairman Noubar Afeyan said Moderna determined it would be better to expand production itself than to share technology and plans to deliver billions of additional doses next year.
"Within the next six to nine months, the most reliable way to make high-quality vaccines and in an efficient way is going to be if we make them," Afeyan said.
Zoltan Kis, an expert in messenger RNA vaccines at Britain's University of Sheffield, said reproducing Moderna's vaccine is "doable" but the task would be far easier if the company shared its expertise. Kis estimated the process involves fewer than a dozen major steps. But certain procedures are tricky, such as sealing the fragile messenger RNA in lipid nanoparticles, he said.
"It's like a very complicated cooking recipe," he said. "Having the recipe would be very, very helpful, and it would also help if someone could show you how to do it."
A U.N.-backed public health organization still hopes to persuade Moderna that its approach to providing vaccines for poorer countries misses the mark. Formed in 2010, the Medicines Patent Pool initially focused on convincing pharmaceutical companies to share patents for AIDS drugs.
"It's not about outsiders helping Africa," Executive Director Charles Gore said of the South Africa vaccine hub. "Africa wants to be empowered, and that's what this is about."
It will eventually fall to Gore to try to resolve the intellectual property question. Work to recreate Moderna's COVID-19 vaccine is protected as research, so a potential dispute would surround steps to sell a replicated version commercially, he said.
"It's about persuading Moderna to work with us rather than using other methods," Gore said.
He said the Medicines Patent Pool repeatedly tried but failed to convince Pfizer and BioNTech to even discuss sharing their formulas.
Rep. Raja Krishnamoorthi, who is among the members of Congress backing a bill that calls on the United States to invest more in making and distributing COVID-19 vaccines in low- and middle-income countries, said reverse engineering isn't going to happen fast enough to keep the virus from mutating and spreading further.
"We need to show some hustle. We have to show a sense of urgency, and I'm not seeing that urgency," he said. "Either we end this pandemic or we muddle our way through."
Campaigners argue the meager amount of vaccines available to poorer countries through donations, COVAX and purchases suggests the Western-dominated pharmaceutical industry is broken.
"The enemy to these corporations is losing their potential profit down the line," Joia Mukherjee, chief medical officer of the global health nonprofit Partners in Health, said. "The enemy isn't the virus, the enemy isn't suffering."
Back in Cape Town, the promise of using mRNA technology against other diseases motivates the young scientists.
"The excitement is around learning how we harness mRNA technology to develop a COVID-19 vaccine," Caryn Fenner, Afrigen's technical director, said. But more important, Fenner said, "is not only using the mRNA platform for COVID, but for beyond COVID."
___
Cheng reported from London; Hinnant reported from Paris.
Lori Hinnant, Maria Cheng And Andrew Meldrum, The Associated Press
Fully vaccinated with negative tests in hand, Calgary mom and daughters forced into quarantine on return to Canada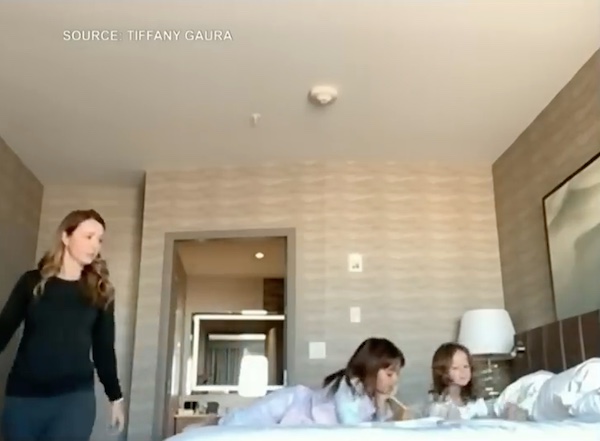 This article consists of the facebook posts of Calgary mother Tiffany Gaura. Tiffany and her two daughters happened to be travelling home from a visit with her husband who is working in Cairo, when the Canadian government announced strict travel restrictions against those traveling from 'some' countries where the new Omicron virus has been found. Gaura has given us permission to use her posts in this article and has filled in a few small gaps for us. She's hoping Canadian officials will show more flexibility, especially considering they've established restrictions on travellers coming from only a select few of the countries where Omicron has turned up. Gaura is especially frustrated since Omicron is already in Canada and travellers from Europe and the United States are not quarantined on arrival.
Day 1 – Dec 4, 6:37 PM – Shock and Awe
This is a tough post for me. Today we traveled back to Canada from Cairo. We came early to complete the new quarantine requirement given Egypt has been listed as a "Country of Concern". I am FULLY VACCINATED. We had PCR tests in Cairo and Frankfurt. We have an empty home to go to here in Calgary.
Upon arrival in YYC, we were taken by CBSA (Canadian Border Services) to PHAC (Public Health Canada) screening. It was a 15 minute interrogation about my history with Covid (none), my plans in Canada and my testing and vaccination. They read me my rights and told me I was entitled to a lawyer. They told me the fine for breaking quarantine is up to $750,000. We had a dedicated escort throughout, ensuring we weren't escaping. Secondary unexplained screening at customs, and a PCR on arrival. We weren't allowed to make any stops or get anything to eat or drink. The whole process took about 2 hours.
We were transported in a dedicated vehicle to the Westin Airport Hotel in Calgary. The Government of Canada as contracted the entire hotel as a "secure quarantine location". The parking lot is blocked with No Trespassing signs. We were met by the Red Cross of Canada employees in HazMat suits.
We were processed and taken to an isolation floor. We cannot go outside. We cannot leave our room. We cannot get deliveries or packages. We cannot consume anything from offsite. We only get the meals they send us (it's now 6:30pm and we have not had anything to eat or drink since we landed at 3pm). They have no cups for water in the room. I requested some but to no avail. Once we get our test results (presumably negative, and can take up to 72 hours) we must contact the Red Cross who will coordinate with Quarantine Officers for our release, that can take 48 hours (they say). They will provide us dedicated transport to our quarantine location (our home) where we must complete our 14 days in isolation. We must also take another test on Day 8.
This is happening, right now, in Canada, two years into a pandemic to vaccinated individuals. I don't have the words to express this well. I waver back and forth between rage, embarrassment and disbelief. This will change my life, I have no doubt.
Day 2 – Dec 5, 11:17 AM = Frustration sets in
Next time you think about making a donation to the Canadian Red Cross, keep in mind that your donation dollars are going to things like supervising fully vaccinated travellers in mandatory government quarantine facilities. I'm sure there are other organizations that could use your money.
Day 3.- Dec 6. 11:22 AM = Canadian Quarantine for Fully Vaccinated Travelers With Negative Covid Tests
– We still have no PCR results, because apparently in Canada it takes 72 hours to get results in 2021. Or maybe they just want us to stay here longer.
– The food is horrible. It arrives cold and has limited nutritional value. It's not FoodSafe for sure. I may call public health.
– No fruits or vegetables (aside from potatoes). No beverages are offered, so it's tap water for the win. No wait, I did get some coffee filters and packaged creamer. It's gross.
– The hotel gives a number for people to call so they can speak to us BUT they won't actually put any calls through to our room. When you call they just say they will pass the message on to the Red Cross who will send us the message
– The kids are going stir crazy. No fresh air, no physical activity. We are doing yoga and school work, I brought a few card games, but that can only fill so many hours of the day with no space or freedom to roam.
– We have only one bed in the hotel room so we all sleep together.
– I asked for tampons, it took 24 hours to receive them.
– We have a window to nothing. Can't see the parking lot or any coming and goings from the site. I wonder if they give rooms that have a view to that.
This interview was conducted by the CBC while Tiffany and her children were still in quarantine.
Day 4 – Dec 7 – Third Negative Test Results Finally Come After More Than 3 Days.
4 days in quarantine. We left when we got our results. I made a choice to leave after I was unable to contact anyone at either PHAC or the Red Cross who could give us any information about being released by a quarantine office.
This interview was conducted by the CTV in the hours after Tiffany and her children returned home after 4 days in quarantine.
Ivermectin and Molnupiravir: How does the widely used drug compare to the new drug in treating Covid-19?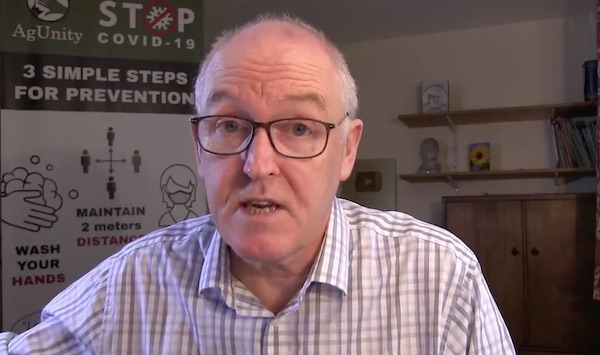 John Campbell has been making videos to teach common people about the world of medicine for over 20 years. After a career of teaching nurses, Campbell discovered a real need for medical information described in a way most anyone can understand. In the nearly two years that John Campbell has been making videos explaining information about covid his viewership has exploded, commonly reaching hundreds of thousands and even millions of views. People around the world have expressed a thirst for knowledge about the latest information around covid from a trusted source.
You can see a list of John Campbell's videos here.
A number of weeks ago, John Campbell released this presentation. It's a comparison of a drug that has been widely used but also widely criticized in treating covid around the world, with a new drug which is expected to soon gain widespread approval. Despite the success of Ivermectin, an inexplicable wave of opposition has resulted in a miserable failure by public health and politicians to adopt this extremely safe and effective treatment. While that's extremely frustrating, it does appear Molnupiravir is on the fast track to approval. Molnupiravir may be slightly less effective and astronomically more expensive than Ivermectin, it should be effective enough to reduce the fear surrounding the virus that has killed so many. With the reduction of fear citizens should be able to expect restrictions around masks, and movement, and businesses to become voluntary. A successful treatment should also allow governments to back off mandates around vaccinations in favour of a voluntary approach. Could the end of the divisive restrictions finally be on the horizon? This video contains some of the most exciting and promising news to come since the beginning of our covid disaster.
Here's a look at Ivermectin compared with Molnupiravir. Hopefully our public health officials and political decision makers are paying attention.