Advocates of windfall tax on oil and gas sector can now point to EU for inspiration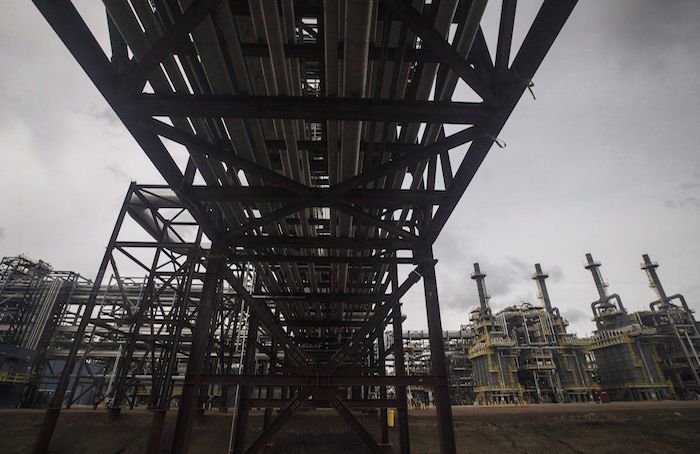 By Nojoud Al Mallees in Ottawa
Proponents of imposing a windfall tax on the Canadian oil and gas industry now have another global power setting precedent for the policy.
On Wednesday, the European Commission proposed levying such a tax on the energy sector and redirecting funds to households and businesses struggling with high inflation. It estimates the policy would bring in 140 million euros (around $186 million) in revenue.
The European Union is not the only jurisdiction to pursue an extra tax on the energy sector. Earlier this year, the United Kingdom imposed a windfall tax on oil and gas producers. Since then, however, new Prime Minister Liz Truss has come out against the policy and indicated she would not bring in any new windfall taxes.
Progressives in the United States have also campaigned for a windfall tax on oil and gas companies amid rising inflation.
The global push for windfall taxes comes as some corporations, especially those in the oil and gas sector, have posted record profits since the onset of the COVID-19 pandemic.
In Canada, the latest quarterly report on gross domestic product from Statistics Canada says non-financial corporations have benefited from strong energy prices. According to the federal agency, dividends paid out by such corporations were up 9.1 per cent in the second quarter of 2022. Meanwhile, worker compensation in Canada rose two per cent.
Senior economist David Macdonald of the Canadian Centre for Policy Alternatives recently looked at just how much gross domestic product is accounted for by corporate profits. His analysis found that after-tax corporate profits reached a historically high percentage of the total Canadian economy output in the second quarter of this year.
In contrast, Macdonald found workers' compensation as a share of gross domestic product fell to the lowest level since 2006. "The inflationary period has been a tremendously good period for corporate profits, less so for workers' wages."
Macdonald supports imposing windfall taxes to address this trend.
The NDP has been calling on the federal government to extend the windfall tax levied on financial institutions earlier this year to the oil and gas sector as well as big box stores. The party has argued the funds raised from extending the windfall tax could be used to send more money to low- and modest-income families struggling with high inflation.
On the latter proposal, the NDP posted a win when the Liberals announced on Tuesday they would double the GST rebate for six months. As for extending the windfall tax, NDP finance critic Daniel Blaikie said he's received no indication from Finance Minister Chrystia Freeland that it was on the table.
"We are going to continue to push on these things," Blaikie said. "And I think the announcement about the GST rebate is cause for some optimism that even when the government gets it wrong out of the gate that we can make them change course."
The Finance Department declined to comment on whether it is considering extending the windfall tax policy.
Many economists oppose windfall taxes over concerns they can discourage business investment.
Michael Smart, an economics professor at the University of Toronto and co-director of the Finances of the Nation project, said the EU's pursuit of a windfall tax reflects a unique situation in that region, with energy prices having shot up dramatically.
"We don't face quite the same situation here," Smart said, adding that windfall taxes are difficult to implement and should be seldom used.
"I don't think it's warranted (here)."
Mostafa Askari, chief economist at the Institute of Fiscal Studies and Democracy, said if the government were to pursue a windfall tax, it would first have to decide its intended purpose.
"Targeting (the) energy sector, to me, it's somewhat odd, unless there is a desperate need for extra funding for the government," he said.
Given government revenues have been up because of high inflation, Askari said the case for extra funding isn't there. The other concern, he said, is oil and gas companies might be able to pass on these additional taxes to consumers through higher prices.
However, despite disagreement among economists on the policy, polling suggests the overwhelming majority of Canadians support a tax on businesses whose profits were extraordinarily high during the pandemic. A poll conducted by Abacus Data on behalf of the Broadbent Institute and the Professional Institute for the Public Service of Canada in July 2021 found 87 per cent of Canadians were in favour of the policy.
The survey was conducted online with 1,500 Canadian adults from July 13 to 19, 2021. It cannot be assigned a margin of error because online polls are not considered truly random samples.
Blaikie said the NDP is relying on public support to convince the Liberals on the policy.
"I think the more Canadians that are out there calling for these kinds of measures alongside us in the NDP, the more likely we are to see a positive result."
This report by The Canadian Press was first published Sept. 18, 2022.
Smith won't seek early vote if she wins UCP leadership, becomes next Alberta premier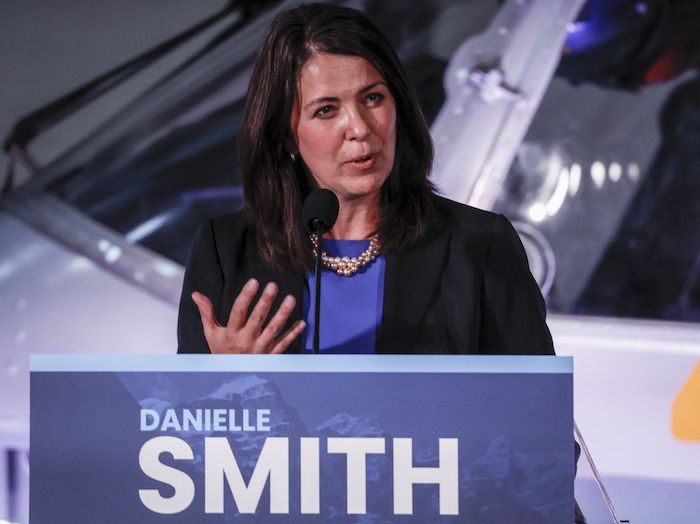 United Conservative Party leadership candidate Danielle Smith says if she wins this week's vote and becomes the next Alberta premier, she would not call an early election to seek a broad mandate on her policy ideas.
Smith, the perceived front-runner in the race, says the public tends to punish leaders who call an early election.
She says she would wait until the next scheduled election in May 2023, but believes she has a mandate now to proceed with her plans.
Smith has said she would immediately pass an Alberta sovereignty act, which would allow the province to ignore federal laws and court rulings deemed not in its interest.
Legal experts, some of Smith's leadership rivals and Premier Jason Kenney have labelled the act not only illegal but a recipe for constitutional and economic chaos.
Smith has also talked about revamping the health system by using health spending accounts and firing the board of Alberta Health Services, which oversees the front-line delivery of care.
Today is the last day for advance voting, as seven candidates dig in for the final campaign push before UCP members select a new leader to replace Kenney on Thursday.
Alberta commits $20.8 million over the next four years to fight human trafficking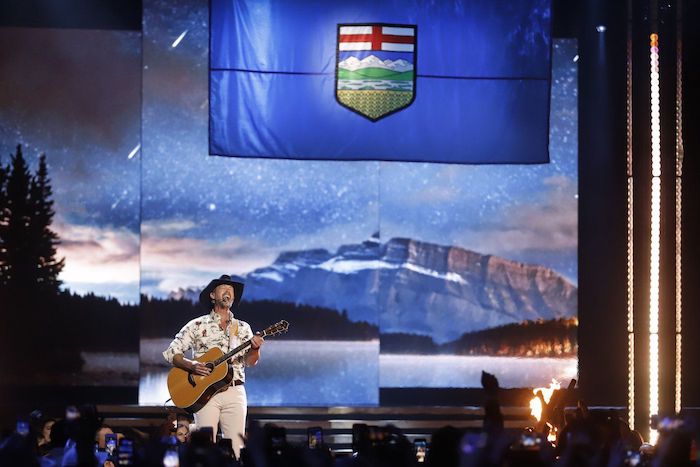 By Rob Drinkwater in Edmonton
The Alberta government is providing $20.8 million over the next four years to implement recommendations from a star-led task force on human trafficking.
Country singer Paul Brandt, chair of the Alberta Human Trafficking Task Force, personally thanked Premier Jason Kenney during the funding announcement Sunday at Edmonton International Airport for his willingness to prioritize the issue, and for putting faith in Brandt to lead the group.
"Premier Kenney's longtime personal dedication and commitment to the issue of human trafficking is authentic and is admirable," Brandt said.
"He's the only political leader I've met in my 17 years of advocating for trafficking victims and survivors who took the time and initiative to personally write a plan to address this horrific crime."
The money will establish an office to combat trafficking as well as a centre of excellence for research and data collection — recommendations the government accepted when the task force presented its report in March.
Justice Minister Tyler Shandro said the goal is to launch the office by next summer.
Other task force recommendations that will be supported include a new grant for community projects and Indigenous-led and culturally appropriate services. Civilian positions that will focus on supporting victims and survivors throughout human trafficking investigations will also be funded.
"Human trafficking is far more prevalent — way more common — than the stats would suggest because it's a hidden crime," Kenney said at the announcement.
"It festers in the dark. There are victims who face fear, shame and self-doubt and some who will never report what they've gone through."
The task force was appointed in May 2020 and engaged with nearly 100 experts and survivors of trafficking to provide guidance on how to best implement the government's action plan to fight human trafficking.
The government has said human trafficking includes sexual exploitation, forced labour trafficking and trafficking in human organs or tissues.
Kenney, who will be replaced as premier when his United Conservative Party selects a new leader on Thursday, noted he started fighting human trafficking over 20 years ago when he was an MP and joined a group of international parliamentarians on a coalition to fight the practice.
Later as Canada's immigration minister, he said he took steps to make it easier for human trafficking victims who had migrated to Canada to obtain safety and protection.
In winter 2019, he said he committed the UCP to a nine-point action plan to combat human trafficking, which led to the Protecting Survivors of Human Trafficking Act, which took effect in May 2020.
Brandt said it was exciting to be part of the funding commitment at the airport, where he said he stood in 2019 for a partnership with the facility and other groups in the Edmonton region to fight trafficking, which he called "modern day slavery."
"It has been our dream that special focus and permanent funding would one day become a reality. Today is that day," Brandt said.
This report by The Canadian Press was first published Oct. 2, 2022.