Access requester told to wait five years for public health agency head's email, texts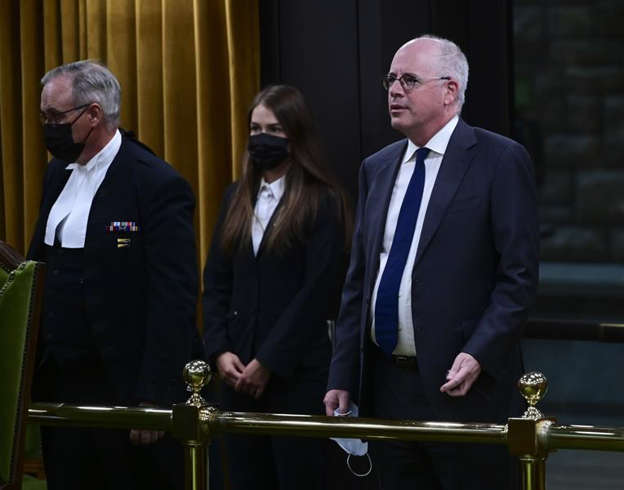 OTTAWA — A requester seeking access to a week's worth of emails and messages from the head of a federal agency embroiled in controversy has been told to wait five years or more for a response under Canada's information law.
The applicant recently asked the Public Health Agency of Canada for emails, texts and messages that president Iain Stewart had sent or received from June 14 to 21.
The Access to Information request was prompted by curiosity about Stewart's refusal to provide a House of Commons committee with unredacted documents about the firing of two scientists, which touched off a battle with Speaker Anthony Rota.
The Canadian Press granted the requester anonymity because they are concerned about the possible implications of publicity for their employment as an Ontario public servant.
Under federal access law, agencies are supposed to answer requests within 30 days or provide reasons why more time is needed.
The Public Health Agency of Canada recently informed the applicant that an extension of up to 1,950 days — over five years and four months — would be required. It said the request involves a large number of records, the original time limit would unduly interfere with agency operations and another government institution must be consulted.
The Public Health Agency had no immediate further comment.
The requester and experts in freedom of information said the lengthy extension defeats the purpose of the access law.
"Transparency is only a lame catchphrase," said the applicant, accusing the agency of obstructing access to the records.
"Justice delayed is justice denied."
The requester has complained to the federal information commissioner — an ombudsman for users of the law — in the hope she will remedy the delay.
"She has the chance to take bold action and finally hold federal bureaucrats to account — especially on such a pressing issue of public interest."
Fred Vallance-Jones, an asssociate professor of journalism at University of King's College in Halifax, said the extension amounts to "something like eight months of additional time for each single day of messages, which seems absurd on its surface."
"It's important to note that Stewart is a very senior official, and there is every expectation that his communications would be preserved and accessible," Vallance-Jones said.
"Access to information loses any meaning if information cannot be retrieved in a reasonable amount of time and I think that is doubly true for people at this level who should be able to anticipate such requests."
When Sean Holman, who studies the history of freedom of information, first saw the extension notice, he thought: "This must be a joke."
"This is nothing but delaying access to effectively deny access and another example of how the Trudeau government has broken the Liberals' election promise to be open by default," said Holman, a journalism professor at Mount Royal University in Calgary.
The latest extension comes shortly after New Democrat MP Charlie Angus learned it could take the Justice Department more than six years to process his request for documents related to a new regulator that will handle child pornography and exploitative material.
The federal government is currently reviewing the Access to Information Act and how it is administered.
In a submission to the review, the group World Press Freedom Canada said federal institutions have little incentive to abide by reasonable time-frames.
"There is no clear limit to the length of extensions they can unilaterally invoke, and blowing past deadlines has no material consequences. The playing field is tilted in their favour."
This report by The Canadian Press was first published July 28, 2021.
Jim Bronskill, The Canadian Press
'Belfast' wins People's Choice prize at Toronto International Film Festival
TORONTO — "Belfast" from writer-director Kenneth Branagh has won the People's Choice prize at the Toronto International Film Festival.
The Northern Ireland-set family drama was announced as winner of the honour during the TIFF Tribute Awards broadcast on CTV, which marked the end of 10 days of pandemic-tailored in-person screenings and digital at-home viewing.
The prize chosen through online votes is often a predictor of Academy Award success.
Last year's winner, the road drama "Nomadland," won the best-picture Oscar. 
Other previous People's Choice winners that have nabbed best picture include "Green Book," "12 Years a Slave," "The King's Speech" and "Slumdog Millionaire."
This year's People's Choice race had a caveat, though: films that didn't screen on the festival's digital site were not eligible for the prize, including buzzy titles "Spencer" and "Dune."
This report by The Canadian Press was first published Sept. 18, 2021.
Victoria Ahearn, The Canadian Press
'I'm here but my mind is always there:' Ontario woman returns home from Afghanistan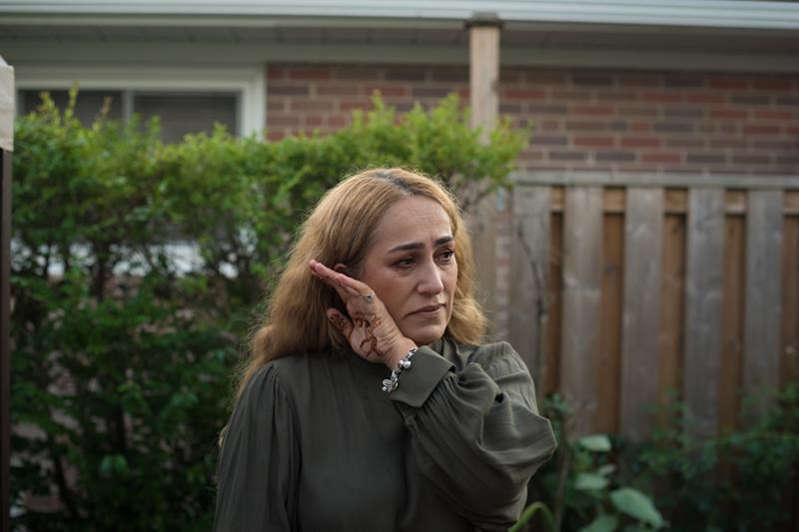 Heartbreak and guilt are all Zakia Zarifi has been feeling since she returned to her home in Ontario from Afghanistan.
"I'm happy to see my family here, but it's torture for me because I couldn't bring my parents with me," the real estate agent from Brampton said over the phone.
"It was the hardest goodbye ever, but deep down I have hope that I can bring them here."
The single mother says she was beaten, shot at and barely dodged a bomb outside Kabul airport during the chaotic journey. All she thinks about now is helping the people left behind.
"(A) genocide … is happening right now in Afghanistan and no one is talking about it. That's why I'm here but my mind is always there."
Zarifi, 50, arrived this week to tears and warm hugs from her three grown children. They frantically worked to bring their mother home after the Taliban seized control of Afghanistan in August. She had gone there to try to get her aging parents out of danger.
Before she got out herself, Zarifi was critical of Canada's evacuation of its citizens from the region.
She told The Canadian Press while she was stuck in Afghanistan that she twice tried to escape before the U.S.-led military mission's Aug. 31 deadline, but was beaten by Taliban members and pushed away from the airport's gates.
She was angry Canadian officials told her and others to meet at dangerous locations, while other countries helped their citizens get to military planes using safer routes. Ten days after Canadian Forces left the region, and as Prime Minister Justin Trudeau faced criticism for mishandling the evacuation, Zarifi got another call from Global Affairs Canada, she said. This time the plan was better. "They told me to be at (Kabul) Serena Hotel and then, from there, the Qatari government was in charge of taking us to the airport. We had a flight with the Qatar airline (to Qatar)." By Tuesday, she was on a plane from Doha to Canada.
"The first flight that left Afghanistan (had) all different citizens from all over the world. On the second flight … there were, I believe, 10 Canadians."
She said others on the flight home told horrifying stories about the Taliban knocking on their families' doors and taking their men.
"They took their birth certificates, and took them to this place. They are all vanished," she said.
"Someone even came to knock on my parents' door. The guy who looks after them (said), 'No one lives here,'  and they left."
Zarifi said her parents are a target because they are from the northeastern province of Panjshir, the heart of military resistance in Afghanistan and where her father fought against Taliban rule.
While she waited for a flight, she and her family helped other Afghans, she said.
They gave away items in their home, distributed 120 blankets and provided food supplies to 500 families. Many Afghans they helped are among thousands who are religious and ethnic minorities who worry the Taliban's return to power will lead to oppression or death.
Zarifi recalled a similar journey she made in 1987 during the Soviet Union's invasion of Afghanistan. She escaped to Pakistan from Kabul. Two years later, she moved to Canada.
"Afghans … a majority of them are refugees and they've all found a way to get out before and through significantly worse times," said Zarifi's daughter Marjan.
"When my mom first came to Canada, she had to walk two days, two nights to get to where she needed to go. They were being directly shot at. So she has done this twice.
"She keeps a lot of strength and says, 'It's gonna be OK,' but every day we can't think straight … Everyone just kind of moves on with life, but my mind is constantly with my family and what's going on."
Despite her frustration with the Canadian government, Zarifi said she's thankful Trudeau did not forget her and other citizens.
"I just hope that the Liberal (government) do their best to bring people, because their life is in danger," Zarifi said.
"When I moved here, I worked 20-hour days. I worked as a bookkeeper, did accounting, night shifts at Walmart. I worked hard. I made a living for myself."
She said she prays that other Afghans will have the same chance at a new life. For her part, she plans to continue helping people in Afghanistan in whatever way she can.
This report by The Canadian Press was first published Sept. 17. 2021.
___
This story was produced with the financial assistance of the Facebook and Canadian Press News Fellowship.
Fakiha Baig, The Canadian Press