Abe, Trudeau tout trade gains without U.S. participation in Pacific Rim pact
OTTAWA — Japanese Prime Minister Shinzo Abe's whirlwind visit to Ottawa this weekend offered the Liberal government a rare chance to trumpet a strong international alliance in the face of unyielding strain with its two top trading partners.
But a gaffe by Prime Minister Justin Trudeau — referring twice to strong ties between Canada and China, not Japan — affixed a jarring asterisk to an otherwise warm and upbeat meeting between two allies facing the same common threats and challenges.
Trudeau kicked off a Sunday morning photo-op in his Parliament Hill office noting 90 years of diplomatic relations between "Canada and China," but immediately corrected himself to Japan. Later, in his opening remarks at a joint press conference, Trudeau said: "I am very, very glad that you were able to make such time for the tremendous friendship that we celebrate every day between Canada and China. Thank you, Shinzo."
Abe's visit comes as Canada finds itself between a rock and a hard place with the United States and China. The Trump administration is holding firm on punitive metal tariffs, while the People's Republic's ongoing imprisonment of two Canadian men following the arrest of Huawei's chief financial officer in Vancouver has thwarted the Trudeau government's Asian trade ambitions.
Abe and Trudeau celebrated their successful launch late last year of the rebooted Trans-Pacific Partnership — the 11-country Pacific Rim trade alliance that was rescued after President Donald Trump withdrew the U.S. from it in January 2017, nearly killing it.
Trudeau said the new deal "stands in stark contrast with the United States withdrawal from that agreement," and has given Canadian farmers an advantage over their American counterparts.
"I can certainly say that there are many Canadian ranchers, among others, who are significantly benefiting from the tremendous increase in beef and pork exports to Japan over the past months, while the Americans do not have that kind of access."
Abe said the entry into force of the new Comprehensive and Progressive Agreement for Trans-Pacific Partnership — the CPTPP — has enabled Japanese consumers to enjoy "high-quality Canadian products in Japan." He said he had "high hopes for further expansion of the export of Japanese high-quality products to the Canadian market."
"As such we are very happy to see the development of our bilateral relationship as well as partnership in various areas, including our economic co-operation (and) security co-operation."
The two countries are also charter members of a new international club that doesn't include the U.S.: the Alliance for Multilateralism, a French-German initiative aimed at supporting the post-Second World War architecture — the United Nations, NATO, the World Trade Organization, and other groups — to which Trump has taken a wrecking ball.
Abe is to host the G20 summit in June and will join Trudeau at the G7 leaders' gathering in France in late August, and while Trump's seat at those two multilateral tables is guaranteed, continuing U.S. participation is no longer a given with its mercurial president.
Abe noted Trudeau's leadership of the G7 last year in Quebec — memorable for Trump hurling personal insults at Trudeau over Twitter from Air Force One after leaving — and said he looked forward to the prime minister's help when he welcomes the G20 leaders to Osaka.
The veteran Japanese leader made it clear that differences with China and the U.S. are significant, but he advocated a constructive path to bridge those divides.
"Japan and Canada share freedom, human rights, rules of law and other universal values," Abe said.
"Based on this foundation, the global community must unite and try to encourage China to play a constructive role."
Canada and Japan also share the same vision when it comes to reaching out to the U.S., he said.
"We should co-operate together so that the United States will be encouraged to be the leader of the liberal free world."
Abe arrived in Ottawa on Saturday, hours after playing a round of golf with Trump at his Virginia course on a visit that demonstrated personal bonhomie but bore no fruit towards advancing a U.S.-Japan trade deal to replace the TPP that Trump abandoned.
Abe had warm words at his Saturday night dinner at the Prime Minister's Meech Lake retreat in West Quebec.
"It was a tremendous honour for me," Abe said through a translator. "My wife, Akie, and I had a very special time with you and Sophie."
On Friday, the Abes dined at the White House to celebrate the 49th birthday of Trump's wife, Melania.
Abe's apparent personal bond with Trump has blossomed even though Japan, like Canada, is suffering under the president's punitive tariffs on steel and aluminum imports, and facing the threat of more tariffs on its automobiles. Trudeau and his cabinet have branded those tariffs illegal and insulting.
Mike Blanchfield, The Canadian Press
HIV spike among B.C. drug users associated with COVID-19 lockdown, research says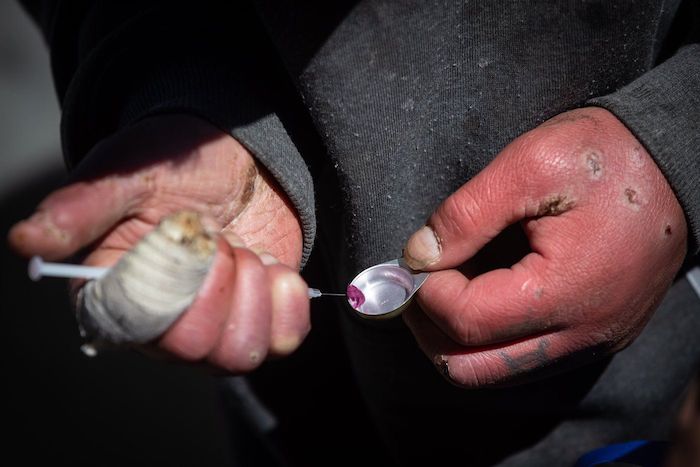 By Brieanna Charlebois in Vancouver
A new study says reduced access to HIV services during early COVID-19 lockdowns in British Columbia was associated with a "sharp increase" in HIV transmission among some drug users.
The study by University of British Columbia researchers says that while reduced social interaction during the March-May 2020 lockdown worked to reduce HIV transmission, that may not have "outweighed" the increase caused by reduced access to services.
The study, published in Lancet Regional Health, found that fewer people started HIV antiretroviral therapy or undertook viral load testing under lockdown, while visits to overdose prevention services and safe consumption sites also decreased.
The overall number of new HIV diagnoses in B.C. continues a decades-long decline.
But Dr. Jeffrey Joy, lead author of the report published on Friday, said he found a "surprising" spike in transmission among some drug users during lockdown.
Joy said transmission rates for such people had previously been fairly stable for about a decade.
"That's because there's been really good penetration of treatment and prevention services into those populations," he said in an interview.
B.C. was a global leader in epidemic monitoring, which means the results are likely applicable elsewhere, Joy said.
"We are uniquely positioned to find these things," he said. "The reason that I thought it was important to do this study and get it out there is (because) it's probably happening everywhere, but other places don't monitor their HIV epidemic in the same way that we do."
Rachel Miller, a co-author of the report, said health authorities need to consider innovative solutions so the measures "put in place to address one health crisis don't inadvertently exacerbate another."
"These services are the front-line defence in the fight against HIV/AIDS. Many of them faced disruptions, closures, capacity limits and other challenges," Miller said in a news release.
"Maintaining access and engagement with HIV services is absolutely essential to preventing regression in epidemic control and unnecessary harm."
The Health Ministry did not immediately respond to requests for comment.
Researchers said the spike among "select groups" could be attributed to a combination of factors, including housing instability and diminished trust, increasing barriers for many people who normally receive HIV services.
British Columbia is set to become the first province in Canada to decriminalize the possession of small amounts of hard drugs in January, after receiving a temporary federal exemption in May.
Joy said this decision, alongside measures like safe supply and safe needle exchanges, will make a difference preventing similar issues in the future.
"The take-home message here is, in times of crisis and public health emergency or other crises, we need to support those really vulnerable populations more, not less," he said.
"Minimally, we need to give them continuity and the access to their services that they depend on. Otherwise, it just leads to problems that can have long, long-term consequences."
This report by The Canadian Press was first published Sept. 24, 2022.
Tragedies unite Humboldt Broncos mom and James Smith Cree Nation artist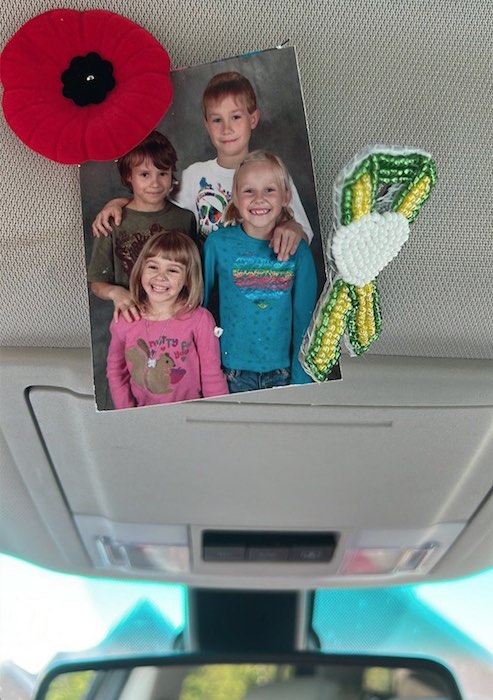 By Mickey Djuric in Regina
Celeste Leray-Leicht received many condolence gifts after the Humboldt Broncos bus crash that claimed the life of her son, but it was a beaded green and yellow ribbon with a white heart that stood out.
Leray-Leicht wore it for years after her son Jacob Leicht died. It now lives on her vehicle's visor, next to a photo of her children when they were little, alongside a poppy.
She always felt a connection to the beaded ribbon because of the heart.
"My son Jacob, he was a Valentine baby, so I'm drawn to hearts," Leray-Leicht said from her home in Humboldt, Sask., east of Saskatoon.
On April 6, 2018, near Tisdale, Sask., 16 people were killed and 13 were injured when an inexperienced truck driver ran a stop sign, crashing into a bus that was taking the Humboldt Broncos junior hockey team to a playoff game.
Leray-Leicht's son played with the Broncos and was 19 when he died in the crash.
She never knew who gifted her the beaded pin, but she found out when she headed out to James Smith Cree Nation, northeast of Saskatoon, to drop off food and other donations earlier this month.
Bernard Constant Community School on the reserve has become a gathering hub after a stabbing rampage on Sept. 4 that killed 10 people, nine of whom were James Smith Cree Nation members. Eighteen others were injured. Both suspects have died.
The school is where funerals and wakes were held, where volunteers continue to cook throughout the day to keep members fed as they recover. It's also where people come to pray.
On Sept. 11, it became the place where two women, dealing with devastating loss, came face to face for the first time.
While in the school's gym, Leray-Leicht met Lissa Bear, who is a member of James Smith Cree Nation, and has been grieving alongside her community.
She's also the Indigenous artist who anonymously gifted her the beaded ribbon that had always reminded Leray-Leicht of Jacob.
To Leray-Leicht's surprise, Bear had approached her saying she had sent her the pin years ago.
"And I said 'I just looked at that pin half an hour ago," Leray-Leicht said. "We were kindred spirits. We instantly hit it off."
Leray-Leicht said it was remarkable to meet Bear, despite the tragedies that unite them.
"I think God is in the details and I don't really believe in coincidences too much. I think we'll become good friends," said Leray-Leicht. "It was just so special to me."
Bear declined to comment, but gave consent to Leray-Leicht to share the story.
Humboldt and James Smith Cree Nation are 125 kilometres apart, but are connected through their grief.
Since the mass stabbing, families from Humboldt have silently attended funerals, donated food and offered support to people in the Indigenous community.
"As adults and leaders in the community, it's our responsibility to try and find as many supports as we can for our youth and for our adults without reliving the trauma over and over again," Leray-Leicht said.
Students in Humboldt wrote messages of hope on hearts for James Smith Cree Nation, something a nearby community did for them in 2018 after the bus crash.
At a vigil in Humboldt on Sept. 14, the hearts were placed in baskets alongside chocolate Hershey hugs, and were given to James Smith Cree Nation Chief Wally Burns. They asked him to pass them along to the youth of his community.
"When asked 'what do you need?' and they say prayers, I can relate," said Leray-Leicht, who helped plan the vigil. "That's all I remember thinking — 'That's what we needed, too.' Prayers to lift us up to survive this devastating loss."
This report by The Canadian Press was first published Sept. 24, 2022.