A look at Alberta Premier Danielle Smith's new cabinet
Premier Danielle Smith introduced her cabinet Friday, the second one since taking over as United Conservative Party leader in October. Here are the changes at a glance:
Second in command: Mike Ellis retains his Public Safety and Emergency Services portfolio but is also now deputy premier.
Big promotions: Mickey Amery moves from Children's Services to Justice; Nate Horner moves from Agriculture and Irrigation to Finance; Adriana LaGrange already had a heavyweight title in Education but now takes on enormous responsibilities in Health.
New faces: RJ Sigurdson joins cabinet for the first time in Agriculture and Irrigation; Searle Turton is new in Children and Family Services; Dan Williams gets his first cabinet seat in Mental Health and Addiction.
Returning vets: Jason Nixon, the environment minister and government house leader under former premier Jason Kenney, is back in cabinet handling the Seniors, Community and Social Services post. Ric McIver, dropped from Smith's first cabinet, returns in his old job of Municipal Affairs. Muhammad Yaseen, a former associate minister of immigration, now has full cabinet rank as minister of Immigration and Multiculturalism; Tanya Fir, former economic development minster under Kenney, is back in Arts, Culture and Status of Women portfolio.
Same faces, new jobs: Rebecca Schulz (Environment and Protected Areas), Brian Jean (Energy and Minerals), Nathan Neudorf (Affordability and Utilities), Joseph Schow (Tourism and Sport), Demetrios Nicolaides (Education), Rajan Sawhney (Advanced Education), Matt Jones (Jobs, Economy and Trade), Peter Guthrie (Infrastructure).
Same faces, same jobs: Nate Glubish (Technology and Innovation), Dale Nally (Service Alberta and Red Tape Reduction), Devin Dreeshen (Transportation and Economic Corridors), Todd Loewen (Forestry and Parks).
This report by The Canadian Press was first published June 9, 2023.
"With success comes challenge." Premier Smith to Alberta Municipalities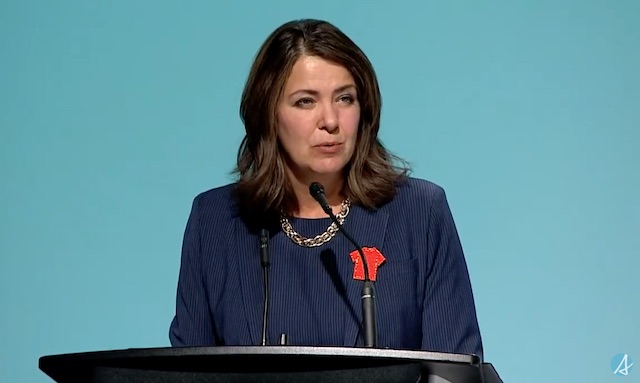 Premier Danielle Smith delivered a keynote address at the 2023 Alberta Municipalities Convention in Edmonton.
Alberta says first steps to reform provincial health delivery system coming this fall
Alberta Premier Danielle Smith speaks to the media in Calgary, Monday, Sept. 18, 2023. Smith says the first steps are coming this fall to reconfigure Alberta's health delivery system – a plan the Opposition calls a recipe for more chaos from a government fresh off turning lab testing into a debacle. THE CANADIAN PRESS/Jeff McIntosh
By Dean Bennett in Edmonton, Alberta, Canada
Premier Danielle Smith says the first steps are coming this fall to reconfigure Alberta's health delivery system — a plan the Opposition calls a recipe for more chaos from a government fresh off turning lab testing into a debacle.
"We will not delay," Smith told mayors, councillors and other local leaders at the Alberta Municipalities convention Friday.
She said Health Minister Adriana LaGrange is to present her proposal to Smith and cabinet Wednesday on how to decentralize Alberta Health Services.
"If we get the cabinet approval and the caucus approval, we would be moving on some of that direction in the fall so that we are prepared for the new budget cycle in February."
Smith has directed LaGrange to revamp the structure of Alberta Health Services, better known as AHS, saying it needs to be more responsive to regional needs and focus more on direct hospital care.
She has said LaGrange will look at whether AHS still needs to be in charge of non-acute functions such as midwifery, primary care staffing and continuing care.
Alberta finished centralizing its health system 15 years ago to create AHS.
Smith has made AHS reform the centrepiece of her leadership.
Last year, she fired the governing board of AHS and replaced it with a single administrator. She blamed the agency for failing to step up during the COVID-19 pandemic as hospitals came close to being overrun with patients.
Opposition NDP Leader Rachel Notley said Smith's plan is only going to make things worse, particularly given the province abandoned last month its attempt to fully privatize community lab services after the changes resulted in long waits for tests in Calgary and southern Alberta.
"People all across this province are struggling to get access to lab (testing) now because of the dysfunction of this UCP (government)," Notley told reporters after her speech to Alberta Municipalities delegates.
"Overlaying more disorganization on top of that is a recipe for further undermining our health care and our public health care.
"There is not a single solitary thing that this UCP government has done under (former premier) Jason Kenney's leadership or Danielle Smith's leadership that has made our health care better."
Alberta Municipalities represents and speaks for villages, towns and cities that make up about 85 per cent of the province's population.
Wetaskiwin Mayor Tyler Gandam, the newly elected president of Alberta Municipalities, said they're hoping for changes and improvements to fix doctor shortages and emergency rooms forced to limit their operating hours.
"I was speaking with members of council from Ponoka and hearing that their emergency room had been shut down nearly 20 times this year so far," Gandam told reporters.
"The last thing that a person should be worrying about is whether or not the emergency room is going to be open or an ambulance is going to able to respond to their call when they need it."
The convention focused mainly on calls for more funding from the province.
On Thursday, delegates voted 98 per cent on a motion calling on the province to roll back years of municipal funding cuts on infrastructure.
The association says the province has cut both per capita spending and the percentage of total budget spending for years, resulting in about $1.3 billion less investment in community infrastructure per year that needs to be returned, particularly as the province continues to attract thousands more newcomers a year.
Smith said she will look at ways to get more money to municipalities to help bring property taxes down along with more one-time funding from recent budget surpluses to help accelerate capital projects.
"'I've watched it happen many times that we're very generous (and) increase the funding when times are good, and then when times turn the other way, we ask you to take a pretty big haircut, and that puts a lot of extra pressure on you," Smith told the delegates.
This report by The Canadian Press was first published Sept. 29, 2023.