'A little baloney' in PM's claim about solicitor-client privilege on SNC-Lavalin
OTTAWA — "In the matter of solicitor-client privilege, the member opposite must know that there are real dangers of unintended consequences, particularly on the two court cases currently wending their way through the courts."
– Prime Minister Justin Trudeau, Feb. 19, 2019
Federal opposition parties resumed their demands this week that Trudeau let former cabinet minister Jody Wilson-Raybould speak to allegations that she felt pressured to avert a criminal trial for Quebec engineering giant SNC-Lavalin.
Wilson-Raybould, who resigned from cabinet last week, has said she cannot comment because she is bound by solicitor-client privilege, which still applies even though she's no longer the justice minister and attorney general.
The Conservatives and NDP want Trudeau to waive that privilege so Wilson-Raybould can offer her side of the story.
But in response to such a demand from Conservative Leader Andrew Scheer during question period on Tuesday, the prime minister said doing so could harm two court proceedings involving SNC-Lavalin.
Those involve the fraud and bribery case against SNC-Lavalin in connection with its work in Libya nearly a decade ago, and the company's appeal of the decision by federal prosecutors not to negotiate an agreement that would let it avoid a criminal trial in that case.
So is it true that revealing the discussions between Wilson-Raybould and the prime minister or members of his staff and cabinet have "unintended consequences" on the two cases?
Spoiler alert: The Canadian Press Baloney Meter is a dispassionate examination of political statements culminating in a ranking of accuracy on a scale of "no baloney" to "full of baloney" (complete methodology below).
Trudeau's remark earns a rating of "a little baloney."
THE FACTS
SNC-Lavalin is facing fraud and bribery charges in relation to business ties between it and Moammar Gadhafi's regime in Libya and could be excluded from future government contracts here and elsewhere if convicted.
The federal justice minister is unique in that whoever holds the position is also the attorney general, the government's top lawyer. In that vein, the government can consult the attorney general for legal advice and those discussions can be protected from disclosure.
But the Globe and Mail first reported this month, citing unnamed sources, that Wilson-Raybould felt pressured last fall to intervene and get federal prosecutors to offer the company a deal that would see it pay a fine rather than face a criminal trial. She refused.
Federal prosecutors in October rejected SNC-Lavalin's request to negotiate a deferred prosecution agreement and pay for the criminal case to be dropped. The company has since appealed that decision and is waiting to find out whether a court will hear its request for a review.
These are the two cases Trudeau mentioned in response to Scheer.
The Liberals have admitted to numerous private discussions about SNC-Lavalin, including a meeting that Wilson-Raybould had with Trudeau in September and another between her and Gerald Butts, Trudeau's former principal secretary, in December.
Trudeau and Butts have denied directing or otherwise pressuring Wilson-Raybould, who was shuffled out as justice minister and attorney general to veterans affairs last month in a move widely seen as a demotion. She resigned from cabinet Feb. 12.
While Wilson-Raybould has refused to talk about those discussions publicly, citing solicitor-client privilege, she says she has hired former Supreme Court judge Thomas Cromwell to advise her on what she can say.
Trudeau has similarly said that he is consulting Wilson-Raybould's replacement, Justice Minister David Lametti, on what parts of their conversation can be safely revealed.
WHAT THE EXPERTS SAY
Whether solicitor-client privilege applies to interactions between the attorney general and other officials depends on the circumstances — and when it is invoked, the circumstances that give rise to the claim of privilege should be spelled out, says Toronto lawyer Lee Akazaki of Gilbertson Davis LLP.
That hasn't happened in this case, aside from Trudeau saying that he told Wilson-Raybould that the decision whether to stop SNC-Lavalin's prosecution was up to her and that the potential economic ramifications of a guilty verdict for a major company were raised.
That makes it hard to asses the degree to which waiving solicitor-client privilege could affect the criminal case and judicial review.
Assuming the attorney general was asked for advice about the ongoing prosecution, Akazaki says that advice "should be kept confidential in order to prevent any appearance of interference by the executive branch of government in an ongoing judicial proceeding."
That is particularly relevant in a criminal case or judicial review such as those facing SNC-Lavalin, said Andrew Martin, an expert on legal ethics at the University of British Columbia, who added that once privilege has been waived it can't be restored.
"I imagine it would inform SNC-Lavalin's arguments on the judicial review, depending on what was said," Martin said, "and they could probably use what was said as part of their application for judicial review."
University of Ottawa law expert Elizabeth Sanderson, who previously served for many years as a federal-government lawyer, echoed the view that SNC-Lavalin's lawyers could turn around and use any disclosed conversations between Wilson-Raybould and others in their defence.
All of which assumes, she said, that the discussions did touch on the details of the case and were not simply an attempt by Trudeau or his staff to get the former attorney-general to use her powers to intervene.
"There's a real distinction between talking about the evidence or the legal opinion they developed to say why they think they have to pursue this case, which may reveal some of their strategy in litigation, versus a flat-out: 'Don't pursue this case.' Which has nothing to do with the case."
THE VERDICT
Any analysis of the prime minister's assertion about the impact of waiving solicitor-client privilege is muddied by the fact neither Wilson-Raybould nor Trudeau have elaborated on the nature and context of the discussions that took place around the SNC-Lavalin case.
Still, the fact the case was discussed at the highest levels of government does raise the very real prospect that the contents of those discussions could have an impact on the proceedings and thus any waiver should be carefully considered.
"I think what he said is quite fair," said Martin. "Don't get me wrong, it's politically convenient. I don't know that he's unhappy with this answer. But it is the correct answer."
Akazaki said it is imperative the government provide more information about the nature of the discussions between Trudeau and Wilson-Raybould, but that when it comes to the prime minister's comment: "Based on what we know at the present time, it is accurate."
The statement is correct based on what the prime minister has said, but he's keeping crucial details to himself. For that reason, Trudeau's comment ranks as "a little baloney."
METHODOLOGY
The Baloney Meter is a project of The Canadian Press that examines the level of accuracy in statements made by politicians. Each claim is researched and assigned a rating based on the following scale:
No baloney — the statement is completely accurate
A little baloney — the statement is mostly accurate but more information is required
Some baloney — the statement is partly accurate but important details are missing
A lot of baloney — the statement is mostly inaccurate but contains elements of truth
Full of baloney — the statement is completely inaccurate
Lee Berthiaume, The Canadian Press
CP NewsAlert: CFL, CFL Players' Association reach tentative collective agreement
TORONTO — The second strike in CFL history is over.
Two sources told The Canadian Press that the CFL and CFL Players' Association reached a tentative seven-year collective bargaining agreement Wednesday night.
The sources spoke on the condition of anonymity as neither side immediately offered confirmation.
The contract must still be ratified by both the CFL board of governors as well as the CFLPA membership but the expectation is players will report to their teams Thursday and go through an opening-day walkthrough.
More coming.
The Canadian Press
Alberta premier Jason Kenney steps down as UCP leader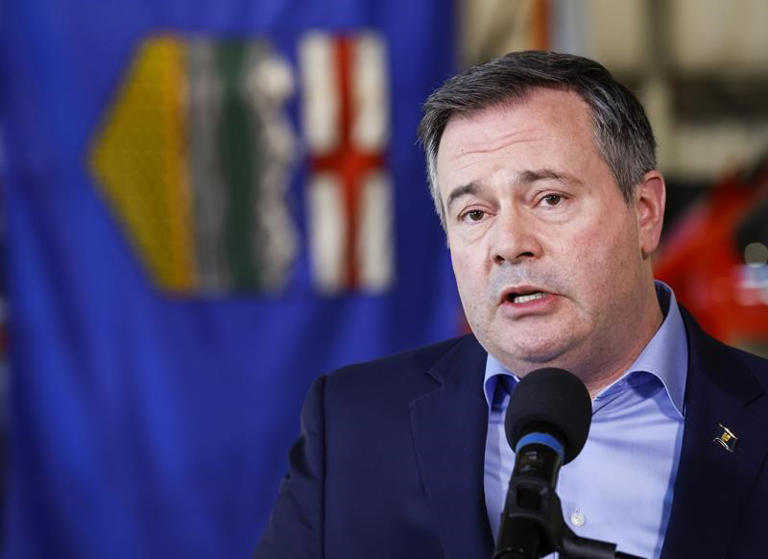 Alberta Premier Jason Kenney has stepped down as leader of the United Conservative Party after narrowly winning the party's leadership vote.
Kenney received 51.4 per cent support in voting results released tonight in Calgary.
He told supporters that the number is not what he hoped for and is not enough for him to continue on as leader.
If Kenney had received less than 50 per cent plus one, he would have had to quit as per party rules and a leadership contest would have been called.
Normally, leaders consider 75 to 80 per cent — or higher — the minimum credible mandate to continue leading their party.
Kenney had earlier said he would accept a slim majority, because the voting pool was skewed by last-minute members interested only in scuttling his big-tent conservative party.
"While 51 per cent of the vote passes the constitutional threshold of a majority, it clearly is not adequate support to continue on as leader," Kenney said.
"I've informed the president of the party of my intention to step down as leader of the United Conservative Party," he said to gasps in the audience.
"We need to move forward united. We need to put the past behind us. And a large number of our members have asked for an opportunity to clear the air through a leadership election."
The leadership review took on heightened importance over the past year as Kenney was buffeted by poor polling numbers, sluggish fundraising and open dissent from some in his party and caucus.
It was also punctuated by controversy. It had already been delayed by a year when it was set for an in-person ballot on April 9 in Red Deer, Alta.
When 15,000 members signed up — five times more than expected — the party said it couldn't handle the logistics and moved to a mail-in ballot open to all 59,000 members.
Critics said the change was made to give Kenney the edge as it appeared he was going to lose the in-person vote.
Elections Alberta is also investigating allegations of illegal bulk buying of memberships in the review. And the party remains under investigation by the RCMP over allegations of criminal identity fraud in the 2017 contest that saw Kenney elected leader.
Kenney had made it clear that the vote and open dissent had become a "soap opera" distracting the party facing a provincial election next May.
He also said that if he got the required support, he would expect dissenters in his caucus to rally behind him or face unnamed consequences.
Two backbenchers who openly criticized Kenney last year — Todd Loewen and Drew Barnes — were voted out of caucus and sit as Independents.
Backbenchers Jason Stephan, Peter Guthrie and Brian Jean — who helped Kenney found the UCP — have been the most vocal. They openly urged the premier to resign for the good of the party.
Kenney has tried to downplay the dissent by tying it directly to unhappiness over COVID-19 restrictions his government bought in to try to stop the spread of the virus.
Opponents in caucus say the dissatisfaction is also over Kenney's policies and management style, which they deem to be top-down, dismissive and undemocratic. They say Kenney has not done enough to gain a better deal for Alberta with the federal government on shared programs.
Conservative leaders in Alberta have not fared well after middling votes in leadership reviews.
Former Progressive Conservative premier Ralph Klein left after getting 55 per cent of the vote in 2006. Ed Stelmach and Alison Redford received 77 per cent in their reviews, but stepped down from the top job when the party pushed back.
This report by The Canadian Press was first published May 18, 2022.
The Canadian Press