'A brand new day': First Nations sign child welfare agreement with Ottawa, Alberta
Flags with "Every Child Matters" written on them fly in Maskwacis, Alta., on Monday, June 27, 2022. Three Alberta First Nations have signed an agreement with the federal and provincial governments to be responsible for their own child welfare systems. THE CANADIAN PRESS/Jason Franson
Trout Lake, Alberta
Three northern Alberta First Nations have signed an agreement with the federal and provincial governments to be responsible for their own child welfare systems.
The chiefs of Loon River First Nation, Lubicon First Nation and Peerless Trout First Nation gathered Tuesday with members of their communities and representatives of the federal and provincial governments to celebrate the agreement.
"Today there is hope, hope that we can begin to truly heal intergenerational trauma that has impacted our children for too long," said Chief Gilbert Okemow of Peerless Trout First Nation, which is about 500 kilometres north of Edmonton.
"The current child welfare system just wasn't designed for the First Nations peoples and it has caused too many children to be removed from their homes, their families, their communities and their culture for far too long. Starting today, we are changing that."
Chief Ivan Sawan of the nearby Loon River First Nation said it's a huge step forward for the communities.
"I've seen the cries with our people, I've seen mothers embrace their children," he said. "Our families struggled so many years.
"Today is a brand new day for us."
Ottawa passed An Act Respecting First Nations, Inuit and Métis Children, Youth and Families in 2020 with a focus on prevention so families can receive support to remain together.
The agreement signed Tuesday with the three First Nations implements Awaśak Wiyasiwêwin, which is Cree for children's law, and gives child and family services control and jurisdiction to the First Nations.
"We've always had our children's laws before 500 years ago," said Chief Billy Joe Laboucan of Lubicon First Nation. "Now we have the opportunity with this legislation to be able to go back to those laws so that all of the community raises that child."
Members of each of the First Nations voted in favour of the move last November.
The agreement includes transferring nearly $150 million over five years to the First Nations from the federal government.
Federal Crown-Indigenous Relations Minister Marc Miller said it's important to return inherent child welfare rights to the First Nations.
"It has been taken away from you by successive governments, by at times religious institutions and it's something that has always been there — the right to take care, control custody of your own children in the right way, preserve the language, the education," he said.
Miller said it's the first trilateral agreement in Alberta and one of the first in Canada. Another, he said, was signed Tuesday with a First Nation in Ontario.
"I hope this rhythm continues not only across Alberta, but across the rest of Canada, where it actually needs to go faster and faster," he said. "I think you are blazing a trail."
Mickey Amery, minister of children's services in Alberta, said it's a monumental agreement.
"It's a great privilege to be here and to join in signing Alberta's first … trilateral co-ordination agreement," he said.
"This agreement represents a shared path toward true and meaningful reconciliation but most importantly a mutual dedication for the safety and well-being of our children."
A bilateral agreement was signed between the federal government at Louis Bull Tribe in Maskwacis, south of Edmonton, in February. That agreement did not involve the province.
This report by The Canadian Press was first published April 11, 2023
— By Colette Derworiz in Calgary.
Aurora Cannabis to raise $33.8M in share offering, plans to repay convertible debt
EDMONTON — Shares of Aurora Cannabis Inc. were down more than 10 per cent after the cannabis company announced plans to raise $33.8 million in a share offering.
The company says Canaccord Genuity has agreed to buy, on a bought deal basis, 46,250,000 shares of the company at a price of 73 cents per share.
It has also granted Canaccord Genuity an over-allotment option for up to an additional 6,937,500 shares on the same terms. If the over-allotment option is exercised in full, the offering will total $38.8 million.
Aurora says it plans to use the money raised to repay the remainder of its outstanding convertible senior notes at or prior to maturity.
The company says the remainder, if any, will be used for strategic purposes, including potential acquisitions.
Aurora's stock price was down 13 per cent at 79 cents per share in early trading on the Toronto Stock Exchange.
This report by The Canadian Press was first published Sept. 28, 2023.
Companies in this story: (TSX:ACB)
The Canadian Press
Running Reins Ranch in Red Deer County picks up $250,000 grant from province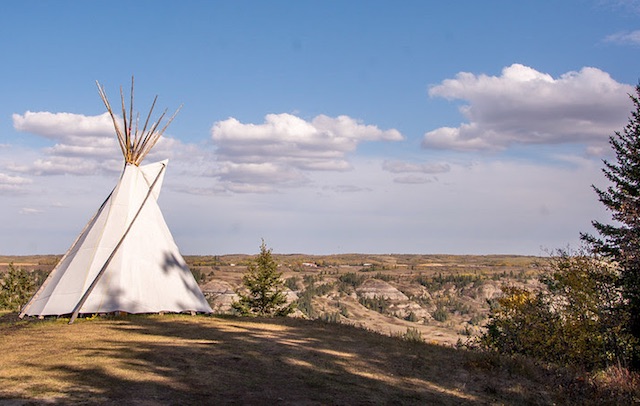 Running Reins Ranch partners with members of the local Indigenous community to set-up teepee accommodations and host regular cultural programming for guests.
Tourism investment fuels growth in rural Alberta
Alberta's government continues to support regional tourism opportunities across the province, generating jobs and new tourism destinations for locals and visitors alike.
Ahead of World Tourism Day 2023, Minister of Tourism and Sport Joseph Schow visited Running Reins Ranch to see first-hand how tourism investment grants are making a difference in the lives of Albertans.
"Alberta's government is proud to invest in growing visitor destinations like Running Reins Ranch that celebrate the richness and diversity of Alberta's rural destinations and provide a sustainable tourism experience for visitors to enjoy."
As part of the Tourism Investment Program, Running Reins Ranch received a $250,000 grant from Travel Alberta.
"Our investment will support the building of additional unique accommodations at the ranch that will triple their capacity, emphasize their year-round offerings and create five new full-time jobs. This investment in Running Reins Ranch is a perfect example of how Travel Alberta is driving tourism growth in rural communities across the province."
Running Reins is located east of Innisfail, offering cabin and teepee accommodations and a wide range of outdoor activities for visitors looking to combine the beauty of the Prairies with farm experiences for a one-of-a-kind getaway.
Right to Left: Minister of Tourism and Sport Joseph Schow, Owners of Running Reins Ranch Terry and Janice Scott, and team member Grace Finlan.
"This funding is a game-changer for us and our business. We are excited to bring our vision to life and provide visitors with unforgettable experiences while supporting the economic growth of the surrounding community."
Tourism is Alberta's No. 1 service export sector. In 2019, Alberta welcomed 34.6 million visitors, generating $10.1 billion in expenditures and supporting more than 80,000 full-time jobs. The Tourism Investment Program is Travel Alberta's commitment to investing $15 million annually with communities and operators to develop the province's tourism sector. Developing Alberta's rural and agri-tourism sector is an essential component of the government's efforts to grow Alberta's tourism economy to more than $20 billion by 2035.
Quick facts
In 2022-23, Travel Alberta funded 166 projects across 73 communities – about 75 per cent of the projects and 70 per cent of the funding were in smaller urban and rural areas of the province.
In December 2022, Alberta's government released its Economic Development in Rural Alberta Plan, with supporting initiatives that demonstrate the government's commitment to building healthy and prosperous communities across rural Alberta and Indigenous communities.