8 tips for parents and teens on social media use – from the U.S. surgeon general
U.S. Surgeon General Dr. Vivek Murthy testifies before the Senate Finance Committee on Capitol Hill in Washington, on Feb. 8, 2022. The Surgeon General is warning there is not enough evidence to show that social media is safe for young people — and is calling on tech companies, parents and caregivers to take "immediate action to protect kids now." (AP Photo/Susan Walsh, File)
By Barbara Ortutay
Dr. Vivek Murthy, the U.S. surgeon general, is calling for "immediate action" by tech companies and lawmakers to protect kids' and adolescents' mental health on social media.
But after years of middling and insufficient action by both social media platforms and policymakers, parents and young people still bear most of the burden in navigating the fast-changing, often harmful world of secretive algorithms, addictive apps and extreme and inappropriate content found on platforms such as Instagram, TikTok and Snapchat.
So what can parents and young people do now? The surgeon general has some tips.
"Our children and adolescents don't have the luxury of waiting years until we know the full extent of social media's impact," Murthy said in an advisory released on Tuesday. "Their childhoods and development are happening now."
TIPS FOR YOUNG PEOPLE
— Reach out for help: If you or someone you know is being negatively affected by social media, reach out to a trusted friend or adult for help. Check the American Academy of Pediatrics' guidance on social media.
— Create boundaries: Limit the use of phones, tablets, and computers for at least one hour before bedtime and through the night to make sure you get enough sleep. Keep mealtimes and in-person gatherings device‑free to help build social bonds and engage in two‑way conversations with others. Connect with people in person and make unplugged interactions a daily priority.
— Be cautious about what you share: Personal information about you has value. Be selective with what you post and share online and with whom, as it is often public and can be stored permanently. If you aren't sure if you should post something, it's usually best if you don't.
— Don't keep harassment or abuse a secret: Reach out to at least one person you trust, such as a close friend, family member, counselor, or teacher, who can give you the help and support you deserve. Visit stopbullying.gov for tips on how to report cyberbullying. If you have experienced online harassment and abuse by a dating partner, contact an expert at Love is Respectfor support. If your private images have been taken and shared online without your permission, visit Take It Down to help get them removed.
TIPS FOR PARENTS AND CAREGIVERS
— Create a family media plan: Agreed-upon expectations can help establish healthy technology boundaries at home – including social media use. A family media plan can promote open family discussion and rules about media use and include topics such as balancing screen/online time, content boundaries, and not disclosing personal information
— Create tech-free zones: Restrict the use of electronics at least one hour before bedtime and through the night. Keep meal times and other in-person gatherings tech-free. Help children develop social skills and nurture their in‑person relationships by encouraging unstructured and offline connections with others.
— Model responsible behavior: Parents can set a good example of what responsible and healthy social media use looks like by limiting their own use, being mindful of social media habits (including when and how parents share information or content about their child), and modeling positive behavior on your social media accounts.
— Empower kids: Teach kids about technology and empower them to be responsible online participants at the appropriate age. Discuss with children the benefits and risks of social media as well as the importance of respecting privacy and protecting personal information in age-appropriate ways. Have conversations with children about who they are connecting with, their privacy settings, their online experiences, and how they are spending their time online.
The Red Deer Polytechnic Alumni Association is inviting you to Palate: A Taste of Local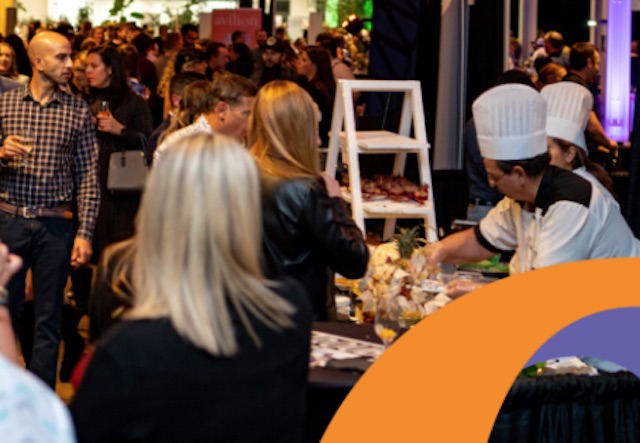 Palate: A Taste of Local is an elegant tasting experience, featuring 35 food and beverage vendors from across central Alberta. This award-winning event will take place on October 19. Do you have your tickets yet? Your ticket includes everything you need for a full tasting experience, with no hidden costs. Consider treating your team, your clients, or your friends and family to a night out while supporting our local business community, RDP Alumni Relations and RDP students at this year's kick-off to Homecoming – Palate: A Taste of Local!
Get your tickets now! Please note, this event is 18+.
This signature event, presented by the Red Deer Polytechnic Alumni Association (RDPAA), provides an elevated tasting experience, with a focus on local food producers, craft breweries and distilleries and restaurateurs. At Palate, we celebrate the amazing vendors and alumni businesses that call Central Alberta home. If you're interested in seeing your name on this event, sponsorship opportunities are still available, with more information here.
Check out everything happening Homecoming Weekend at RDP
Palate: A Taste of Local
Thursday, October 19, 2023
Cenovus Energy Learning Common | Red Deer Polytechnic
Palate: A Taste of Local is an elegant tasting event that builds on the well-established reputation of the Fine Wine and Food Tasting Festival. We've combined the elegant experience you have enjoyed in the past with new elements we know you are going to love. This redesigned special event recently received national recognition, earning a silver medal in the annual Canadian Council for the Advancement of Education Prix d'Excellence!
Your ticket is all-inclusive, providing access to all of the items available from every vendor attending the Palate. There are no extra costs – the only thing you have to worry about, is how you will be able to sample everything.
Begin your evening with a champagne toast as you enter the event space. Palate vendors will offer a variety of food items, including sweet, savoury and international dishes, as well as small batch spirits, craft beer and soda, hand-crafted cocktails and mocktails, and other beverages.
Guests will immerse themselves in central Alberta's local food and beverage culture, meeting the makers, owners and mixologists that bring these flavours to life while networking with other alumni and guests.
---
2023 Vendors
Blindman Brewing

Bo's Bar & Stage

Caballo Blanco

Café Millennium

The Curvy Bottle

Cilantro & Chive

C Zone Coffee

Dark Woods Brewing and Coffee Roasting

Delidais Estate Winery (DNA Gardens)

Field and Forge Gastro Pub

Hash & Forno

The Hideout

Jumble Eats

May Cakes

Memphis Blues Barbeque House

Moxies

Occam's Razor

One Eleven Grill

Oodles of Chocolates

Pampa Brazilian Steakhouse

Pupuseria Cristy

Red Deer Resort and Casino

Red Deer Polytechnic Cook Apprentice Program

Red Hart Brewing

Riverbend Golf & Recreation

Sawback Brewing

Share-a-tea

Silver Devil

Snake Lake Brewing

Solarzano Spa Café & Wine Bar

State & Main

Sunterra

Stems Flowers & Café

Troubled Monk

Wild Brewing
---
---
Looking for Additional Information?
Thank you to our Palate: A Taste of Local 2023 Sponsors
Generous donation from Alumni bolsters LTCHS Music Program with special "Roadhammers" guitar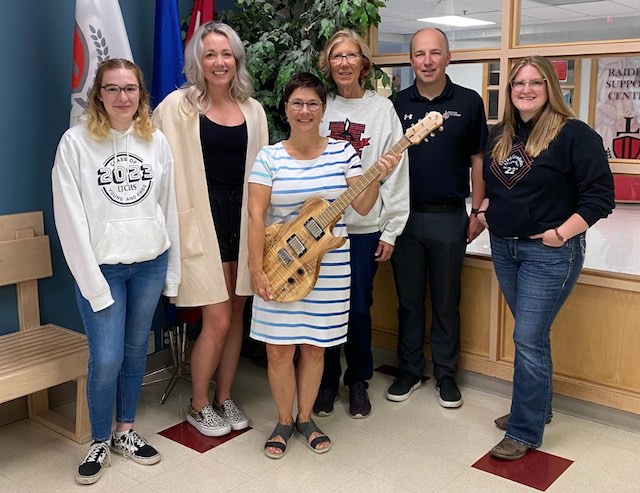 Lindsay Thurber alumnus craft custom guitar for a good cause
A guitar with special meaning is coming home thanks to two Lindsay Thurber Comprehensive High School Music Program alumnus who are passionate about supporting youth and strive to make a meaningful difference in the community.
As part of their quest to help make a difference, this year Jennah Salls and Jazdn Moore decided to support the Clayton Bellamy Foundation for the Arts by building an electric guitar made from all local wood in Central Alberta. Proceeds from the event will help support the build of an arts centre in Lakeland.
"This guitar project sparked from a combination of everything we're passionate about. Being such big fans of music and its impact, alongside our goal to give back to our community as much as possible, once we discovered the Clayton Bellamy Foundation, the vision all came together," said Jennah. "We wanted to build this guitar to have the experience under our belt and since it had so much potential to be a part of something bigger, it was a no brainer to tie it into the Clayton Bellamy Foundation."
Construction of the guitar began under the mentorship of local luthier David Gilmore with Gilmore Guitars. "We then decided to kick it up a notch by starting a fundraiser around our community with the hopes of raising as much money as possible for the Foundation's cause," said Jazdn.
The guitar was auctioned off at the Clayton Bellamy Foundation For The Arts event in Bonnyville earlier this month.
"This fundraiser also was designed to try and raise the winning bid to be able to bring the guitar back to Red Deer considering that the auction for the foundation takes place outside of our community," said Jennah. "Our mission was to get it into the hands of other youth by donating it to the LTCHS music program as alumni. To further support Clayton's amazing objective, we also decided to put in a custom made coffee station, coffee table and end table set as an auction item. It's just been an incredible journey building this guitar and dreaming bigger and bigger as each day goes by and we simply want to make the biggest impact possible with this project!"
Thanks to the generous support of the community, Jennah and Jazdn were able to put a winning bid of $11,000 for the guitar. The custom furniture also went for $8,500.
As a result, the custom built guitar was given to Lindsay Thurber so that students in the music program can have an opportunity to play it and feel its impact.
"We are so grateful to benefit from Jennah and Jazdn's commitment to the arts and their passion for supporting the community," said Jennifer Mann, Music Director at Lindsay Thurber. "The story of the guitar and Jennah and Jazdn's generosity will live on for years to come through our music program."