6 Facts To Know About Saudi Arabia's First Grand Prix
If you are looking for an exciting sports addition to your calendar, Saudi Arabia's first Grand Prix is going to be your best option. It's actually the very first Grand Prix competition taking place in this corner of the Middle East. It's therefore a new race event for everyone both in Saudi Arabia and in the rest of the world.
Of course, being a first race competition, the Grand Prix in Saudi Arabia might not have the same popularity among race followers as traditional competitions in other countries. You can read more on Casinoelarab and get updates, news, latest-minute information, and much more about this special event. You may even decide to place a bet and see if you are lucky. Before betting for real money, make sure to gather as much information as you can to make your knowledge about Grand Prix races.
Curious To Learn More? Read These Amazing Facts!
We guess that you are curious to know more about this special Grand Prix event taking place in Saudi Arabia. That's why we've thought to provide you with a list of amazing facts about this race event so that you'll get closer to it easily.
You'll also find it interesting to learn things that you didn't know before, so just take a minute and go ahead with these facts about the first Grand Prix in Saudi Arabia:
Where does it take place?
Ok, we've just told you this Grand Prix competition is going to take place in Saudi Arabia, but where exactly is it going to happen? You know that Saudi Arabia can boast very large metro areas and it's not shocking that the Nation's first Grand Prix is expected to take place in Saudi Arabia's second-largest city by population, Jeddah. In particular, the event will be performed on the west coast of Saudi Arabia, on a street track, although there are projects for the first Grand Prix to move a different and dedicated circuit for the next events.

Why in Jeddah?
You may wonder why the organizers of the first Grand Prix in Saudi Arabia decided to set it in Jeddah. Take as an answer the fact that Jeddah looks pretty colorful and lively, it's located on the coast of the Red Sea and this should be enough for you to imagine how beautiful this side of Jeddah can be. Also, the last part of the race track is thought to be set on the Corniche, which is a coastal area of the city (this information is to be confirmed yet, though). Anyway, Jeddah offers an amazing background for this thrilling race event.

More about the circuit
We've mentioned above that the race track will take place on the west coast of Jeddah, but we are still waiting to know where the last part of the race will actually be set by the race organizers. As a general idea, the track will include plenty of long straights alternated with tight corners, which is what should ensure a stunning race.

When will Saudi Arabia's first Grand Prix take place?
Although the organizers haven't shared their final decision about this point, it seems that the race will take place by night under the breath-taking background of Jeddah's coastal lights. Try to figure it out… this scenery is going to create a special atmosphere all around the race.

Saudi Arabia's motorsport heritage
For those of you who are wondering what Saudi Arabia's motorsport heritage could be, here's an answer. Yeah, it's the first time Saudi Arabia hosts an F1 competition, but the country has a relationship with the motorsport industry since 1978 when Saudi's airline along with other local businesses sponsored Williams. This fact represents an important milestone in the history of Williams. After that, Williams won its first world championship two years later in 1980 with Alan Jones.
Other connections between Saudi Arabia and the motorsport world include participation in hosting Formula E and Dakar Rally. Also, Saudi Aramco (the world's biggest company of integrated energy and chemicals) is a partner in global F1. Rumors say that this partnership could help develop projects for power-unit-fuelled racing cars in the future.

Are there any drivers in Saudi Arabia?
Up to the present day, we don't have any racing car drivers from Saudi Arabia, at least nobody who has ever raced in F1. However, a Saudi woman called Aseel Al-Hamad drove a Renault F1 car at the 2018 French Grand Prix. It happened the same day the Saudi government allowed women to get a driving license.
Saudi Arabia's first Grand Prix is an important event that unifies different cultures and communities through the same passion for motorsport competitions.
Red Deer Polytechnic's Jenica Swartz named ACAC Indoor Track Runner of the Year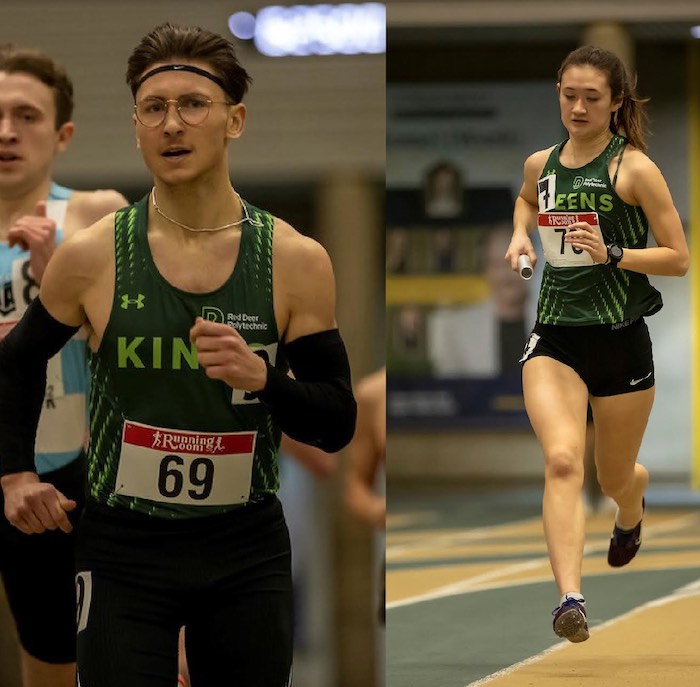 Jenica Swartz named Indoor Track Runner of the Year, Ethan Duret picks up an All-Conference Award
Red Deer Polytechnic and the Athletics department are pleased to recognize Jenica Swartz of the Queens Indoor Track Team as the Alberta Colleges Athletic Conference (ACAC) Female Runner of the Year and Ethan Duret of the Kings Indoor Track Team as he was named an ACAC All-Star.
Swartz was a crucial part of the Queens team winning their first-ever championship title in Indoor Track. Duret picked up multiple top-five finishes on the men's side at the ACAC championship.
Jenica Swartz (Queens Runner)
What a year it was for Jenica Swartz. It all started way back in August when she started training with the Queens Soccer and Cross-Country team. She was able to earn a gold medal in soccer and a bronze medal on the same weekend at the ACAC Soccer and Cross-Country Championship. Capping off the 2022 season, Swartz competed for the soccer team at nationals before flying to Medicine Hat for cross-country nationals where she ran the 6 km race that same morning and placed fourth. A few months later, she would help the Queens win the first-ever championship in program history in Indoor Track after picking up three individual golds, one silver and first place in both the relay events at the ACAC Championship held in Edmonton at the Butterdome this past weekend.
Head Coach Douglas Spicer explained that Swartz is an outstanding athlete and teammate.
"She leads by example in her training and competing in both cross-country and indoor track, along with being an integral part of the Queens Soccer program. It was a great pleasure working with Jen this year and watching her dominate the competition in her quiet, humble way."
Last season, Swartz broke her ankle and she had to have pins put in to repair the damage. Between the 2022/2023 cross-country and indoor track seasons, she had the pins removed and in the end, she came out on top in the 300m, 600m and 1000m events at the championship.
Swartz is a second-year student-athlete at Red Deer Polytechnic and is enrolled in the Bachelor of Science Pre-Med program. She was also named to the All-Conference team.
Ethan Duret (Kings Runner)
Ethan Duret is a second-year student-athlete with the Kings Indoor Track and Cross-Country team. He is from Red Deer and went to high school at Notre Dame Ecole Secondaire where he ran for their cross-country and track team before moving over to the Polytechnic. He is a five-foot-nine runner and is enrolled in the Bachelor of Commerce program.
Earlier in the Indoor Track season at the Grand Prix hosted by Red Deer Polytechnic, Duret earned himself two first-place finishes and a gold and bronze medal in both relay events. At the Championships, it was a much different story, Duret could not find the podium in the individual events but helped his team to a bronze finish in the 4x200m relay. He ended his weekend with two fifth-place finishes in the 300m dash and 600m run.
Spicer said he is a terrific athlete who is well-suited for indoor track, as he has natural speed, along with the endurance that he developed during the cross-country season.
"Although he did not finish in the top five in cross-country, he trained hard and developed a solid aerobic base which we refined during indoor track. This added more speed and endurance which suited his 600m and 1000m races in particular. Ethan is a goal-setter who asks a lot of himself and works hard to achieve his goals."
Duret will also be graduating from the program following the end of the academic year.
Please share the words Brian Burke says twice in this chat