37-year-old B.C. woman among six killed in Alaska floatplane crash
KETCHIKAN, Alaska — A 37-year-old woman from Richmond, B.C., has been identified as the Canadian killed when two sightseeing floatplanes crashed midair in Alaska earlier this week.
Elsa Wilk is one of the six deceased victims named by Alaska State Troopers late Tuesday.
The floatplanes were carrying cruise ship tourists when they collided Monday near the southeast Alaska town of Ketchikan.
The death toll was initially reported as four, with two people missing. The U.S. Coast Guard said the bodies of the two missing people were recovered near the crash site Tuesday night.
Global Affairs Canada says Canadian consular officials in Seattle were in contact with local authorities to gather additional information and provide assistance as needed.
"Our thoughts and sympathies are with the family and loved ones of the Canadian citizen who died in Alaska," the department said.
The American victims were identified as 46-year-old pilot Randy Sullivan from Ketchikan, 62-year-old Cassandra Webb, 39-year-old Ryan Wilk and 46-year-old Louis Botha.
State troopers said the Australian was 56-year-old Simon Bodie.
The Royal Princess cruise ship left Vancouver for Anchorage on Saturday and was to return on May 25.
Coast Guard Commander Michael Kahle said earlier Tuesday that crews were searching both the water and the shore of a remote area called George Inlet for the two missing — the Canadian and Australian.
He said the area is en route to the Misty Fjords National Monument, a popular and active spot for sightseeing flights.
One of the planes was a single-engine de Havilland Otter operated by Taquan Air and was returning from a wilderness tour sold through Princess Cruises of the Misty Fjords, the company said.
It was carrying 10 guests from the Royal Princess and a pilot, who were all Americans, the statement said.
The other plane, a de Havilland DHC-2 Beaver, was operating an independent flight tour carrying a pilot and four guests, of which two were American, one was Canadian and the other was Australian, the company added.
The pilot and nine passengers on the Otter were able to make their way to shore, where they were rescued and taken to hospital, Kahle said.
The survivors were in fair or good condition, said Marty West, a spokeswoman for PeaceHealth Ketchikan Medical Center.
Local emergency responders worked with state and federal agencies and private vessels to help rescue and recover victims.
"It's been a long day and the crews have been working really hard to rescue people and recover the deceased," said Deanna Thomas, a spokeswoman for the local government, the Ketchikan Gateway Borough.
Jerry Kiffer of the Ketchikan Volunteer Rescue Squad said several of the passengers had been removed from the beach by the time his crews arrived on Monday.
"Obviously, we had some injuries — broken bones, lacerations, back injuries, but everybody was reasonably calm," he told the news conference Tuesday.
The debris field was about 300 metres wide and 800 metres long, with doors, seats and life-jackets strewn in a way that indicated an aircraft had come apart in the air, Kiffer said.
Taquan Air said the company has suspended operations while the crash is investigated.
"We are devastated … and our hearts go out to our passengers and their families," it said in a statement.
It's not known how the planes collided. U.S. National Transportation Safety Board investigators arrived from Washington, D.C., Tuesday afternoon.
— By Daniela Germano in Edmonton and Laura Kane in Vancouver
— With files from The Associated Press
The Canadian Press
In a "Staggering Precedent" Trudeau government dodging parliament with massive "inflation tax" on Canadians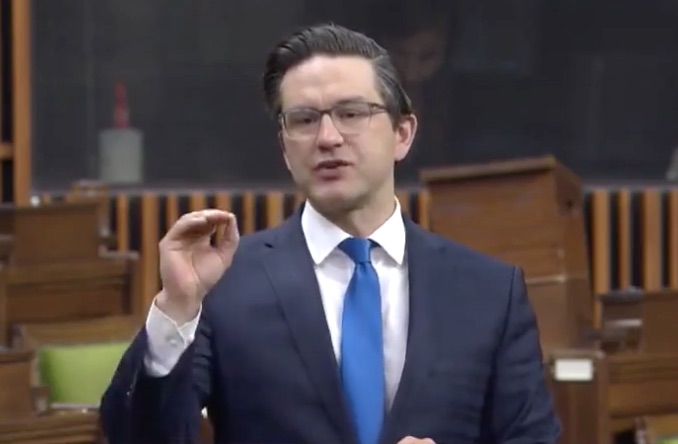 Federal Conservative Pierre Poilievre has released video from a recent Question of Privilege in the House of Commons where he explains how the Federal Liberal government has been dodging parliament to significantly raise taxes.
Instead of going further into debt or raising taxes to pay for a massive increase in government spending, the Trudeau government worked out a deal with the Central Bank.  Every week the Central Bank prints billions of dollars that go directly to government coffers.  Without a single vote and without consulting Parliament, the federal government is effectively raking in the largest tax increase in Canadian history.
By printing money at this unprecedented rate, the federal government is responsible for driving up Canada's inflation rate resulting in price hikes for virtually all goods and services.  Poilievre calls it an "inflation tax".
In this short video, Poilievre describes how the inflation tax hurts low and middle income Canadians, while increasing the value of assets owned by the richest Canadians.
New opinion surveys reveal overwhelming majority of Canadians support our Oil and Gas industry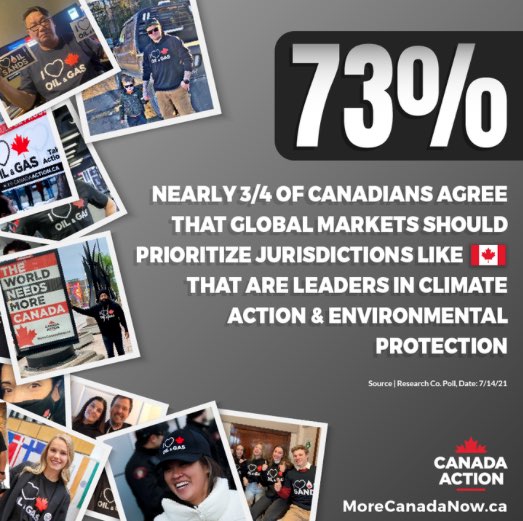 News Release from Canada Action
We are very excited to share some recent and encouraging polling results today. According to a July 2021 public opinion survey conducted by Research Co, new data shows that Canada's public perception of our responsible energy industry is very positive.
Here are some of the key findings:
Almost three in four (73 percent) Canadians polled agree Canada should be a preferred global supplier of energy because of its climate and environmental record.
Nearly seven in ten (69 percent) say they have personally benefited from the oil and gas sector.
70 percent agree that resource development could help alleviate systemic poverty within Indigenous communities.
Two thirds of Canadians (66 percent) support Canada's role as a global oil and gas supplier.
Almost three in four Canadians (73 percent) acknowledge Canada's prosperity is supported by the oil and gas sector and that Canadian oil and gas production helps fund important social programs like health care and education.
Referring to the fact 73 percent of Canadians polled also agreed it's essential First Nations be included in project development to establish long-term revenue sources for their communities, JP Gladu, acting Executive Director of Indigenous Resource Network, noted the following:
Taken collectively, this is all exceptional news for all of Canada's natural resource industries. Your support for our positive, fact based message about why the world needs more Canadian energy and resources is helping make a difference.
A Majority of Canadians 'Agree' that Canada Should be a Preferred Global Supplier of Energy: POLL