141 charges laid as Red Deer and Edmonton Police seize guns, stolen ID and police equipment, license plates, drugs
From Red Deer RCMP
Red Deer RCMP seize weapons and stolen property during multi-agency bust
Red Deer RCMP conducted a joint investigation with Edmonton Police Service and K Division Emergency Response Team resulting in 141 charges and two arrests.
Following reports of a stolen wallet in Red Deer and a related fraudulent vehicle purchase in Edmonton, Red Deer RCMP and EPS conducted a joint investigation. The female suspect was found to be living in Red Deer and on Nov. 13, 2019, a search warrant was executed at a residence in Inglewood.
While executing the warrant, the suspect was involved in a nearby collision with a stolen vehicle. In the vehicle the following items were seized:
Two rifles
Stolen police equipment
Two-way radios
Stolen Alberta license plates
During the warrant execution, a male was found hiding in the Inglewood residence and RCMP K Division Emergency Response Team assisted in his arrest. The following items were seized during the search of the residence:
11 firearms
Hundreds of rounds of ammunition
Drugs and paraphernalia
Stolen laptop
Vehicle that was fraudulently purchased
Stolen identification
Savannah Korth, 23, and Connor Mueller, 26, both from Red Deer face a total of 141 Criminal Code, drug and traffic related charges, with 59 of the charges shared. Korth and Mueller each face 47 firearms related charges, six counts of possession of stolen property under $5000, two counts of firearm in a motor vehicle, possession for the purpose of trafficking, and possession of a stolen vehicle.
Savannah Korth faces additional Criminal Code and Traffic Safety Act charges including failure to remain at scene of an accident, operating a conveyance while prohibited, operating a motor vehicle without insurance and registration, and failure to comply with probation order.
Connor Mueller faces additional Criminal Code charges including two counts of unlawfully resisting a peace/police officer, eight additional firearm related charges, unlawful possession of body armor, and unlawful operation of a motor vehicle.
Both Mueller and Korth are scheduled to appear in court on Feb. 6, 2020 in Red Deer.
Fully vaccinated with negative tests in hand, Calgary mom and daughters forced into quarantine on return to Canada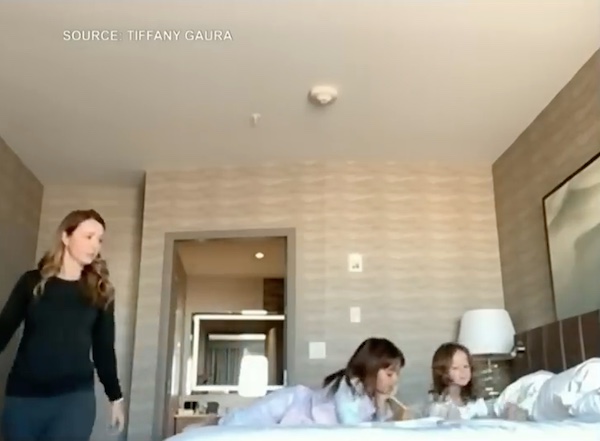 This article consists of the facebook posts of Calgary mother Tiffany Gaura. Tiffany and her two daughters happened to be travelling home from a visit with her husband who is working in Cairo, when the Canadian government announced strict travel restrictions against those traveling from 'some' countries where the new Omicron virus has been found. Gaura has given us permission to use her posts in this article and has filled in a few small gaps for us. She's hoping Canadian officials will show more flexibility, especially considering they've established restrictions on travellers coming from only a select few of the countries where Omicron has turned up. Gaura is especially frustrated since Omicron is already in Canada and travellers from Europe and the United States are not quarantined on arrival.
Day 1 – Dec 4, 6:37 PM – Shock and Awe
This is a tough post for me. Today we traveled back to Canada from Cairo. We came early to complete the new quarantine requirement given Egypt has been listed as a "Country of Concern". I am FULLY VACCINATED. We had PCR tests in Cairo and Frankfurt. We have an empty home to go to here in Calgary.
Upon arrival in YYC, we were taken by CBSA (Canadian Border Services) to PHAC (Public Health Canada) screening. It was a 15 minute interrogation about my history with Covid (none), my plans in Canada and my testing and vaccination. They read me my rights and told me I was entitled to a lawyer. They told me the fine for breaking quarantine is up to $750,000. We had a dedicated escort throughout, ensuring we weren't escaping. Secondary unexplained screening at customs, and a PCR on arrival. We weren't allowed to make any stops or get anything to eat or drink. The whole process took about 2 hours.
We were transported in a dedicated vehicle to the Westin Airport Hotel in Calgary. The Government of Canada as contracted the entire hotel as a "secure quarantine location". The parking lot is blocked with No Trespassing signs. We were met by the Red Cross of Canada employees in HazMat suits.
We were processed and taken to an isolation floor. We cannot go outside. We cannot leave our room. We cannot get deliveries or packages. We cannot consume anything from offsite. We only get the meals they send us (it's now 6:30pm and we have not had anything to eat or drink since we landed at 3pm). They have no cups for water in the room. I requested some but to no avail. Once we get our test results (presumably negative, and can take up to 72 hours) we must contact the Red Cross who will coordinate with Quarantine Officers for our release, that can take 48 hours (they say). They will provide us dedicated transport to our quarantine location (our home) where we must complete our 14 days in isolation. We must also take another test on Day 8.
This is happening, right now, in Canada, two years into a pandemic to vaccinated individuals. I don't have the words to express this well. I waver back and forth between rage, embarrassment and disbelief. This will change my life, I have no doubt.
Day 2 – Dec 5, 11:17 AM = Frustration sets in
Next time you think about making a donation to the Canadian Red Cross, keep in mind that your donation dollars are going to things like supervising fully vaccinated travellers in mandatory government quarantine facilities. I'm sure there are other organizations that could use your money.
Day 3.- Dec 6. 11:22 AM = Canadian Quarantine for Fully Vaccinated Travelers With Negative Covid Tests
– We still have no PCR results, because apparently in Canada it takes 72 hours to get results in 2021. Or maybe they just want us to stay here longer.
– The food is horrible. It arrives cold and has limited nutritional value. It's not FoodSafe for sure. I may call public health.
– No fruits or vegetables (aside from potatoes). No beverages are offered, so it's tap water for the win. No wait, I did get some coffee filters and packaged creamer. It's gross.
– The hotel gives a number for people to call so they can speak to us BUT they won't actually put any calls through to our room. When you call they just say they will pass the message on to the Red Cross who will send us the message
– The kids are going stir crazy. No fresh air, no physical activity. We are doing yoga and school work, I brought a few card games, but that can only fill so many hours of the day with no space or freedom to roam.
– We have only one bed in the hotel room so we all sleep together.
– I asked for tampons, it took 24 hours to receive them.
– We have a window to nothing. Can't see the parking lot or any coming and goings from the site. I wonder if they give rooms that have a view to that.
This interview was conducted by the CBC while Tiffany and her children were still in quarantine.
Day 4 – Dec 7 – Third Negative Test Results Finally Come After More Than 3 Days.
4 days in quarantine. We left when we got our results. I made a choice to leave after I was unable to contact anyone at either PHAC or the Red Cross who could give us any information about being released by a quarantine office.
This interview was conducted by the CTV in the hours after Tiffany and her children returned home after 4 days in quarantine.
Politicians raise concerns about carbon pricing benefits given to oilsands companies
EDMONTON — Federal and provincial politicians are raising questions about Alberta government support provided to profitable oilsands companies that say carbon pricing hurts their competitiveness.
A recently released Alberta government document lists oilsands producers that have benefitted from a 2018 program designed to soften the blow of carbon pricing for companies whose competitors don't pay those costs.
The program allows successful applicants to meet reduction targets through a greater emphasis on offsets, apply for emissions reduction grants or simply emit more carbon.
The document shows the only company that has benefitted from the program every year between 2018 and 2020 is Canadian Natural Resources Limited, which declared more than $2 billion in profits in the third quarter of 2021.
Alberta New Democrat environment critic Marlin Schmidt says the province must be more transparent, pointing out the document doesn't say what benefits CNRL received, how big they were or how they were justified.
Federal Environment Minister Steven Guilbeault says his office is looking into how the program was used.
He says if problems are found, it could have an effect on the agreement between Alberta and Ottawa on carbon pricing.
This report by The Canadian Press was first published Dec. 8, 2021.
The Canadian Press